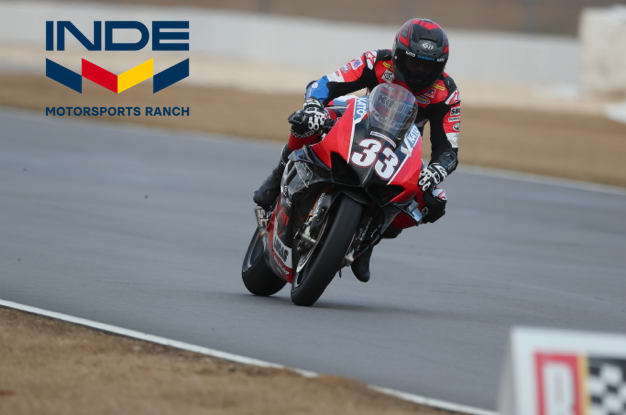 Inde Motorsports Ranch, the premier motorsports oasis in southern Arizona, will be the title sponsor for the Kyle Wyman Racing team for the season-opening round at Road America. The MotoAmerica series is set to kick off next week, May 29-31 at the Elkhart Lake, Wisc. facility, where Kyle Wyman will ride the #33 Inde Motorsports Ranch/KWR Ducati Panigale V4 R.
Inde Motorsports Ranch has been the home of Kyle Wyman and the KWR team for the majority of the 2020 pre-season, where Wyman has been working, training and preparing for the race season to resume. IMR has been open during these trying times, where members of the facility can continue to safely enjoy motorsports and escape from reality in the high Arizona desert.
"These last couple months have been strange and stressful times for many, but I feel very fortunate to have had a facility like Inde to quarantine at and continue operations of the KWR team," Wyman said. "There is truly no place like Inde, where the staff is amazing, the track is challenging and the views are spectacular. I've had the opportunity to do a lot of prep work on the new transporter and equipment in preparation for the long-awaited season opener, now at my favorite track–Road America."
Wyman has been training, riding and testing out at IMR for weeks, and is likely the freshest of the Superbike contenders come race time, as the IMR facility has remained open every single day during the global pandemic surrounding the COVID-19 virus.
"We are very excited to sponsor and support Inde member Kyle Wyman for the upcoming MotoAmerica season opener at Road America," said CJ Dorland, President of Inde Motorsports Ranch. "Kyle has been staying sharp by being able to train and practice right here at Inde over the last few months, so we know he's ready for the season to finally start. He has very high expectations for this year so we're just happy to help and support him any way we can. He is a true class-act on and off the track."