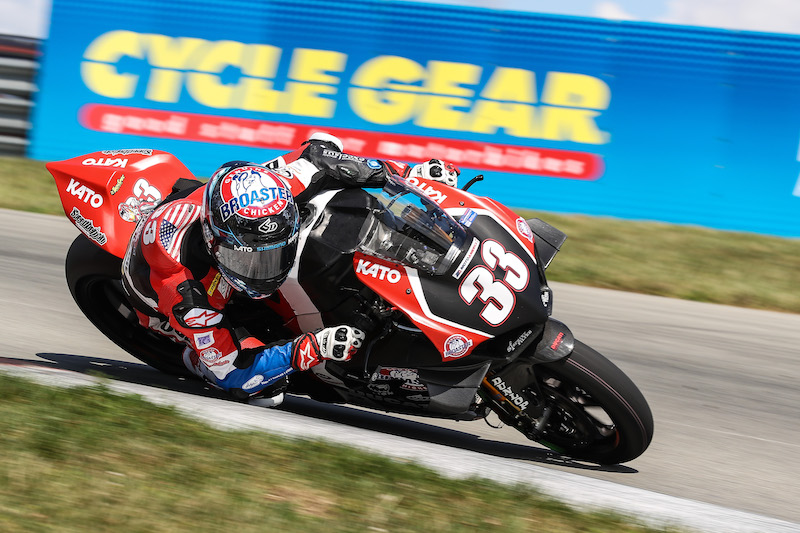 The following is from Kyle Wyman Racing…
Kyle Wyman Racing (KWR) has officially announced the continuation of the Ducati Superbike program in the 2020 MotoAmerica Championship. Kyle Wyman will ride the #33 Ducati Panigale V4 R Superbike in his fifth season in the class.
KWR went to the Ducati platform late in the 2019 pre-season, as a last minute effort to switch brands and prep the Panigale V4 R for Superbike competition. The team received the stock motorcycles just three weeks before the start of the season. With a full winter of preparation, the KWR team looks to build on 2019 results that were achieved at the end of the year, including a 5th place finish in the Barber Motorsports Park season finale.
"This year is particularly exciting for me, as we will continue a project that was initially very last minute when we began 12 months ago," Wyman said. "The Panigale V4R has shown its potential in our camp, with strong results to finish out the season in 2019. We've been hard at work for months in preparation, and with our technical plans very clearly defined we have no doubt that we can continue to improve our results and make a full-season run in 2020."
KWR also welcomes a mostly-new crew who will handle preparation, operations and maintenance for the 2020 season.
Darin Marshall, the team's Systems Data Analyst, will lead the team in his second year with KWR and brings a wealth of experience and will begin his 20th season in the American racing paddock.
KWR also welcomes the addition of Evan Steel and his shop Evan Steel Performance, based in Tucson, Arizona where Wyman resides. Last, but not least, KWR welcomes Dave Hopkinson as a technician who led Leon Haslam to the 2018 British Superbike Championship.
"As the rider and team owner, it's very important for me to have an experienced crew who can absorb some of the many responsibilities of campaigning a successful race program," Wyman said. "I couldn't be happier with the guys I have in my camp this coming season. Marshall will be taking the lead in our operation and he will give me the best opportunity possible to continue to work and grow as an athlete."
The first round of the MotoAmerica series begins at Circuit of the Americas, April 3-5, 2020.