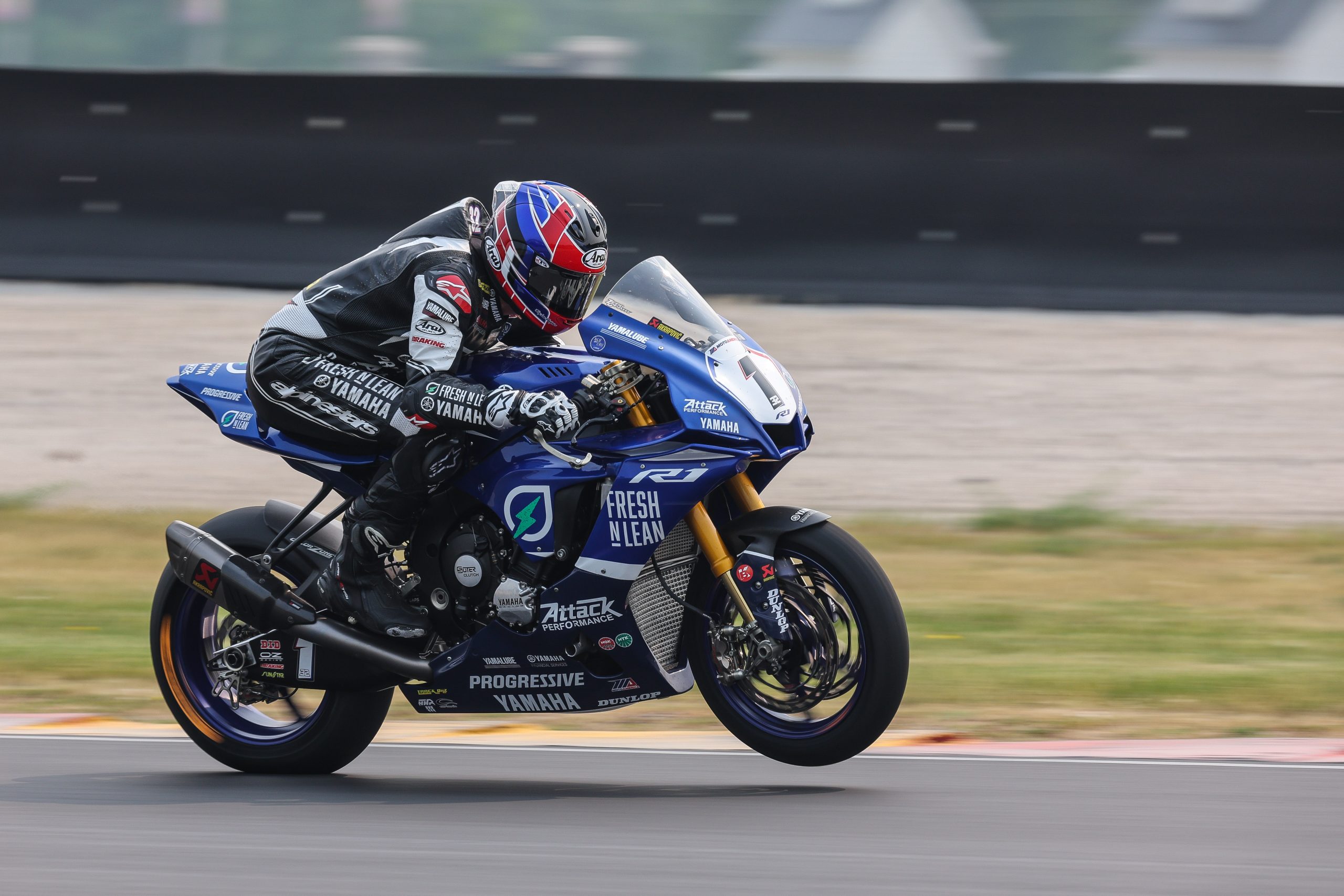 For a fourth straight year, the MotoAmerica Medallia Superbike Championship visits the Pacific Northwest with round four of the 2023 championship slated for Ridge Motorsports Park, June 23-25. And for a fourth straight year, Yamaha will be attempting to keep its perfect win streak alive at the tight and twisty circuit on the Olympic Peninsula region of Washington.
For the streak to be broken, someone is going to have to figure out how to beat the combination of Jake Gagne and his Fresh N Lean Progressive Yamaha Racing YZF-R1 with the pair riding a four-race win streak at "the Ridge." But, based on the fact that both BMW and Ducati have won half of the six races held thus far in 2023, there's obviously a chance that could happen.
So, who won the two races that Gagne didn't win at Ridge Motorsports Park? Well, that would be Cameron Beaubier, the victor in the inaugural two MotoAmerica Superbike races at the Ridge in 2020 and the winner of two of the six races held thus far in this year's title chase. And Beaubier won those two races as Gagne's teammate on a Yamaha YZF-R1 in 2020. All that translates to the fact that Yamaha has won all six of the Superbike races held at Ridge Motorsports Park.
Three riders will go to Washington with Medallia Superbike wins in 2023: Gagne, Tytlers Cycle Racing BMW's Beaubier and Warhorse HSBK Racing Ducati's Josh Herrin. And only 21 points separate those three atop the championship point standings.
Heading the title chase is two-time defending Medallia Superbike Champion Gagne with his three wins and two additional podiums in his pocket. Gagne also arrives in the Pacific Northwest happy to see Wisconsin and Road America in his rear-view mirror. Gagne went into the Road America round with a 21-point lead over Beaubier after the first two rounds and he was fortunate to leave Wisconsin still with a 12-point lead over the five-time MotoAmerica Superbike Champion.
Gagne's Yamaha team had a miserable weekend in Wisconsin with engine failures and a lack of top speed momentarily keeping his run for a third straight title in check. Gagne failed to finish race one at Road America, but he he salvaged his weekend with a third-place finish in race two.
Race one at Road America was won by Beaubier, but his Tytlers Cycle Racing BMW M1000 RR also suffered a mechanical failure in race two that prevented him from keeping the points lead he'd inherited the day before with Gagne's failure to finish. Thus, the top two in the title chase come to the state of Washington separated by just 12 points.
The man who gained the most at Road America was Herrin with the 2013 AMA Superbike Champion having left Wisconsin with his first win of the year, which came a day after his third-place finish in race one. Herrin starts his weekend at Ridge Motorsports Park nine points behind Beaubier and 21 behind Gagne.
Westby Racing's Mathew Scholtz is fourth in the point standings, and he also had an off weekend at Road America with eighth- and sixth-place finishes in the two Medallia Superbike races. The South African is nine points behind Herrin and nine points ahead of Beaubier's Tytlers Cycle Racing teammate PJ Jacobsen.
Like Herrin, Jacobsen is also coming off a great weekend in Wisconsin with the New Yorker carding a pair of second-place finishes in what was easily his best weekend in the Medallia Superbike class.
Sixth in the title chase heading to Washington is Vision Wheel M4 ECSTAR Suzuki's Richie Escalante. Escalante was a fighting fourth in race one at Road America but had some issues in race two and dropped four places to finish eighth.
Although Cameron Petersen's weekend in Wisconsin wasn't stellar by normal standards, it could have been a lot worse. Petersen came into the Road America round with an injured right wrist suffered in a testing crash the week prior but was able to bravely continue, and he finished fifth and fourth in the two races. Still, the South African has a lot of work to do to try and claw his way back into championship contention as he trails teammate Gagne by 54 points.
Corey Alexander, the third of the Tytlers Cycle Racing teamsters, is eighth in the title chase, six points adrift of Petersen and two ahead of the now-retired Toni Elias, who will be replaced for the Ridge round by journeyman racer Taylor Knapp. Knapp is currently sixth in the Steel Commander Stock 1000 Championship, but Ridge Motorsports Park isn't a round of that championship so he will be able to focus his efforts on the Medallia Superbike class.
Aftercare Scheibe Racing's Ashton Yates rounds out the top 10 in the Medallia Superbike Championship heading to Ridge Motorsports Park.
Pre-Ridge Superbike Notes
Two-time MotoAmerica Medallia Superbike Champion Jake Gagne is the winningest rider in the short three-year (six-race) history of MotoAmerica holding a round of its championship at Ridge Motorsports Park. Gagne has won four of the six races with Cameron Beaubier winning the first two races in 2020.
Last year, Gagne started from pole position and won both races, besting his teammate Cameron Petersen and Warhorse HSBK Racing Ducati's Danilo Petrucci in race one and Petrucci and Petersen in race two.
Gagne is also the lap record holder at Ridge Motorsports Park with the Colorado resident lapping at 1:39.145 in final qualifying last year to break his own record of 1:39.568 from 2021.
Portions of the 16-turn, 2.47-mile Ridge Motorsports Park circuit have undergone re-paving since MotoAmerica visited the track a year ago and that usually results in lap records across all classes. In addition, track owners have also added curbing to the track and have erected new grandstands for spectator viewing.
After winning both Medallia Superbike races a year ago, Jake Gagne moved to within 11 points of then championship leader Danilo Petrucci. This year, Gagne arrives in Washington with a 12-point lead over Cameron Beaubier, who is back in the MotoAmerica series after two years competing in the Moto2 World Championship.
With his two wins thus far in the 2023 Superbike Championship, Beaubier continues to gain ground on his former teammate Josh Hayes on the all-time AMA Superbike win list. Australian Mat Mladin tops the list with his 81 Superbike victories with Hayes second on 61 wins. Beaubier, however, is on the move with 56 victories in AMA Superbike racing.
With his three wins in 2023, Jake Gagne is now tied for fourth on the all-time Superbike win list with Miguel Duhamel and Toni Elias, with the latter announcing his retirement following the Road America round. Those three have 32 Superbike victories. Hayes, meanwhile, continues to chase the all-time AMA road race win record as he is currently tied with Miguel Duhamel with 86 wins across all classes. Hayes will be aboard his Squid Hunter Racing Yamaha YZF-R6 in the two Supersport races at Ridge Motorsports Park. Beaubier, meanwhile, lurks in fourth on the all-time list with 77 wins – nine behind Duhamel and Hayes.