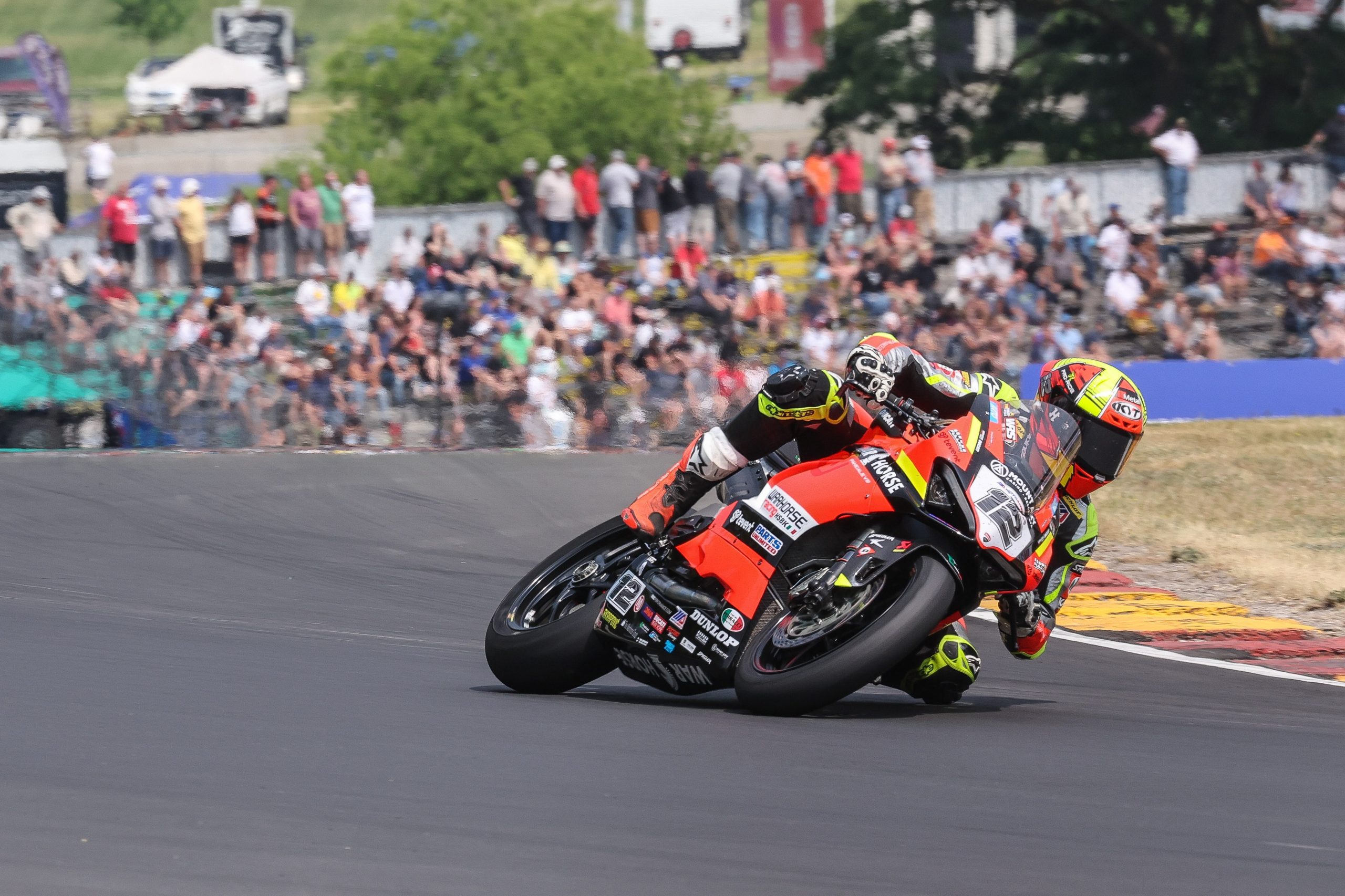 The following is from Ducati…
The Warhorse HSBK Ducati NYC duo of Josh Herrin and Xavi Forés held nothing back during round three of the 2023 MotoAmerica Championship at Wisconsin's Road America. Herrin settled for third in the opening Superbike race at the newly paved Road America but dominated race two for his debut win of the season. As for Forés, he doubled once again, achieving a perfect season so far in the Supersport Championship.

Herrin piloted his Panigale V4 R to the pole position Saturday before settling for third in that day's race one. He led until lap six when BMW's Cameron Beaubier passed him. Herrin then lost another position on lap eight to Beaubier's teammate PJ Jacobsen, who stuffed him in the chicane, forcing Herrin to go wide.

But it was a much different story for Sunday's race two. The 2022 MotoAmerica Supersport Champion Herrin led the entire 12-lap race from the pole, even breaking the lap record on the final lap with a 2:09.025. Herrin finished 2.014 seconds ahead of Jacobsen and his performance bumped him from fifth to third in points; he is now 21 points behind the leader Gagne.

In the Supersport class, the Spaniard Forés was again untouchable aboard his Panigale V2. In race one Saturday, he was constantly challenged by Kawasaki rider Stefano Mesa and Yamaha's Joshua Hayes, but was able to hold them off to secure his fourth win of the season.

Forés continued his dominance in Sunday's race two, again holding off a charging Mesa. But he was able to keep the focus until securing his fifth win of the season and retaining a perfect record so far in the 2023 Supersport class.

Josh Herrin (Warhorse HSBK Racing Ducati NYC – #2)
"Sunday's win felt very special. The team was working really hard this weekend. We were bummed Saturday during race one because we thought we'd have the win. But we chose the wrong front tire and had some issues. But Sunday was awesome. That was one of my favorite wins ever. I'm so happy for the team, and that they gave me a chance to be part of this program. Now I'm looking forward to the next round at The Ridge and riding the V4 R some more.

Xavi Forés (Warhorse HSBK Racing Ducati NYC – #12)
"Five victories in a row is much better than I was expecting at the beginning of the season. I felt strong all weekend and on pace and had a great time riding the Panigale V2 on the newly paved Road America. On Sunday, I was pushing very hard all the race to make some gap, and it worked just enough to hold off Mesa. I'm happy with the job done this weekend and look forward to the next round at The Ridge. Thanks to the Warhorse HSBK Ducati NYC Team for such a great job!"

Round Four of the 2023 MotoAmerica Superbike and Supersport Championship will take place at The Ridge Motorsports Park in Washington June 23-25.
---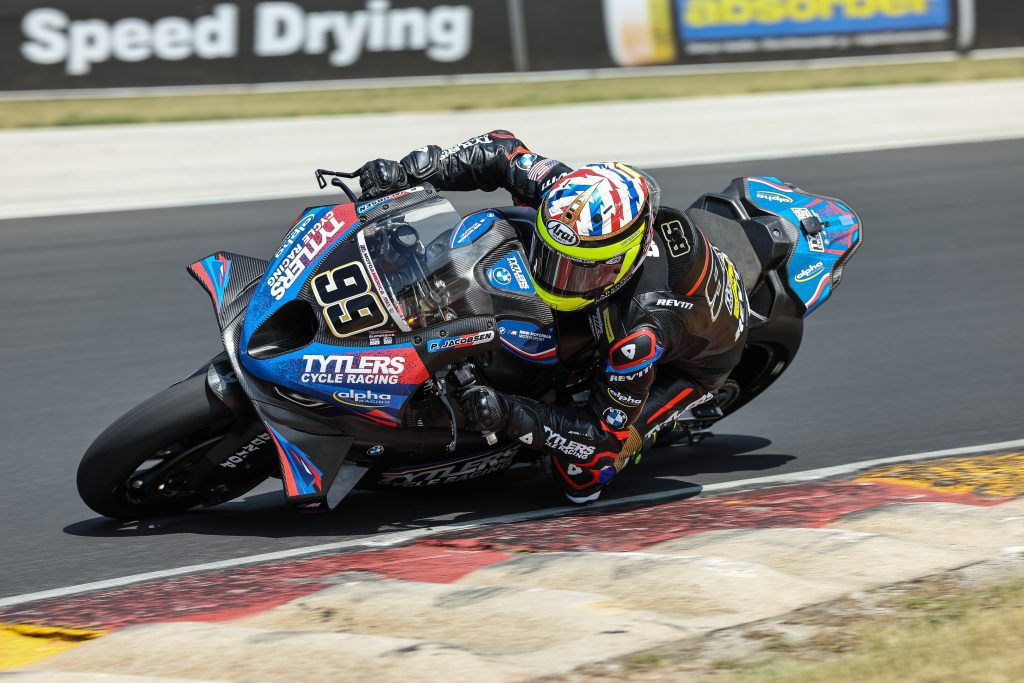 The following is from Tytlers Cycle Racing…
It was all smiles at Road America on Saturday for Tytlers Cycle Racing as the raced to a superb 1-2 finish in the opening MotoAmerica Superbike race of the weekend.
Lapping significantly faster than the previous lap record Cameron Beaubier, who had started from P2 on the grid, once again found himself in the fight our front, eventually crossing the line with a winning margin of 2.7s after an exciting twelve lap race. With it he reclaimed the championship lead. PJ Jacobsen on the team's second BMW M1000 RR was also on fine form. Setting off from third on the grid the #66 secured his first podium finish of the season after a great race long battle. Corey Alexander finished seventh to secure his fifth consecutive point scoring finish, adding another nine points to his championship tally.

There was further success combined with disappointment for the team on Sunday on a day that really summed up the saying 'what a difference a day can make'.

PJ Jacobsen was on the podium in P2 for the second consecutive day. He finished a mere two seconds from the win whilst Corey Alexander once again dug deep throughout the second twelve lap encounter. His efforts rewarded with another well-earned seventh position. For Cameron Beaubier there was to be no double celebration after a retirement from the lead saw him pull to the side of the track, relinquishing his slender championship points advantage as he did so.

The series now heads west for round four to Ridge Motorsports Park with the entire team buoyed by the continued success and front running performance by its riders.

Cameron Beaubier: I felt good on the bike in Race 1. I almost went off track in turn two on the first lap that put me backwards, but I put my head down and was happy with my pace. Road America really lets us use that BMW power and it felt good to get another win and to have two Tytlers bikes on the podium. Race two was a bummer with an unlucky mechanical but that's racing. We have a couple of days at Brainerd this week which will be good because I haven't ridden there before. I am enjoying the season and looking forward to the rest of the season.

PJ Jacobsen: "The first race went well. I would have liked a better start but overall, it was a good race. I was bit upset as I couldn't find a way past Josh (Herrin) on the brakes after lap three and I felt he was holding me up. The team did an awesome job, and the plan was to even better on Sunday. Race two was pretty good. I got off to a decent start and focused on staying in touch with Josh (Herrin) and Cam (Beaubier). Unfortunately, Cam retired otherwise I am sure he too would have been right there. I gave it everything but, in the end, had to settle for second. I want to the whole Tytlers Cycle Racing team for their excellent work this weekend. Coming out of Road America with two second place finishes is really good for us, and I am looking forward to seeing what we can do at The Ridge!"

Corey Alexander: "We have made some positive steps forward with the bike and our qualifying was much closer to where we want to be. Unfortunately, we got caught out with the wrong tyre choice for Race 1 which prevented us from the result we were hoping for. I was still happy with another top eight but wanted more. Race two was another positive step forward for us. We were able to continually drop pace through the race with our best time of the weekend coming on the last lap. I am excited to take what we learned and continue onward to The Ridge. Thanks to the whole team and my guys for working so hard to make me comfortable and being patient with our progress."
---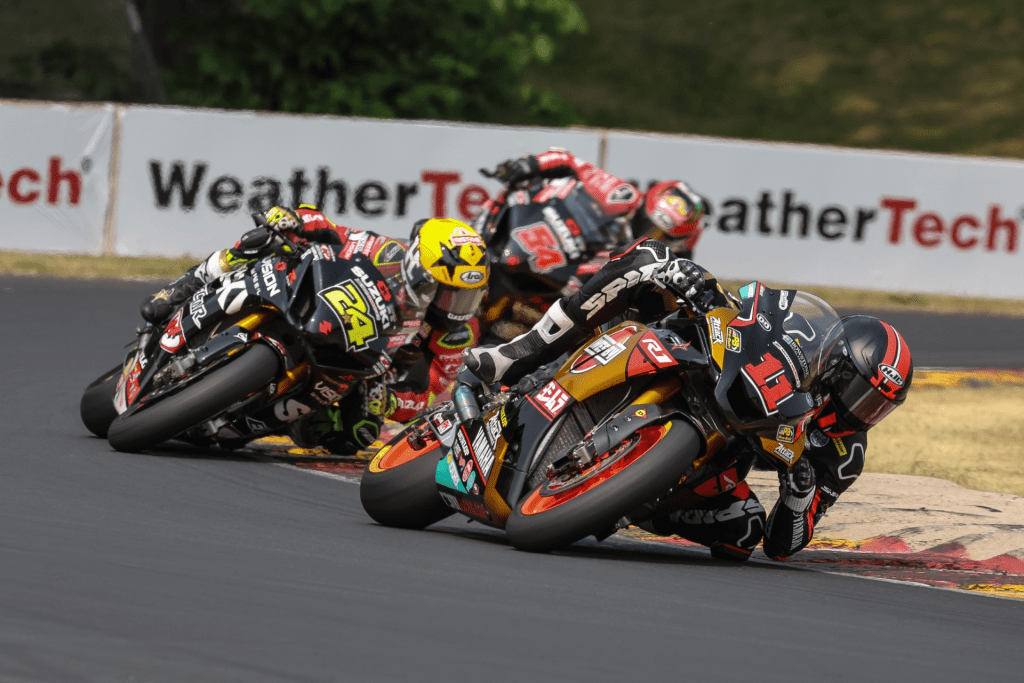 The following is from Westby Racing…
Round three of the 2023 Medallia Superbike Championship took place at Road America, and "America's National Park of Speed" had been repaved during the off-season. Record-setting laps and top speeds were expected, so Mathew Scholtz and his Westby Racing team knew they had their work cut out for them since their Yamaha YZF-R1 is built for razor-sharp handling more than eyeball-flattening speed.
After qualifying fourth on the starting grid for the weekend's two races, Mathew struggled with a lack of grip in Saturday's race one. He ended up in sixth place when he crossed the finish line, but he was penalized two positions after officials ruled that he passed riders when the yellow flag was waving. So, that moved him back to eighth in the results.
Mathew and the team regrouped overnight. Then, in Sunday morning's warm up session, air temperatures were cooler and even though he was seventh-fastest, Mathew felt more comfortable with the setup. The track heated up in the afternoon, however, which caused him to struggle again with grip, and he ultimately finished sixth.
"We obviously knew coming into the Road America track that it was going to be one of the more difficult weekends, just because the Yamaha is a little bit down on horsepower compared with the BMWs and the Ducatis," Mathew said. "But, leaving Barber, we were pretty confident that we had a really good setup, and that we could challenge up front, or at least near the front. Since the circuit is newly repaved, we had to use the harder-compound Dunlop tires because the track is so abrasive, and it just seemed like we were really far away on the setup. From the first practice session on Friday, I was struggling with the rear coming around on the entry of the corners. We were just kind of chasing that all weekend long. We did make it better and better after each session, and we finally got it the best for Sunday warmup, which at least gave me confidence that we were managing to sort things out.
"It was one of the most difficult weekends of my career, to be honest. Finishing eighth, granted, I did finish sixth and got docked two positions for passing on a yellow flag. But an eighth and a sixth place are, by far, the worst two races I've had since stepping up to the Superbike class. However, I do feel like this is the strongest package we've had, so, it was just kind of a hard pill to swallow. Road America is, by far, the toughest track for our bike. Now, we'll be going towards tighter, twistier tracks that suit the Yamaha, and we can use the advantage of the flowing Yamaha frame with the softer regular tires that we're used to running and that we've actually set up the bike for."
The Westby Racing team will be back in action on June 23 through 25 at Ridge Motorsports Park in Shelton, Washington, for round four of the 2023 MotoAmerica Superbike Championship.
---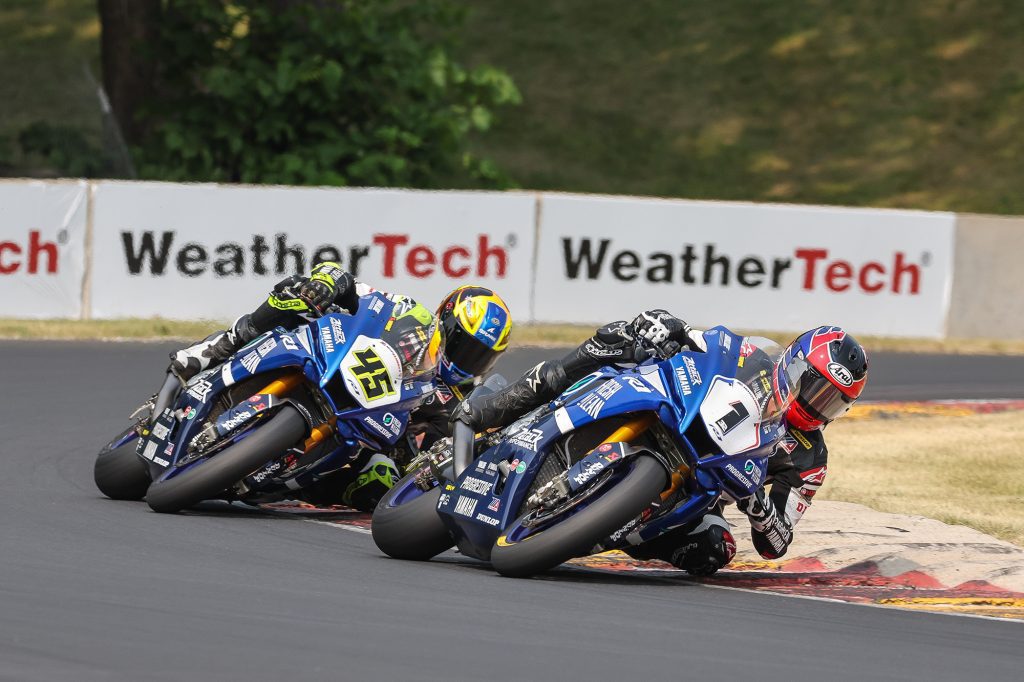 The following is from Yamaha…
Fresh N Lean Progressive Yamaha Racing's Jake Gagne returned to the podium and reclaimed the points lead with a third-place finish in today's MotoAmerica Superbike Race 2 at Road America. It was a positive conclusion to a roller coaster weekend for the reigning champ and his team, with Cameron Petersen also improving his result to fourth on the second day of racing at the third round of the championship in Elkhart Lake, Wisconsin.
Although he did not repeat yesterday's impressive start from the second row of the grid, Gagne was a force to be reckoned with on the opening lap. In sixth after the start, he quickly made his way to fourth and then went from fourth to the runner-up spot shortly after. The defending champ tried to hold onto the position but ultimately was shuffled back to fourth a few laps later. Undeterred, he ran his own race with his teammate on his heels and ultimately advanced to third after his championship rival had to withdraw from the race. Gagne rode on to take the final podium spot, reclaiming the number-one spot with a 12-point lead.
Petersen made improvements on the final day of racing at the 4.05-mile track, getting a great start from the fifth spot on the grid to third. After being passed by Gagne on the opening lap, he was shuffled to fifth. He continued to run a strong pace on the heels of his teammate despite still not feeling 100% with his wrist injury and crossed the line fourth.
The Fresh N Lean Progressive Yamaha Racing Team returns to action on June 24-26 for Round 4 of the MotoAmerica Superbike Championship at The Ridge in Shelton, Washington.
Richard Stanboli – Fresh N Lean Progressive Yamaha Racing Team Manager
"We made a good step today with both riders. We were just behind all weekend, but the riders and the team stayed positive and pushed until the end. Jake goes away with a championship lead, and Cam rode well to finish on his heels despite the wrist pain. We are happy to leave with decent points and move on to more technical tracks that we know will suit our Yamaha R1s. We are looking forward to seeing our fans at The Ridge in Washington."
Jake Gagne – Fresh N Lean Progressive Yamaha Racing
"It was a good to finish the weekend with some points. We overcame a lot of adversity this weekend, so it feels great to be back on the podium. I was surprised to come out with the points lead, but that's racing. I'm ready to head to The Ridge, which has always been good for the Yamaha."
Cameron Petersen – Fresh N Lean Progressive Yamaha Racing
"It was a positive end to the weekend. I had a fun race with Jake, and I'm happy to bring the bike home in fourth. I'm looking forward to the rest of the season and heading to The Ridge in a couple of weeks; the Yamahas are going to be good!"
---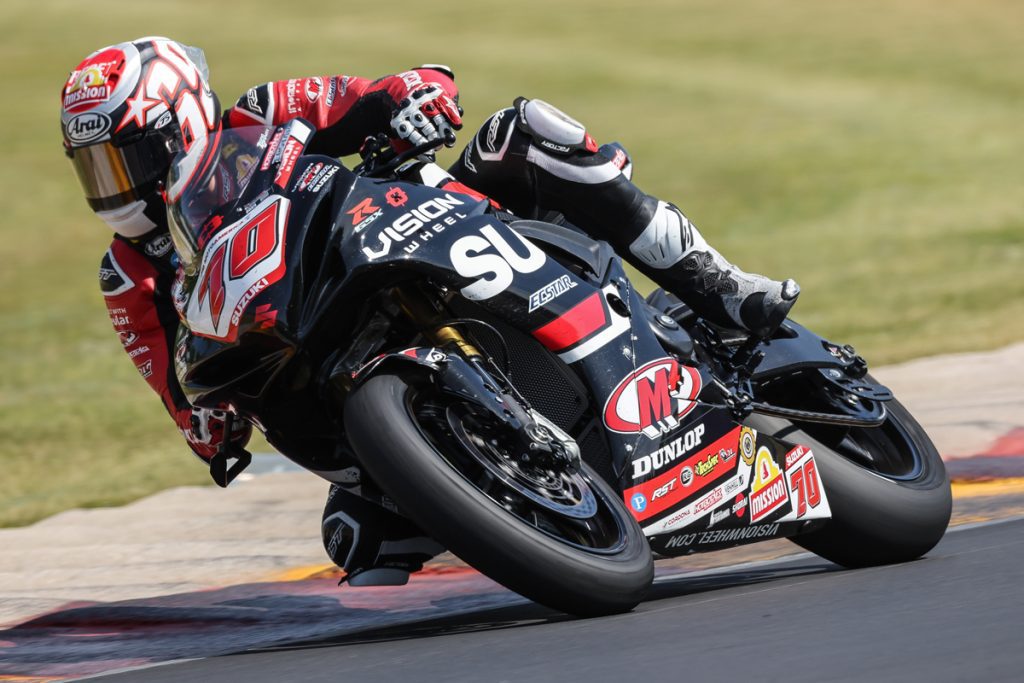 The following is from Suzuki
Suzuki Motor USA and Team Hammer closed the book on an eventful weekend at MotoAmerica with a podium finish while saying a surprise farewell to one of the most accomplished riders in the series' history.
Vision Wheel M4 ECSTAR Suzuki's Tyler Scott issued a reminder of his more typical form on Sunday, collecting a trophy after what had been a challenging weekend for the talented Supersport rider and his crew. After making substantial changes to the set-up of his GSX-R750 overnight, Scott was significantly more competitive in today's race. Scott shot out to the lead off the line. Even after dropping back to fourth place before the opening lap was complete – Scott continued to hang with the lead group deep into the contest. Scott made a successful push to take over third place with five laps remaining and then went about solidifying his podium position over the remaining laps.

"I have to give a big thank you to the whole Vision Wheel M4 ECSTAR Suzuki team," Scott said. "Usually when we come to a track, we're a little bit closer to the front. But this weekend we were challenged all weekend, up until this morning. We made key changes to the setup, and today we had the pace to race at the front. It felt great to be battling with the leaders and put the GSX-R750 on the box."
Scott likely would have been in a fight for the podium with teammate Teagg Hobbs if not for misfortune on Hobbs' part. Unfortunately, Saturday's fourth-place finisher didn't have a chance to improve upon that result due to an electronics issue that ended Hobbs' race before it began.

2017 MotoAmerica Superbike champion Toni Elias looked like his vintage self on Sunday, throwing his Vision Wheel M4 ECSTAR Suzuki GSX-R1000R sideways, scrapping for position, and executing a last-lap pass to secure a top-five result. Afterward, Elias made a surprise announcement during his broadcast interview, explaining that rather than a promising sign of things to come, the race would serve as his farewell, as he steps back into retirement effective immediately.
Elias said, "Today was my last race. I want to thank John Ulrich, Chris Ulrich, Team Hammer, and everybody who helped and supported me during this period. The return has not been what I was expecting, but I had fun in this last one. I pushed hard, trying to hold on to the position today. It's been a big effort, and it's nice to finish like this."

Richie Escalante was one of the riders who mixed it up with Elias as part of a three-rider battle for fifth. Escalante took over the spot a few laps into the contest, but it became evident he was suffering from grip issues, losing two positions on lap five, and later as he circulated the Road America circuit a few seconds off his earlier pace. Rather than give up, Escalante adapted and managed to make his final lap his fastest of the race, while collecting valuable points with an eighth-place finish.
"The most important thing is the feeling with the team and bike, and we are stronger and faster," Escalante said. "We made some changes in the warm-up after finishing fourth yesterday. We were fast but then I had a strange situation in the race. I didn't have a good feeling with the rear of the motorcycle, and I had a few moments early in the race. I lost some positions and didn't run the pace I wanted. In the end, I had my best lap but the feel wasn't there. We will analyze the data and figure out what happened, but we are making good progress. I really like the next two tracks we will race at, and I look forward to competing there."

Vision Wheel M4 ECSTAR Suzuki will next head to Ridge Motorsports Park in Shelton, Washington, on June 23-25 for the next round of the 2023 MotoAmerica AMA/FIM North American Road Racing season.
---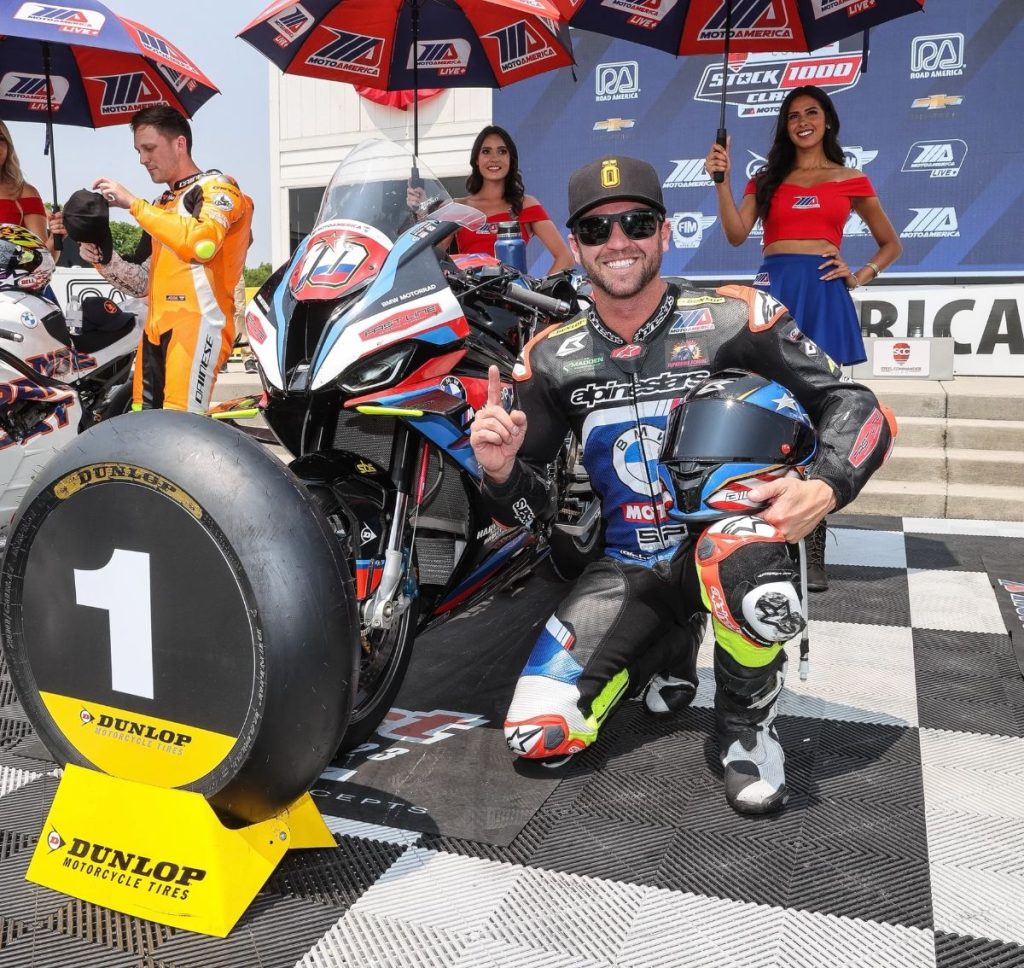 The following is from Travis Wyman Racing…
Though Road America is one of Travis Wyman's favorite tracks on the MotoAmerica calendar, the BMW rider was coming off a downer weekend at the previous MotoAmerica Stock 1000 round at Barber Motorsports Park. Wyman had to work tirelessly with his team just to get his BMW M 1000 RR ready to race at the June 2-4 event. And the long days in the shop paid big dividends at the iconic Wisconsin track, as Wyman claimed pole position and a runner-up finish on Saturday before capping off the weekend with his ninth career pro road racing victory on Sunday.

Wyman's stellar results helped him move up two places in the Stock 1000 points. After starting the weekend in fifth, Wyman left Road America in third — just 33 points behind the championship leader with four Stock 1000 races remaining in 2023.

Wyman's high comfort level with racing at Wisconsin circuit was evident from the first practice session. He was the third-fastest rider in Friday morning practice and ended Friday afternoon's Qualifying 1 in second place – less than 0.4 seconds of the session leader's time. Things got even better for Wyman Saturday morning, as he clinched pole position in Qualifying 2 by a little more than 0.4 seconds.

Saturday afternoon's Race 1 saw Wyman back on the MotoAmerica podium – though a Lap 1 incident nearly turned his race sour. After getting an OK start, Wyman battled with two other riders for the lead and was running in first as the field entered Canada Corner. As Wyman began the climb uphill toward Turns 13 and 14, his motorcycle lost rear grip and he nearly crashed. Though Wyman lost two places in the running order, he worked his way back to second place. Unfortunately, his front tire had become too worn to give him the grip needed to chase down the race leader. Wyman finished runner-up, which helped him move up from fifth to fourth in the points standings.

The newly repaved surface on Road America's 4.048-mile road course proved to be a learning experience for teams and riders up and down the paddock, and Wyman and his team took what they learned from Saturday's race and decided to change their BMW's front tire compound. It ended up being a wise call. Wyman got an excellent start, led the field into the first corner and never relinquished the lead in the eight-lap race. His margin of victory was more than two seconds.

The MotoAmerica Stock 1000 Class won't be back in action for almost two months, as the class' next round is scheduled for July 28-30 at Minnesota's Brainerd International Raceway.

Travis Wyman / No. 10
"I'm stoked with how the weekend went at Road America, especially because of how the last round at Barber ended. The results this past weekend have ensured that my team and I have the resources we need to finish out the Stock 1000 season, and I can't thank my team and BMW enough for giving me a great package this weekend that allowed me to perform at my best."
---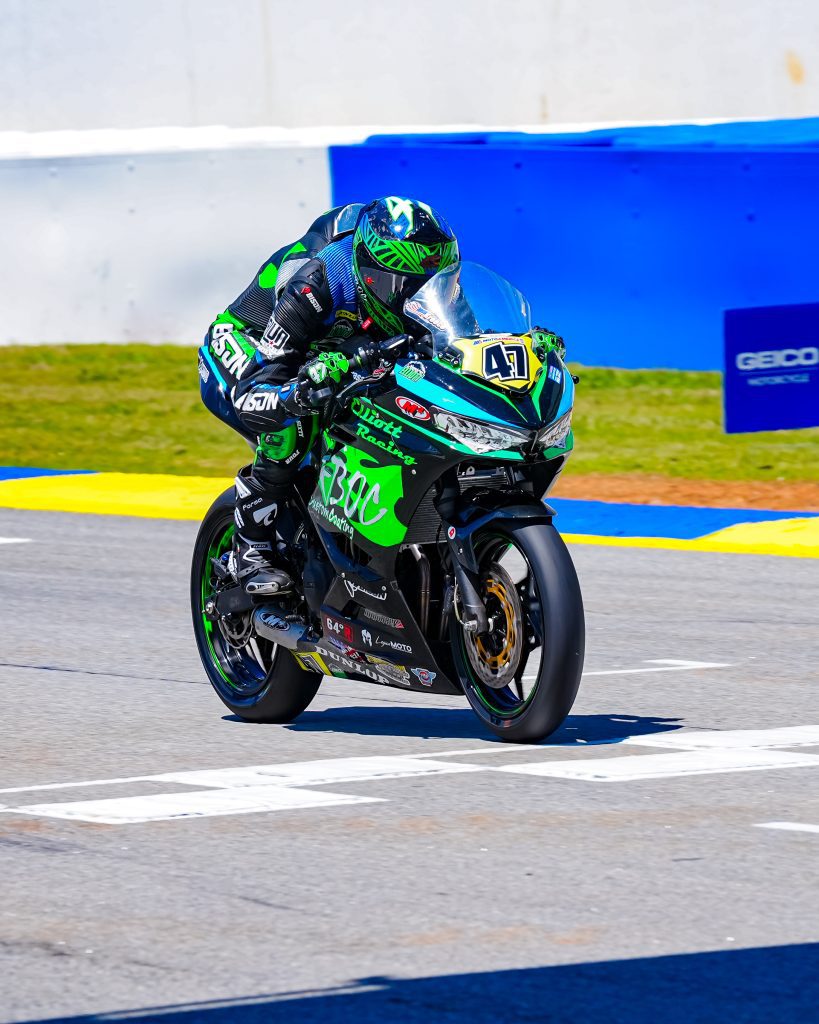 The following is from Kreece Elliott…
Kreece Elliott leaves the latest round of the 2023 MotoAmerica Junior Cup at Road America empty handed, but it wasn't for the lack of trying.

A strong showing that saw him close to the front on Friday provided optimism for the week ahead but a crash on the opening lap of race one and a retirement in race two due to tech issues, left the #47 Kawasaki rider disappointed at not being able to secure two top ten finishes at the longest circuit on the calendar.

Kreece's pace and step forward compared to last year is clear for all to see. He will use the time between now and the next round at Brainerd, which takes place in a couple of months, to train both on and off track, allowing him to end the season in style.

Kreece Elliott: "After the good result in Barber I was excited to get back on track at Road America. The weekend started well, and we used Free Practice to get up to speed before qualifying. I ended up P14 on the grid and was hoping to make a good start and work my way forward. Unfortunately, on the first lap of Saturday's race I crashed on the first lap. I was ok but just bummed about the situation. Race two started well and I was running comfortably inside the top fifteen but then the issue we had at Barber returned. The bike kept hitting false neutrals and it became too dangerous to continue so I retired out of safety for myself and for my fellow competitors. I am not happy about how the weekend went at all. We left with no points at all, and we need to make sure that this doesn't happen in the remaining rounds!"
---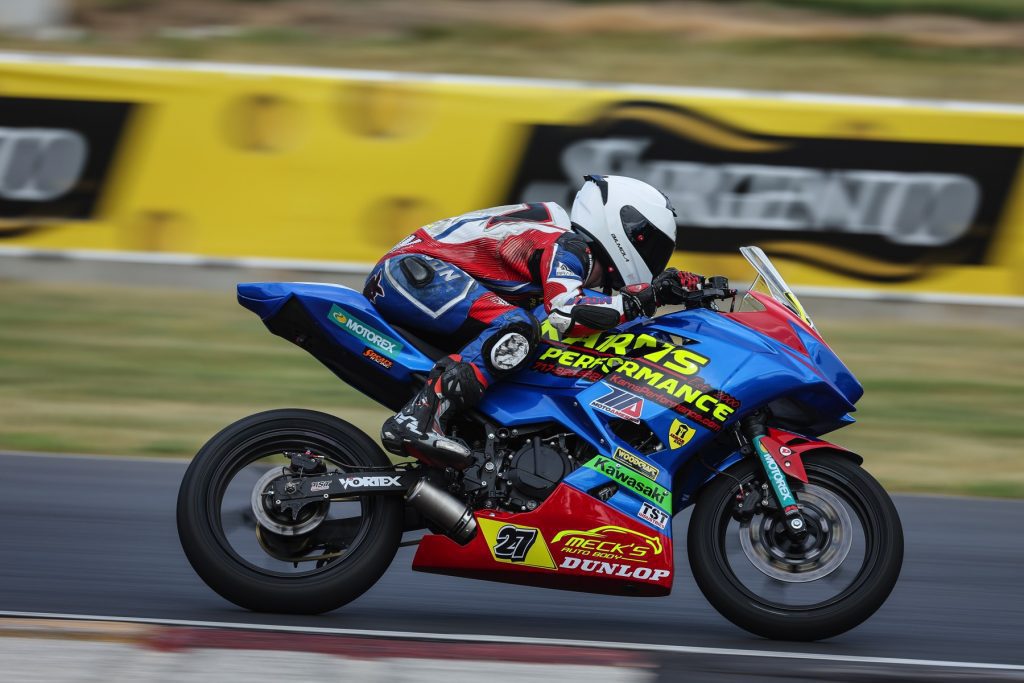 The following is from Chris Clark Racing…
Fresh from his win in the Thai Yamaha bLUcRU R3 Cup at the Buriram Circuit, Chris Clark was back on MotoAmerica Junior Cup duty this past weekend. The event took place at the series' longest circuit, Road America in Elkhart Lake.

Re-adapting to his Kawasaki on Friday, Chris qualified a solid eighth by the time Q2 was over on Saturday and was in confident mood for the weekend's two races which are typically decided in a slip stream battle, due to the nature of the Road America circuit.

Part of the leading group of twelve throughout Saturday's seven lap opener, Chris finished eleventh, a mere two seconds from the win. He went one better on Sunday to finish tenth, again involved in a race long multi-rider battle that saw him leave the third round of the series tenth overall in the championship standings.

Chris Clark: "I made a big wheelie from the start in race one which thankfully didn't cost me too much as I was able to climb back into contention pretty quickly. We were close to the podium, and I learned so much, especially about racing in big groups. I was tenth on Sunday after a long race. I found myself in the front group once again and was able to run some pretty fast times. Due to a couple of issues, both with me and the bike, I lost the draft and ended up having a lonely end to the race. Overall, I am happy with the way I rode, and will take what I learned this weekend to Brainerd. Thanks to all of my sponsors and supporters."
---
The following is from Altus Motorsports…
With the Twins class not running at Road America, the Altus team rolled into Wisconsin expecting a lighter-than-usual weekend. That was not to be. The excitement began right from the start on Friday morning.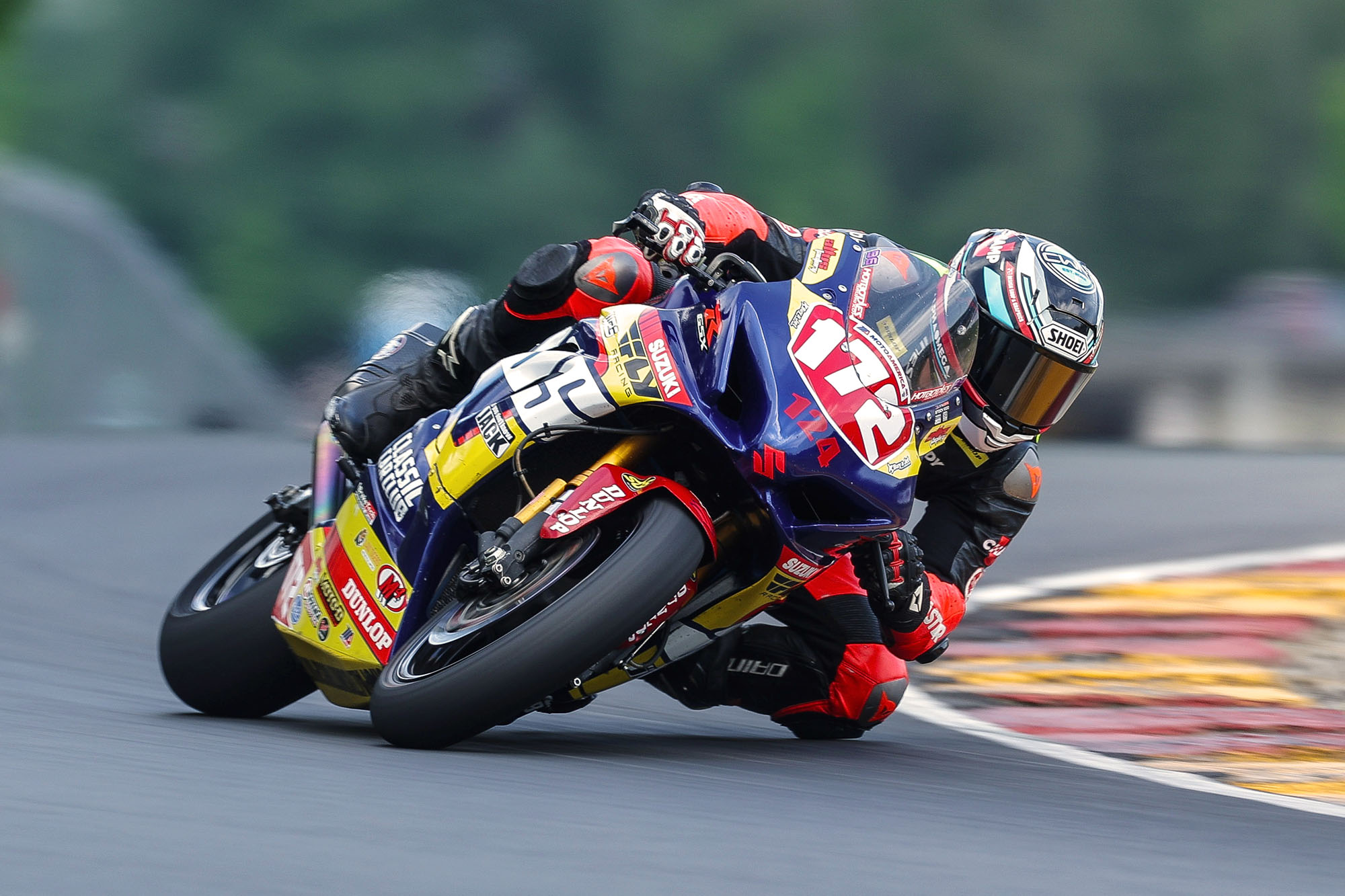 Stock 1000:
Everyone was hopeful that Brandon Paasch could remount the Altus GSX-R1000R and compete in Stock 1000 at Road America. Unfortunately, his return had to be delayed. Miles Thornton, his stand-in, was unable to make it to Wisconsin due to travel issues. Luckily for Altus, Cody Wyman was at the event with his gear but without a ride. After a quick conversation, the former Junior Cup Champion agreed to step up to the Stock 1000 class
During the off-season, Wyman had been training on an R7 and planned on joining the Twins Cup for 2023. It's a big leap from a 700cc twin to a 1000cc inline-four but you would not know it looking at the results from the weekend. Cody was top-5 in the very first practice – his very first time on the bike. He managed to qualify in the middle of the second row in fifth. He continued to impress in Race 1 with a podium finish crossing the line in third place. As his comfort on the bike went up, so did his pace and confidence. During the Sunday race, Wyman got a great start moving quickly up to third. He was fast and looked like he had the pace to take second and maybe take a shot at first. Unfortunately, he tucked the front and crashed out.
Cody Wyman: "I found out Friday morning that I would be riding and was so excited for the opportunity. Stock 1000 or Superbike is really where I've wanted to race for a long time. To finish third on Saturday my first time on the bike and in the class was an incredible feeling, and even better to share the podium with my brother, Travis. On Sunday, I was looking to make a pass on lap one but decided not to push for it. Then I caught a false neutral and I had to try and avoid the rider in ahead and ended up overloading the front and crashing. Not how I wanted to end the weekend as I feel I had more room to push in Race 2, but overall a solid debut in the Stock 1000 category. I appreciate everything from George and Janette Nassaney, Mike, Nelly, and the M4 crew for all the support!"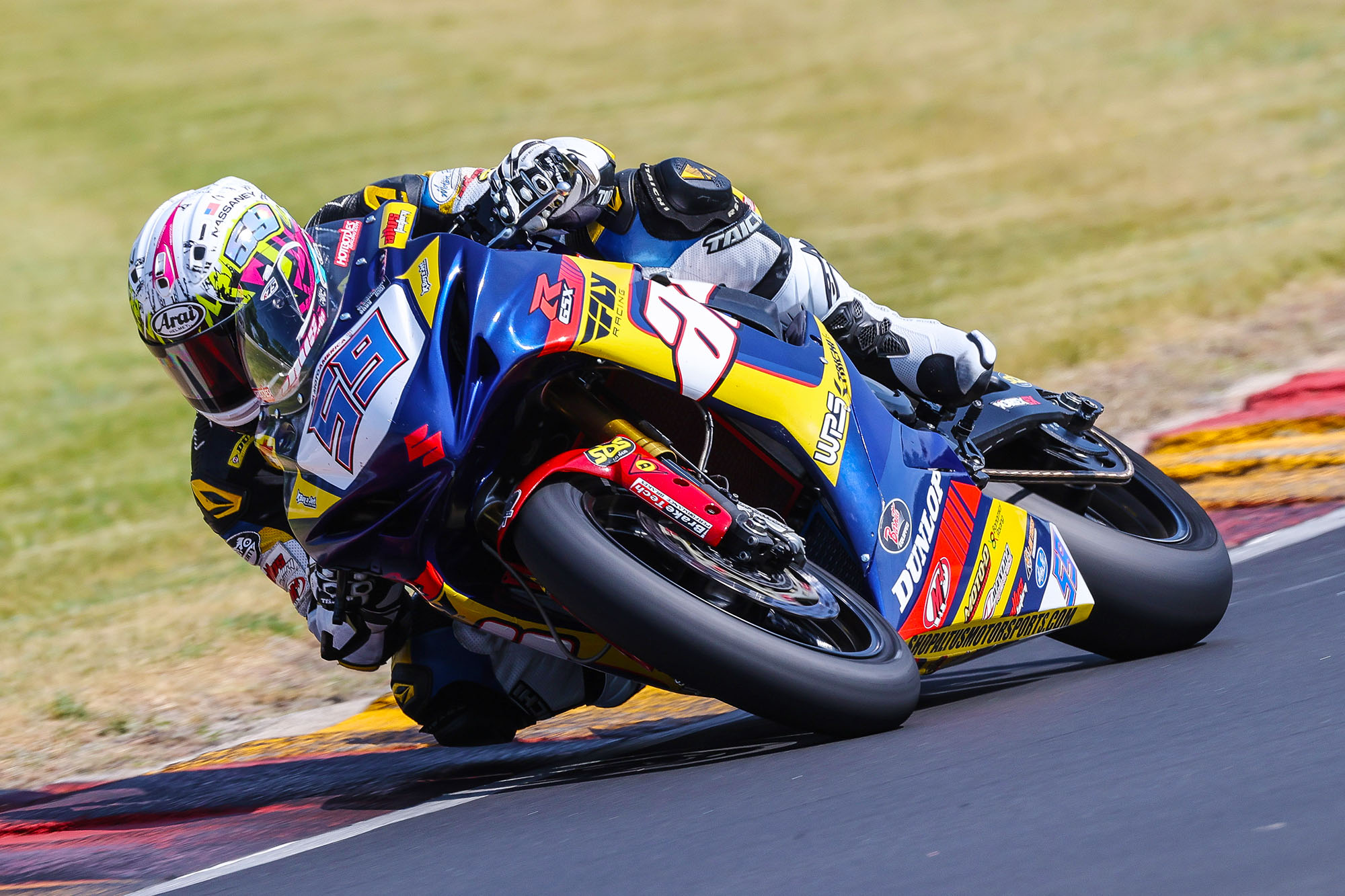 Supersport:
Things never really clicked for Jaret Nassaney at the Road America round. He was P7 in the first practice but struggled to find a setup that let him significantly improve his lap time in the two qualifying sessions. Ultimately, he was gridded tenth for both Supersport races. In Race 1, he had a crash on the first lap that put him out of the race. On Sunday, he did score a top-10 finish, crossing the line in 8th place.
Junior Cup:
Alessandro Di Mario continues to get comfortable on the Altus Motorsports Ninja 400. He qualified fifth fastest. As a result, he started both Junior Cup races from the middle of the second row. In the Saturday race, he went with the lead group of 11 bikes and battled from the start to the checkered flag. Ultimately, he crossed the finish line in 7th place. In Race 2, he again went with the front group. Di Mario ran as high as 2nd place and looked more confident and aggressive. In the end, he finished the race in eighth.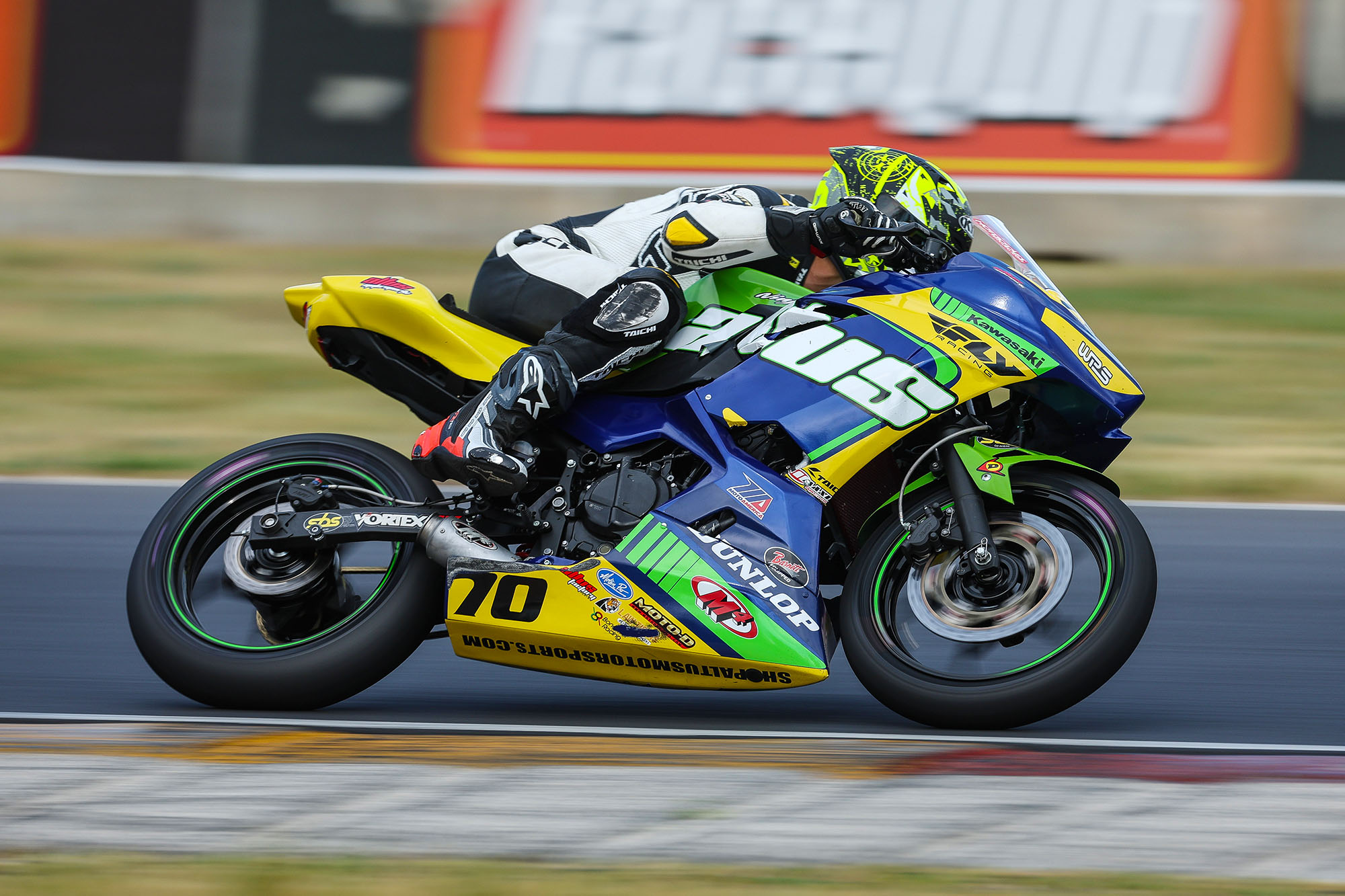 Alessandro Di Mario: "The team worked really hard this weekend to give me a good bike. Since the last round, they got the data working and it allowed them to see some issues with the front and make some changes. By the Sunday race, I was able to brake much harder and felt much more comfortable on the bike. We are definitely headed in the right direction. Thanks to Mike, William, George, and everyone that helped. And, big thanks to my parents for all the support."
George Nassaney: "This year has definitely been stressful. One of our Crew Chiefs, Mike Castro, had to have an emergency medical procedure a few days before the race, so he was unable to attend. Miles Thornton's flight was canceled late Thursday night, so waking up Friday morning we still needed a rider for Stock 1000. My son, Jaret is still off pace and with multiple crashes this season he does not have the results he wanted. Then he had a mechanical 3 hours before the second Supersport race which meant a motor swap. One thing I can say is God is definitely helping me through this. Our team keeps fighting and results are showing. To get Cody on the box after never riding the bike before, Jaret finished 8th in Race 2 with limited track time, and Alessandro finishing in the top ten and starting to understand how the draft works makes everything worth it. My family is built on a very strong foundation. My Father In Law was a Vietnam Veteran with 7 Purple Hearts. His work ethic and family values have made me the person I am today. Our Team will not quit and we will continue to push through the hard times. We understand how to Make Champions!"
—
Altus Motorsports team is supported by our great family of sponsors: Altus Motorsports, FLY Racing WPS, Suzuki Motor Corporation, Yamaha Motor Company, Barnett, Maxima Racing Oils, Moto-D Racing, Bonamici, Hot Bodies Racing, M4 Exhausts, Vortex EK, Motion Pro, SBS Brakes, BrakeTech USA, Inc., Ohlins, K-Tech, RS Taichi, Arai, Yoshimura, Chicken Hawk Tire Warmers, CarbonSmith, Law Tigers Oklahoma, Buy A Jet From Steve Main, and Altus Factory Racing
---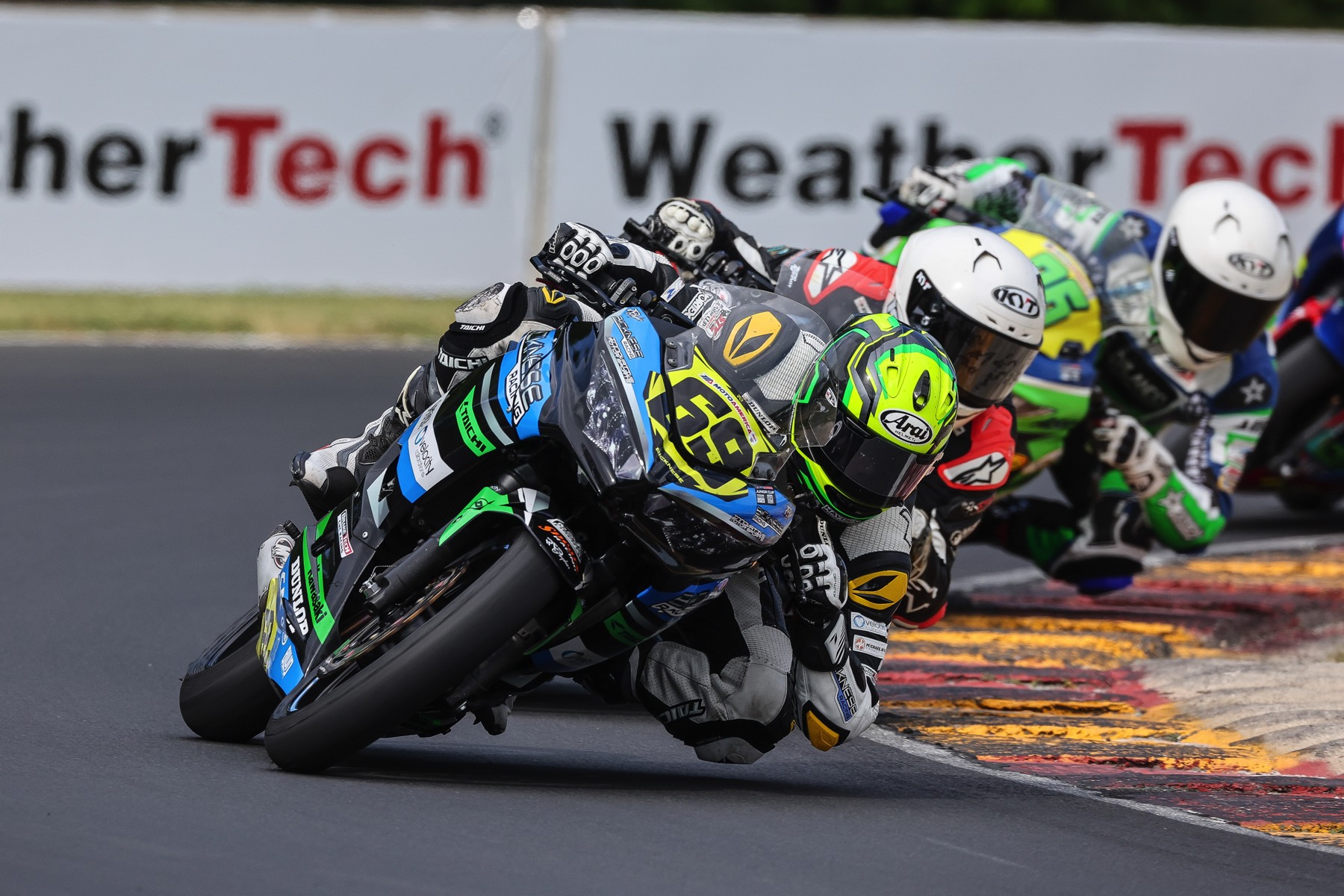 The following is from Hayden Bicknese Racing…
Following his front-running weekend at Barber Motorsports Park a couple of weekends ago, where he missed out on his first win by only 0.003s, Hayden Bicknese once again found himself in contention for victory in both races that took place in the latest round of the 2023 MotoAmerica Junior Cup championship at Road America.
Qualifying on the front row of the grid, Hayden was in the mix for the win throughout the opening seven lap race on Saturday, running a fast pace and adapting a smart strategy throughout. With slip stream playing a major part in races at the Elkhart Lake venue, the #69 Kawasaki rider played it defensive on the last lap which compromised his exit onto the final straight. He crossed the line as part of a five-rider photo finish, narrowly missing out on the win by 0.060s. He was classified fifth in what was the closest top five finish in MotoAmerica Junior Cup History.
Sunday's race saw him faster in warm up by over a second thanks to some great overnight set up changes made by the team and as the lights went out on Sunday, Hayden was once again in the podium fight. Fourth at the flag, he was a mere second from the victory.
In the overall championship standings Bicknese now lies third, having scored points in every race. He has never finished lower than fifth and has stood on the podium three times in six races with a best finish of second!
The next round of the championship takes place at Brainerd at the end of July.

Hayden Bicknese:"After free practice and qualifying one on Friday we looked at where we needed to improve. I knew that I could go faster in sector two and on Saturday morning I was able to improve and take third on the grid. I was cautious in race one and only made moves when I had to. I thought I was in a perfect position at the end of the final lap and so I went defensive, but I lost out in a photo finish and was classified fifth which was still decent. I felt really good in warm up and was over a second faster after the changes we made overnight. Race two was similar to Saturday's race and so I was determined to not make the same mistake on the final lap. I wanted to lead into turn five, but I never got the chance. I lost a bit of the draft on the run to the line but was still able to finish fourth. Overall, it was a good weekend even if I think I could have gone faster than I did on Sunday. I am looking forward to the next round at Brainerd."
---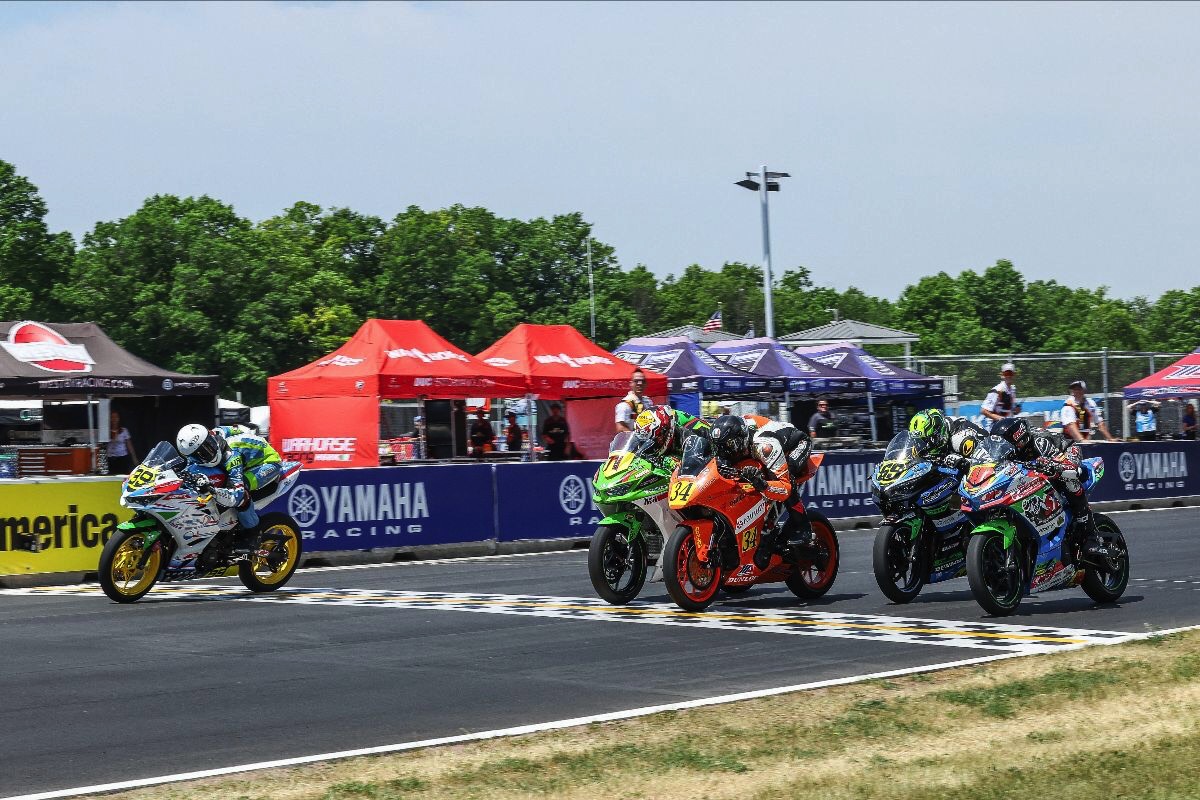 The following is from Levie Badie Racing…
Levi Badie backed up his maiden MotoAmerica Junior Cup win at Barber Motorsports Park a couple of weeks ago with another double race podium fight in the latest round of the 2023 series at Road America last weekend.
Front running throughout Free Practice and qualifying, the likeable Belgian powered his Kawasaki to a race one podium and a hard fought fifth to move into P5 in the overall standings despite missing the opening round.
Never outside the top six in the four races that he has entered so far this year, Badie, who became the first European to win in MotoAmerica Junior Cup, could still win the 2023 title. The next round of the series takes place at Brainerd at the end of July.

Levi Badie:"After Barber, I was excited to return to Road America which was one of my favourite races last year. I was fastest in FP1 and felt really confident. It was a good start to the weekend, and we were able to remain consistent throughout. In Q1 I was alone on track but ended fourth. I was able to improve a bit on Saturday morning but stayed fourth. I knew it would be a huge slipstream battle and so I tried to stay calm and stay out of trouble. I could pass all of the guys in the lead group, so I was happy to just wait. I was faster in sector two and tried to make a break but wasn't able to. To get the podium in a photo finish was really good as I am not as small as some of the other guys and so the podium was like a win. I made another good start in race two and was thinking about a different strategy compared to Saturday's race. When I knew I couldn't break them I tried to be defensive, but I made a small mistake, and my last lap wasn't the best. P5 was good points for the championship and although we didn't make the podium in race two it was a really nice way to end the weekend. I am going back to Belgium now and will continue to work hard off-track to be ready to fight again in Brainerd. I want to thank all my supporters and my family and the MotoAmerica fans for all their nice words."