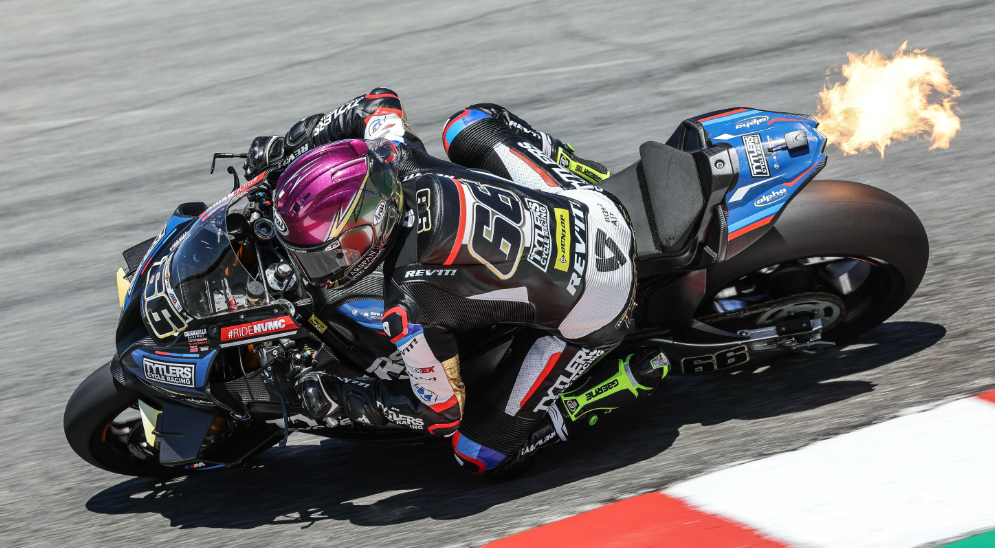 The following is from Tytlers Cycle Racing…
The Tytlers Cycle Racing team expanded from two to three in the recent round of the 2022 MotoAmerica Superbike Championship with Larry Pegram joining series regulars PJ Jacobsen and Hector Barbera aboard a third BMW M1000 RR machine.
Solid rides in qualifying by all three set the scene for a strong weekend at the 2.2-mile iconic Laguna Seca Raceway.
Saturday's opening twenty lap encounter saw Hector finish sixth with PJ seventh, the pair running consistent pace throughout. Larry just missed a top ten finish after a race long battle with five other riders. He crossed the line eleventh.
A faster pace by all three riders than twenty-four hours earlier saw them closer to the front at the flag after another exciting race that saw Hector race to fifth ahead of PJ who took P6. Just as he was a day earlier Larry was involved in another race long battle with a bunch of riders, eventually picking up four championship points in twelfth.
Sunday saw the team's Stock1000 regulars Travis Wyman and Corey Alexander secure eighth and ninth places, respectively. Travis had finished tenth in Saturday's opening race, ensuring a double top ten for him as the series heads to Brainerd International Raceway in a couple of weeks.
In terms of the overall championship standings Hector and PJ are fifth and seventh respectively with Travis P10 and Corey P11.
Hector Barbera: "Saturday was disappointing. I thought after qualifying that we could fight for a podium, but I knew after five laps that I didn't have a good feeling and I was struggling a lot for grip. I honestly think it's the track condition and not anything that we could solve once the race started. I tried changing mapping, but I was limited on corner exit. Sunday's race was a bit better but honestly, I am not happy. I finished fifth but I want to be fighting for the podium. We were faster than Saturday but it's not enough. The team worked well all weekend, but at the moment we have a limit, and we need to understand what to do to allow us to be closer to the front. The gap in qualifying is much closer and sure we are coming more to the front, but I want more. We hope that in Brainerd we will be more competitive."
PJ Jacobsen: "It was a difficult opening race. I thought we had good race pace after the opening few sessions on Friday but unfortunately, I was unable to run closer to the front and we took seventh. Race 2 was another difficult one for me. It was more or less the same story from race one where I struggled with grip. I took sixth but I want to be closer to the front. The next tracks should suit us, and I am looking forward to seeing what we can do at Brainerd and for the rest of the season. I want to thank the whole team for their work. We will keep plugging away and the results will come."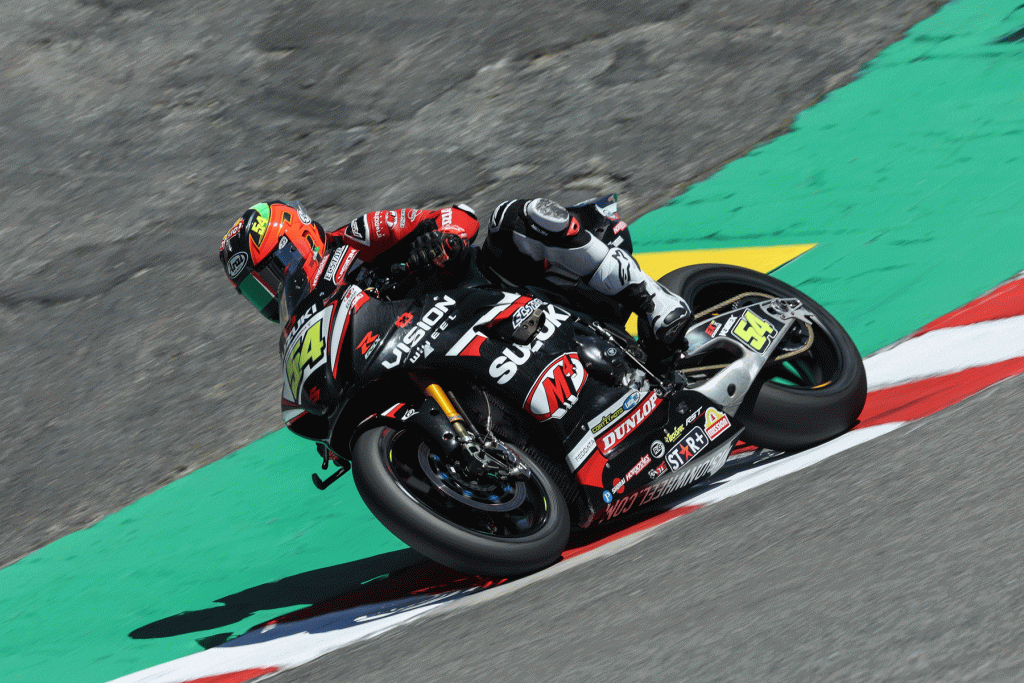 The following is from Suzuki…
Suzuki and Team Hammer closed out an encouraging weekend of MotoAmerica competition at WeatherTech Raceway Laguna Seca on Sunday with their rookie aces once again leading the charge.
Vision Wheel M4 ECSTAR Suzuki's Tyler Scott continued his successful upward progress, adding another MotoAmerica Supersport runner-up result along with fast lap honors to a weekend that had already seen him collect pole position and a second-place podium on Saturday.
The 16-year-old was embroiled in a six-rider charge for the lead early aboard his next-generation Suzuki GSX-R750 that also included the team's talented substitute rider, Cory Ventura.
Ventura slotted into third early. He then took advantage of Scott's back-and-forth battle for first to slip into second and then, momentarily, the lead as the hectic race continued to change shape in the early laps.
Scott pulled off a remarkable save on lap 3 after hitting a bump on the track but was shuffled down to fourth in the aftermath. The youngster then set about the difficult task of clawing back up the order as Ventura settled into sixth.
During his charge, Scott ripped off the fastest lap of the race – a 1.26.985-second lap that ultimately proved more than a half-second quicker than any other rider could manage. He leveraged that pace to slash back up into second and then proceeded to defend the position to the checkered flag.
The result was the rookie's sixth podium of the year and the fifth occasion where Scott finished in either first or second position. He said, "The Vision Wheel M4 ECSTAR Suzuki worked great in the first part of the race, but I got bottled up and shuffled back. I had to get my pace back and then hold onto second while battling grip issues," stated Scott.
"We're improving every round – both with my riding and with the bike set-up. I definitely think we'll be on the podium a lot more and hopefully get some more wins."
Ventura gained a position on the race's final lap to move into fifth, earning the squad two top-five finishes in a single Supersport race for the fourth time this year.
Ventura said, "I got the call to ride for the team last Friday, and I knew I had to do it. I've been training hard for this moment for a long, long time. Early in the weekend, it was a little hard to transition to the Supersport bike, but slowly we improved throughout the weekend to where we were able to run up front for a couple of laps today. We're still learning… I wish we had just one more day and one more race tomorrow!"
Young gun Liam Grant missed the race due to a concussion. He crashed in qualifying on Saturday. The GSX-R750 proves to be a front runner in the new generation Supersport class with 45% of the top ten this weekend being Suzuki's.
Meanwhile, Richie Escalante put the finishing touches on his best weekend yet as a Superbike pilot, backing up Saturday's career-best fourth-place finish with yet another fourth on Sunday.
Escalante powered into fifth early aboard the Vision Wheel M4 ECSTAR Suzuki GSX-R1000R and then slipped up the inside of a pair of veteran Superbike stars to move into third on lap 2. He then maintained the position until being displaced on lap 4 of 20.
Escalante was overtaken by another competitor on lap 6 but regained the position on lap 11, which he controlled to the contest's conclusion.
Escalante declared, "For today, the team tried to improve the bike for the later laps when the tire goes off. The bike's handling was more calm and it was easier to do consistent laps. I got a strong start and also was able to use our great starting position. We were happy to battle for the podium early in the race, and I was happy with the pace today. In the end, we were 17 seconds behind the leader again at the checkered flag, but I think we made many steps forward."
"Thanks to the Vision Wheel M4 ECSTAR Suzuki team and my crew for doing a great job. We need to find a half-second a lap to be fighting for the podium every time, but we are much closer than we were earlier in the season. I like Brainerd. It is a cool track and super-fast. Hopefully, we will be able to continue improving."
Kyle Wyman bettered his strong Saturday with an eighth-place result in substitute duty aboard the second Vision Wheel M4 ECSTAR Suzuki GSX-R1000R, collecting a seventh-place finish on Sunday. Wyman steadily picked up his pace as he gained seat time aboard the bike, posting the best lap nearly six-tenths quicker in Race 2 compared with Race 1.
Team Hammer will return to action in three weeks, as the 2022 MotoAmerica AMA/FIM North American Road Racing season continues on July 29-31 at Brainerd International Raceway in Brainerd, Minnesota.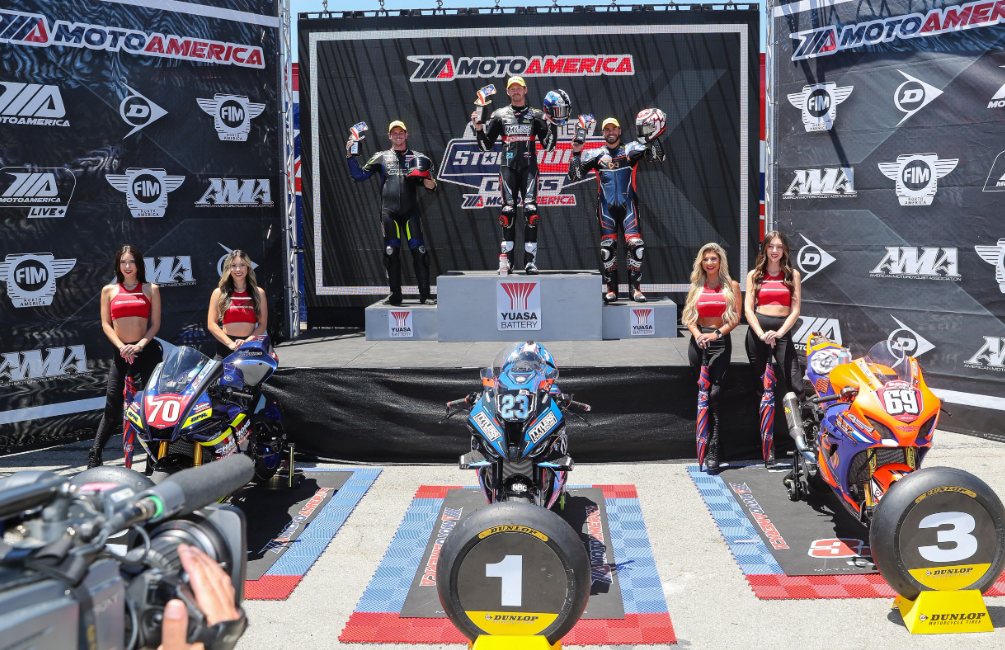 The following is from Tytlers Cycle/RideHVMC Racing…
It was another lights to flag win for Corey Alexander and the Tytlers Cycle Racing #RideHVMC squad in the latest round of the MotoAmerica Stock1000 race at Laguna Seca on Saturday. After storming to the Pole Position the #23 hit the front from the off and was never headed, taking a convincing 4.7s win at the end of the fourteen-lap encounter.

Travis Wyman kept his championship hopes alive with a fighting fourth place finish, missing a podium after a race long fight in the early stages. After losing touch with the leading trio, he eventually finished in a solid P4.

Zac Schumacher, on his first visit to Laguna Seca, finished twenty-sixth.

The next round of the championship sees the riders head to the Brainerd International Raceway at the end of July.
Corey Alexander: "Overall it was a positive weekend. Initially we took a bit of time to get going, everyone was going pretty fast, and I needed to find a bit more with the set-up of the bike. The team worked hard, and we found a good direction and that was enough to take pole and the win. It was an uneventful race, and we were able to take another twenty-five points. We will keep plugging away and look ahead to Brainerd."
Travis Wyman: "It was a good race. I couldn't quite hang with the leaders and ended up finishing fourth which wasn't too bad which I am pretty happy with considering the small issues we had."
Zac Schumacher: "The race didn't go as well as I had hoped. It was my first time at Laguna and it's a pretty challenging track and I just struggled to find a setting that I was comfortable enough with. The team supported me the entire weekend and I want to thank them for that. The next round is Brainerd and I've been there before and so I am looking forward to being back in the mix with a much better result."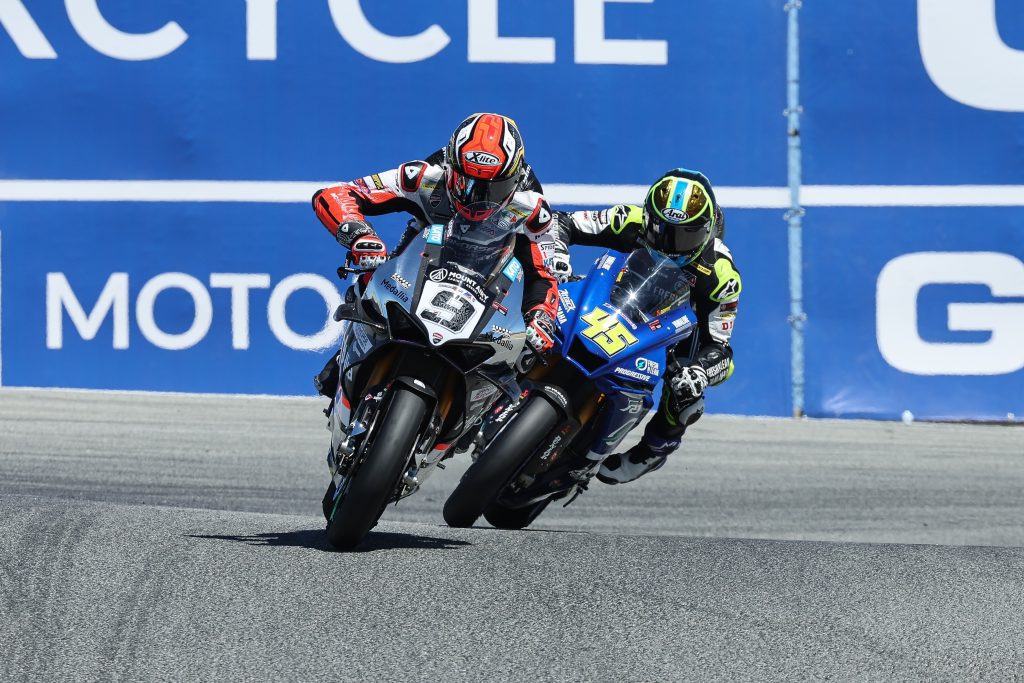 The following is from Ducati…
Danilo Petrucci put on a showing at the cathedral of Californian speed at Laguna Seca, taking a pair of podiums on the Warhorse HSBK Racing Ducati NYC Panigale V4 SBK.
Petrucci fought tooth and nail with Yamaha's Cameron Petersen in both encounters, finishing an ultra-close third in race one after the two tangled in the world-famous Corkscrew, before bettering that result with a second in race two behind the double winner, Yamaha's Jake Gagne.
The result puts Petrucci within three points of Gagne in the series standings, 215-212, as the series heads to Brainerd and Minnesota on July 29-31.
Danilo Petrucci (Warhorse HSBK Racing Ducati NYC Panigale V4 SBK #9): We cannot say it was a good weekend because we scored another third and second, and Gagne took the lead in the championship. We are trying to improve our performance, but we're missing a bit of speed, and our problem is the traction out of the corners. We are working hard to fix this and let the bike work as best as possible."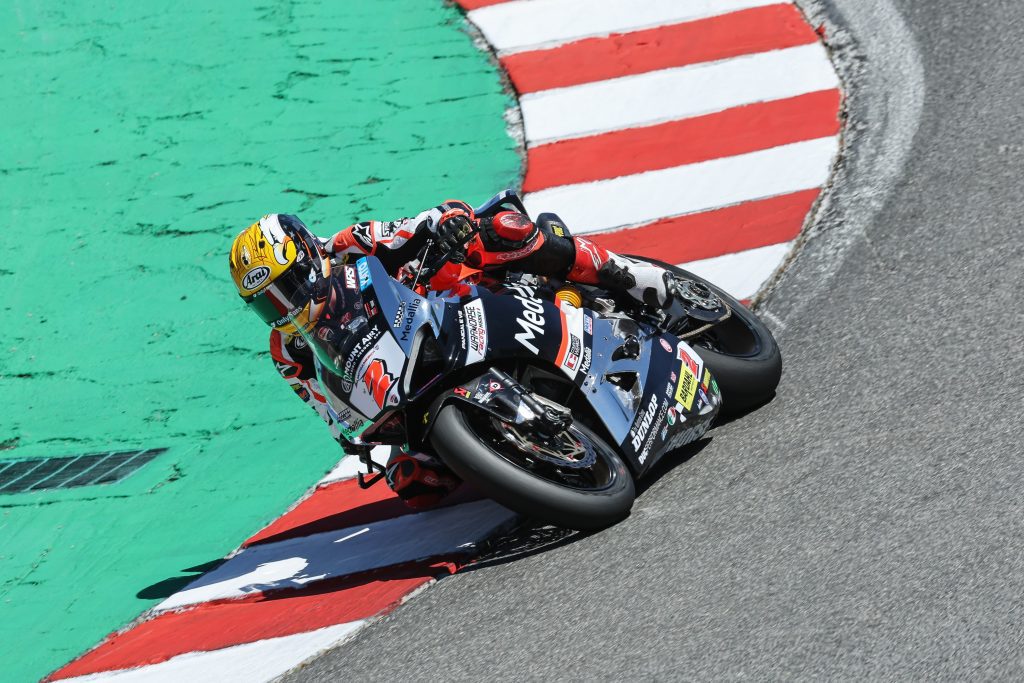 The following is from Ducati…
Josh Herrin's (Warhorse HSBK Racing Ducati NYC) season in MotoAmerica Supersport 2022 keeps improving as the Californian went 1-1 at Laguna Seca for the fifth round of the championship.
In front of Ducati Corse Sporting Director, Paolo Ciabatti, Herrin's speed under the Laguna Seca sunshine was absolute, taking a hard-fought win in races one and two more comfortably. Second and third in both races went to Suzuki's Tyler Scott and Yamaha's Rocco Landers.
The result means Herrin is now a massive 81 points clear in the standings over Scott, with Landers third, 86 points adrift.
The sixth round of MotoAmerica Supersport 2022 will be held at Brainerd in Minnesota on July 29-31, 2022.
Josh Herrin's (Warhorse HSBK Racing Ducati NYC #2): "It's a great weekend here at Laguna!", Herrin enthused. "We got the double, right in front of the big boss and the new Medallia sponsors, and that makes four race wins in a row. I'm just having so much fun on my Panigale V2 and this thing is incredible to ride, I'm happy to do some victory wheelies on it for all the fans that turned up. I'm not going to stop now. It's time to keep pushing on for the title!"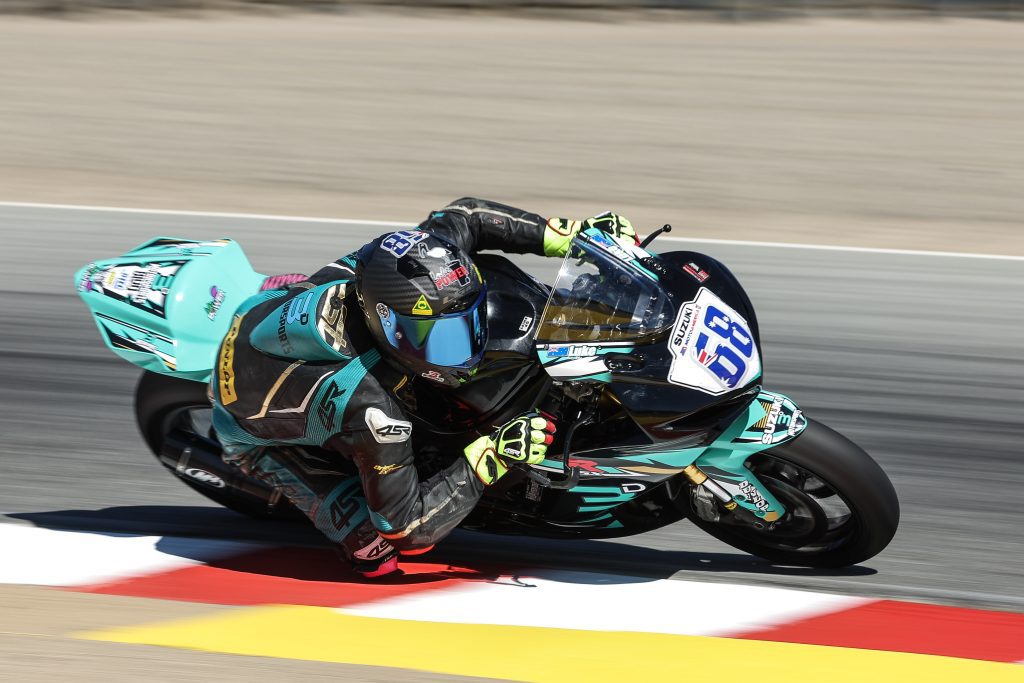 The following is from Luke Power Racing…
A strong opening day paved the way for an even stronger Saturday with Luke Power qualifying a strong seventh before storming to sixth in Race 1 after getting the better of a total mic battle with Cory Ventura in the early stages of the nineteen-lap encounter. Once clear of his rival Power's pace was as fast as the lead group, the #68 reducing an almost six second deficit to the guys ahead to a mere 0.2s at the flag. He crossed the line to secure another ten championship points, closing the gap to the top five in the overall standings.
Sunday saw improvements in terms of lap time in morning up but sadly Race 2 was short lived. Luke, who was running in the leading pack, crashed out of the podium battle in the early stages. Unhurt, he is now focused on the next round of the series at Brainerd International Raceway at the end of July.
One of the highlights of the weekend was Saturday's 'Party at the Podium' which is a now annual affair at the iconic Laguna Seca circuit. Along with 3D Motorsports team manager Dustin Dominguez, Luke took part in the fan party at the end of the opening day of race action, the pair's rendition of the classic song 'Tequila' earning them the MotoAmerica's Got Talent winner's trophy.
Luke Power: "Race 1 was not a bad race. I got held up a little at the start but recovered well and had good race pace, especially on used tyres. Race 2 started well, and I was running inside the top six and in touch with the leaders. I made a small mistake overtaking into the corkscrew and unfortunately, I went down. It goes like that sometimes, but it certainly wasn't in the plan. I am sorry to the team and to everyone that supports me, we will try to come back stronger at Brainerd. Outside of the racing I had a blast at Laguna Seca. We were invited to the Party at the Podium on Saturday night, and we decided to enter the talent contest. There were so many fans, and it was great to be part of it. We went with the iconic song Tequila but went all in with matching watermelon outfits. I was so much fun and hopefully we can defend our crown next year. I want to say a big thanks to Jason Aguilar's father Bob, and his sister Alyssa who presented us with some of his memorabilia – it will be displayed proudly."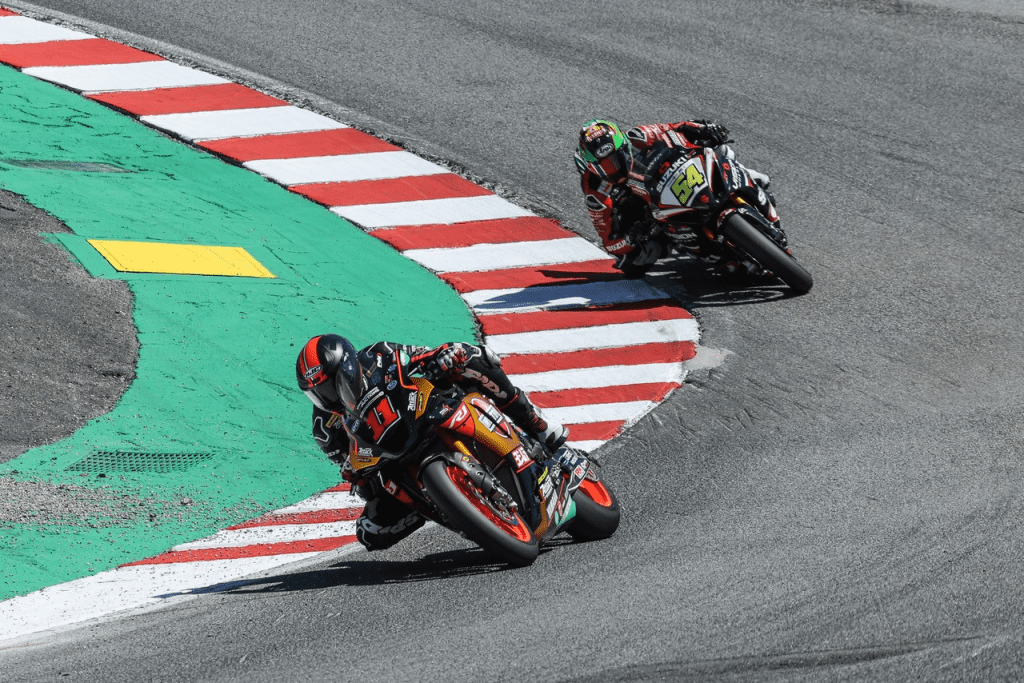 The following is from Westby Racing…
After finishing fifth in Saturday's Superbike race at WeatherTech Raceway Laguna Seca due to a technical issue, Mathew Scholtz, rider of the #11 Westby Racing Yamaha YZF-R1, was looking forward to a better result in Sunday's race. Unfortunately, the result that he and the team were looking for ended up in a cloud of dust when he tucked the front of his Yamaha Superbike on lap 10 of the 20-lap race.
Sunday morning warmup brought promise for the Westby squad when Mathew was fourth in the session, and he and the team felt confident in the bike setup for the afternoon's race.
Starting from the pole, Mathew got shuffled back to third off the line, then dropped to fourth on the opening lap and fifth on lap two where he maintained his position. He moved back into fourth on lap seven, which he held for three laps until lowsiding his Yamaha at the halfway point of the race.
Mathew remounted and returned to the pits, but the damage to the bike was too extensive for him to safely continue.
The Westby Racing team will regroup and be back in action for round seven of the 2022 MotoAmerica Superbike Championship, which takes place at Brainerd International Raceway in Brainerd, Minnesota, on July 29 through 31.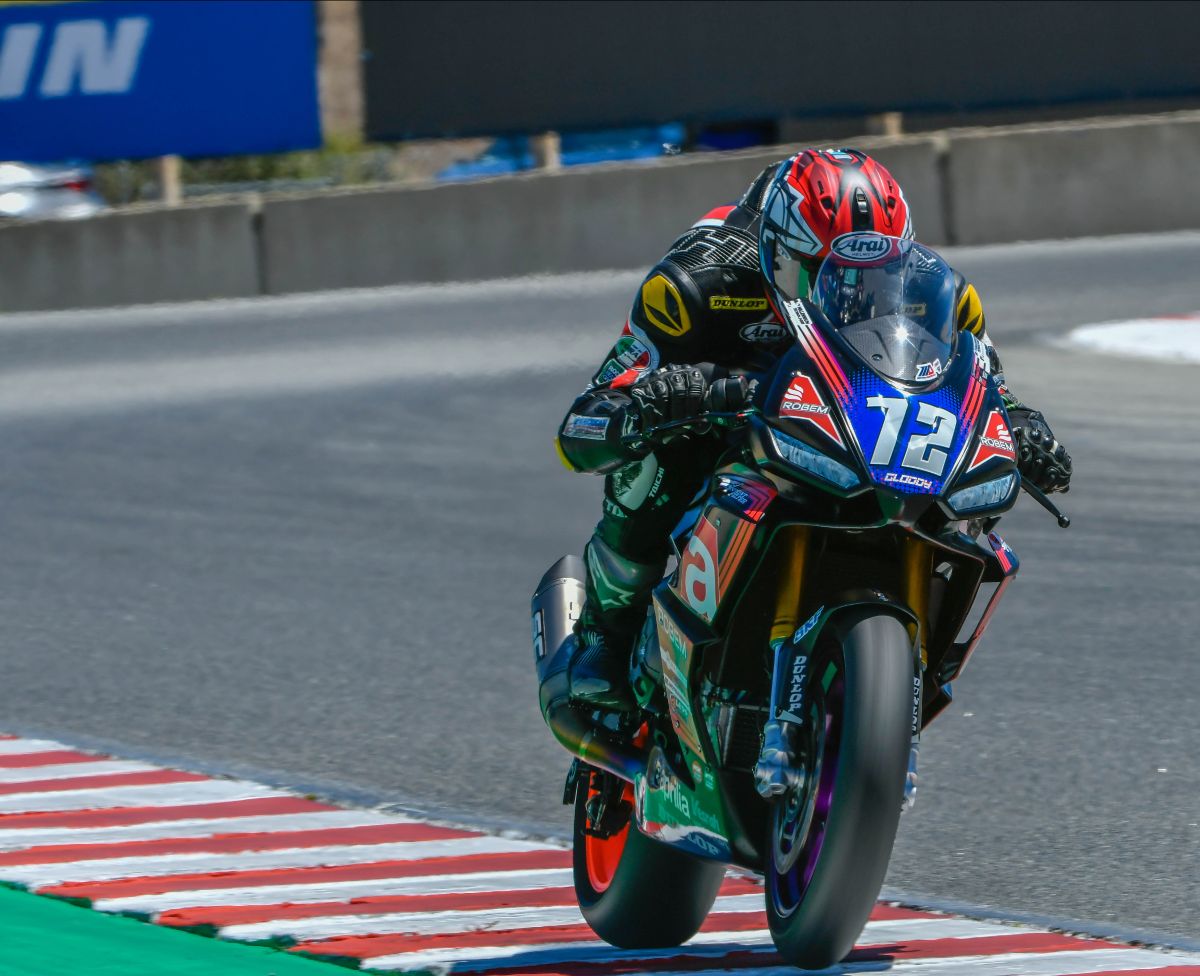 The following is from Robem Engineering…
Ben Gloddy was hoping to be back to his usual front running form in MotoAmerica's Twins Cup after enduring a tough weekend two weeks ago at Ridge Motorsports Park. And that's exactly what the Robem Engineering Aprilia rider delivered Saturday at WeatherTech Raceway Laguna Seca when he qualified third and finished fourth in the event's lone Twins Cup race.

Though Gloddy and his teammate, Teagg Hobbs, weren't at the top of the time sheets during Friday practice and qualifying, Gloddy's gritty Saturday performance helped move him up from ninth to eighth in the Twins Cup points standings. Hobbs – who is still recovering a broken collarbone he suffered at the Road America round in June – persevered to score his sixth top-10 finish of the 2022 season and hold onto sixth place in the standings.

Both riders were a little off the pace at the start of the weekend. Gloddy was the faster of the two riders in Friday practice, as he finished the session 10th-fastest with best lap time of 1:32.890. Hobbs finished practice in 12th with a 1:33.410. Later Friday, Gloddy and Hobbs improved their pace to the rest of the field, as Gloddy finished Qualifying 1 in eighth place and Hobbs 11th. It all came together for Gloddy in Saturday morning's Qualifying 2, as he moved up five places to secure third on the starting grid. Hobbs qualified 11th.

The Twins Cup race got underway late Saturday afternoon, and Gloddy got a phenomenal jump off the line. He nearly got the holeshot and was running in second place for the majority of Lap 1. Though he lost touch with the leading group on Laps 2 and 3, Gloddy was back in the leading group on Laps 4-6. Unfortunately, another rider crashed at the exit of Turn 2 on Lap 7, and Gloddy was among the riders who had to run off track to avoid the down rider. Gloddy rejoined the race quickly but had fallen to sixth place at the end of Lap 7. With six laps remaining in the 13-lap race, Gloddy put his head down and battled with several other riders to score a hard-fought fourth-place finish. Hobbs moved up two positions to finish Lap 1 in ninth place and ran the remaining 12 laps in ninth- or tenth-place before finishing tenth.

The MotoAmerica series goes on a three weekend break until the next round, which is scheduled for July 29-31 at Brainerd International Raceway in Brainerd, Minn.

Ben Gloddy / No. 72
"I think we had a good race. I got a really good start and put myself in a good spot for about half the race. Then another rider high-sided in front of me, which caused me to run off the track. I came back on track in seventh or eighth place, then was able to make my way back to fourth on the second to last lap. Another rider tried to pass me at the last corner, but he ran wide and I was able to get my Aprilia turned and got a good run to the checkered flag."

Teagg Hobbs / No. 79
"Laguna Seca was an up and down weekend, and the team and I gave it everything we had. Unfortunately, the results don't reflect that effort. We know what needs to be done for the next round, so all we can do is move on and prepare for Brainerd. Thank you to Robem Engineering for all the hard work this weekend, and I'm looking forward to some better results at the next round."
Robem Engineering's technical partners for 2022 include Aprilia Racing, Piaggio Group Americas, The Center for Plastic Surgery, Synchrony, Velocity Calibrations, Bitubo Suspension, Dunlop, Woodcraft Technologies, Dymag, Vesrah, Sprint Filter, DID, Magura USA, Sara Chappell Photos, NGK/NTK, Blud Lubricants, Millennium Technologies, Motovation USA and SC-Project.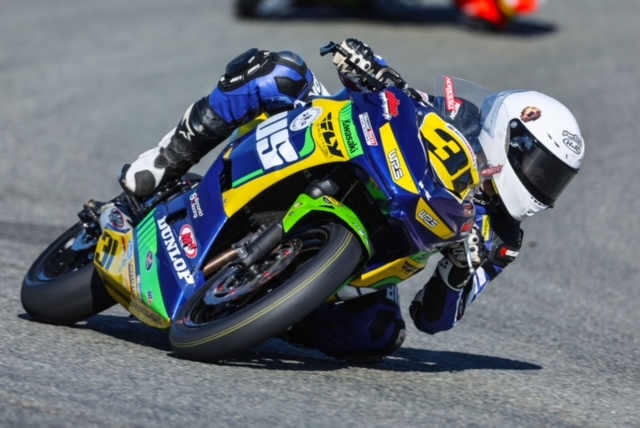 The following is from Altus Motorsports…
The results on paper are not an indicator of the success the team had at the 2022 Laguna Seca MotoAmerica round.
"Sometimes you do everything right and the cards just don't go your way. That pretty much sums up our Laguna Seca weekend. We have an amazing team and all of our riders are making improvements every round. Our pace was great but we suffered a mechanical on Sunday in Supersport and Kayla caught some bad luck in both Junior Cup races. It is what it is and we just move on to the next round," said team owner George Nassaney
Superbike Cup & Stock 1000
Laguna Seca Raceway was another solid step forward for Brandon Paasch. This round featured only one race on the schedule for the Stock 1000 class. Paasch started from 8th and finished 6th. In the Superbike Races, he qualified 21st. In the Saturday race, Brandon fought his way forward to 14th and 4th among the Superbike Cup competitors; the race-within-the-race of Stock 1000 competitors running with the Superbikes. On Sunday, he also finished 14th but this time as the top Superbike Cup racer.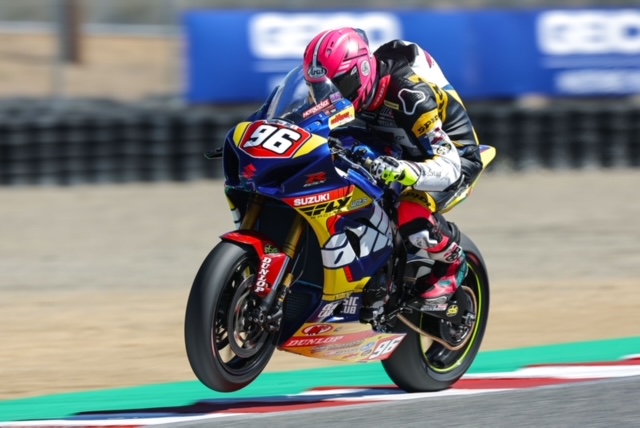 "We definitely had a good weekend of learning and improving. We were steadily chipping away at the lap time all weekend and had some great battles farther up the grid. I'm definitely happy with the progress and I am looking forward to getting back out at Brainerd in a couple of weeks," said Brandon Paasch.
Supersport
Jaret Nassaney began both of the Supersport races from 9th. In the first race, on Saturday, he had worked his way up into a race-long battle for 7th. He fought hard for the position during the last few laps and managed to hold it when he crossed the finish line. In the second race, Nassaney was also running in 7th when an electrical issue surfaced. He limped the bike back to the pits and, regrettably, took the DNF.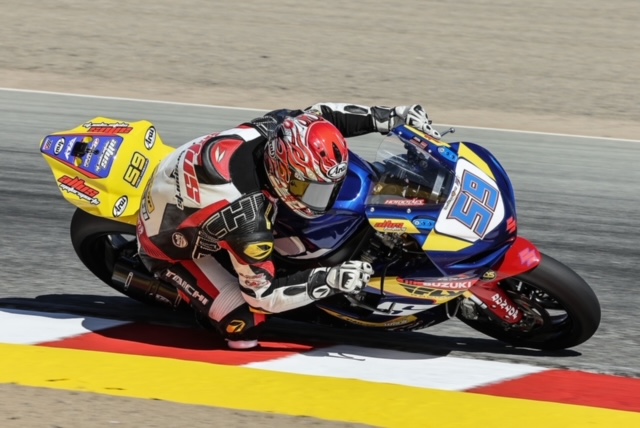 "We went faster than we ever have at laguna so that was a big plus! We got p7 in race 1 after salvaging a bad start! In race two we were in contingent for 6th with three laps to go when an electrical issue caused us to retire from the race. Super bummed but we'll give it another go at Brainerd," said Jaret Nassaney
Junior Cup
Kayla Yaakov has established herself as a mainstay in the leading pack of the Junior Cup races this season. Laguna Seca was no different. After qualifying 6th, she went with the lead pack during the Saturday race. She was rarely outside of the top three spots and even took her turn at the front a few times. With two laps to go, Yaakov was running in 2nd with sights set on another win when an incident with the rider in 3rd put them both on the ground and, unfortunately, out of the race. The Sunday race was more of the same. She went with the front runners at the start but on the final lap the rider in 2nd highsided on the exit of Turn 3. His bike hit Kayla. She was able to keep her motorcycle upright as she ran off the track. She did re-enter but only managed to cross the finish line in 9th.
"Laguna was definitely a tough weekend for us. After having a really good pace in practice and qualifying, we were really looking forward to the races. Unfortunately, we ran into two unavoidable racing incidents in both races. This caused me to crash in race one, and lose my rear brake, foot peg, and run off the track in race two. Definitely not the weekend we were hoping for, but the whole Altus Motorsports crew and I are already fully focused and ready for Brainerd," said Kayla Yaakov.
"It seems like I say it after every race weekend: We have a great team. Our riders, mechanics, and support staff are all amazing," said team owner George Nassaney. "A nd it was great to see such an amazing fan turnout in California. The campsites around the track were full and there were people everywhere. Those were the biggest crowds I think I've ever seen at that track. That's a good omen for the sport and we owe that to the efforts of MotoAmerica."
The Altus Motorsports team is supported by our great family of sponsors: Altus Motorsports, FLY Racing WPS, Suzuki Motor Corporation, Moto-D Racing, Bonamici, Hot Bodies Racing, M4 Exhausts, Vortex EK, Motion Pro, Barnett, Maxima Racing Oils, SBS Brakes, BrakeTech USA, Inc., Ohlins, K-Tech, RS Taichi, Arai, Law Tigers Oklahoma, and Altus Factory Racing.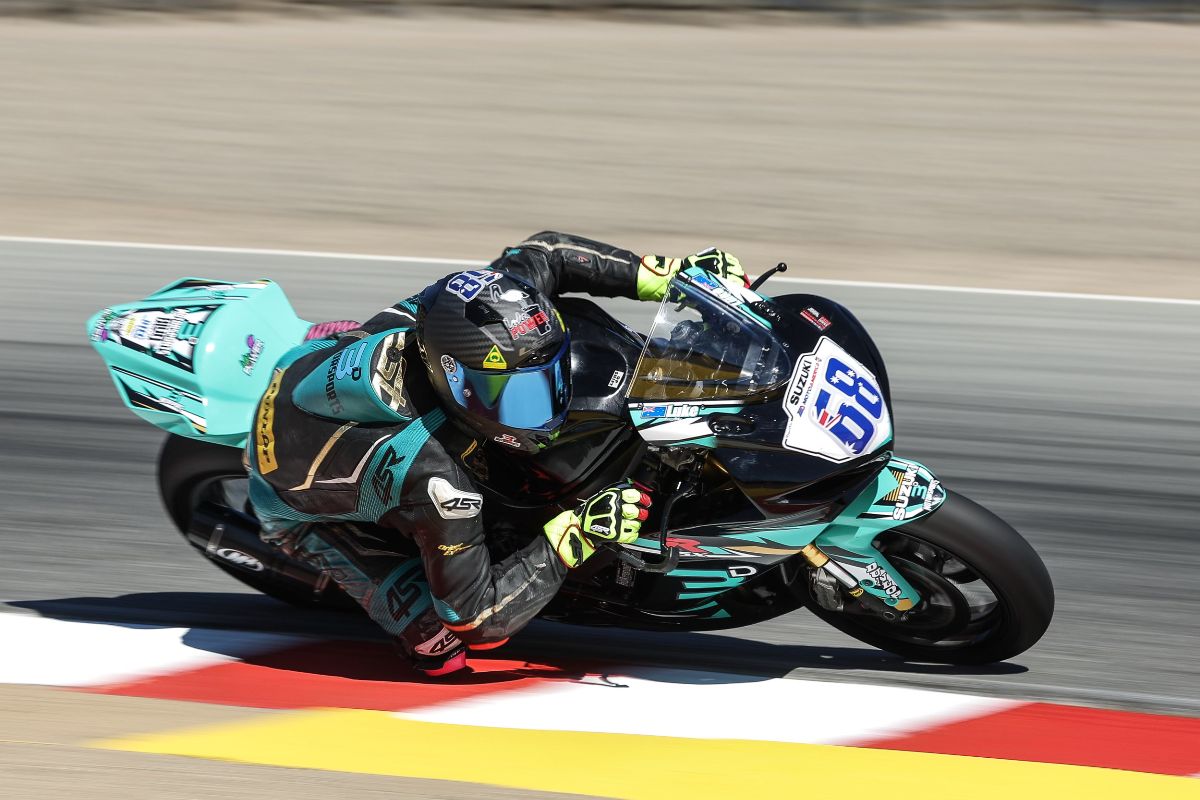 The following is from 3D Motorsports…
Luke Power had been looking forward to racing at WeatherTech Raceway Laguna Seca since the start of the 2022 MotoAmerica Supersport season. And the 3D Motorsports LLC rider turned in a positive performance Saturday in his first race on the same circuit the stars of FIM MotoGP and the FIM Superbike World Championship have raced on in years past.
 
Though he wasn't fast out of the gate at the technical, 2.238-mile track, Power put in a gritty performance in Saturday's Supersport Race 1 that saw him nearly close a more than four second gap during the final 11 laps to narrowly miss out on a top-five finish.
 
3D Motorsports LLC's second rider, Brit Steven Shakespeare, turned in one of his best qualifying performances of the 2022 season before a technical issue prevented him to taking part in the round's Stock 1000 racing action.
 
Power didn't show his usual pace in Friday practice, which he finished in 10th on the time sheets with a 1:30.265. Later Friday, Power was back to his usual form. He improved his best lap time by more than two seconds and finished the session in sixth place. Shakespeare finished Stock 1000 Friday practice in 21st and wrapped up Friday's Qualifying 1 session in 19th while improving his lap time by more than a second.
 
Qualifying for Supersport and Stock 1000 concluded Saturday morning, with Power qualifying seventh for the weekend's two Supersport races and Shakespeare claiming 21st on the Stock 1000 starting grid.
 
Later Saturday, Shakespeare took part in the sighting lap for the weekend's lone Stock 1000 race, but his motorcycle experienced a major technical problem on the starting grid that could not be repaired in time for him to take part in the race.
 
Supersport Race 1 went well for Power. He got a good start and ran as high as fifth on Lap 1. After finishing the opening lap in sixth place, Power briefly dropped to seventh on Laps 5 and 7, though he regained sixth place by the end of each lap. On Lap 8, Power was more than four seconds behind the top five riders but finished the race in sixth — about two-tenths of a second behind the fifth-place finisher.
 
Unfortunately for Power, the weekend at Laguna Seca ended on a down note. He got another good start in Sunday's Supersport Race 2 and was running in sixth place when he suffered an unfortunate crash as he was braking for Laguna Seca's famous Corkscrew and was unable to rejoin the race.
 
The 3D Motorsports LLC team will be back in action in three weeks at the next MotoAmerica round, which takes place July 29-31 at Brainerd International Raceway in Brainerd, Minn.
 
Luke Power / No. 68
"Race 1 was not a bad race. I got held up a little bit at the start but recovered well and had good race pace – especially on used tires. Race 2 started well, and I was running inside the top six and in touch with the leaders. I made a small mistake while trying to overtake another rider at the Corkscrew and went down. It goes like that sometimes, but it certainly wasn't the plan. I am sorry to the team and everyone who supports me. We will try to come back stronger at Brainerd. Outside of the racing, I had a blast at Laguna Seca. My team owner, Dustin Dominguez, and I were invited to the Party at the Podium on Saturday night, and we entered the talent contest. There were so many fans, and it was great to be part of it."
 
3D Motorsports' sponsors for the 2022 MotoAmerica season include Orient Express, K-Tech, BTEC Turbines, 4SR USA, Blud Lubricants, CG Law, Evol Technologies, AF1 Racing, Southern Adrenaline, M4 Exhaust, Valor Farms, Second Hand Motorsports, LS2, Motorcycle Dealer Services and Drippin' Wet.