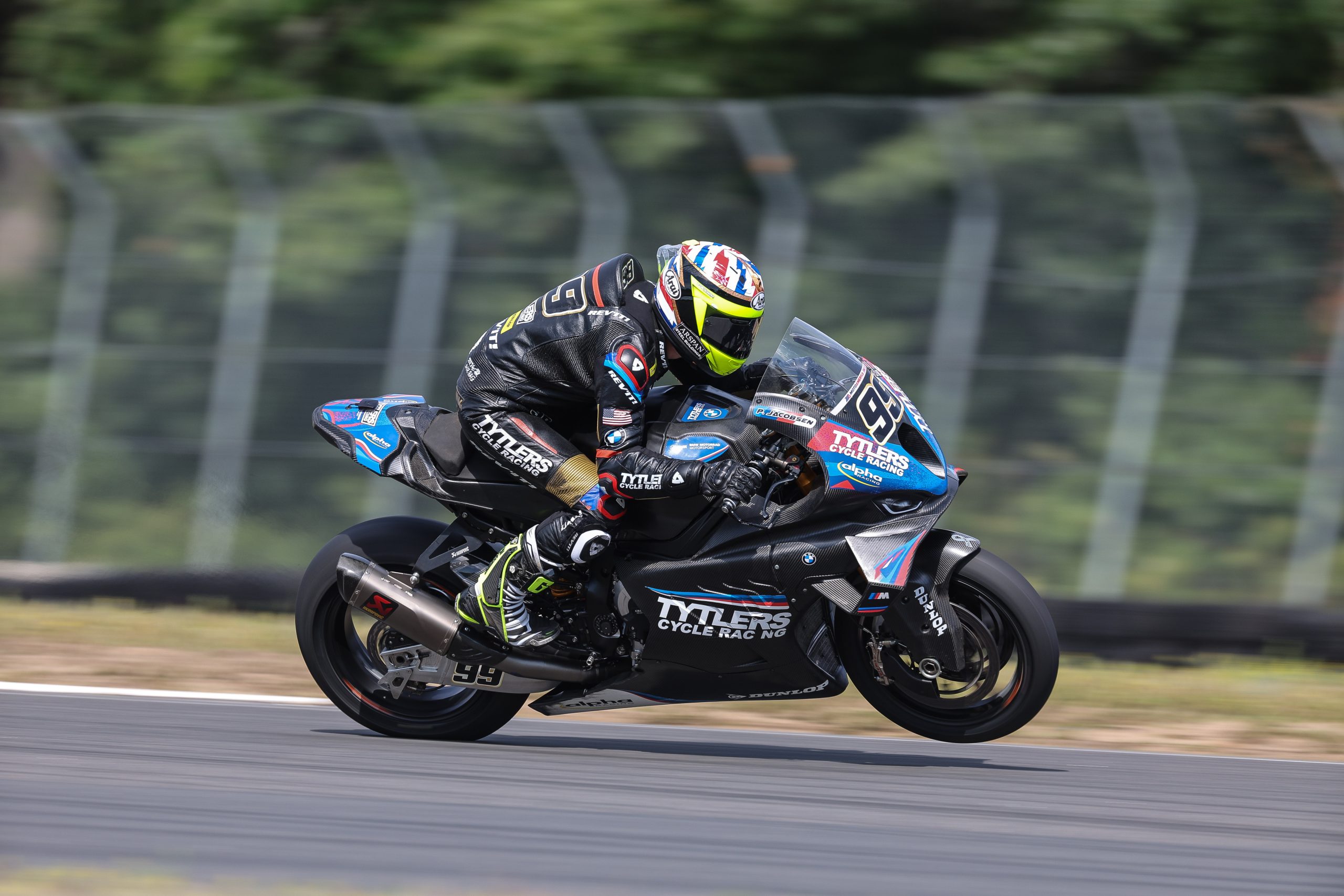 The following is from Tytlers Cycle Racing….
PJ Jacobsen kept the Tytlers Cycle Racing team on the top step of the podium in the latest round of the 2023 MotoAmerica Superbike Championship at Brainerd International Raceway, the #99 BMW M1000 RR rider converting his front row of the grid starting position to a superb second place finish on Saturday afternoon before romping to his maiden SBK win on Sunday.

On the pace from free practice PJ was the one to watch, putting together his strongest weekend of the year so far. The results move him into fourth overall in the points standings.

Cameron Beaubier, already a multiple winner this year, was also on the pace, the former champion putting his #6 machine in Pole Position for the weekend's two races. A strong start in Saturday's opener saw a dramatic first lap, with Cameron tagging the back of Jake Gagne. Contact between PJ Jacobsen and Mathew Scholtz brough out the red flag meaning a race restart. When the lights went out again Beaubier was once again looking good before a scary look crash saw him high side out of contention. With a medical examination revealing a concussion, Cameron withdrew from all track activity on Sunday.

The team's third rider, Corey Alexander, also had an eventful weekend. The #23 destroyed a bike after a fast crash on Friday but thanks to the great work of the team was able to make it out for qualifying. P12 on the gird, Corey dug deep but unfortunately failed to finish either race, despite running inside the top six on Sunday.

The next round of the series takes place at fan favourite Pitt Race in the middle of August.
 
PJ Jacobsen: "Race one was pretty hectic with everything that happened at the start. There were a few crashes, and we had a restart. Unfortunately, Cam (Beaubier) went down but I was able to run a strong pace and run with Jake (Gagne) the rest of the race. I got P2 and the closest we have been to a win which was good for me, and the team and I was looking forward to seeing what we could do on Sunday. Race two was pretty awesome. I got my first superbike win in MotoAmerica. It was a really hard race and I just focused on not making mistakes. I made the pass, but I knew I couldn't relax. Jake (Gagne) kept the pressure up, but we were able to hold on and get the win that has eluded me for so long. It's a pretty cool feeling and I can't wait for Pittsburgh. I want to thank the whole team, see you at the next one!"

Cameron Beaubier: "We had good pace Friday and Saturday morning that I was happy about but had a big crash at the beginning of race one that put us out for the weekend. I am bummed but I will get healthy and move on. It was good to see PJ win on Sunday so well done to him. I am looking forward to Pittsburgh so see you there."

Corey Alexander: "I felt great right off the bat with our bike and our pace was strong. Unfortunately, I had a big crash on one of the fastest turns of the track in Q1 that destroyed the bike. The guys built a new one, but we spent most of Saturday sorting out the bugs of a new bike and it cost us a finish in the opening race. Race two was back to normal with the bike, and I felt strong in the middle of the race and was pushing hard. Unfortunately, I lost the front with a few laps ago. It has been a weekend to forget but I am happy with what we have learned yet again and my pace overall. Thanks, team, for everything"
---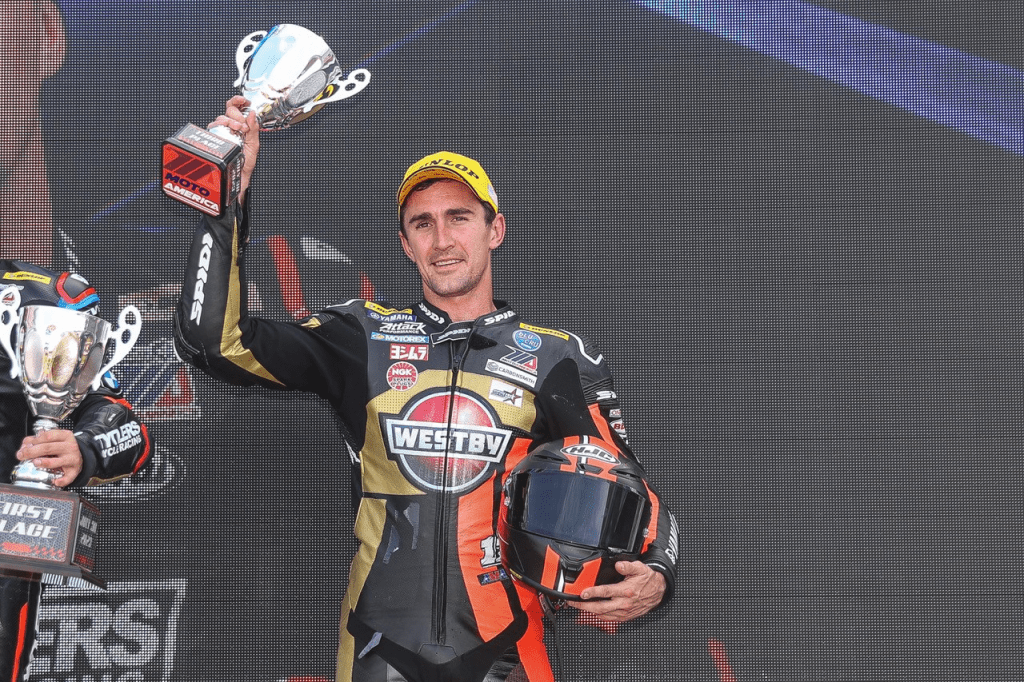 The following is from Westby Racing…
Mathew Scholtz and the Westby Racing team overcame a stroke of bad luck in Saturday's MotoAmerica Superbike race one at Brainerd International Raceway and wrapped up the weekend with a solid, third-place finish in Sunday's race two.
After not being able to finish Saturday's race due to a mechanical issue caused by an incident that wasn't his fault, Mathew's experienced crew was able to repair the #11 Yamaha YZF-R1 for Sunday's race.
Getting a great jump off the line in the 18-lap race, Mathew was in second-place for the first couple of laps. He lost a position on lap three, and then another one on lap four, but then, he stabilized his position in fourth for the next four laps and then moved back up to third place on lap eight. Mathew staunchly held onto the final podium position all the way to the finish line.
"It's awesome to be back up on the podium," Mathew said. "We went out there today with different gearing, but we weren't really sure if it would help. For the first three or four laps, Jake (Gagne) and PJ (Jacobsen) had a little bit of pace on me, but from lap five onwards, I kind of pulled them back slightly. Then, from the halfway point till the end of the race, the bike started losing grip as I would open the throttle. So, the last couple laps were just survival. In Laguna, I had a massive crash. Hadn't been able to really train coming up to this and I've been sitting on the couch. Maybe did two or three cycles just to try to keep my fitness, but I definitely noticed that it hurt me today. My arms were pumping up. Overall, these guys are riding well. Just to finish in the top five now is something special. There're crazy-fast guys. There's Beemers, Ducatis, Yamahas, Suzukis are now up there, too. So, just to be up there makes me feel good, considering how bad things have been. I hope we can just build on from here. Pittsburgh has been one of my favorite tracks. I've been strong there previously, so I'm really thinking we can challenge for the win there and carry on pushing forward."
The Westby Racing team will be back in action on August 18 through 20 at Pittsburgh International Raceway in Wampum, Pennsylvania, for round seven of the 2023 MotoAmerica Superbike Championship.
---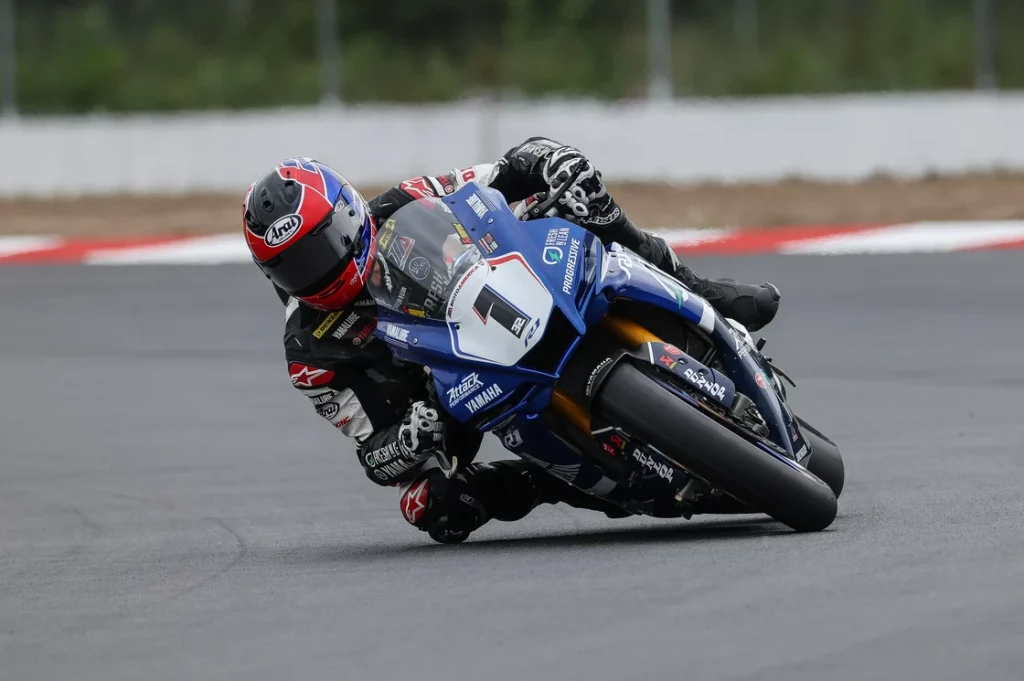 The following is from Yamaha…
Fresh N Lean Progressive Yamaha Racing's Jake Gagne completed a successful weekend at the Brainerd International Raceway with a runner-up finish in today's MotoAmerica Superbike Race 2. The return to the podium after yesterday's victory has the defending champion leaving the sixth round of the championship with an additional 34 points, doubling his lead in the premier-class title fight. Fill-in rider Josh Hayes showed podium pace but ultimately salvaged an eighth-place finish in the tricky conditions.
Once again, riders were met with greasy track conditions at the 2.5-mile track in Brainerd, Minnesota, making for a challenging 18-lap race. Gagne got another great start from the front row and grabbed the holeshot. He threw down some fast times and was holding down the lead but was passed around the halfway mark. The reigning champ continued to ride a smart race and kept the leader in sight in the tricky conditions. He closed the gap and, on the final lap, made an attempt to pass but ultimately came .322 of a second shy of the win. His eighth-consecutive podium and 12th this season helped bolster his title defense, giving him a 68-point lead with seven races remaining.
After battling for the win in the 16-lap Supersport race, Hayes went from the podium to the Fresh N Lean Progressive Yamaha Racing tent for his second race with the team as a fill-in rider for the injured Cameron Petersen. He had another solid start from the third row of the grid in eighth and advanced to fifth on Lap 4 but went off track and rejoined in 11th. Undeterred, the four-time superbike champ put his head down and threw down some consistently fast times to make his way back to sixth. In the final laps, he unfortunately went off track again in the challenging conditions and crossed the line eighth.
The Fresh N Lean Progressive Yamaha Racing team returns to action in a few weeks for Round 7 of the MotoAmerica Superbike Championship at the Pittsburgh International Race Complex (PIRC) in Wampum, Pennsylvania, on August 18-20.
Richard Stanboli – Fresh N Lean Progressive Yamaha Racing Team Manager
"The weekend went almost as planned, and we came up just shy of a double win. Overall it was a success. Jake extended his championship lead and now has a pretty comfortable cushion. It was also good to have Josh back on board. His feedback, great speed, and professionalism were a plus for the team. We thank him for his efforts and wish him success at PIRC with his Supersport effort. We look forward to our COTA test and then the next round at PIRC, which is a track that is typically good for our Yamaha R1s."
Jake Gagne – Fresh N Lean Progressive Yamaha Racing
"Race 2 was another good start, and I got to lead the first half of the race. PJ (Jacobsen) passed me, and I was able to stay there with him, but I couldn't make a pass back. All in all, it was a great weekend and great for the points!"
Josh Hayes – Fresh N Lean Progressive Yamaha Racing
"I really had a fun and successful weekend, I feel, even though the Superbike results didn't showcase our potential. I did my very best to represent the team and Yamaha at my highest level, showed great speed, and hopefully passed along valuable feedback for the team's future. Thanks to all of them for making me feel like family, and to Squid Hunter Racing for letting me take on another challenge!"
---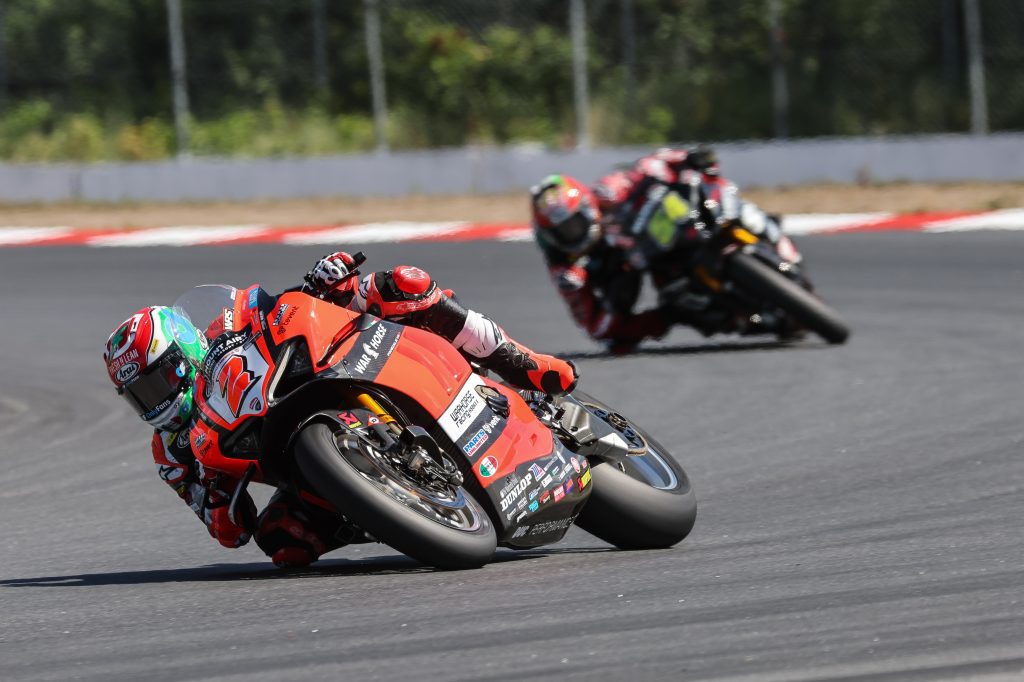 The following is from Ducati…
The Warhorse HSBK Ducati NYC duo of Josh Herrin and Xavi Forés had a few setbacks during round six of the 2023 MotoAmerica Championship at Brainerd International Raceway (BIR) in Minnesota. Herrin achieved another Superbike podium during race one Saturday but suffered a DNF in Sunday's race two due to mechanical issues. As for Forés, he settled for seventh in race one of the Supersport Championship and fourth in race two.

Herrin aboard the Panigale V4 R during Friday's qualifying hoped to earn a front-row start for race one. He settled for a seventh-place qualifying position but was able to get up front quickly and continue his podium streak. Herrin finished Saturday's race one in third, 3.49 seconds behind Yamaha's Jake Gagne.

During Race 2 Sunday, Herrin started strongly, running at a pace consistent with the leaders. He was in third until he suffered a mechanic issue on lap 8 of 18, forcing a DNF. Although he didn't finish, he remains second in the championship points race with 194 points, 68 behind Gagne.

After an eight-race winning streak in the Supersport class, the Spaniard Forés struggled at BIR—a track he had never ridden before this weekend. After qualifying fifth aboard his Panigale V2, Forés kept his focus strong among the quicker bikes, finishing seventh, 21.730 seconds behind winner Josh Hayes (Yamaha).

In race two, which was shortened to five laps due to a restart after a horrific crash between Andrew Forsythe (Yamaha) and Justen Behmer (Suzuki), Forés quickly got into third. But he ran wide on the penultimate lap when attempting to pass Kawasaki's Stefano Mesa. Forés finished fourth, 5.381 seconds behind winner Tyler Scott (Suzuki). With three rounds remaining, Forés continues to lead the Supersport Championship with 272 points, 84 ahead of BIR race-one winner Joshua Hayes (Yamaha).

2023 MotoAmerica Superbike Standings After Round Six
P1 – Jake Gagne (Yamaha) 262
P2 – Josh Herrin (Ducati) 194
P3 – Cameron Beaubier (BMW) 183
P4 – PJ Jacobsen (BMW) 162
P5 – Richie Escalante (Suzuki) 147

2023 MotoAmerica Supersport Standings After Round Four
P1 – Xavi Forés (Ducati) 272
P2 – Josh Hayes (Yamaha) 188
P3 – Tyler Scott (Suzuki) 185
P3 – Stefano Mesa (Kawasaki) 172
P5 – Teagg Hobbs (Suzuki) 118

Josh Herrin (Warhorse HSBK Racing Ducati NYC – #2)
"Obviously I'm bummed with today's result (race 2). I felt that we had the bike to win for sure. We were able to catch up to the leaders, and I had all the confidence in the world to pass them at the end of the race and get a win. But we suffered an unfortunate mechanic issue that made it impossible to finish the race. I took a big blow in the championship points but won't give up. I have a test coming up at COTA (Circuit of the Americas), and I'll do some further training between these rounds and show up ready for Pittsburg next month. "

Xavi Forés (Warhorse HSBK Racing Ducati NYC – #12)
" It was a challenging weekend for me. We had a lot of work to do on the bike, and the results don't exactly show how much work was put into the V2.  At least on today's race, I minimized the damages and got a good P4. It is hard to deal with when you have to ride against much faster bikes than yours. But no complaints here, and much was learned. We now look forward to Pittsburgh, hoping to return to our winning way."

The 2023 MotoAmerica Championship now heads to Pennsylvania's Pittsburgh International Race Complex for round seven of nine August 18-20.
---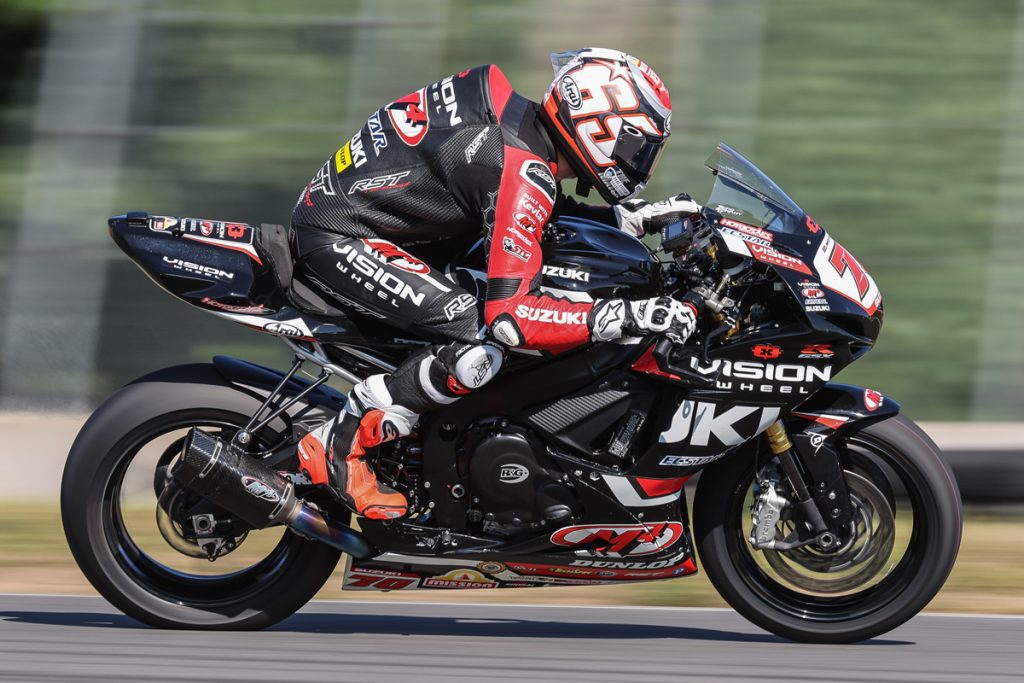 The following is from Suzuki…
Suzuki Motor USA and Team Hammer reigned supreme on Sunday at Brainerd International Raceway as Supersport phenom Tyler Scott scored his first victory of the 2023 MotoAmerica season in dramatic fashion.
Vision Wheel M4 ECSTAR Suzuki's Tyler Scott racked up his first victory of the season via a thrilling last-lap Supersport showdown. After settling into a blazing fast pace in second, Scott rallied after a red flag set the stage for a five-lap shootout to clinch the win. Scott leapt into the lead aboard his next-generation Suzuki GSX-R750 on the restart and controlled the race's decisive stage. The 17-year-old Scott countered his opponent's last-lap pass attempt and took the checkered flag in first to earn a hard-fought victory.

"We made a few changes and were able to push the pace," Scott said after winning Team Hammer's 130th AMA Pro/MotoAmerica race. "We were P1 in this morning's warm-up session and going into the race I had a good feeling. It was a great race. I felt amazing on the bike for the entirety of the race. I can't thank the whole Vision Wheel M4 ECSTAR Suzuki team enough for all the hard work they've put in. Our last MotoAmerica win was Road America last year, so it's been a while since we've been on the top step of the podium. I'm happy to be here, and we're going to keep pushing to be better and better."
The race wasn't as kind to teammate Teagg Hobbs. Hobbs ran inside the top five during the race's first stint, but his ultimate finishing position was largely determined by an off-track excursion caused by a collision with another rider following the red flag. The up-and-comer dropped to last place but managed to pick up a handful of positions before taking the checkered flag in 16th position.

Hobbs said, "I ran off the track and was in last and only had a few laps to climb back up the order. Luck wasn't going our way. We had a strong weekend and were fourth in the warm-up this morning and fifth in the race before the red flag. After the restart, it just didn't go my way this time."
Brandon Paasch continued his remarkably rapid acclimatization to Vision Wheel M4 ECSTAR Suzuki and the team's Suzuki GSX-R1000R in the premier class. Despite his lack of seat time on the bike and riding at less than full fitness after breaking his back in March, Paasch battled up front, running as high as fourth. In the end, he collected a highly promising top-five finish in fifth.

"Today was better than Saturday," Paasch said. "We're getting closer with the setup, and we had more grip today. I was also riding better, for sure. I was able to see how the leaders were riding in the early laps, and I could see the little things they did better, like going through the corner a little faster but still getting the bike turned. As my back continues to heal, I'll get stronger. Things are going well."
Richie Escalante's Sunday result only served to underline his continued progress by representing a minor disappointment compared to his recent string of strong results. Escalante had established himself as a regular up front, notching nine top-five finishes on the season aboard his Vision Wheel M4 ECSTAR Suzuki GSX-R1000R – including the last six in succession – before today's seventh-place result.

"It was a difficult race for us," Escalante admitted. "The team and I tried to improve the bike even more, this morning, to improve the grip. It felt good this morning and for the first five laps of the race. After that, I did not have a good feeling from the front, so I did my best to collect as many points as I could for the championship. Overall, it was a good weekend for us, and I want to thank the team and my sponsors for everything. I will train hard, and we will concentrate on the next one since there will be three Superbike races again."

The 2023 MotoAmerica AMA/FIM North American Road Racing Championship will continue on August 18-20 at Pittsburgh International Race Complex in Wampum, Pennsylvania.
---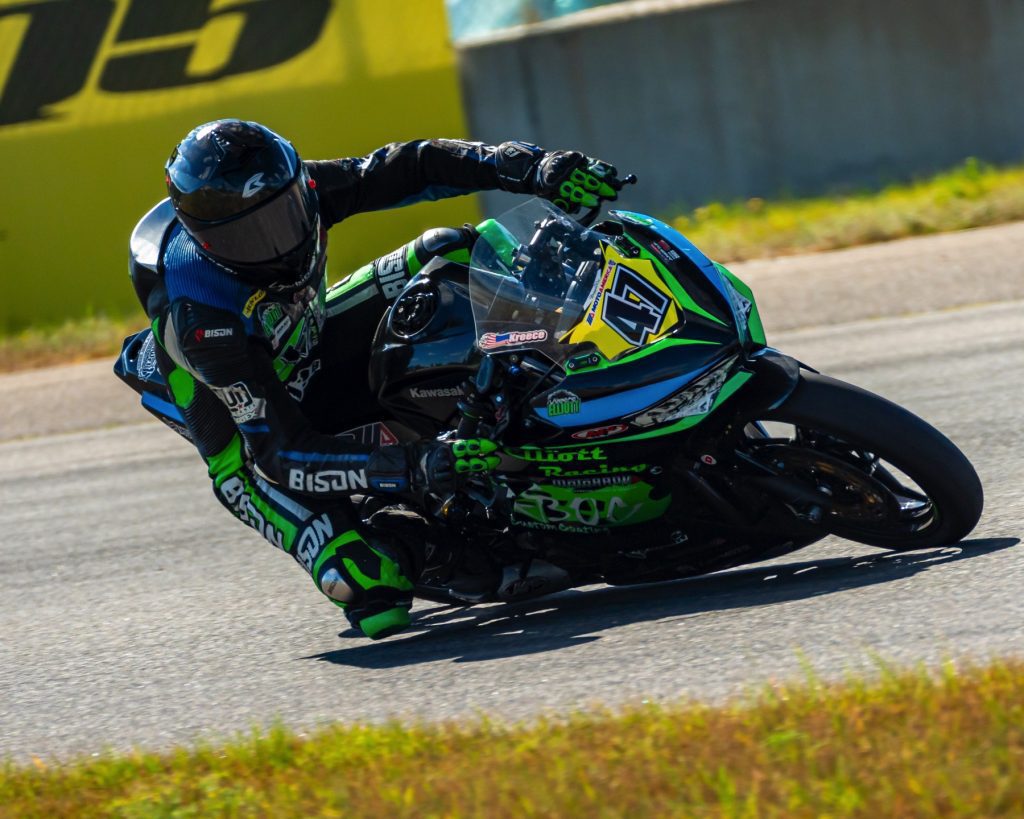 The following is from Kreece Elliott Racing…
Kreece Elliott was back on track at Brainerd International Raceway this past weekend in the latest round of the MotoAmerica Junior Cup Championship. 
 
A strong opening practice session on Friday boosted the Colorado teenager's confidence before an afternoon rain shower saw him sit out his first opportunity to qualify – the #47 not feeling the need to risk a crash given the weather forecast for the remainder of the weekend. 
 
A top ten qualifying position saw Elliott fighting hard at the head of the second group in race one on Saturday, he crossed the line tenth. A penalty for a jump start on Sunday put paid to what would have been a top eight finish, but he was still classified eleventh after a spirited ride throughout race two. 
 
The results, Kreece's fourth- and fifth-point scoring finishes of the season elevate him to fifteenth overall in the championship standings ahead of the next round at the Pittsburgh International Race Complex in mid-August. 
 
Kreece Elliott: "Race one didn't go to plan. I was in the lead group for a lap but then a couple of riders tangled and crashed, and I was pretty much a sitting duck for the rest of the race. I got passed and I had to fight hard to stay in the group, but we had gone the wrong way with the gearing, and I couldn't pass where I needed. I was in the fight for P7 but crossed the line tenth. Race two was better but I was given a penalty for a jump start which we will go and speak to race direction about as I don't think I moved. We could have been inside the top seven and so I am a little disappointed as the time penalty puts me out of the top ten. The gearing was still a little off, but I rode my best and that is all I can do. I am happy to have made another double point finish and I can't wait to ride at Pittsburgh."
---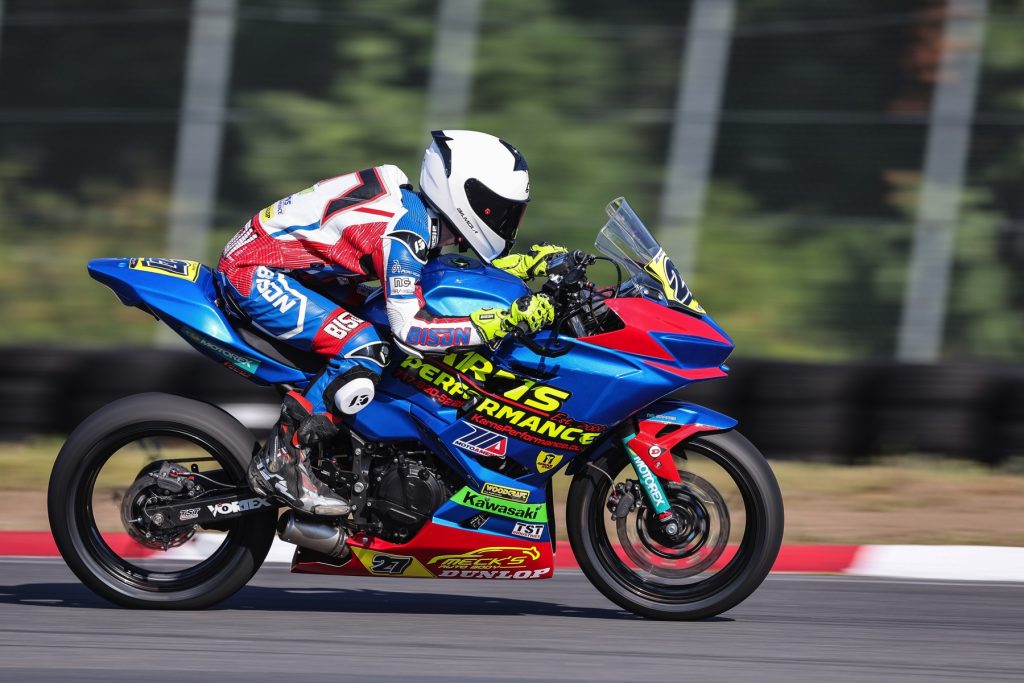 The following is from Chris Clark Racing…
It was an eventful MotoAmerica Junior Cup weekend at Brainerd International Raceway for Chris Clark who was riding at the historic circuit for the first time.
 
Topping first qualifying in wet conditions, enabled him to further familiarize himself with the track layout and after a dry second qualifying session the #27 put his Kawasaki on the fifth row of the gird ahead of the two races.
 
He was running well on Saturday until a clutch issue put him out of the race. Sunday saw him perform well in morning warm-up before a spirited ride on Sunday afternoon once again saw him battling just outside of the top six until his chain jumped the sprocket. Lucky to stay on two wheels he crossed the line fourteenth at the flag.
 
The next round of the championship is in Pittsburgh in mid-August.
 
Chris Clark: "In qualifying one it was raining a ton so not many people went out – only me and five others. I figured I would go out to go and learn the track a bit more as I had never been to Brainerd. I ended up fastest but with a crash which was unfortunate. For qualifying two it went a little bit better for me. It was dry and I ended up in thirteenth place. I dropped two seconds off my dry time, and I thankfully didn't crash. Qualifying two was important for us because we were testing out a new data logger and a whole new data system which went well. After starting in P13 I was in a battle for seventh but with about three laps left my clutch burnt up which was unfortunate but looking forward to a good race for tomorrow. I would say it was a pretty good second race up until the end. Starting again from thirteenth I got a decent start and after a few laps I was still hanging with the front group, until I lost touch and fell back a little bit. I was trying to get some good lap times down and stay in my current position but eventually the group behind me caught me. They all drafted by me and on the last lap when I was preparing to make my move one of the other riders the chain popped off and nearly took me out of the race. I lost touch with the group and ended up P14 at the flag."
---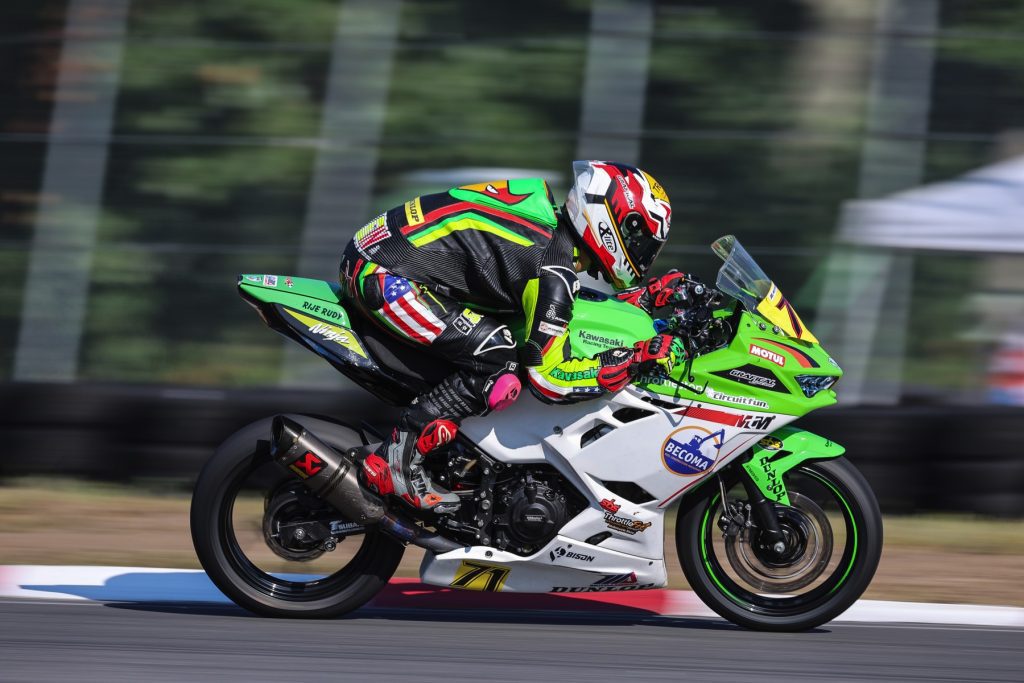 The following is from Levi Badie Racing…
Levi Badie produced arguably the greatest comeback in MotoAmerica Junior Cup history at Brainerd International Raceway, the Belgian running off track through the dirt before regrouping to claw back a plus four second deficit on the leading group to take his second win of the year.
Eighth on the grid, Levi showed his ability and race craft on Saturday to quickly move into contention at the front of the pack. A yellow flag overtake resulted in a penalty of 'drop two positions' but not even that could stop him from securing a superb second place at the flag.

Sunday's second race was also looking good until a mistake saw Levi off the track and lucky to stay aboard. What looked like an impossible gap back to the leaders was whittled away lap by lap until with two to go Levi was back in contention. Up to third on the penultimate lap he executed his move for the win perfectly, holding on to take flag in first and with it move into P5 in the overall championship standings.

The next round of the series takes place at the Pittsburgh International Race Complex, with Badie looking to be back on the box!

Levi Badie:"We started off on Friday with a good practice. I went to qualifying confident, but it didn't work out the way I had expected. I was eighth. The race one strategy was to stay calm and come from the back. I passed on the yellow flag which wasn't intentional, and then I had the sign to give two positions back which I did but race control didn't see it and when came in the pitlane they didn't let me do the podium, I was angry and had to go to protest again after Road America! The podium was already done and then I had to pick up the trophy from Hayden Bicknese and he had to pick up the trophy from Max Van so there was a whole big mess but, in the end, everything worked out. So, race two was going well until I missed my third braking marker. I went too wide and went into the dirt in turn twelve and I had to go through of the dirt. There was about a four second gap between me and the leading group and I was like ok just put your head down. In three laps I had closed the gap and there were still two laps left. I was thinking ok like I'm here now so I'm gonna finish this. I passed the two of the guys and was up to second and I knew Rossi (Moor) didn't know I was strong in the 'carousel,' and I could pass him in that corner. He went defensive but I did a little short run, and I was able to hold him off until the finish line to get the victory. I had a lot of fun and I am looking forward to Pittsburgh."