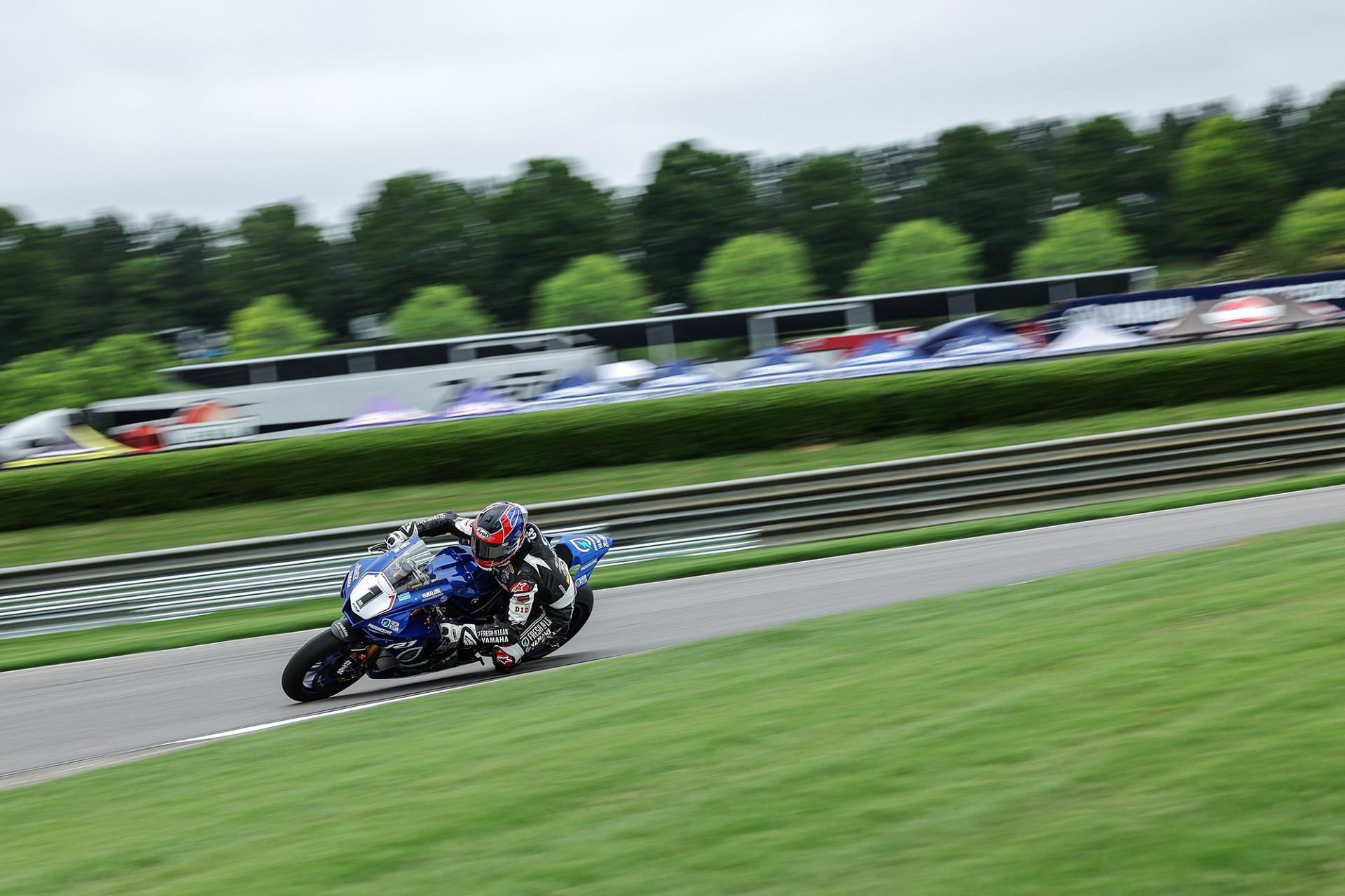 The following is from Yamaha…
Fresh N Lean Progressive Yamaha Racing's Jake Gagne kept his win streak rolling with a masterclass performance in today's MotoAmerica Superbike Race 2 at Barber Motorsports Park in Leeds, Alabama. His perfect score at the second round of the championship also strengthened his title defense, expanding his lead to 24 points. Unfortunately, his teammate Cameron Petersen had a tough race and was unable to finish.
Gagne executed another flying start for a second holeshot on the weekend and then raised the bar with a new track record on Lap 2. The Colorado rider further extended his lead with some consistently fast laps and crossed the line with a commanding victory to sweep the weekend. Gagne's third-consecutive win of the season gives him a 24-point lead over his rival heading into the third round of the championship.
Lined up on the grid in second, Petersen matched yesterday's start and slotted into the runner-up spot behind his teammate. Unfortunately, he would lose the rear a few corners later in Turn 5 and had to pull into the pits to repair damage to the bike. His crew worked hard to get him back on track, and he rejoined on Lap 7 but ultimately had to withdraw from the race.
The Fresh N Lean Progressive Yamaha Racing Team will do some testing before heading to Elkhart Lake, Wisconsin, for Round 3 of the MotoAmerica Superbike Championship at Road America on June 2-4.
Richard Stanboli – Fresh N Lean Progressive Yamaha Racing Team Manager
"Today was an up-and-down day for the team. Jake rode a great race for the win and showed the strength of the Yamaha R1 against the competition. Cam unfortunately made a small mistake on the first lap and tipped over. It was a crash that caused a lot of damage and took time to repair. He rejoined but eventually had to retire from the race. We are now off to a mid-week test and then off to Road America for Round 3. We look forward to seeing our cheesehead fans in Wisconsin."
Jake Gagne – Fresh N Lean Progressive Yamaha Racing
"Coming into Barber, we knew this was a strong track for the Yamaha, so we wanted to take advantage of that as much as possible. It was a smooth weekend. We made some minor little tweaks, but straight off the truck the bike was working really well. We got another great start today, another holeshot, and even picked up the pace and got another track record. I was surprised by how fast we were able to go this afternoon. We had a little bit more of a comfortable gap up front and brought it home for another win. It was awesome for the team – a double win and a pole – and obviously good for the points. So great work from the team, as always. It's definitely a good weekend when we get to come away with two wins."
---
Cameron Petersen – Fresh N Lean Progressive Yamaha Racing
"It was not the way we wanted to end the weekend. It was going well, and I was happy to get second yesterday, but unfortunately I got sucked in a little bit going into Turn 5 and had just a little too much lean angle, and the rear came around. It's just unfortunate, but if you want to beat Jake, you have to take some risks at the beginning of the race in those first few laps. Honestly, more than anything, I hate letting down the team with all the hard work that they do. We had the potential to go 1-2 again today, so it's a bummer to end the weekend like that, but at least we don't have to wait too long to try and bounce back. We're going to put this one behind us and focus forward from here."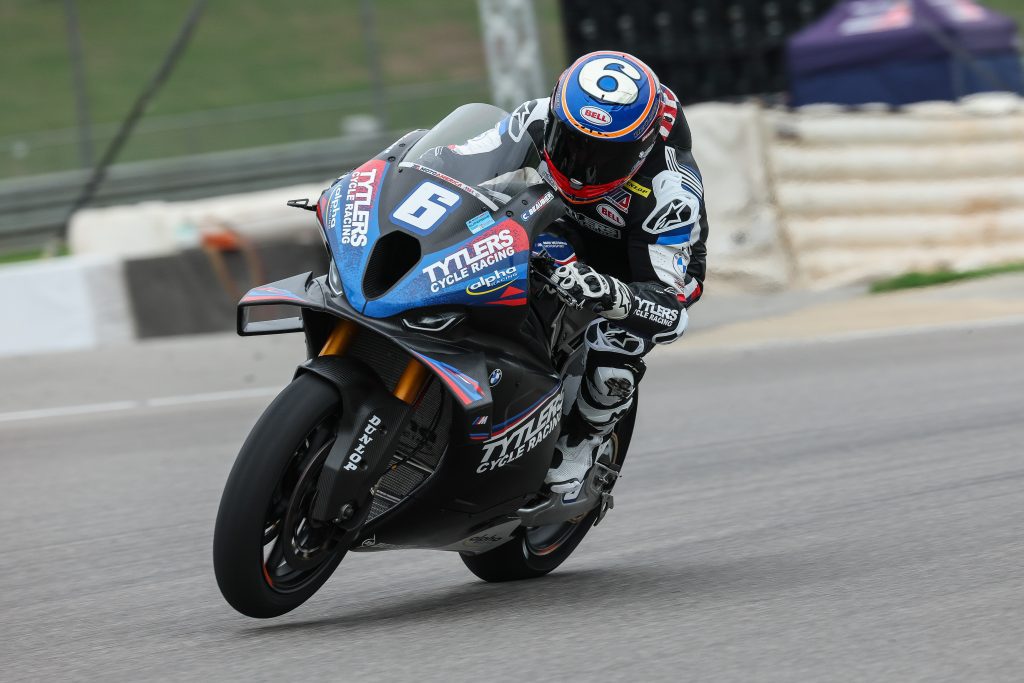 The following is from Tytlers Cycle Racing…
Round two of the 2023 MotoAmerica Superbike Championship saw Tytlers Cycle Racing at the sharp end once again, their three riders Cameron Beaubier, PJ Jacobsen and Corey Alexander all excelling at the undulating technical circuit that is Barber Motorsports Park.

Coming into the event as joint Championship leaders thanks to a win and second place at Road Atlanta all eyes were on former champion Cameron Beaubier. The "baby faced assassin," as he was nicknamed by MotoAmerica during a social media feature earlier in the weekend, was once again part of the podium fight on both days, finishing fourth in Saturday's reduced sixteen lap encounter before going one better on Sunday in the twenty-lap race after making some changes overnight.

PJ Jacobsen, who has always gone well at the Alabama venue was also once again at the sharp end. Qualifying strongly on the second row, the #66 raced to a pair of fifths.

Corey Alexander was racing at Barber Motorsports Park for the first time as a full time Superbike rider and he too did a great job throughout the weekend. Ninth and seventh means that like Beaubier, Alexander too has scored points in all four races so far this season.

Heading to round three at Road America in a couple of weeks Tytlers Cycle Racing continue to be in the title fight with the BMW M1000 RR. Cameron Beaubier sits second on points with PJ Jacobsen and Corey Alexander both well inside the top nine.

Cameron Beaubier: "Today could have been better but I am taking the positives. We were pretty set on running the hard rear, but the track temperature had come up a lot right before the race making the soft probably a better choice. We cannot be too hard on ourselves as it is only our second round together and we are learning all the time. We made a step with the bike and myself in warm-up on Sunday morning and I rode good in the race but did not have a great start or first few laps. Nevertheless, I am happy to come home with a podium and taking the positives as I said to round three at Road America where I am confident, we can also be in the fight."

PJ Jacobsen: "Race one was pretty good. I didn't make the best start but was able to start moving forward after the first few laps. I felt good, but I was hoping to be closer to the front. We made some changes overnight and I thought race two was going to be better for me, but it wasn't. The race was put back to the original twenty laps and it was quite difficult, but I gave it my all but couldn't get to the pace I wanted. We leave Barber with two fifth place finishes which was all I could do and so we head to Road America where will look to move forward."

Corey Alexander: "Saturday's race was another learning curve. We made some big changes for the race which were definitely a step in the right direction, but we made the wrong call on tyres. Overall, I was happy with the consistent race pace, but we need to improve a bit in the early stages. Race two was another small step in the right direction but I struggled with grip early on. Once again, we showed consistent pace and happy to come away with a top seven. I am excited to get to some other tracks on the calendar where I know I will be stronger at, and I am eager to keep progressing. Thanks to the team and everyone supporting me. See you at the next one!"
---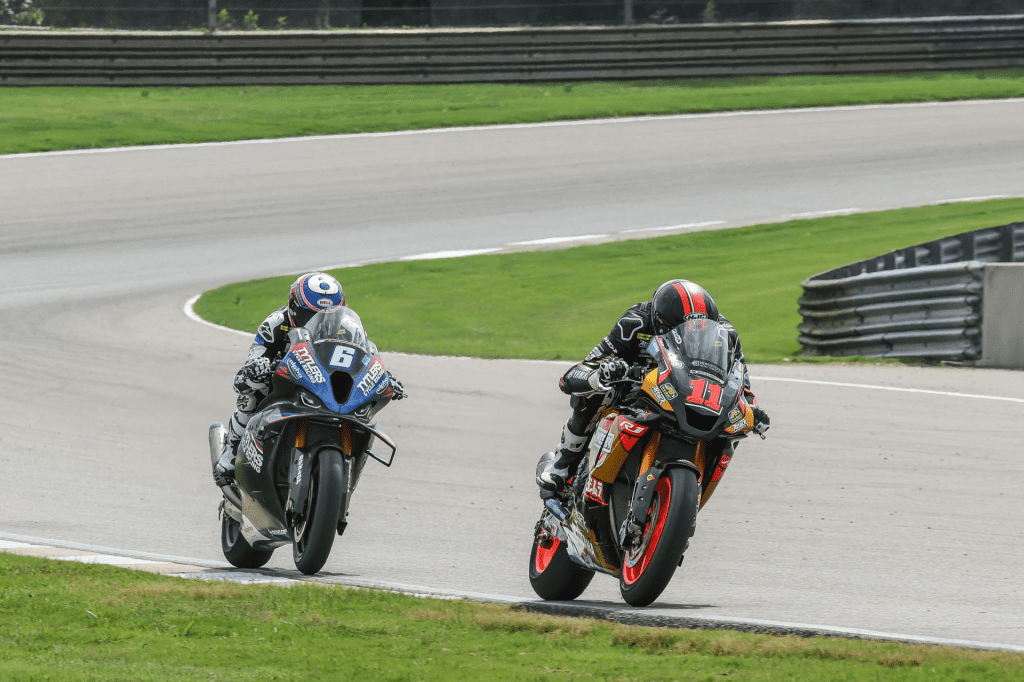 The following is from Westby Racing…
On Sunday at Barber Motorsports Park, Mathew Scholtz, rider of the #11 Westby Racing Yamaha YZF-R1 Superbike, showed once again, that he is a world-class rider. He finished second in the weekend's race after a nearly race-long battle with five-time MotoAmerica Superbike Champion and former Moto2 World Championship contender Cameron Beaubier.
Taking his grid position on the front row, Mathew got off to a much better start than in Saturday's race, and that enabled him to set and maintain a good pace, which kept him closer to the front.
He was pursued by Beaubier in third, who did manage to overtake Mathew for second place as the laps wound down. Undaunted by the move, however, Mathew put his head down and retook the position. Beaubier made one more attempt to overtake Mathew on the final run to the checkered flag, but a defensive move by Mathew to break Beaubier's draft thwarted his effort and ensured Mathew's runner-up finish while fellow Yamaha rider Jake Gagne took the win.
"I think I pulled a little bit of a gap and Cameron (Beaubier) closed me down," Mathew said. "I kind of knew from, I think, maybe lap six or seven, that Cam had a couple tenths on me. So, I didn't really try to push as hard as I could on the limits and use too much tire. Once he passed me, I just made sure I made a couple good laps and that he didn't pull a gap. There were a couple of sectors on the track where he was definitely quicker, and a couple sectors where I was a little bit faster. On the final lap, I knew 'Charlotte's Web' was one of the main points that you could pass someone, so I went in there really, really deep. Then, I ruined the drive coming out. Cameron got up next to me going into corner seven. I brake-passed him there, and it was a pretty hard pass. So, I kind of thought that I had a couple bike lengths on him.
"Going into the final corner, I tried to focus on driving out hard. I pushed the front, and I just kind of had to close the line a little bit, because I knew Cameron was right there and driving off the corner well. Obviously, I don't mean to try to cut somebody off, but I'm just happy to be sitting up here in second place. After watching Cam ride in Moto2 for the past two years, it feels awesome to be up here battling with him. Well-done to Jake. He spanked us one more time. Hopefully, in two weeks' time, we can give him something."
The Westby Racing team will be back in action on June 3 through 5 at Road America in Elkhart Lake, Wisconsin, for round three of the 2023 MotoAmerica Superbike Championship.
---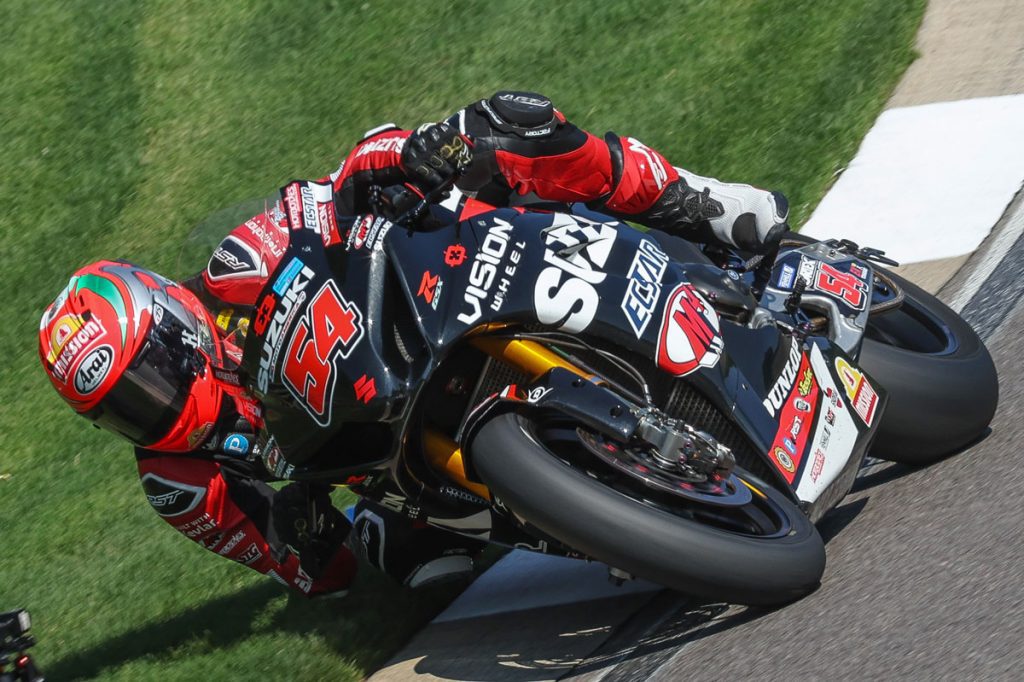 The following is from Suzuki…
With the weekend's MotoAmerica Supersport action already concluded following Saturday's long race at Barber Motorsports Park, Suzuki Motor USA and Team Hammer focused solely on its Superbike effort on Sunday. The squad performed well on center stage, with rising star Richie Escalante, in particular, excelling under the spotlight.

Race Highlights
Vision Wheel M4 ECSTAR Suzuki's Richie Escalante demonstrated his mammoth potential on Sunday at Barber Motorsports Park, battling with some of the most decorated Superbike pilots on the planet en route to a fourth-place result. Escalante got away quickly from the second row aboard his factory-backed GSX-R1000R and found himself in fifth following an early incident and resulting back-and-forth action. Escalante scrapped for a podium position early with two former Superbike champions directly in his sights and a former World Superbike pilot right on his heels. Undaunted, he executed a slick switch-back maneuver to grab hold of fourth, a position he wouldn't relinquish.

After matching his best-ever MotoAmerica Superbike result, Escalante said, "It was an amazing weekend. I got a great start and saw what was going on around me. I knew I had to make a pass as quickly as possible. After that, I was just working on my pace. I'm super happy – my Vision Wheel M4 ECSTAR Suzuki GSX-R1000R was working so well. My crew is working so hard to give me the best bike possible. I'm getting closer and closer to the podium. Now it's time to keep working. I just want to say thank you to my friends and team and all the people who support me."
Former MotoAmerica Superbike champion Toni Elias improved upon his Saturday result, claiming his third top ten in four attempts as he rounds back into his trademark form. The Spaniard had a front-row seat for the four-rider fight for third that involved his Vision Wheel M4 ECSTAR Suzuki teammate in the opening stages of the contest before eventually fading to ninth.

"We definitely did better than yesterday. I improved one second with our fastest lap and with our pace in the race," said Elias. "Our changes this morning helped the traction. Now, I need more feeling and confidence in the front. I think the team has worked hard and I am thankful. We were faster but it wasn't where we want to be. We will keep fighting."
Meanwhile, the GSX-R1000R proved dominant in the Stock 1000 competition at Barber Motorsports Park, with weekend double-winner Hayden Gillim notching a pair of blowout victories aboard the 4SR Disrupt Racing Suzuki GSX-R1000R.

Suzuki Motor USA will look to capitalize on its surging moment as the series next travels to the ultra-fast Road America in Elkhart Lake, Wisconsin, on June 2-4.
---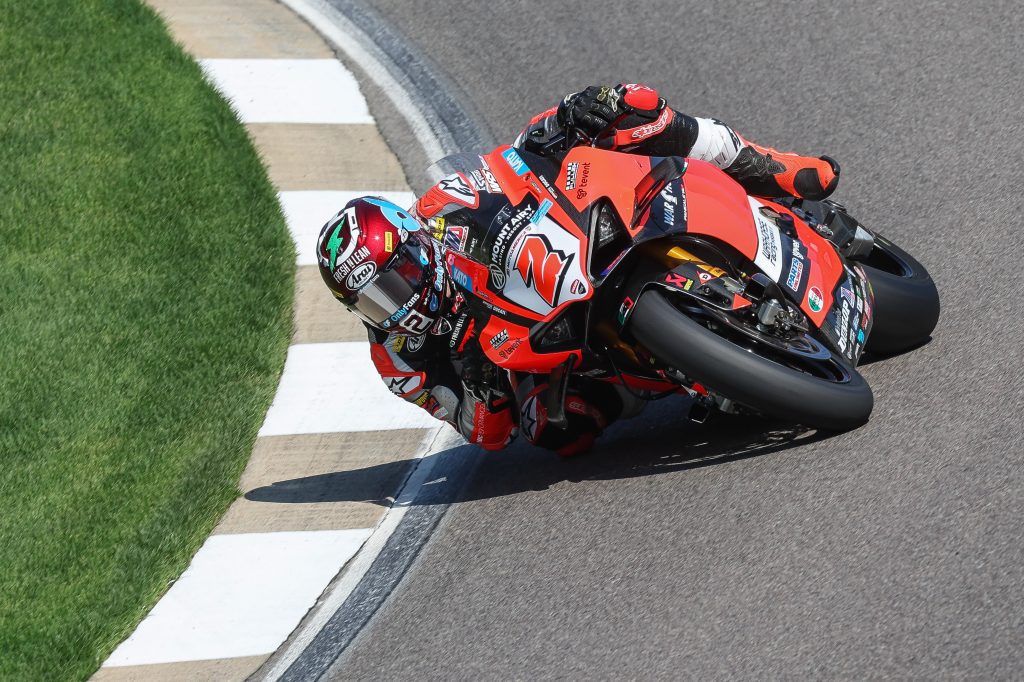 The following is from Ducati…
The second round of the 2023 MotoAmerica Superbike and Supersport Championship at Barber Motorsports Park in Alabama saw the two Warhorse HSBK Racing Ducati NYC protagonists fighting at the front of their respective fields. However, Xavi Forés was particularly impressive in the first-ever MotoAmerica Supersport "Extended" race.
The Spanish ace made it look easy on the #12 Warhorse HSBK Racing Ducati NYC Panigale V2, dealing with multiple red flags better than the chasing pack and leading into the mandatory pit stop.

Forés emerged at half race distance in the lead ahead of Kawasaki's Stefano Mesa, a position he would not relinquish as he took the third straight checkered flag of his MotoAmerica Supersport campaign. Forés, thanks to this "Extended" race being a double-points event, now holds a thoroughly commanding 27-point lead in the championship over Mesa with Yamaha's Josh Hayes 46 points in arrears in third.
Herrin's weekend in the Heart of Dixie state saw the 2021 MotoAmerica Supersport Champion take a pair of sixth place finishes aboard the factory Ducati Panigale V4 R. Citing continual tire issues that plagued the majority of the Superbike grid, Herrin showed his mettle and refused to give in, his 20-point haul for the weekend cementing him in fifth place so far in the championship on 49 points.
Xavi Forés (Warhorse HSBK Racing Ducati NYC– #12)
"It was a really tricky race, but a good one for us!" Forés said. "There were a couple of red flags but we managed the pit stops well, as well as choosing the tires correctly. In the end, we used our experience to win the race. Now we have a 27-point lead in the championship and we're looking forward to Road America which looks like it'll be a great track for the Ducati Panigale V2."
Josh Herrin (Warhorse HSBK Racing Ducati NYC– #2)
"This weekend was tough," Herrin said after race two. "We knew we might struggle here but we battled the tires more than anything. Everyone had issues with the tires but we just couldn't find the right set-up to make the tires work as they should. It was frustrating, for sure, but we kept it on two wheels and took a pair of sixth places, got some valuable points. We'll take the positives and move on to Road America."
Round Three of the 2023 MotoAmerica Superbike and Supersport Championship will take place at the iconic Road America in Elkhart Lake, Wisconsin, over the June 2-4 weekend.
---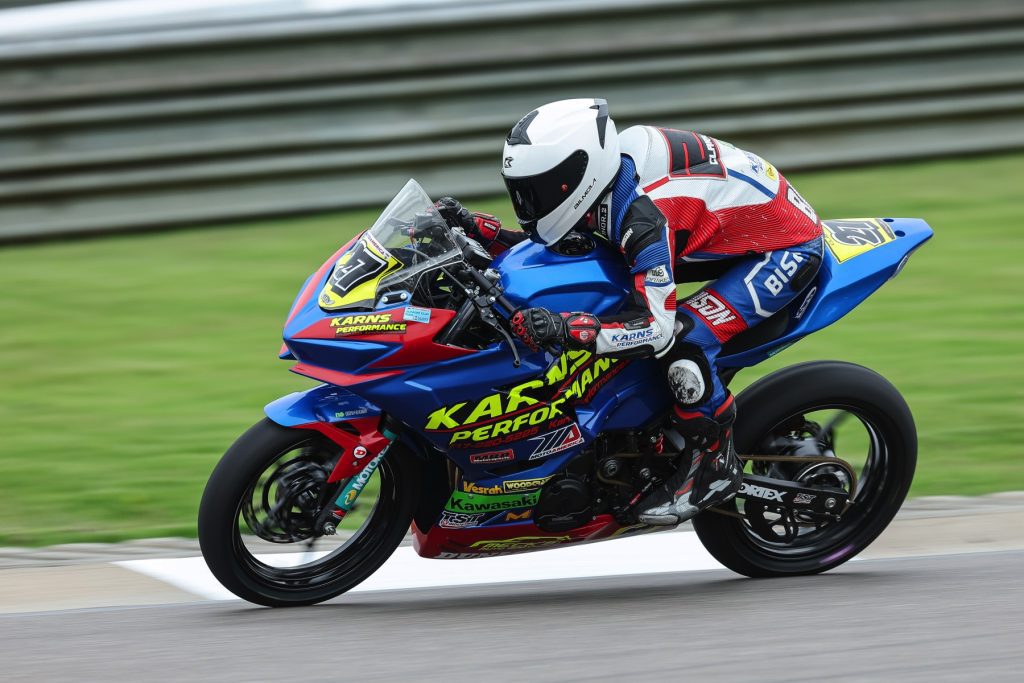 The following is from Chris Clark Racing…

Chris Clark backed up his pace from round one of the MotoAmerica Junior Cup series with a spirited and hard fought seventh in the opening race of round two at Barber Motorsports Park on Saturday, an incredible recovery after an FP1 spill saw him miss valuable track time.

The youngster, competing in his first full season of MotoAmerica continues to impress, his natural riding talent clear for all to see.

Bouncing back to qualify twelfth, Clark raced hard to take nine points in the opening eleven lap encounter at the undulating 2.3-mile circuit located near Birmingham, Alabama. A rocket ship start to Sunday's second race saw the #27 rider latch on to the front group. Looking comfortable a crash midway through the race put paid to his podium challenge. Despite the race two DNF, Chris is satisfied with the weekend and is looking forward to lining up on the grid for round three at Road America in a couple of weeks.

Between now and then the talented teen will compete in the R3 Yamaha bLU cRU championship in Thailand after being invited to race as a wildcard entry!

Chris Clark: "Practice one wasn't the best. I had a small crash after a couple of laps which put us on the backfoot, but I was determined to bounce back in qualifying. We progressed in Q2 and improved our lap time and it put me twelfth on the grid. I started on row four and finished seventh and I was super proud of what me and the team were able to do considering how things went on Friday. Race two was great despite a crash halfway through. I got an incredible start and was in the first group after working my way through the pack. It was the first time I had been able to do that, and it was awesome. I had the top five and maybe even a podium in sight but unfortunately, I crashed. I proved to myself and a lot of others that I have the speed to be at the front in MotoAmerica and I can't wait for the next round."
---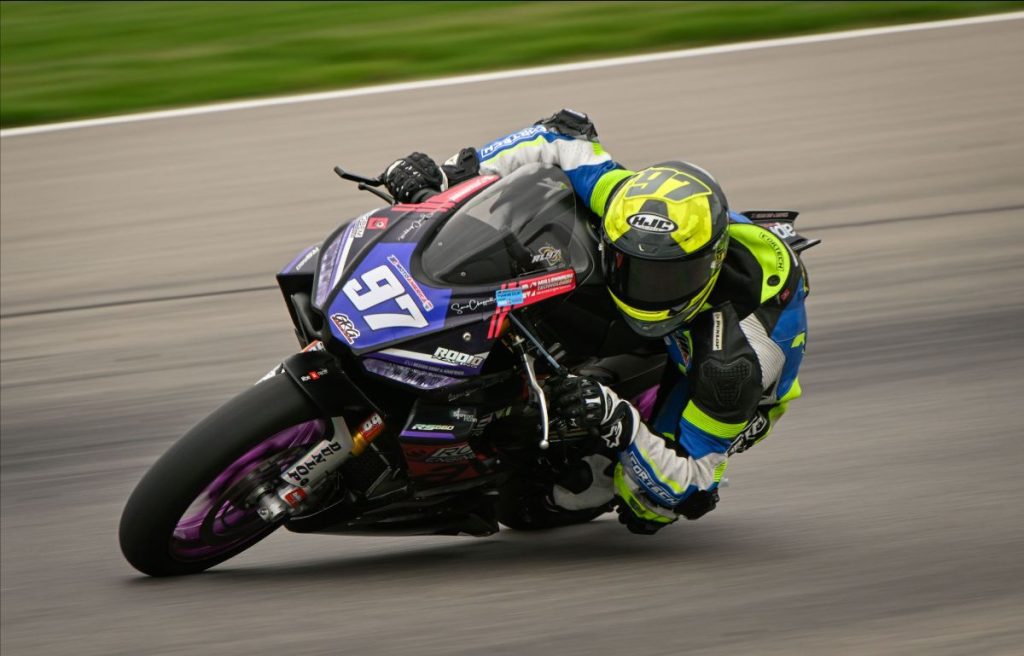 The following is from Rodio Racing – Powered by Robem Engineering…
It was a tale of two very different weekends at Barber Motorsports Park for Rodio Racing – Powered by Robem Engineering riders Rocco Landers and Gus Rodio. Landers made the most of his second round filling in for injured rider Ben Gloddy by winning both MotoAmerica Twins Cup races and climbing to within 12 points of the championship lead.

Rodio started the event with a big lead in the Twins Cup standings but did not score any points and endured two crashes. Thanks to his excellent results in the first two rounds of the season, Rodio remains one of the frontrunners in the championship battle. He's now just two points adrift of the championship lead with eight races remaining in the 2023 Twins Cup season.

Rodio and Landers took turns topping the time sheets in the Twins Cup's two on-track sessions Friday. Rodio posted the fastest time in Friday practice, with Landers less than two-tenths of a second off Rodio's pace. For the Friday afternoon Qualifying 1 session, Landers moved into the top spot when he put in a best lap time of 1:29.946. Rodio's best lap time — 1:30.422 — was more than a second better than the third-fastest rider in the session.

Saturday morning's Qualifying 2 session saw Landers claim pole position with a blistering lap. He lowered his best qualifying time by almost a second to 1:29.135. Rodio was unable to match the pace he had on Friday afternoon and qualified third. He missed out on starting next to Landers for the weekend's two Twins Cup races by 0.065 seconds.

The Saturday afternoon Twins Cup race started out very well for the Rodio Racing – Powered by Robem Engineering riders. Landers got a good start from pole, and Landers and Rodio were running in first and second place, respectively by the end of Lap 1. The pair changed positions twice on Lap 2, though Landers gradually built a gap to the rest of the field of about 1.5 seconds by Lap 4. On Laps 5 and 6, light rain began falling on parts of the track, and Rodio to took the race lead. At the start of Lap 7, Rodio crashed heavily as he negotiated Turn 2, and the race was red flagged. Due to a decision by MotoAmerica Race Control, Rodio was not able to take part in the restarted five-lap race. When racing did get back underway, Landers put in an impressive ride to claim the race win. Though he took the restart from ninth on the grid, Landers was running in second place by the end of Lap 1 and took back the race lead on Lap 3. He went on to clinch the victory by a margin of more than a second.

Sunday's Race 2 saw Landers back on the top of the podium while Rodio endured another setback in his quest for the Twins Cup title. Both riders got very good starts to the race and were the first two riders through the first turn. Rodio was running at or near Landers' pace for the opening laps of the race, while Landers gradually began increasing his lead lap by lap. On Lap 8 of the 14-lap race, Rodio began losing pace and was caught by the end of that lap by a group of three riders. Unfortunately, another rider made contact with Rodio's motorcycle as both riders entered Turn 11 on Lap 9, which resulted in both riders crashing. Landers had an uneventful end to the race, as he claimed his second victory on the weekend by more than five seconds.

The Rodio Racing — Powered by Robem Engineering team has an extended break in the 2023 schedule, as the Twins Cup is not slated to take part in the next MotoAmerica round at Road America. The next Twins Cup races take place at The Ridge Motorsports Park in Shelton, Wash., on June 23-25.
---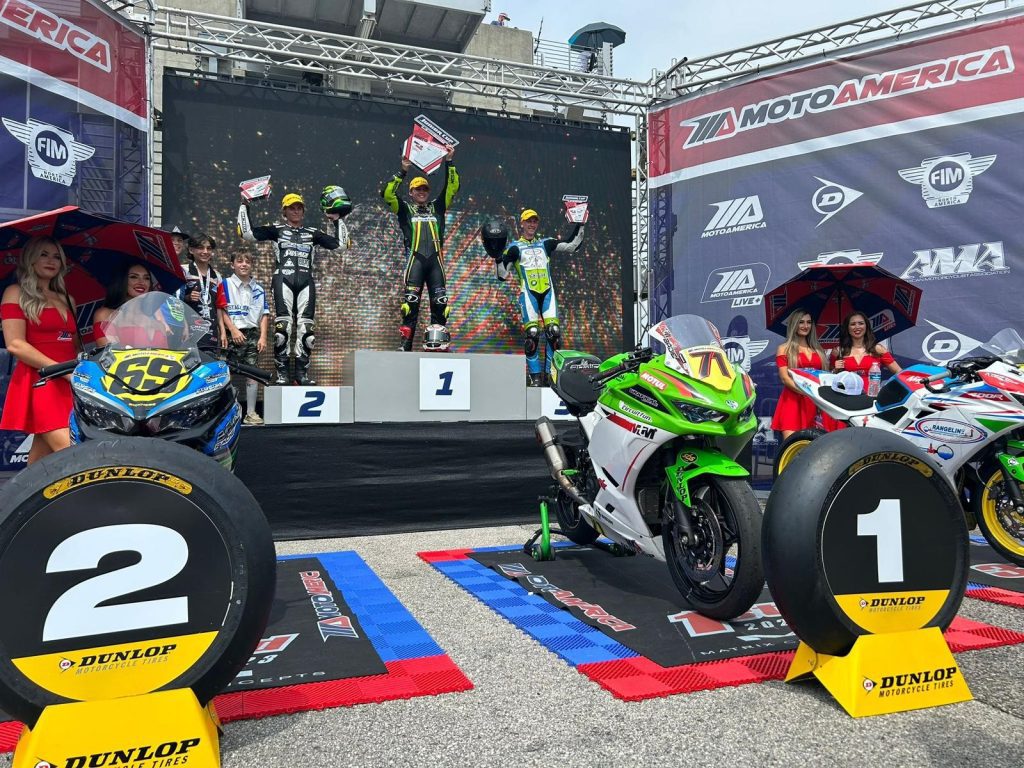 The following is from Levi Badie Racing…
Levi Badie has made history at Barber Motorsports Park by becoming the first Belgian to win a race in any MotoAmerica category and the first European to stand on the top step in the Junior Cup class.

The teenager competed in a handful of races last year. He is running the full season in 2023 and after missing the opening round due to logistical issues related to the shipment of his bike to the US signaled his intentions in style on his debut at the 2.38-mile circuit in Alabama – his debut at the venue.

Using practice to learn the circuit, Levi qualified strongly before finishing inside the top six on Saturday, but it was in Sunday's second race where he shone. A solid start saw him at the back of the leading trio before a couple of perfectly executed moves had him out front. A tense final lap saw him use the slipstream to full effect – the #71 Badie Racing by MTM Kawasaki rider snatching victory in the one of the closest photo finishes in the series… 0.003s!

With thirty-five points on the board, Levi heads to Road America in a couple of weeks, a circuit he knows, full of confidence and with his eyes set on a repeat performance.

Levi Badie: "I had a bad start on Saturday and got caught up in the second group. The gap was too big and with the lack of experience on the track I had to focus on being at the front of group two. It was solid points in my comeback race in the USA, but I felt I had the pace to run in the lead group. I told myself to be more aggressive in the opening lap and that's what I did. I was able to latch on to the leaders and then just took my time and tried to be smart. The group started to pull away from the guys behind and it was a case of just waiting for the laps to tick down. I decided to lead for a while and see if they attacked but I have to say it was a clean battle, no stupid moves like I saw last year with some riders, and it was a lot of fun. I couldn't break away and so I knew it would be down to the last lap. It was a lot hotter on Sunday and when I saw the white flag I kept thinking, keep pushing. I dropped to second, but Hayden (Bicknese) made a mistake, and I got such a good run out of the final call, and I was able to win. I am so happy, and I honestly cannot thank everyone around me who is helping me. I have to say a special thank you to Rodio Racing for transporting the bike for me and to Rob and Tosha from Bison, not only for the great leather suit but for all the other things that they are doing – even cooking breakfast! I am staying in the US until after the next race so it's time now to relax a little, but I am really excited for the next round in Road America as I know the track. Thanks again to everyone back home for their support – RIJE RUDY!"
---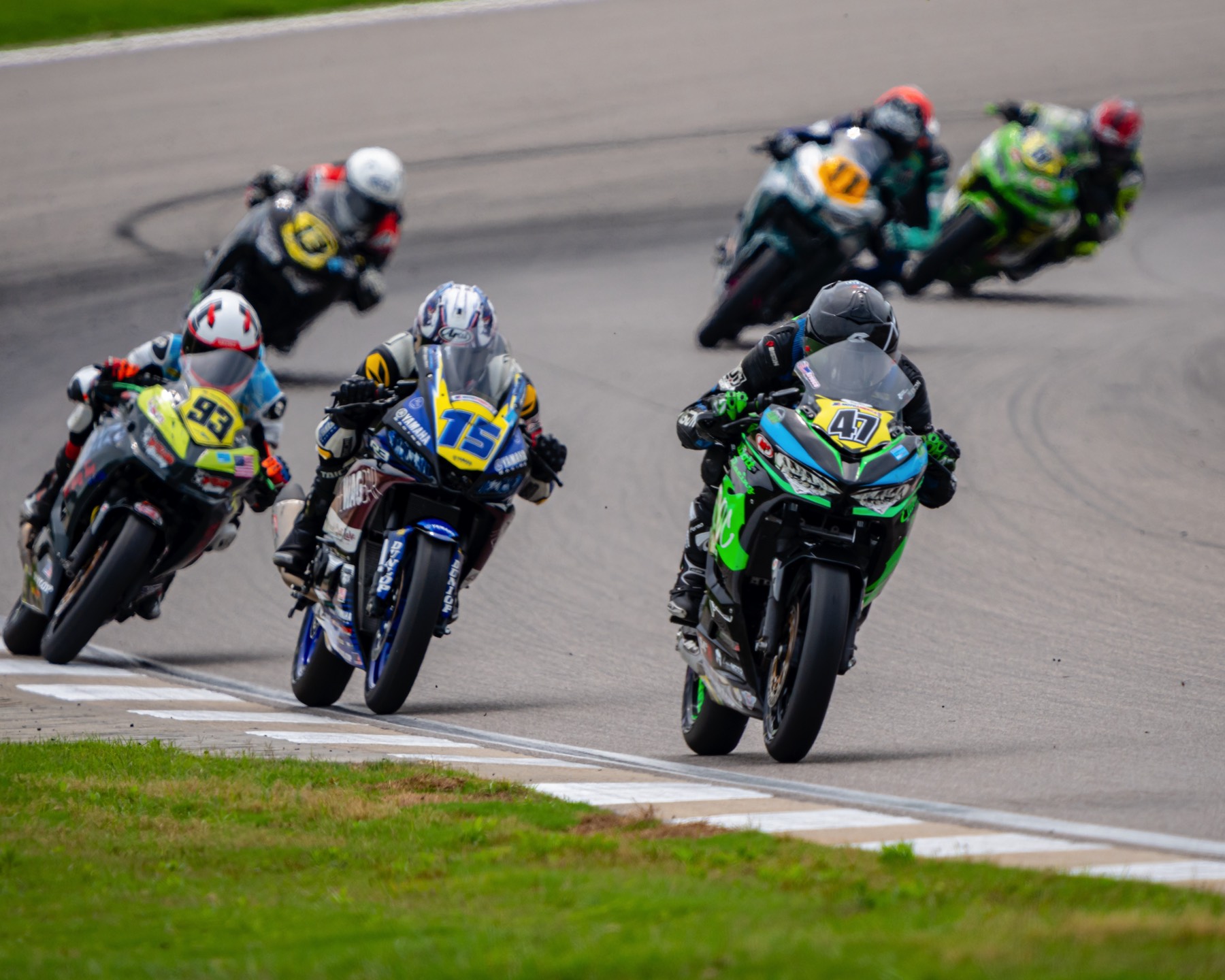 The following is from Kreece Elliott Racing…
Colorado teenager Kreece Elliott raced to his first top-ten result of the season in the latest round of the 2023 MotoAmerica Junior Cup Championship at Barber Motorsports Park in Birmingham, Alabama, on Sunday, his third points-scoring ride of the year.

Buoyed from his double points finish at Road Atlanta a few weeks earlier Kreece was in confident mood from Friday's opening Free Practice session which saw him running inside the top six at the half way point.

Improving his lap time in Q1 and then again in Q2 the #47 Kawasaki rider was locked in a multi rider fight for the top ten in Saturday's opening race before a technical issue forced his retirement. Unfettered he went even faster in Sunday morning's warm up before, with just minutes left in the session, he was taken out by a fellow competitor. Great work by the team saw the bike repairs and despite being battered and bruised Kreece lined up on the grid for the second race of the weekend – and what a race it was. An incredible opening lap saw him gain several positions before he slotted into the lead group with a lap time over a second faster than he had ever achieved at the 2.38-mile circuit. Running as high as eighth he eventually finished a more than respectable tenth after a nail biting final two laps.

The result underlines the step made by the sixteen-year-old over the winter and with round three at Road America in a little over a fortnight Kreece is keen to keep the momentum going.

He also announced on the MotoAmerica Live+ broadcast that he has a merch range coming soon. Further information will be published in due course.
Kreece Elliott:"Race one didn't go to plan. From the start I had issues and as the race went on, they got worse. I tried my best to keep going but, in the end, I decided to pull off to prevent any major issue with the bike and out of safety for me and the other riders. Race two went really well. I got a great start and positioned myself on the outside for turn one. I fought the whole race and was super happy with how I was riding and how I attacked straight away when I got passed. I finished in the top ten and the result was like a mini victory, especially when you consider how the weekend went. I also achieved a personal best lap time by almost a second and showed that we have the speed to fight close to the front. I am really motivated for the next round, and I want to thank everyone around me that believes in me and is supporting me."
---
The following is from Altus Motorsports…
The MotoAmerica round at Barber featured the first Supersport long-format race and brought intermittent weather that impacted several races.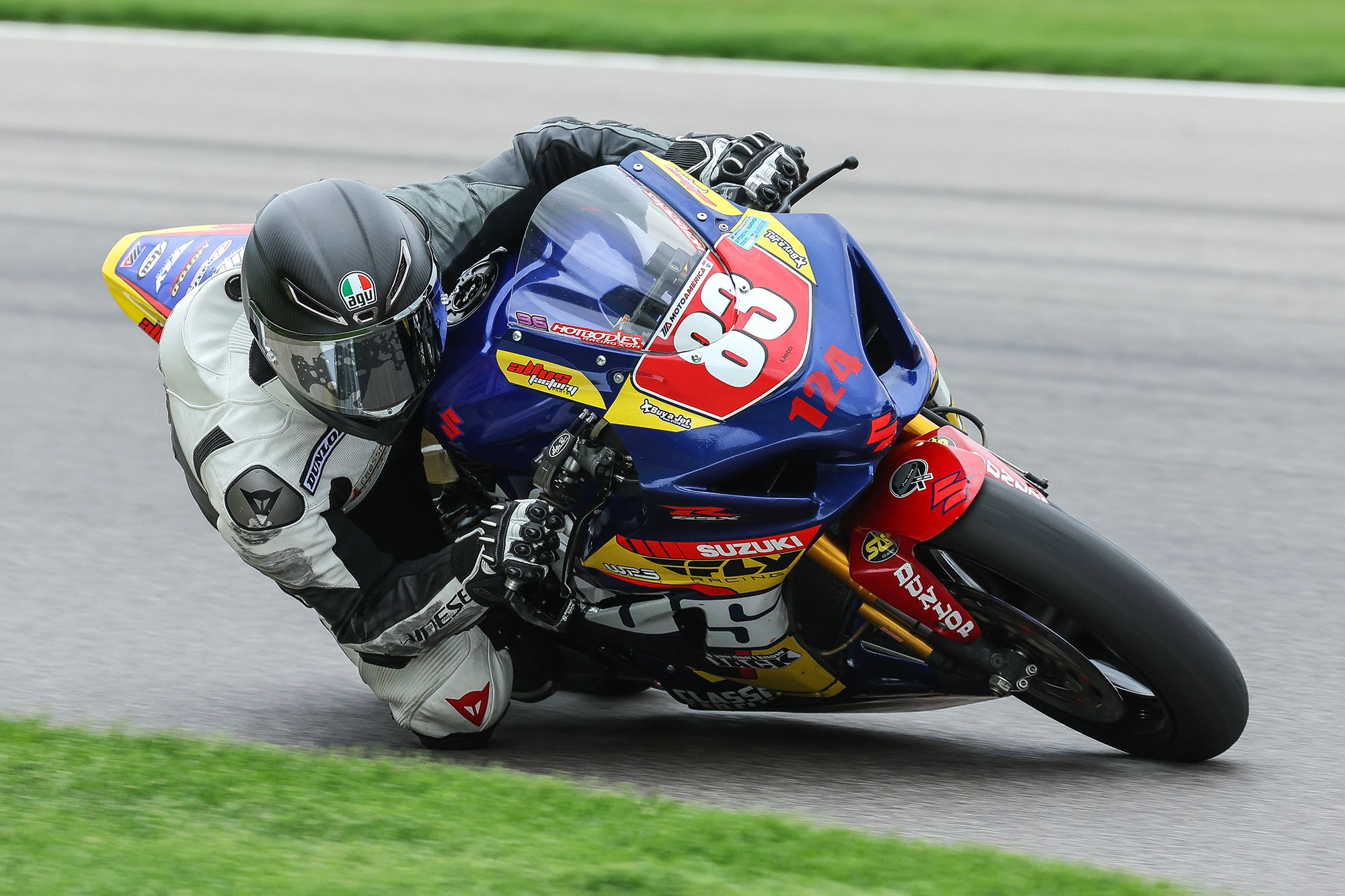 Superbike & Stock 1000:
Anthony Norton stepped in for the injured Brandon Paasch again at the Alabama round. Like Road Atlanta, Barber is another track that was new to Norton. On Friday he set to work to learn the fantastic track and improve his lap times and the bike setup.
Norton started both of the Stock 1000 races from 19th on the grid. In Race 1, he crossed the finish line in 18th. After some setup changes on Saturday evening, he dropped another second off his lap time during Race 2 and finished in 16th.
Anthony Norton: "Riding Barber for the first time was an awesome experience and I only wish we could have had more direction on the setup a little sooner so we could have shown our true potential! We hear Brandon may be cleared to make the next round and the Altus team and I are excited for his return. I'd like to thank the entire Altus team for the opportunity and experience, as well as Apex Assassins, Crossbeam Builders, and Legal Ride for helping make it happen!"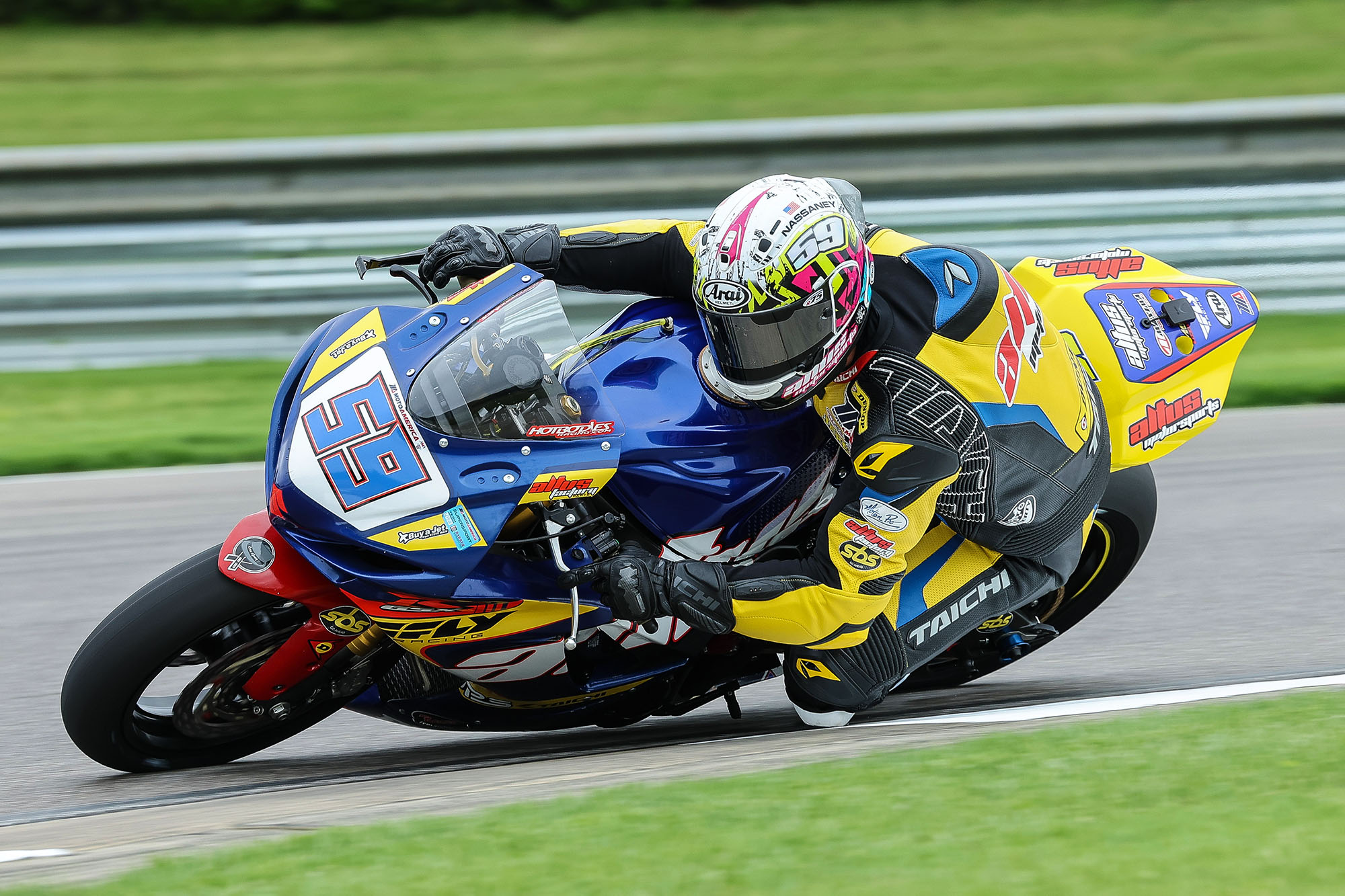 Supersport:
Barber hosted the first long-format race for the Supersport class. The team showed up prepared and excited for the mandatory pit stop race length. This meant investing in equipment and practicing pit stops. Jaret Nassaney had good pace in the practice and qualifying sessions and started the single, double points race from 8th. On lap 6, the weather turned and it started to rain. Jaret came into the pits to change tires and then suffered a crash on his first lap out. He quickly returned to the pits to assess and repair the damage to rejoin the race. Unfortunately, MotoAmerica did not allow Nassaney to continue.
George Nassaney: "It's tough to lose out on double points. Especially when Jaret had good pace. We were excited to run the longer format race and it's unfortunate we couldn't finish that race. I've asked MotoAmerica to evaluate their current process for determining if a bike is safe to re-enter a race."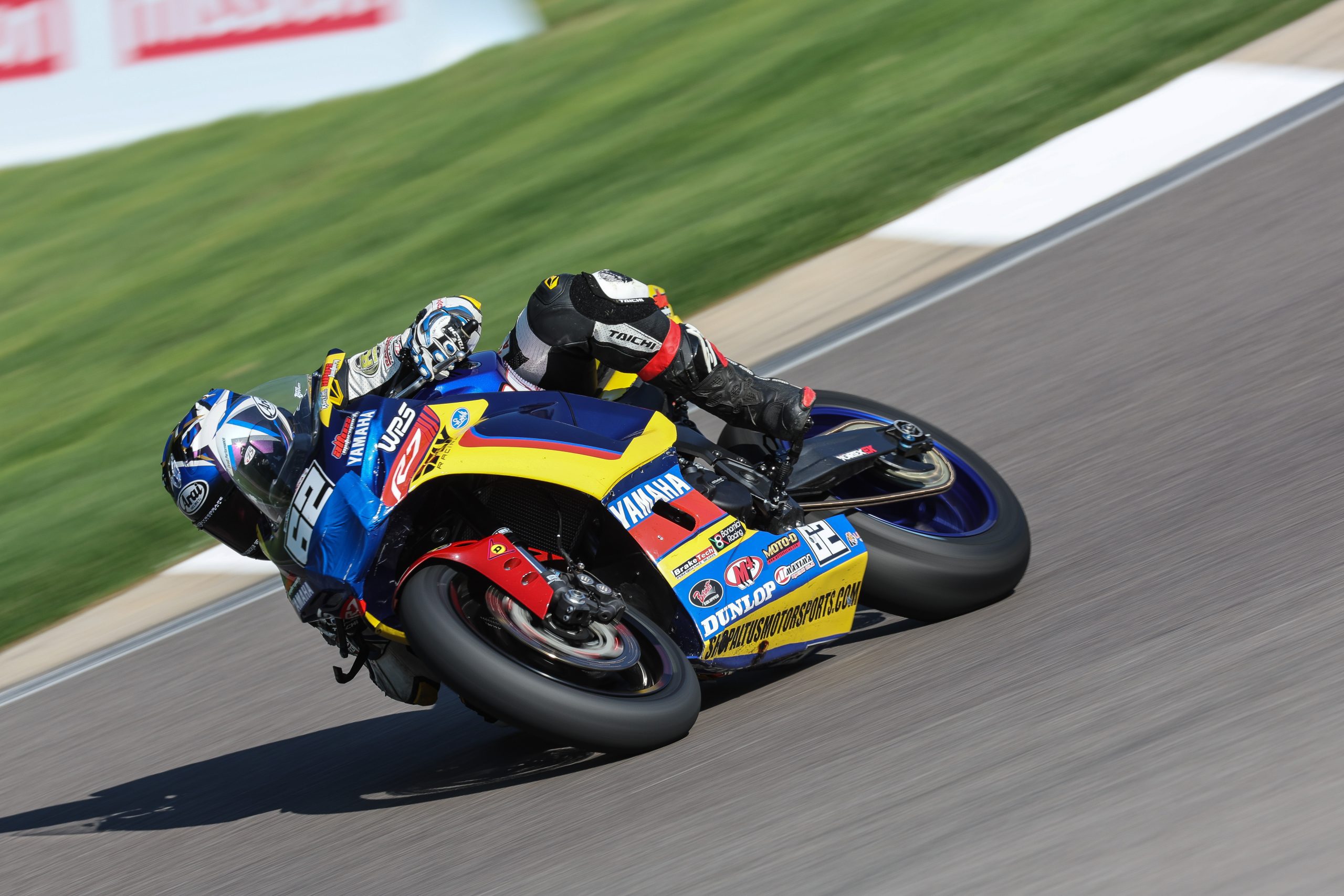 Twins Cup:
Joseph LiMandri Jr. struggled to find a perfect setup for Barber. He was in the top 10 of every session and qualified 9th. In the first Twins Cup race of the weekend, he finished 10th. After the race on Saturday, the team made some significant changes to the suspension. On Sunday, in Race 2, LiMandri held 6th position for most of the race and crossed the finish line in 7th.
Junior Cup:
Alessandro Di Mario showed great pace in the practice and qualifying sessions. He topped Q2 and ended up gridded second for both Junior Cup Races. In both races, he went with the front group and battled from flag to flag. In the Saturday race, he took the checkered flag just off the podium in 4th. On Sunday, he finished with the lead group in 6th.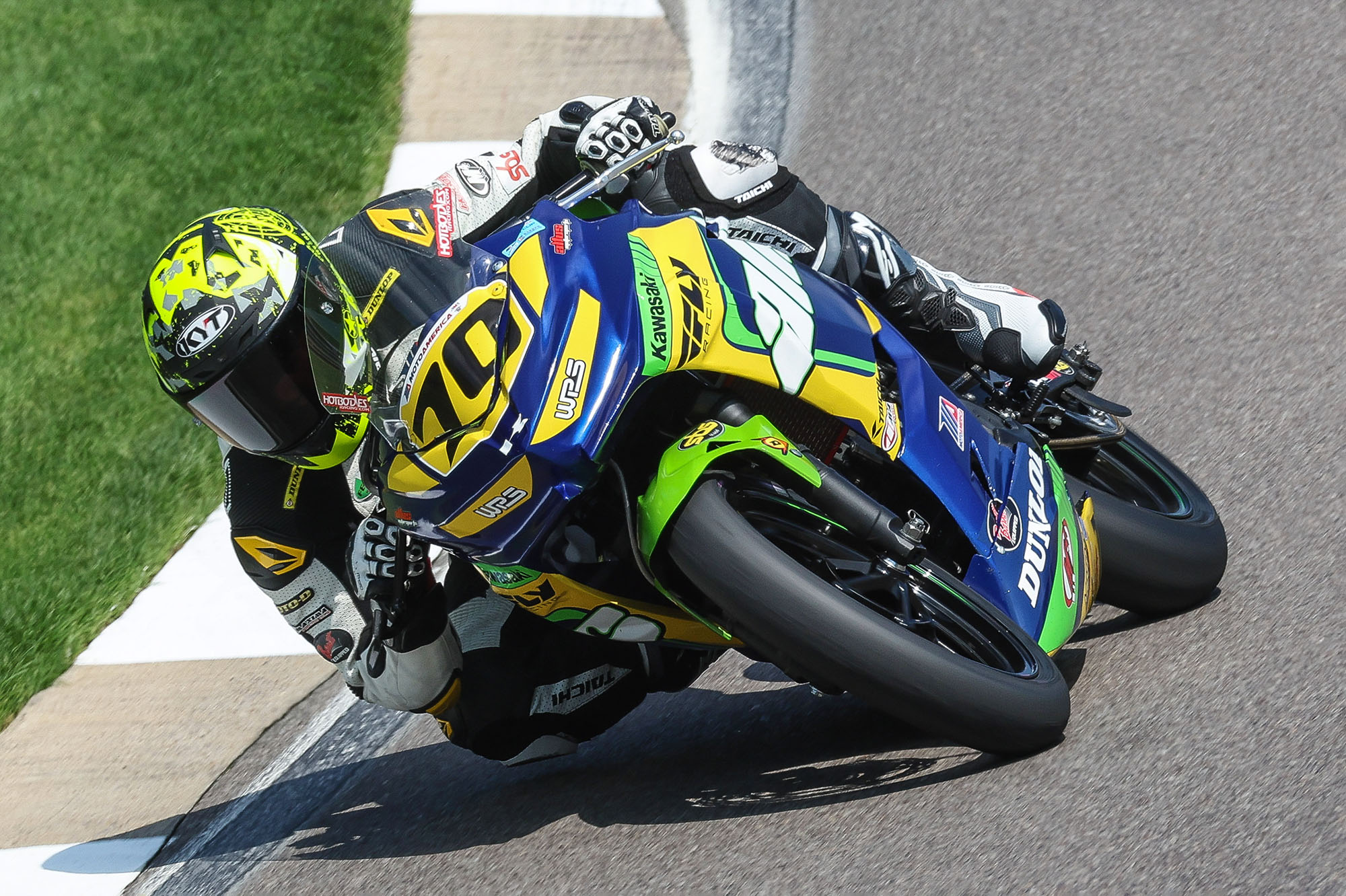 "Overall this past weekend did not go as well as we would have liked.  It just shows you how hard this sport is and the mental toughness the riders and team must have.  We are all back home now, so it's time to regroup and get ready for Road America.  Our Team will be ready to battle again in 2 weeks.  I would also like to Thank our New Sponsor BUY A JET FROM STEVE MAIN" said Team Owner George Nassaney.
—
Altus Motorsports team is supported by our great family of sponsors: Altus Motorsports, FLY Racing WPS, Suzuki Motor Corporation, Yamaha Motor Company, Barnett, Maxima Racing Oils, Moto-D Racing, Bonamici, Hot Bodies Racing, M4 Exhausts, Vortex EK, Motion Pro, SBS Brakes, BrakeTech USA, Inc., Ohlins, K-Tech, RS Taichi, Arai, Yoshimura, Chicken Hawk Tire Warmers, CarbonSmith, Law Tigers Oklahoma, Buy A Jet From Steve Main, and Altus Factory Racing