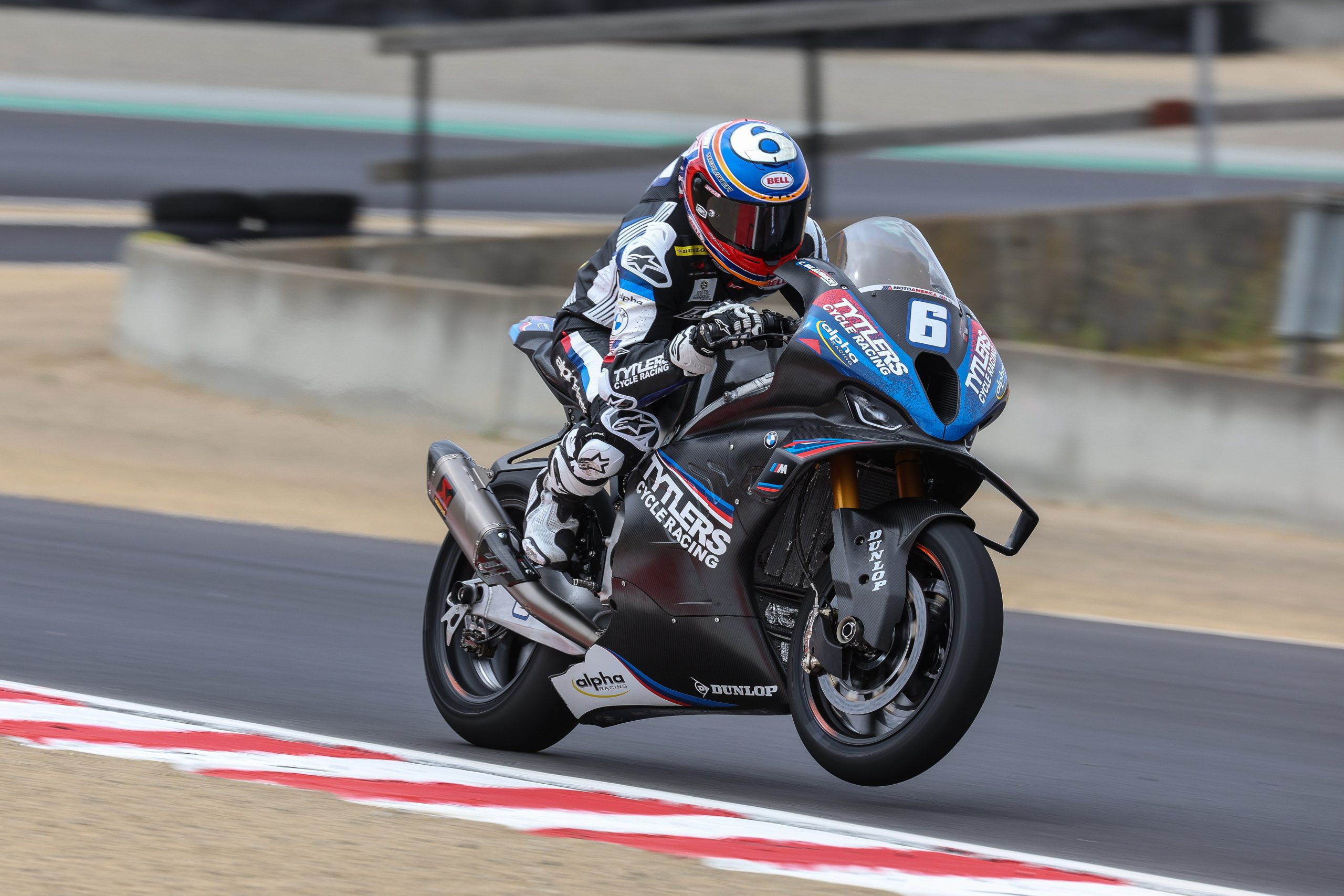 The following is from Tytlers Cycle Racing…
The Tytlers Cycle Racing team continued their front running performances in the latest round of the 2023 MotoAmerica Superbike Championship at the iconic Weathertech Raceway Laguna Seca this past weekend. A double win on Sunday for Cameron Beaubier coupled with a race one podium for PJ Jacobsen meant the squad once again had at least one bike in the top three in every race! Corey Alexander also raced to strong finishes in the weekend's three races.

After equaling the lap record in qualifying it was Beaubier who was the man to beat, placing his BMW M1000 RR on pole position in style. His hopes of a triple win were dashed however after a turn two tumble, through no fault of his own, saw him on the floor and unable to make the restart. Cameron's disappointment turned to delight for both him and the team on Sunday, two perfectly executed overtakes saw the superbike returnee clinch two wins in front of an enthusiastic crowd. The results keep the #6 very much in title contention. He sits second on points ahead of the next round at Brainerd.

PJ Jacobsen showed top three pace from the off, matching Beaubier on Friday to end the day second on the time sheets. A crash in final qualifying left the team with a full rebuild before lights out but a great team effort saw the #99 on the grid and ready to fight. And fight he did. Running third PJ had his sights set on second before a red flag cut short the race. Nevertheless, a podium was well deserved and a reminder that he is one to watch for the remainder of the season. A retirement in race two was a disappointment but Jacobsen bounced back to take sixth in race three to consolidate sixth in the overall points classification.

The team's third rider Corey Alexander battled through discomfort from previous back injuries to secure three solid results on his BMW M1000 RR. The reigning Stock1000 champion finished eighth, seventh and ninth in the three twenty lap races to move into P7 overall in the championship standings.

Cameron Beaubier: "Race one sucked but I was glad it wasn't worse than it was. My guys worked their butts off to rebuild a bike for Sunday and we turned it around. I was pretty sore but once the blood got going, I felt great on the bike and was able to bring home a couple wins."

PJ Jacobsen: "Race one was pretty crazy after I destroyed a bike in qualifying two. The team did a great job to rebuild it and I was able to take a podium which I was happy about. I was running third in race two, but I started to suffer with a brake issue pretty early in the race. I started to fall back, which sucked after we had shown such good pace all weekend and in the end I retired. Race three went well, although I was struggling to pass. I didn't quite have the grip to follow the others as they closed up to the leading two, which was disappointing as I genuinely feel we could have also had a podium in the final race too. It is what it is, we took at least one podium, and I will go again at Brainerd which is a track I like."

Corey Alexander: "We made some changes to the to the bike per my request for race one and ultimately went in the wrong direction. Due to some of the misfortune of some of our rivals we still managed P8 but it was not my best performance. For race two we went back to our previous setting, and I was able to run much closer to the front pack with a good pace and feeling. I felt good for race three but got pushed extremely wide off the start and lost some positions which made bridging the gap to the pack difficult. I am happy to salvage three top ten finishes, but it wasn't the weekend for which I had hoped. Thanks to their team for their support and hard work. I am excited to head home and heal up this lingering back pain I am dealing with and come back stronger at Brainerd."
---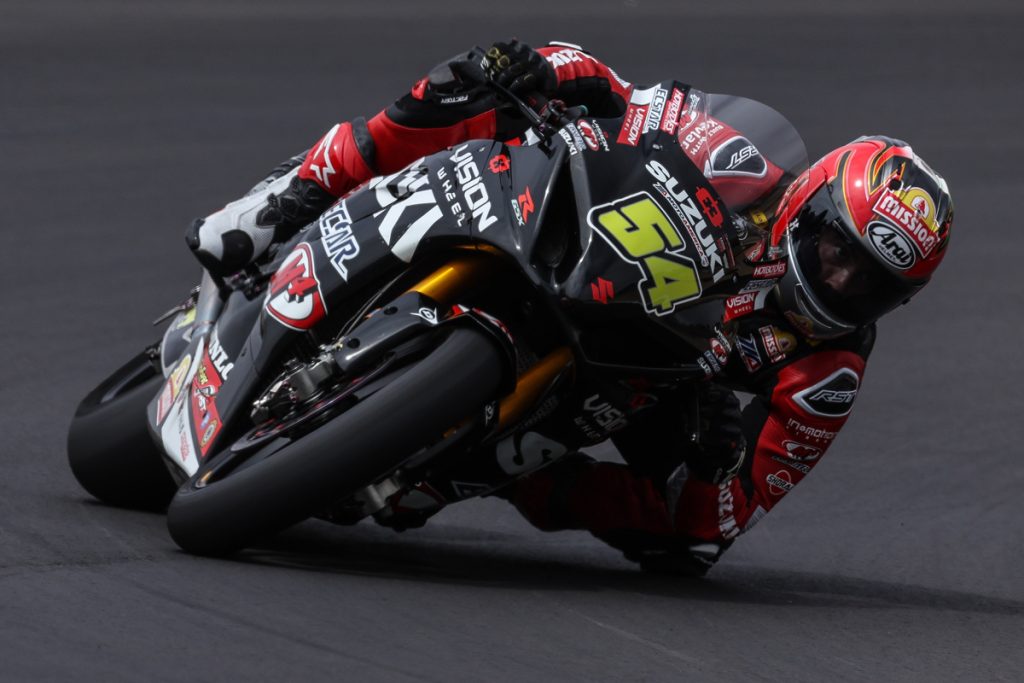 The following is from Suzuki…
Suzuki Motor USA and Team Hammer upped their weekend tally to six top-fives, rounding out a trophy-winning MotoAmerica round with a pair of strong Superbike races on Sunday at WeatherTech Laguna Seca.
Vision Wheel M4 ECSTAR Suzuki's Richie Escalante continued to establish himself as one of the nation's top Superbike pilots with his fifth and sixth top-four finish in his last eight attempts. Both of Sunday's Superbike contests shared much in common with Saturday's, minus the sighting lap drama. Once again, the Mexican could not fully capitalize on his front-row grid position, but he still managed strong races that emphasized his quick pace. He systematically worked his way forward aboard his Suzuki GSX-R1000R to twin fourth-place results. Escalante came tantalizingly close to securing that elusive maiden premier-class podium finish during Race 3 in particular, ending up just 0.607 seconds short of third position at the flag and 2.725 seconds from the winner.

Escalante said, "Three fourth-place finishes and fourth in the championship – it was a good weekend for us. Thanks to the team for giving me a bike that worked great. I'm happy after yesterday, and we had two strong races today. On the first lap in the second race, I lost a couple of positions, but in the race, I made a pass and was able to improve my lap times. I feel like we are getting stronger with each race, and I look forward to training and recovering for the next round."
Brandon Paasch was impressive in his own right. Making his Vision Wheel M4 ECSTAR Suzuki debut in what was his first-ever weekend aboard a Superbike. Paasch was both steady and quick, all while still recovering from a broken back. He finished in eighth position in Race 2 and then went one better in Race 3, taking seventh as he continued to come to grips with the Suzuki GSX-R1000R Superbike.

"It's been great coming out here on the Vision Wheel M4 ECSTAR Suzuki Superbike this weekend," said Paasch. "There's been a lot to learn coming up from the Stock 1000 last year, and then obviously not really racing yet this year. We're taking it steady and chipping away at those front boys. We're not too worried about the results at the moment, we're just focused on my riding and communication with the team. I think we're doing a good job, and everybody seems happy with what we're doing. There's still a lot to learn. I need to be a bit more patient on the bike and work on my fitness after returning from a big injury. We've got some gym work to do, but I'm not scared of hard work, so we'll get after it."

Team Hammer will return to action when the 2023 MotoAmerica season resumes at Brainerd International Raceway in Brainerd, Minnesota, on July 28-30.
---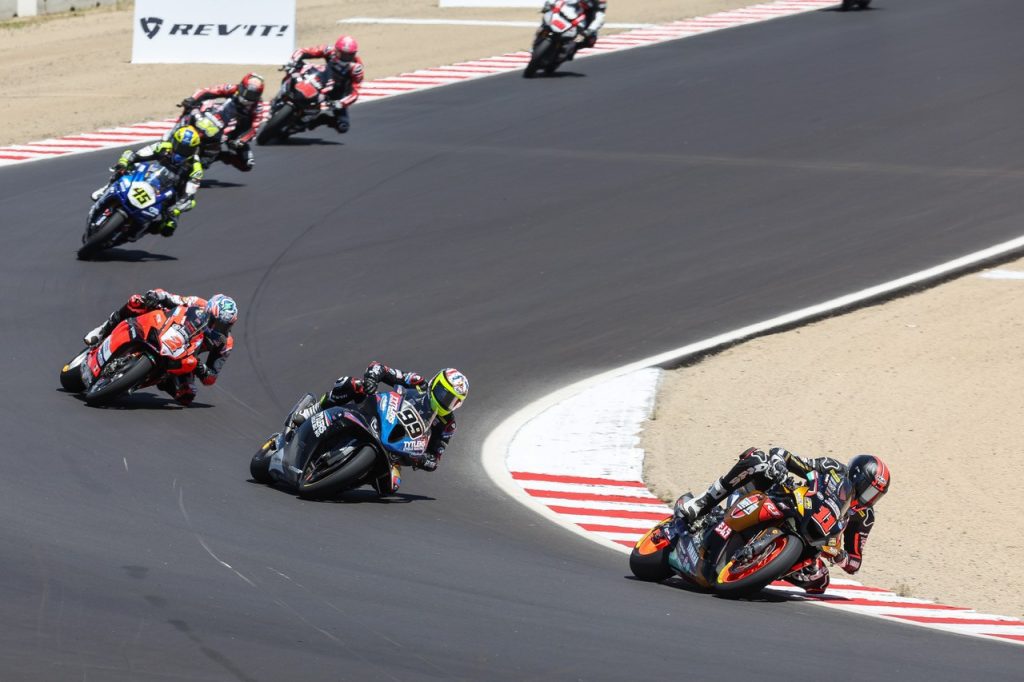 The following is from Westby Racing…
Mathew Scholtz and the Westby Racing team wrapped up the two-round West Coast swing in the 2023 MotoAmerica Superbike Championship at WeatherTech Raceway Laguna Seca, and unfortunately, it was a weekend that Mathew and the team would just as soon forget.
The event had three Superbike races on the schedule, and in Saturday's race one, Mathew, who had qualified fifth earlier in the day, got into a battle for third, but he had a big crash in Rainey Curve with just two laps to go in the race. The incident brought out the red flag, and the race was called complete. Mathew ended up bruised and battered, and he had a restless night as a result
On Sunday, the topnotch Westby Racing crew had Mathew's #11 Yamaha YZF-R1 re-built and ready to go, but Mathew himself was still sore from Saturday's crash. He shook off the difficulties and managed to finish seventh in the morning warmup session.
Then, in Sunday morning's race, the second of three on the weekend, Mathew finished sixth, which was a decent result, all things considered, but not where he and the team hoped to finish.
In Sunday's afternoon race, the third and concluding race of the weekend, Mathew unfortunately ran off the track on lap seven, which took him out of seventh place and into tenth. From there, he fought valiant for position and ultimately crossed the finish line in eighth.
So, all told, it was a DNF, a sixth, and an eighth for Mathew and the team. The results also moved Mathew from fourth to fifth in the points standings.
"Well, that didn't quite go the way we hoped," Mathew said. "I banged myself up pretty good in Saturday's race one, and I also created some extra work for the boys, which I am sorry about. Sunday's two races were tough, and I did all I could given my physical condition and the circumstances. Tryg Westby, our team, our sponsors, and I expect to be at the front, and that's why we race. To not be able to deliver on that hurts more than these bumps and bruises. But, we are a strong group who pull together, and I know Tryg and the boys are behind me 100%. We've got some time till the next round, so I will recover, get stronger, and we'll be more determined than ever for these final four rounds of the season."
The Westby Racing team will take the much-needed break in the schedule to re-group, and then, they will return to action on July 28 through 30 at Brainerd International Raceway in Brainerd, Minnesota, for round six of the 2023 MotoAmerica Superbike Championship.
---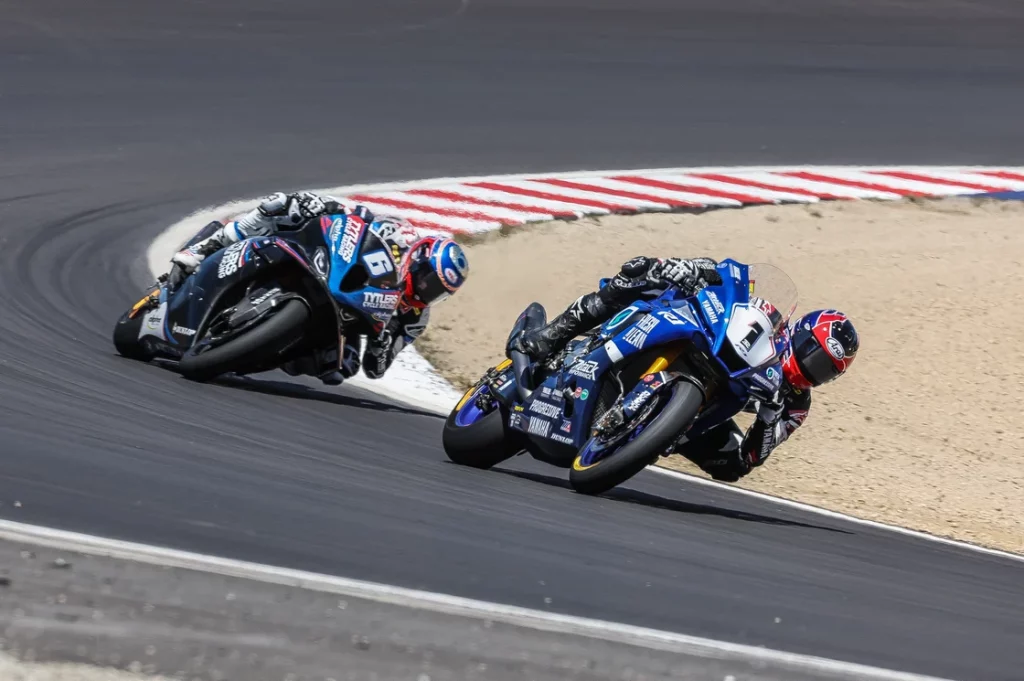 The following is from Yamaha…
Fresh N Lean Progressive Yamaha Racing's Jake Gagne's podium streak continued with a second and third-place finish in today's MotoAmerica Superbike doubleheader at the WeatherTech Raceway Laguna Seca. The reigning champ's 1-2-3 score on the weekend has him leaving the iconic Monterey, California, track with a 34-point lead in the championship with nine races remaining. Teammate Petersen bounced back from yesterday's tough Race 1 to conclude the weekend with a pair of top-five finishes.
On the heels of yesterday's victory, Gagne put in another championship ride at the doubleheader. In the first race of the day, he got a great start to claim the lead and put in some fast times early to try and break away, but he had his championship rival hot on his heels. The duo built a comfortable gap up front, and Gagne continued to knock down consistently fast laps but was passed with five laps to go and rode on to a runner-up finish.
In the final race of the weekend, Gagne was fourth and laid in wait behind a three-rider fight which included his teammate and championship rivals. On Lap 6, he passed Petersen, but the frontrunners had amassed a healthy gap ahead. Undeterred, Gagne picked up the pace to close the gap and was right behind them with four laps to go. On the final lap, he set the fastest lap of the race and advanced to the runner-up spot. Gagne crossed the line .118 of a second behind the leader but was ultimately credited with third after a two-second penalty was assessed for exceeding the track limits.
After a tough opening race of the weekend that saw him crash out of the lead on the exit of Turn 2, Petersen got a good start in today's Race 2 from the second row of the grid in fifth. Although he was shuffled to seventh on Lap 3, he kept pushing and made his way back to the top five. In Race 3, Petersen executed another flying start to take the lead into Turn 2. It was an eventful opening lap that turned into a three-rider battle, with the South African putting in a good fight for the lead before being shuffled to third. After Gagne made his way through, he was holding down fourth but was passed with five laps to go, ending the day with another solid fifth-place finish.
Next up for the Fresh N Lean Progressive Yamaha Racing team is Round 6 of the MotoAmerica Superbike Championship at the Brainerd International Raceway in Brainerd, Minnesota, on July 28-30.

Richard Stanboli – Fresh N Lean Progressive Yamaha Racing Team Manager
"Throughout the event, we made good progress and a significant step forward on the new surface and tires. We are happy with our progress. Jake rode well to catch the leaders in Race 3. I think the track limits penalty was extreme, considering the actual advantage that would be gained by jumping the green. If the goal is to emulate the world championship, then it should follow the world standards by giving track limits warnings to the riders and exacting punishments that fit the infraction."
Jake Gagne – Fresh N Lean Progressive Yamaha Racing
"We had some good races on Sunday and made some great progress. In Race 3, those guys were messing around, and I was able to reel them in. I feel like I rode my butt off in that one, so regardless, I'm happy with how I rode. I'm happy for this team. They really helped me step it up this weekend. It definitely was some exciting racing today, and I'm excited to get to the next round!"
Cameron Petersen – Fresh N Lean Progressive Yamaha Racing
"It was another tough weekend for me. The bike felt good, and so did I, but unfortunately I had a crash in Race 1. Race 2 and 3 were way better, and I was happy with my pace and got some good starts. At the end of the day, I just need to put all the pieces of the puzzle together, and we will be fighting at the front."
---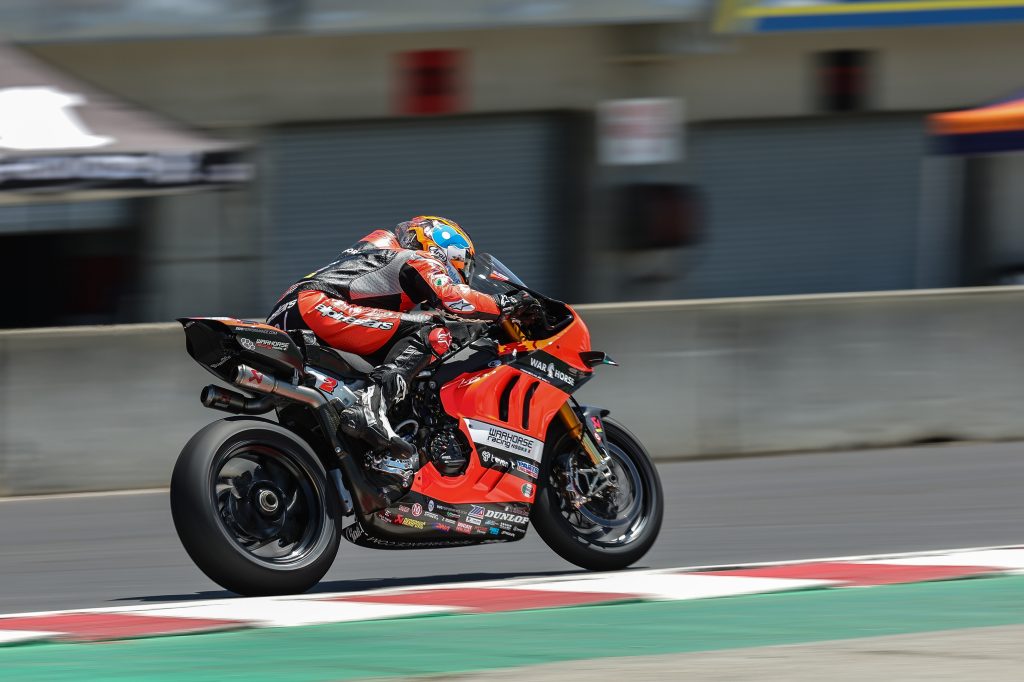 The following is from Ducati…
Round five of the 2023 MotoAmerica Superbike and Supersport Championship was held at Weathertech Raceway Laguna Seca and it was a podium-filled celebration for the Warhorse HSBK Racing Ducati NYC team.
In the extended 38 lap Supersport race, it was yet another red letter weekend for Xavi Forés who took his eighth-straight win in the class to maintain his perfect season. Forés charged hard to the pit stop and a flawless display by the Warhorse HSBK Racing Ducati NYC team gave the Spaniard the advantage he needed as he crossed the line a massive 12 seconds in front of Yamaha's Josh Hayes.
For Herrin, the gritty Georgian had three races to contend with in the Superbike category. Still dealing with his ankle injury suffered in a crash at The Ridge, Herrin pushed on to take a second in race one, third in race two, and very nearly took the win in the final race but was bested by eventual winner, Cameron Beaubier.
Witnessed by the packed Ducatisti crowd and Ducati Corse Sporting Director, Paolo Ciabatti, the result sees Herrin solidify third in the championship, 39 point off the lead heading into the next round of the series at Brainerd in Minnesota in two weeks.
Xavi Forés (Warhorse HSBK Racing Ducati NYC – #12)
"It was a great race for me today," Forés said. "The pace was better than I expected after a couple of crashes this weekend and not the best feeling with the bike, but we found a good solution and could maximize our potential. I was pushing really hard before the pit stop. I was feeling good but I was still having issues with the front end. The guys did a massive job in the pit stop and that's where we won the race. It's my eighth win in a row, an all-time record in this class, so I couldn't be happier."
Josh Herrin (Warhorse HSBK Racing Ducati NYC – #2)
"Super good weekend," Herrin said. "I'm a little bummed we didn't come out of this weekend with a win as this is Ducati's local track to the U.S. headquarters, and for it being one of my favorite tracks, but to be on the podium in each of the three races, I'm really happy. It was great to lead so much of the last race. It was a great battle with Cam (Beaubier) and Jake (Gagne), and I'm just so happy with life at Ducati and riding this Panigale V4 R."
---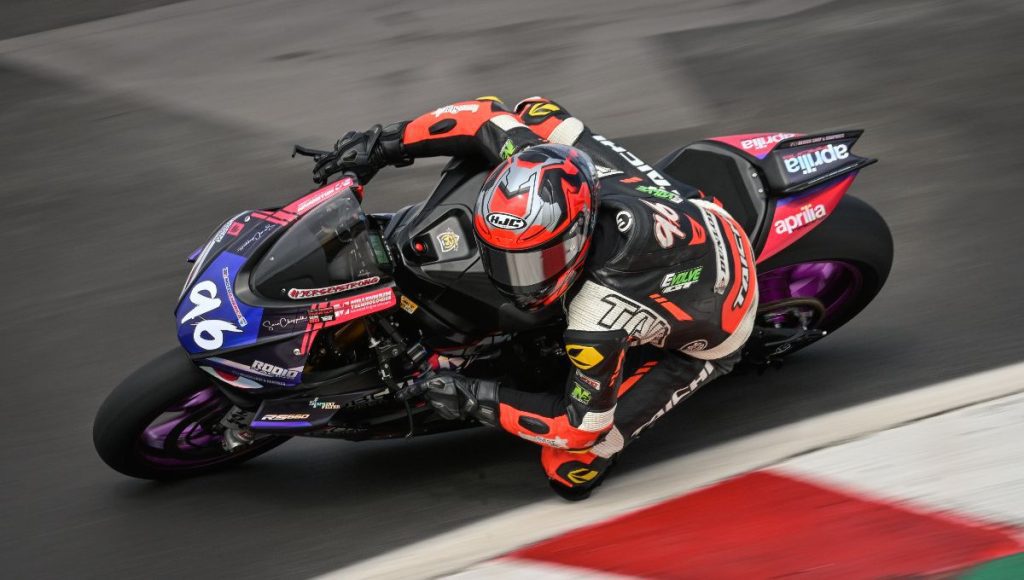 The following is from Rodio Racing…
The newly repaved Laguna Seca circuit proved to be a near-perfect match for the tandem of Rodio Racing – Powered by Robem Engineering riders Rocco Landers and Gus Rodio and their Aprilia RS 660s. Each of the teammates took a win in dominant fashion at the world-famous 2.238-mile road course, and the early season MotoAmerica Twins Cup championship leader Rodio ended the weekend back atop the class points standings.

Landers' started the July 7-9 round by clinching his fourth pole position of the season and won by a large margin on Saturday, but had an unfortunate crash in Sunday's contest. Rodio rode at or near 2020 Twins Cup champion Landers' pace all weekend and edged Landers' out in setting a new Twins Cup lap record for the Laguna Seca circuit on Sunday.

Track conditions were tricky for the first on-track session of the weekend, as overnight rain made the recently laid asphalt very slick. Landers and Rodio rode conservatively during practice and finished ninth- and 11th-fastest, respectively. The track was dry by the afternoon when the two riders took part in the first qualifying session — and they were back to their usual frontrunning form. Landers provisionally qualified in first, setting his best lap time — a 1:30.741 — on his 19th lap of the session. Rodio wasn't far off Landers' pace and finished Qualifying 1 second fastest — and 1.325 seconds faster than the next-fastest rider.

Landers couldn't better his best lap time from Qualifying 1 in Saturday morning's Qualifying 2, but it was still enough to edge out his teammate Rodio for pole by 0.137 seconds. Rodio improved on his best Qualifying 1 time by almost four-tenths of a second, and the team secured its first 1-2 qualifying effort of the season.

Race 1 started with some tense moments for both Rodio Racing – Powered by Robem Engineering riders but ended with a commanding 1-2 result. Both Landers and Rodio got passed by another rider at the race start, but that arrangement was short-lived. Landers and Rodio both got past the other rider at Turn 6. Landers had about a one second lead by the end of Lap 1, and Rodio held fast despite another rider making contact with him in the Corkscrew to finish the first lap in second place. The tandem then steadily pulled away from their competition, with Landers besting his teammate to the finish line by 4.180 seconds and Rodio clinching a runner-up finish by a margin of more than 20 seconds. It was Landers' fifth win and sixth podium in seven races with the team, and he briefly assumed the championship lead by a single point.

Sunday was Rodio's day to shine, as he got a stellar start and led the field through the first few corners. Landers slotted into third place as the field entered Turn 2 and moved up to second place after making a pass at Turn 6. As Landers was executing his pass, Rodio made an error and ran a little wide at that turn, which allowed Landers to take over the race lead. Like in Race 1, the Rodio Racing – Powered by Robem Engineering pair methodically built a gap to the rest of the field while setting a fervent pace at the front. The duo took turns setting MotoAmerica Twins Cup lap records until the latter stages of the race. With three laps to go, Landers unfortunately crashed near Turn 5 and was unable to rejoin the race. Rodio then assumed the race lead and took his second win and seventh podium finish of the year by a margin of 16.945 seconds. Rodio also ended the race as the new Twins Cup lap record holder when he put in a 1:29.269 on Lap 8.
Rodio's win also allowed him to take over the Twins Cup points lead by three points. Despite not scoring any points Sunday, Landers is now just 18 points behind Rodio with four races remaining in the 2023 Twins Cup season.

MotoAmerica's Twins Cup riders have five weekends off before their next action, which takes place Aug. 18-20 at Pittsburgh International Race Complex in Wampum, Pa.

Gus Rodio / No. 96
"Overall, it was a great weekend for the Rodio Racing – Powered by Robem Engineering team. Me and Rocco worked together all weekend long. Race 1 went good. I had a few issues off the start, but I managed to collect it and stayed consistent the whole race. It was a pretty good finish and a pretty good best lap time for me. I'm super happy with the results overall, as well as getting the championship lead back. I couldn't have done it without the team and Aprilia backing me. I'm looking forward to heading back to the East Coast, and we'll take it from there."

Rocco Landers / No. 97
"It was a great weekend. On Saturday, things went amazing. Gus and I were able to work together to find the best possible setup for our Aprilia RS 660s. We had them set up really well, and they worked amazing here on the new surface. The Aprilia is definitely the bike to be on in Twins Cup, and it keeps getting better and better. Unfortunately, I kind of ruined the weekend by tossing the bike down the road in Race 2, but, that aside, I'm looking forward to heading to Pittsburgh."
Robem Engineering's technical partners for 2023 include Aprilia Racing, Piaggio Group Americas, Bitubo Suspension, Dunlop, Woodcraft Technologies, Dymag, Vesrah, Sprint Filter, DID, Sara Chappell Photos, NGK/NTK, Blud Lubricants, Millennium Technologies, Motovation USA and SC-Project.
Rodio Racing's technical partners for 2023 include NJ MiniGP, Luxestar VIP, MAR Contractors, Evolve GT, N2 Racing, Dunlop, Spellcaster Productions, Kathedral, The Martinn and MVR Endeavor.