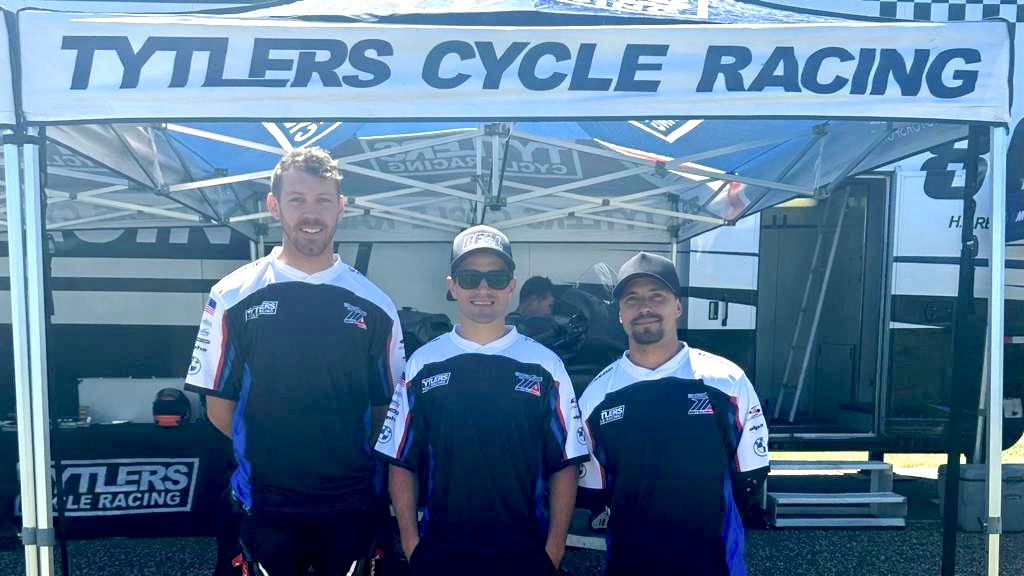 The following is from Tytlers Cycle Racing…
There is just one week to go until Tytlers Cycle Racing begin their 2023 MotoAmerica Superbike campaign at Road Atlanta and the team's three riders are ready.

Reigning Stock 1000 champion Corey Alexander steps up to Superbikes joining PJ Jacobsen who remains with the squad. The pair are joined by multiple MotoAmerica champion and Moto2 World Championship podium finisher Cameron Beaubier, who returns to US National series after a couple of seasons competing on the world stage. The trio will once again take to the track on BMW M1000 RR machinery and had this to say during a recent test in Alabama, ahead of Round 1.
Cameron Beaubier: "I really appreciate this opportunity with Tytlers Cycle Racing BMW to get back on a superbike again at home. They're a great group of people and they have been working hard to get us ready to go racing. I've been loving being back on a superbike. We have been making some progress and I can't wait to line up at Atlanta for the first MotoAmerica round!"

Corey Alexander: "I am super excited to get the 2023 season underway. After winning the Stock 1000 title last year my goal was to move up to superbike and I'm grateful for the opportunity to do so with Tytlers Cycle Racing. Thanks to all the team for getting everything ready for the upcoming season, I know it has not been easy and they have done a lot behind the scenes to make sure we are in the best possible shape. I don't have expectations for the year ahead, but I am keen to see how I progress during the season and to see how we compare to last year now I am on a full superbike and not a stock machine. A big thanks to all my personal sponsors and supporters, especially over the past four years which is when I returned to the MotoAmerica paddock. It's a dream come true to race in Superbikes this year and it wouldn't have been possible without those that have helped and continue to do so."

PJ Jacobsen: "I'm really looking forward to my second season on the BMW with Tytlers Cycle Racing. I had a pretty good first year with the team and on the bike, especially at the end of the year with podiums and pole position. It will be interesting to see what we learned from last year and I am looking to do a better job than we did in our debut season together. I am grateful that Michael Kiley has given me another opportunity to stay with the team. I have never really been with the same team for two years in a row so having the same crew will be something really positive. We have had several tests trying new things and I felt good, and I cannot wait to start racing."

Team Owner Michael Kiley is also optimistic for the year ahead: "It has been an exhilarating journey from "Tytlers Who?" to having talent like Dave Weaver, Scott Jensen, with all the professionalism they bring with them to having Corey Alexander, PJ Jacobsen, and Cam Beaubier on the bikes. I feel incredibly lucky to be a part of this team and this racing community. I really enjoy the friendships that have come with the other teams we compete with. Attack Yamaha have been great champions but as a token of our respect and admiration we would like to relieve them of the pressure of being number one. It feels like the right thing to do."