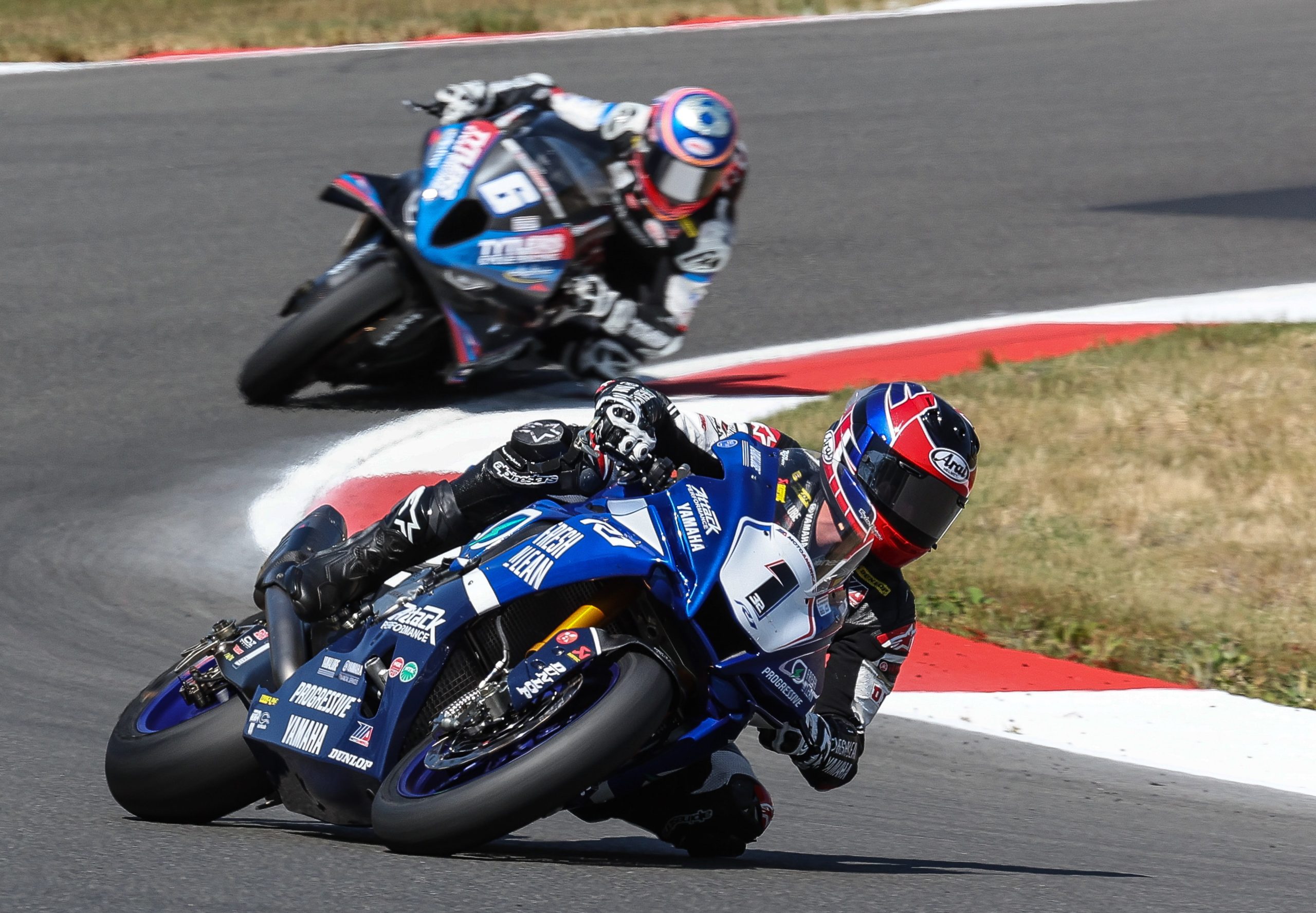 With its three races and 75 points up for grabs, the fifth round of the MotoAmerica Medallia Superbike Championship at WeatherTech Raceway Laguna Seca, July 7-9, has the potential to be the most important round of the series thus far and in September when all is said and done, the tripleheader may go down as the most important of the season.
After four rounds and eight races, the nine-round, 20-race 2023 MotoAmerica Medallia Superbike Championship has turned into a two-man battle between Fresh N Lean Progressive Yamaha Racing's Jake Gagne and Tytlers Cycle Racing's Cameron Beaubier, though it's probably a tad early to discard Warhorse HSBK Racing Ducati's Josh Herrin from the conversation.
Those are the three men who have won Medallia Superbike races this season and those are the three men who sit atop the championship point standings.
Gagne is where he has found himself for the past two years – atop the championship standings. The two-time and defending Medallia Superbike Champion has won four of the eight races held so far, including three in a row until Beaubier put a stop to that in race one at Road America. What's different about the 2023 season is that Gagne has been beaten in a straight fight twice by Beaubier – in the first race of the season at Road Atlanta and in race two at Ridge Motorsports Park two weeks ago. Beaubier's third race win was the aforementioned Road America race, but Gagne suffered a mechanical failure in what was a fairly horrible weekend for the Yamaha team.
Both Gagne and Beaubier have suffered a mechanical DNF with Beaubier also having a race crash to blemish his record. But fortunately, when he crashed at Ridge in race one while hounding Gagne, the race was red flagged, and the five-time MotoAmerica Superbike Champion was credited with seventh place and the nine important championship points that came with it.
As surprised as many are that Beaubier and his Tytlers Cycle Racing BMW M 1000 RR have had the speed to run at the very front since the first race of the season, Gagne isn't one of them. Mention Beaubier to Gagne at any time during any weekend and he will give you much the same response. "I never count that guy out."
Herrin's lone win came in Road America's second race with the Ducati man holding off Beaubier's teammate PJ Jacobsen for the win. By that point, Beaubier's BMW had expired, and Gagne was third in what was a forgettable weekend for both him and the Attack team. Although Herrin was thrilled at Road America with his first win since 2019, he also knew he hadn't beaten the other two when they were at their best.
The Ridge Motorsports Park round looked like it would be the place where Herrin would do just that as he qualified on pole position and looked to have the pace to run with Gagne and Beaubier in the two races. Shortly after nabbing pole, however, Herrin had a huge crash that left him battered and bruised and with a right foot that was later diagnosed with a fracture. Although the injuries put a damper on his chance to run at the very front, Herrin bravely rode to two third-place finishes that may pay dividends later in the season.
Herrin sits third in the championship standings, 11 behind Beaubier and 34 behind Gagne.
Westby Racing's Mathew Scholtz had scored points in every race until he suffered a crash in Sunday's race two at Ridge Motorsports Park – a day after he'd finished second to Gagne in race one. That was the fourth podium of the year for the South African who finds himself fourth in the title chase, but 55 points behind Gagne.
Jacobsen had a dismal (by his standards) round in Washington with sixth- and seventh-place finishes on his Tytlers Cycle Racing BMW M 1000 RR. The New Yorker sits fifth in the championship heading to WeatherTech Raceway Laguna Seca, 10 points behind Scholtz and just three points ahead of Vision Wheel M4 ECSTAR Suzuki's Richie Escalante.
Escalante is off to a great start in the championship with double-digit points scored in six of the eight races so far. With three fourth-place finishes, it seems to be only a matter of time before the youngster from Tizayuca Hidalgo, Mexico, finds himself on the podium of a MotoAmerica Superbike race.
The number-three man on the Tytlers Cycle Racing team was the number-two man on the team at Ridge Motorsports Park with Corey Alexander having a career-best Superbike weekend with fifth-and fourth-place finishes on the weekend as he continues to improve with each and every race. Alexander is 13 points behind Escalante and eight ahead of Gagne's Fresh N Lean Progressive Yamaha Racing teammate Cameron Petersen.
Petersen would like to completely forget the first half of the season. A second-place finish in race one at Barber Motorsports Park is the only bright spot in his season so far as his scorecard is marred by three non-finishes. Still, the South African has the speed and the team behind him to make big gains in the second half of the season.
Disrupt Racing's Hayden Gillim and Toni Elias, who announced his retirement immediately after finishing fifth in race two at Road America, round out the top 10 in the championship heading into WeatherTech Raceway Laguna Seca.
The first of the three Medallia Superbike races on the Monterey Peninsula will take place at 3:10 on Saturday afternoon with race two and race three slated for Sunday at 12:10 and 3:10 p.m., respectively.
WeatherTech Raceway Pre-Race Notes…
Last year the WeatherTech Raceway Laguna Seca race was round six of the 2022 MotoAmerica Medallia Superbike Championship, and the two races were won by Jake Gagne, who would go on to earn his second straight Medallia Superbike title. Gagne's fastest race lap came in race two with his 1:23.443.
The MotoAmerica Superbike lap record at WeatherTech Laguna Seca is still held by Josh Herrin, who set the mark at 1:22.908 during Superpole in 2018. The Superbike race lap record is held by Cameron Beaubier who clicked off a 1:23.185 in race three in 2020, the only other time MotoAmerica has held a Superbike tripleheader at WeatherTech Raceway Laguna.
Last year, Gagne beat his teammate Cameron Petersen and Warhorse HSBK Racing Ducati's Danilo Petrucci in race one and then came back to beat Petrucci and Petersen in race two a day later. The two wins at Laguna were the sixth and seventh wins for Gagne on the season and he left California with the points lead for the first time, albeit by just three over Petrucci.
With his fourth win of the season and 33rd of his career coming in race one at Ridge Motorsports Park two weeks ago, Jake Gagne moved out of a tie with Toni Elias and Miguel Duhamel for fourth on the all-time AMA Superbike win list. Gagne trails all-time leader Mat Mladin and his 82 victories, Josh Hayes and his 61 wins and Cameron Beaubier, who has 57 AMA Superbike wins on his resume.
Josh Hayes, meanwhile, continues to chase history as his next win in any class will put him alone at the top of the all-time AMA road race win record as he is currently tied with Miguel Duhamel with 86 wins across all classes. Hayes will be aboard his Squid Hunter Racing Yamaha YZF-R6 in the extended Supersport race scheduled for Saturday afternoon at WeatherTech Raceway Laguna Seca. With his race-two Superbike win at Ridge two weeks ago, Cameron Beaubier, meanwhile, lurks in fourth on the all-time list with 78 wins – eight behind Duhamel and Hayes.
Brandon Paasch will make his MotoAmerica Medallia Superbike debut at WeatherTech Raceway Laguna Seca with the New Jerseyan set to race the ex-Toni Elias Vision Wheel M4 ECSTAR Suzuki GSX-R1000R in the three Superbike races at Laguna and for the rest of the season.
WeatherTech Raceway Laguna Seca has a long history of hosting AMA Superbike races with the first-ever Superbike race at the track on the Monterey Peninsula taking place in 1976 and won by Reg Pridmore. Dunlop hosted several of the top-tier Superbike racers to burn laps on the recently repaved WeatherTech Raceway Laguna Seca track on July 4. Though the track was extremely "green" on the morning of the test, racers reported that it was getting better as more laps were completed and rubber was put onto the racing surface. There was also a chance that a second test day would be held on the Thursday prior to Friday's official practice and qualifying sessions.