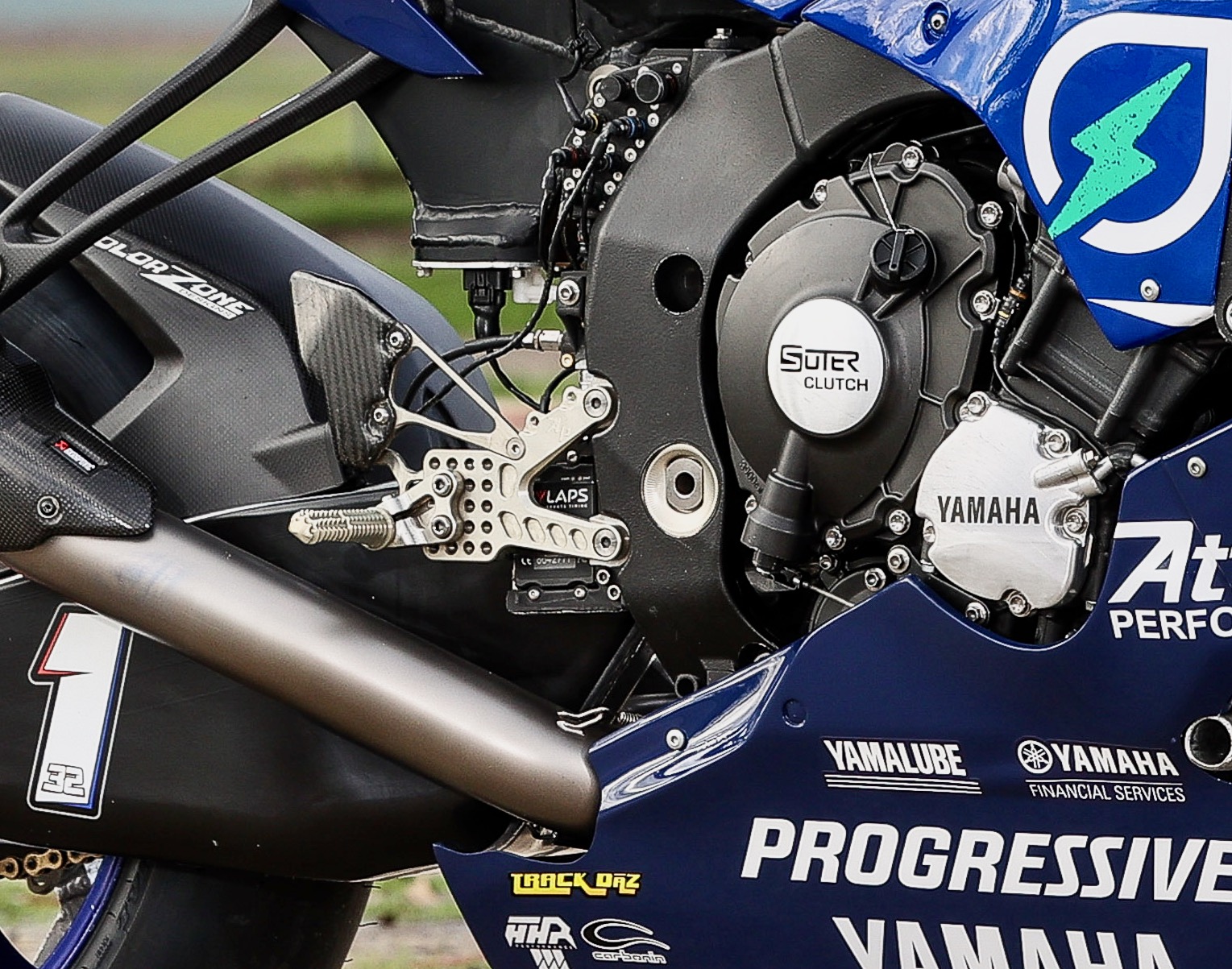 In the fall and spring, my wife rides a scooter to her teaching job in the village where we live. She's put over 7,000 miles on it over the past 19 years, mostly going back and forth to school. When she first started riding, she took the Motorcycle Safety Foundation (MSF) course and passed it with flying colors. She learned to ride aboard a Honda Rebel 250, so she's trained in operating a clutch and transmission, but she's been perfectly happy on her little twist & go 125cc scooter, operating the front disc brake with her right hand and the rear drum brake, on the rare occasion that she even uses it, with her left hand. There is no rear brake pedal on her scooter; just a brake lever on the left side of the handlebars.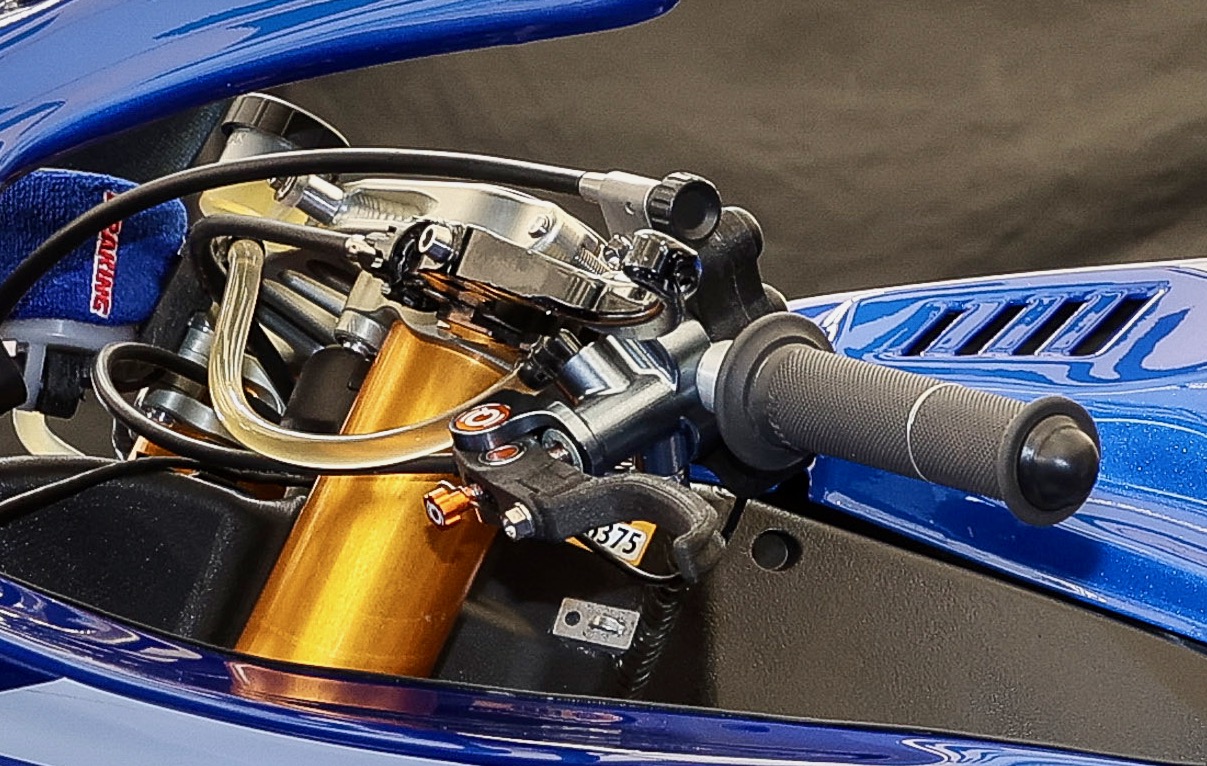 Surprisingly, that's also how things are set up on the Fresh N Lean Progressive Yamaha Racing YZF-R1 Superbikes raced by two-time and defending Medallia Superbike Champion Jake Gagne, his teammate Cameron Petersen, and Petersen's fill-in rider at Brainerd Josh Hayes. In addition, Petersen's fill-in rider at Pitt Race JD Beach will also use the same setup.
Rear brake setups actuated from the left clip-on are not that unusual in motorcycle road racing. Five-time 500cc Grand Prix World Champion Mick Doohan famously used one during the 1990s after he badly broke his right leg in a crash at Assen and couldn't apply the rear brake via the traditional right foot pedal. Westby Racing has experimented with a thumb brake on rider Mathew Scholtz's Yamaha R1 Superbike off-and-on over the past few years. And Josh Herrin currently has a thumb brake on his Warhorse HSBK Racing Ducati New York Panigale V4 R Superbike.
In the Mission King Of The Baggers Championship, Team Saddlemen has two separate rear brake systems on their Harley-Davidson Road Glides—a right foot-operated pedal plumbed to one caliper and a left-thumb-operated lever plumbed to a completely separate caliper. The two independent systems can be used simultaneously, and according to Team Saddlemen rider Jake Lewis, he often does just that. "You need every bit of braking available to get these 620-pound beasts to slow down," Lewis said.
The H-D Screamin' Eagle team also uses thumb brakes on their Road Glides, but they are plumbed in series with standard right-foot-operated rear brake pedals so Kyle and Travis Wyman have a choice of using either their right foot or left hand to operate the rear brake, but not both simultaneously.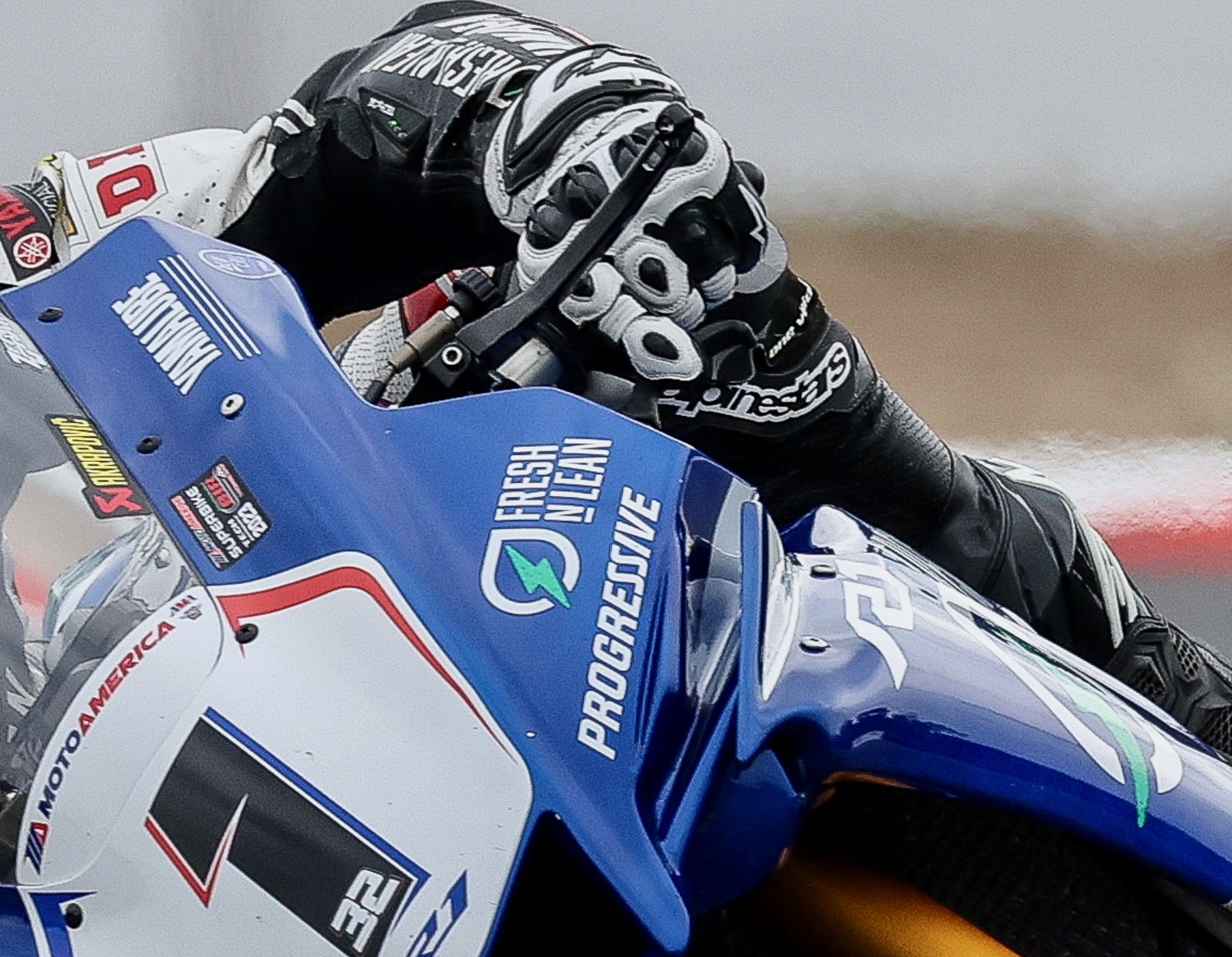 Take a close look at the right footpegs on the Fresh N Lean Progressive Yamaha Racing Superbikes, and you'll see that there is no rear brake pedal on the right side at all. None. When the riders want to use the rear brake, they have a short, one-finger-operated lever on the left clip-on. Above that, and located at a somewhat awkward angle, is the clutch lever.
I spoke to Josh Hayes about this setup after his weekend at Brainerd as a fill-in rider for Cam Petersen, and he said, "Having no right brake pedal does take some getting used to, but I don't really use the rear brake that much, anyway. And, I also don't use the clutch much after the bike gets rolling, so it's only a little awkward on the starting grid."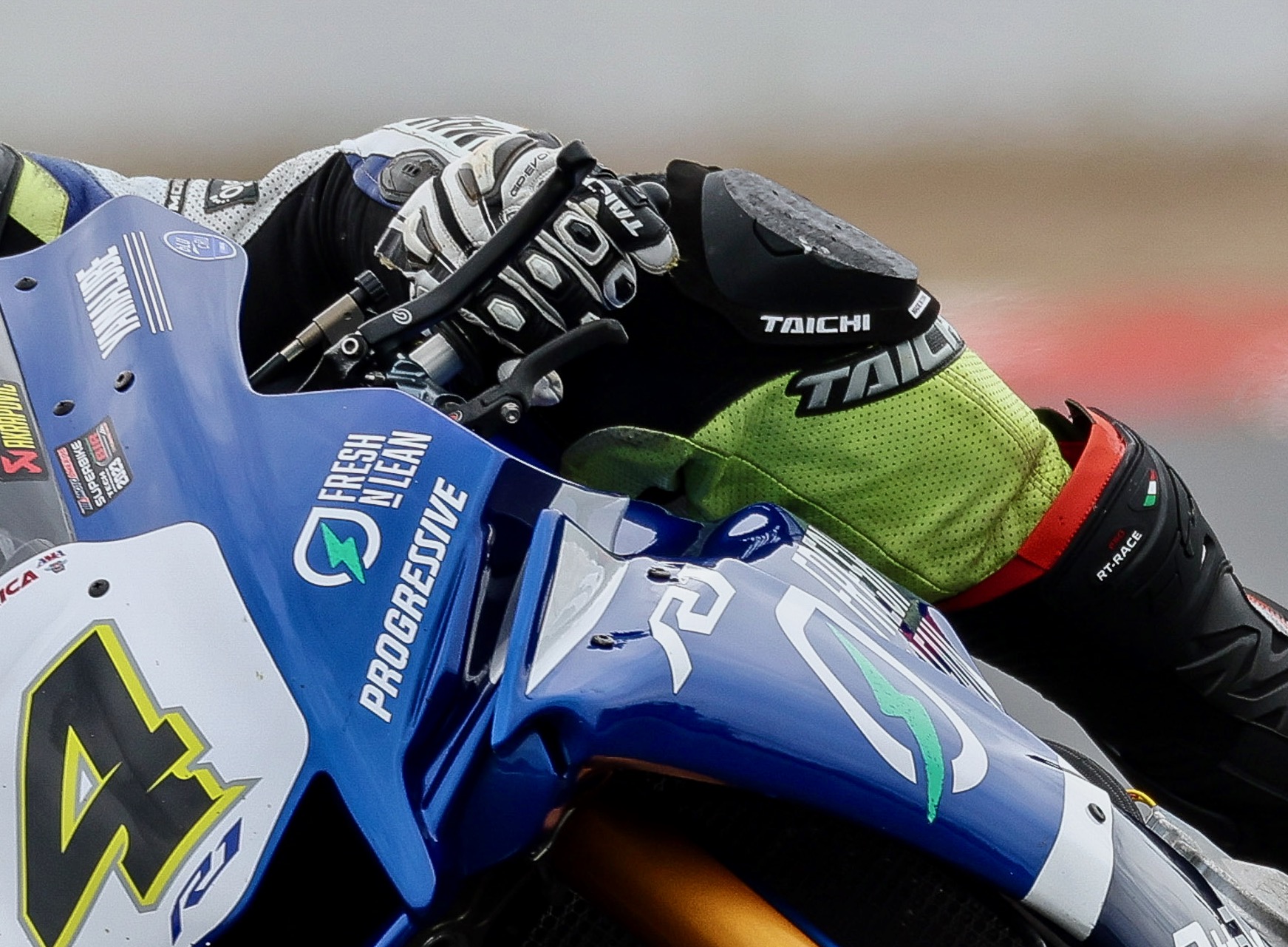 Hayes did admit, when he went off the track during Medallia Superbike race two at Brainerd, he had a moment of panic. "My natural reaction was to press down on the brake pedal, but there isn't one. So, I did eventually grab that 'scooter' brake lever to help slow the bike down."
Gagne began his racing career as a motocross rider, so he's always used a lot of rear brake. Too much rear brake for Fresh N Lean Progressive Yamaha Racing team owner Richard Stanboli's liking, apparently. And, the best way to keep a rider from applying too much rear brake pedal is to completely remove the rear brake pedal altogether. That'll teach him. And it has. Gagne now applies the rear brake a lot more judiciously by giving the lever a little squeeze with his left index finger when he's trail braking or setting up at the apex of turns.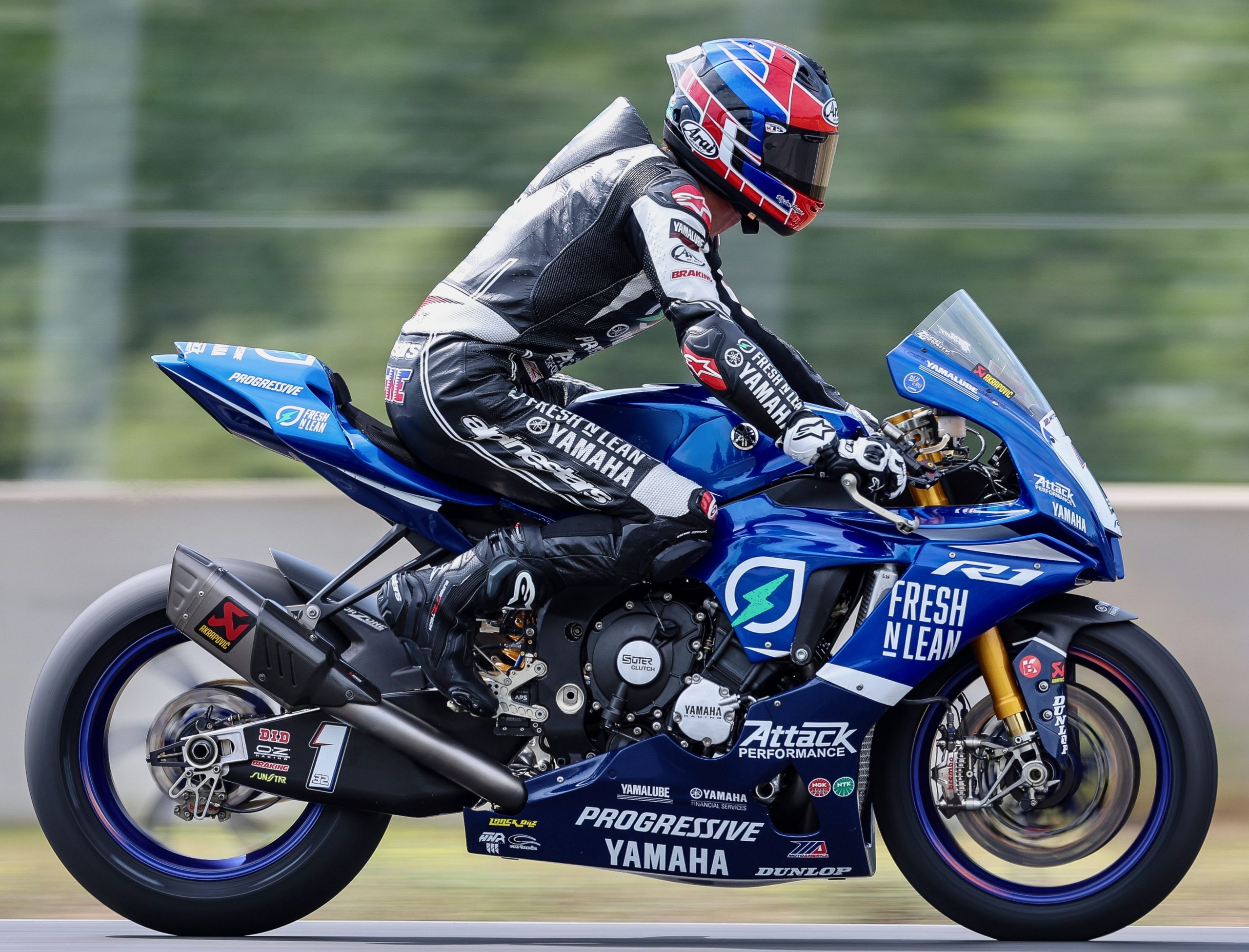 As was announced, JD Beach will fill-in for the recovering Petersen at Pitt Race, and Beach is well-known for using a lot of rear brake on a road racing motorcycle as per his dirt-tracking roots and current primary occupation. When he raced for Yamaha's Graves-Motorsports-managed Supersport team a few years ago, Beach would routinely wear out rear brake pads and scorch or warp rear rotors. The team would "swiss-cheese" the rear rotor until there was barely any metal left for the rear brake pads to bite onto, and Beach would still use the rear brake copiously. Keep in mind, however, that Beach did win the MotoAmerica Supersport Championship in 2015 and again in 2018, along with a lot of road races before, during, and after those seasons. So, his road racing skills and associated braking technique clearly work well for him.
So, at Pitt Race next weekend, will Beach be squeezing with all his might on that truncated scooter brake lever on the left handlebar? You can take the dirt-tracker off the dirt, but can you take the rear brake away from the dirt-tracker when he's road racing? We shall see.
For the full 2023 MotoAmerica schedule and to purchase tickets for MotoAmerica events, click HERE
For information on how to watch the MotoAmerica series, click HERE