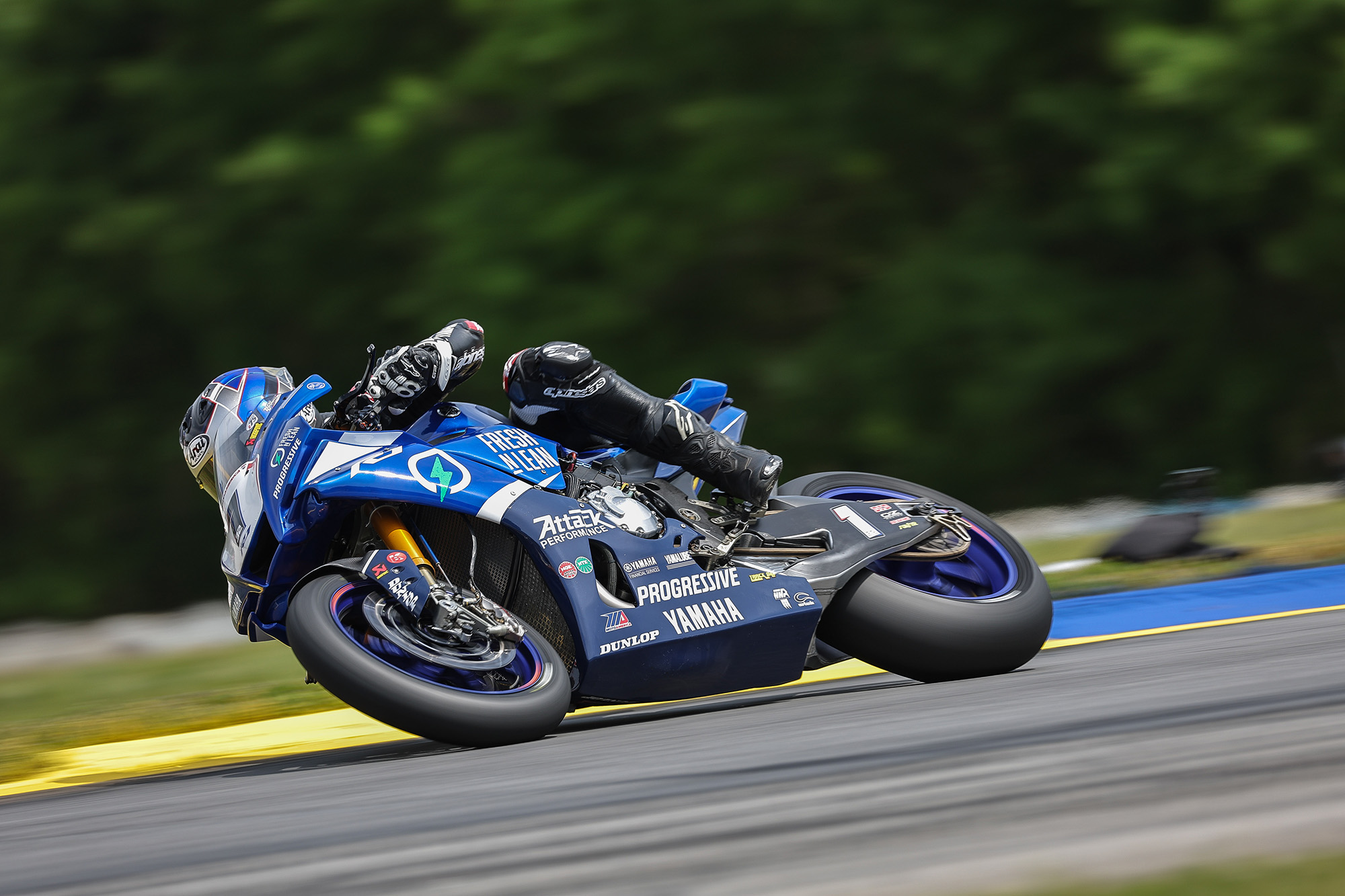 The following is from Yamaha…
Fresh N Lean Progressive Yamaha Racing's Jake Gagne came out on top in a thrilling MotoAmerica Superbike battle in Race 2 at the Michelin Raceway Road Atlanta in Braselton, Georgia. It was a strong start to the season for the reigning back-to-back MotoAmerica Superbike Champion, whose second and first-place finish at the opening round has him tied for the points lead. Unfortunately, his teammate Cameron Petersen had a technical issue early in the restarted race and did not finish.
Once again, Gagne grabbed the holeshot, but he would have to make another attempt at a perfect start from pole position as the race was red-flagged on the second lap. The race was shortened to 15 laps with a complete restart, and this time he found himself second but moved into the lead at the end of the opening lap. From there on, it was a heated battle with multiple lead changes. Around the halfway point, a third rider was added to the mix, and shortly after, a fourth, making it an absolute dogfight for top honors. Sitting third, Gagne reclaimed the lead after the frontrunners made contact on the final lap and rode on to his 30th-career superbike victory and first of the season.
Petersen went into the final race of the opening round looking to fight for a win. The South African had a good start both times in third, but unfortunately, on Lap 3, he had a technical issue and had to withdraw from the race.
The Fresh N Lean Progressive Yamaha Racing Team returns to action next month for Round 2 of the MotoAmerica Superbike Championship at the Barber Motorsports Park in Leeds, Alabama, on May 19-21.
Richard Stanboli – Fresh N Lean Progressive Yamaha Racing Team Manager
"I think it was a super exciting race for the fans. It's something different than they've seen in the last three years, with us pretty much dominating every single weekend. So I think it was fun for the fans. I'm glad some of the other manufacturers are in the mix, and we get to bring a lot of excitement. Jake rode really well, despite his arm pump. The pace was quite a bit slower than we were last year, so we're trying to figure out why. It could have been Jake's arm pump, or maybe it's the new Dunlops. We haven't got our heads around it quite yet, but we'll work on that. I think Barber should be a much better track for us, and we look to get back to dominating the competition."
Jake Gagne – Fresh N Lean Progressive Yamaha Racing
"That was a crazy one! I got off to a good start. I really wanted to push the pace, but Cam (Beaubier) and I went back and forth in those first couple of laps. He knew I wanted to get away, so any opportunity that he could, he went past me, especially down into Turn 10. Then after that, the pace was pretty slow. I think at that point, we knew no one was getting away, so we were kind of sizing each other up for the last lap. I was in third, and I was kind of planning on that I could get a good drive up over the hill in the second-to-last turn and maybe make a pass there, but those guys came together in the kink at like 180 (mph). The seas just kind of parted, and I got straight down the center of them. I got a little lucky on that one, for sure. I was kind of counting on something crazy happening on that last lap. All things considered, I'm really happy leaving here. I had a lot of struggles with arm pump this weekend. From lap three on, I couldn't ride as hard as I wanted to ride, so to come out of the first round with a second and first is pretty awesome."
Cameron Petersen – Fresh N Lean Progressive Yamaha Racing
"There's not much to say, to be honest. It's just one of those things; it's just part of racing. I felt really good all weekend, other than the crash I had on Friday. I had some really good race pace, and even in the second race there, I felt really great. I really felt like I had the pace to go win one of these things this weekend. So I'm a little bit bummed out, but like I said, it's part of racing. At least the next few tracks we go to are ones that I really enjoy. So, I'm going to bounce back and try and get some wins under my belt and claw my way back into this championship."
---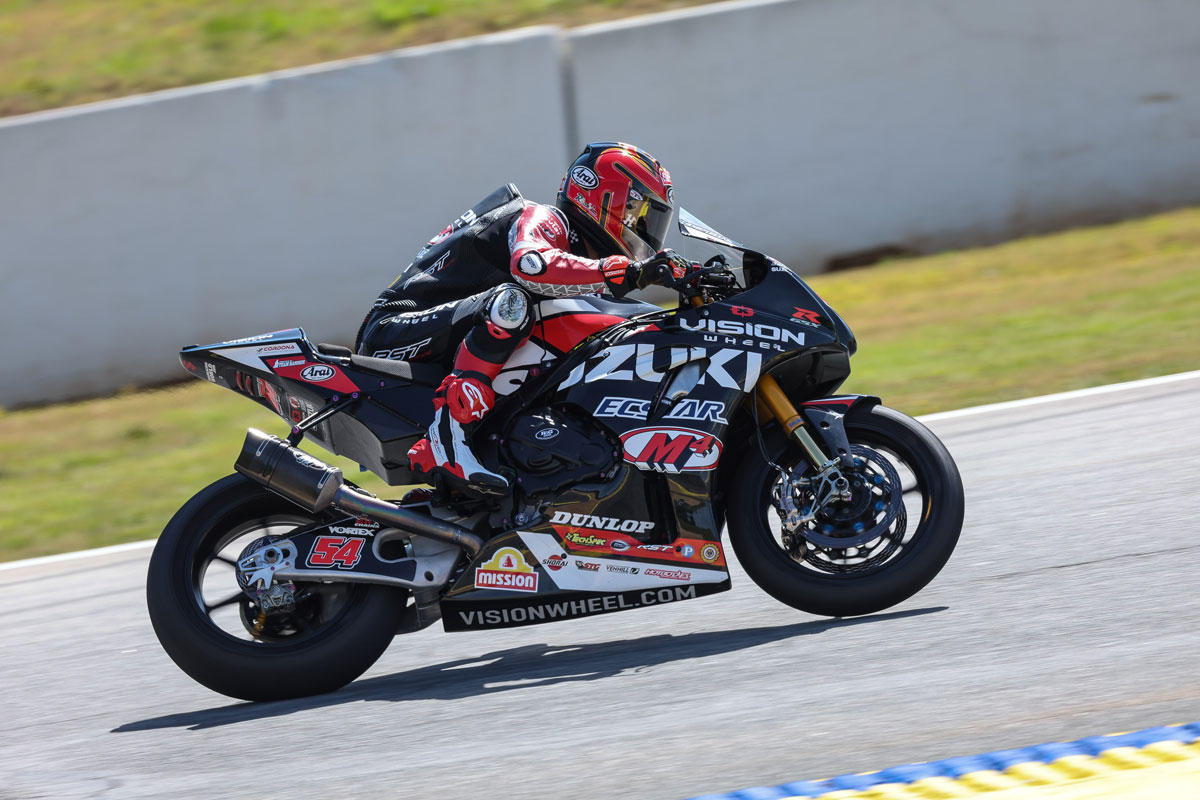 The following is from Suzuki…
Suzuki Motor USA and Team Hammer continued to flash race-winning potential, scoring two top-five finishes as the first points-paying round of the 2023 MotoAmerica Superbike and Supersport championships concluded on Sunday at Road Atlanta.
Vision Wheel M4 ECSTAR Suzuki's Tyler Scott looked to improve upon his Supersport runner-up finish Saturday. The early going looked promising in both regards, as Scott powered off of pole position with the lead and repeatedly dove with confidence into the corner at the end of the long back straight aboard his next-generation GSX-R750. However, after leading multiple laps, the 17-year-old ace took the checkered flag in fourth, just 0.085 seconds removed from a second podium in as many days.
"I was really happy with how the race was going," Scott said. "We had a good pace and it felt great to be back at the front. I can tell the bike is improved from last year, and the team worked well all weekend. I felt really comfortable while I had the lead. We had a problem in the last couple of laps that cost me some drive out of the corners, so we ended up a close fourth. We'll come back stronger, and I am really happy for Barber coming up."
Teagg Hobbs was encouraged by his Saturday sixth and hoped for even more in Sunday's rematch. However, those aspirations were sunk nearly from the start as he ran off the track at the end of the back straight on the Sunday contest's opening lap. Undeterred, Hobbs mounted a remarkable come-from-behind ride, working his way back up the field from outside the top ten. That charge ended with one final pass on the last lap to equal his Saturday sixth.
"This weekend has been a dream," Hobbs said. "Riding for Vision Wheel M4 ECSTAR Suzuki has been amazing, and it's a dream come true to be racing full-time in MotoAmerica Supersport. I had a great weekend. We started strong, and my crew did a great job all weekend tuning the bike for me. Today's race didn't exactly go as planned, so I had to claw my way back. But we showed some good pace this weekend, and if we put it all together, we can be at the front fighting for the podium." Scott and Hobbs were joined by four other Suzuki GSX-Rs in the top ten of Sunday's Supersport race, once again showing Suzuki's hallmark consistency.
Richie Escalante enjoyed a hugely promising outing at Road Atlanta as he made major strides aboard his Vision Wheel M4 ECSTAR Suzuki GSX-R1000R Superbike. Escalante bettered his Saturday sixth with a Sunday fifth, but even the reward of a top-five failed to adequately illustrate his improvement. The second-year Superbike ace cut his best lap by more than a half-second while slashing the gap to the leaders by a mammoth 17 seconds, finishing just 12.345 seconds back of the race winner.
"I'm super happy with the weekend, a P6 and P5," said Escalante. "This morning, we tried something a little different with the setup, trying to provide more rear grip. In the end, we went back to yesterday's settings for the race because I knew we could run the whole race consistently. I had a good start, and I stayed with the lead group for a couple of laps. It was difficult to continue the pace because I had an issue with how the rear brake was working. In racing, things like this happen. I dropped into the 1:26 range for a couple of laps but told myself to focus and got back in the '25s. I did a 1:25 on the last lap on worn tires. I can't wait for Barber and am still working hard to get my first Superbike podium."
In his return to active racing, former MotoAmerica Superbike champion Toni Elias backed up his Saturday seventh with an eighth on Sunday. The battle-proven Spaniard will take the points and focus his efforts on regaining his momentum to fight for victory once again like he's done so many times.
"Today's race was similar to yesterday," Elias said. "The pace was better, but the problems were the same, transfer of weight to the front. We tried to find an improvement for today's race, but we couldn't. It wasn't the comeback I was expecting but we will work hard to finish stronger for the next race."
Vision Wheel M4 ECSTAR Suzuki will return to action when the 2023 MotoAmerica season continues at Barber Motorsports Park in Birmingham, Alabama, on May 19-21.
---
The following is from Tytlers Cycle Racing…
Tytlers Cycle Racing leave the opening round of the 2023 MotoAmerica Superbike Championship as joint leaders of the series after Cameron Beaubier, who returns to the series after a couple of seasons on the world stage, romped to the win in Saturday's first race before narrowly missing the double win on Sunday where he crossed the line second.
The team's trio of riders Beaubier, PJ Jacobsen and reigning MotoAmerica Stock 1000 champion Corey Alexander were in fine form at Road Atlanta – all three showing a strong pace and potential throughout the weekend.

With all three inside the top ten in qualifying (Cameron second, PJ fifth and Corey ninth) the stage was set for a great opening round.
When the lights went out at the start of the opening encounter all eyes were on Cameron Beaubier as the former five-time MotoAmerica champion slowly but surely reduced the gap to early leader (and defending champion Jake Gagne). Hitting the front, the final stages were intense but as the checkered flag was waved it was the #6 who took the win to give the team the championship lead and BMW its first victory in the US national Superbike series for forty-five years.

Corey Alexander finished a credible eighth whilst unfortunately PJ Jacobsen crashed out, thankfully unhurt.
Sunday's race was another barnstormer with Cameron once again in the battle for victory. Taking his turn to lead he would eventually be denied the win. He crossed the line second, adding another twenty points to his championship tally. He heads to the next round at Barber Motorsports Park as the join championship leader.

PJ Jacobsen raced to his first points of his 2023 campaign with a solid ride to sixth. He finished just over a second ahead of team mate Corey Alexander who finished. seventh.
Cameron Beaubier: "Saturday was a great day. I am super happy to start the year off a win but to be honest I wasn't expecting it after the time gap Jake (Gagne) had on us in qualifying. Race two was a wild one with good battles all race long. I am glad we got out of there safe on the last lap. I want to say a massive thank you to the Tytlers team for this first weekend back. We know what we need to work on, and I am looking forward to the rest of the season."
Corey Alexander: "It was a great first race and I was able to run inside the top eight for most of it. We knew after the race that there were a few set up issues that we could work on and improve, and I was confident of improving on Sunday. I am happy with the progress we made in Sunday's race. Our average pace was much faster than Saturday and our set up took a step in the right direction. Overall, it was a successful first weekend on the superbike and I'm excited to continue the forward momentum into Barber. Thanks to my guys for all the hard work and congrats to Cam for the unbelievable weekend. It further proves the capability of the BMW."
PJ Jacobsen: "Race one was a complete disaster. It was a shame to crash but we worked as a team to understand what happened and I was determined to come back stronger on Sunday. We bagged some solid points on Sunday but in all honesty, I want to put the weekend behind me and move on to the next one. It was a tough one for me and I am hoping to be a lot closer to the front at Barber. Obviously, it was great for us a team with Cam getting the win, so congrats to him and I hope to be in the fight at the next one."
---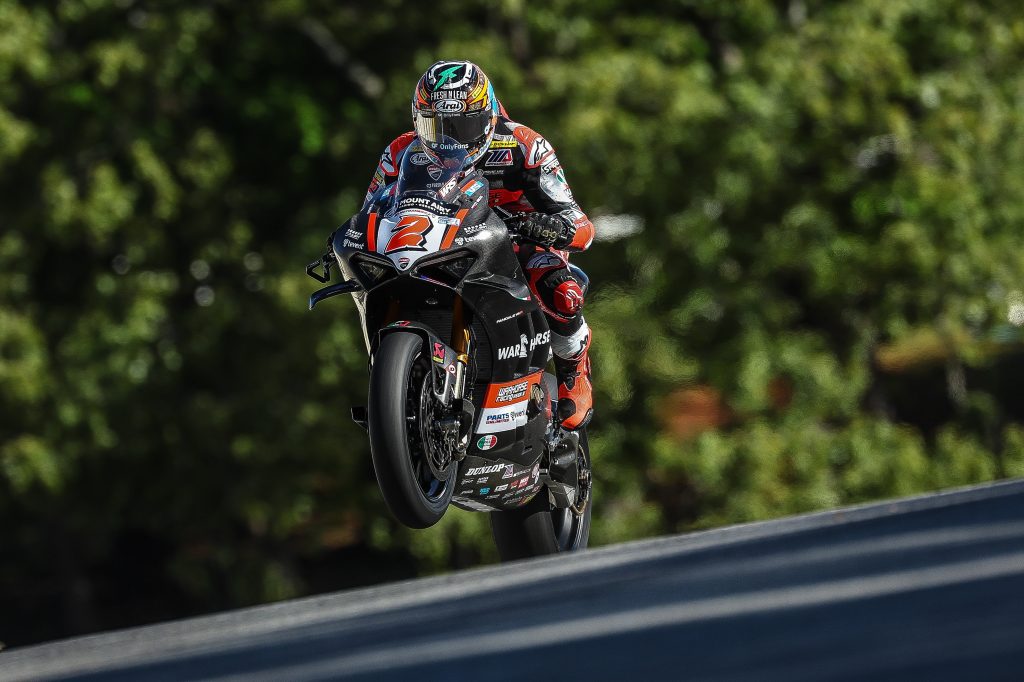 The following is from Ducati…
MotoAmerica 2023 roared into life at Road Atlanta in Georgia this weekend with Josh Herrin and Xavi Forés doing the Ducatisti proud with exceptional performances in the Superbike and Supersport categories, respectively.
Herrin's first race on the factory-spec Warhorse HSBK Racing Ducati NYC Ducati Panigale V4 R saw the current MotoAmerica Supersport Champion in the mix from the first green light of the weekend.
Using all his racing craft, Herrin scored a debut podium in race one on Saturday behind winner Cameron Beaubier (BMW) and current Superbike champion, second-placed Jake Gagne (Yamaha).
However, this was only the appetizer as Herrin engaged in what can only be described as a race for the ages in Sunday's race two with Beaubier, Gagne and Mathew Scholtz (Yamaha), leading on the last lap but somehow pulling off an incredible save at over 190 mph down the back straight when he and Beaubier touched while fighting for the lead.
Herrin finished fourth at the finish and now lies third in the points after the first round.
In the Supersport class, it was a red-letter weekend for Xavi Forés as the vastly experienced Spaniard did what was expected of his talent by securing two dominant victories in his MotoAmerica Supersport debut.
Riding the number 12 Warhorse HSBK Racing Ducati NYC Ducati Panigale V2, the new father Forés was the class of the field in Georgia and leaves The Peach State with a perfect 50-point tally, some 17 points up on Stefano Mesa (Kawasaki).
Xavi Forés (Warhorse HSBK Racing Ducati NYC – Ducati Panigale V2 – Ducati #12)
"It was a great weekend," Forés enthused. "Today was slightly difficult at the beginning of the race because I didn't gain any positions off the start, but, lap by lap, things got better. When I got the lead I put my rhythm on and knew I was very strong under brakes at the end of the back straight, so I used that to my advantage. I just tried to do consistent laps so I could relax a bit at the end of the race. We have the championship lead and now it is back home to Spain to see my new baby!"
Josh Herrin (Warhorse HSBK Racing Ducati NYC – Ducati Panigale V4 R – Ducati #2)
"It's a crazy feeling to be fighting for a superbike win because I'm still so new to the bike," Herrin said. "I would not have expected to be in this position after Friday because I needed to rethink my mentality and work to close the gap between Jake (Gagne) and the rest. In race one, I saw I was getting close and today, I knew if I could hang within one second of Jake, I could win the race. Within five laps, things started to come to me and I thought, maybe I could lead the race and try to make a break, but I couldn't quite manage that pace." Josh continued. "But I couldn't leave anything on the table and it ended up being one of the best superbike races anyone's seen in a really long time. This is, without doubt, the best I've ever felt on a superbike in my career and it's only going to get better."
---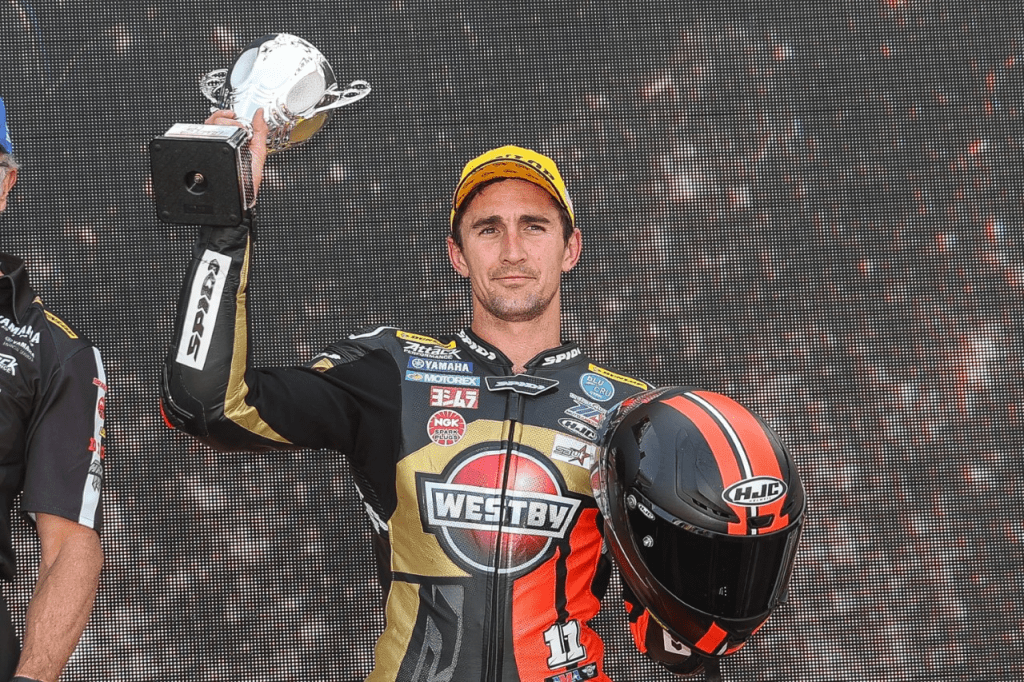 The following is from Westby Racing…
Mathew Scholtz, rider of the #11 Westby Racing Yamaha YZF-R1 Superbike, wrapped up the opening round of the MotoAmerica Superbike Championship at Michelin Raceway Road Atlanta with a third-place result in Sunday's race two, which was an improvement over his fifth-place result in Saturday's race one. The podium result gave him and the team encouragement for round two of the Championship at Barber Motorsports Park in Birmingham, Alabama, on May 19 through 21.
In Sunday's race, Mathew was part of a group of four riders at the front who battled each other all the way to the checkered flag. On the final lap, Josh Herrin, who was one of the other three riders, got pushed wide, which allowed Mathew to overtake him and finish third behind Cameron Beaubier in second and Jake Gagne, who ultimately won the race.
"We made quite a few changes after the first race," Mathew said. "So, in race two, I was still feeling out what the bike was doing. I felt like, in certain sections of the track, I was really, really quick, but in other sections, I was losing a lot of time. So, I was just literally going backwards and forwards. I really didn't have a spot where I could pass, unless something happened, which it did, and I managed to capitalize on that. But, otherwise, starting from where we were on Friday to where we ended up now, I think we made huge strides forward on the motorcycle. I have to give a big shout-out to the Westby Racing team. After the pre-season testing, we thought we were dialed in. Then we came here, and we were struggling. There were a few bits that we tried to change, and we didn't manage to figure that out until the restart of today's race. So, at least now, we're confident heading into the rest of the season. I'm just happy to be up here on the podium now. I know it was pretty awesome watching these guys battle it out. Hopefully from the next race on, I'll be part of that."
As mentioned above, the Westby Racing team will be back in action on May 19 through 21 at Barber Motorsports Park in Birmingham, Alabama, for round two of the 2023 MotoAmerica Superbike Championship.
---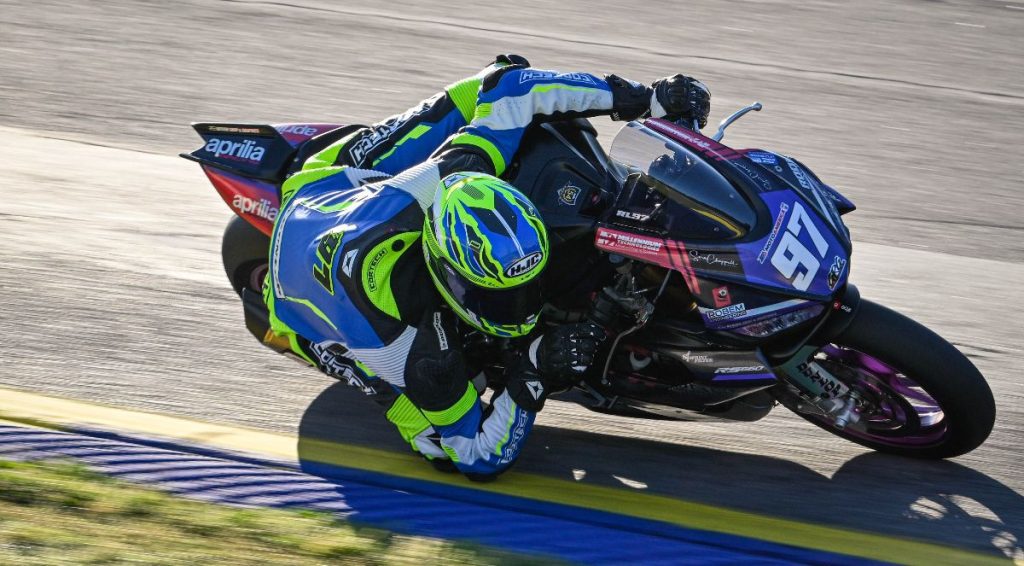 The following is from Rodio Racing – Powered By Robem Engineering…
Rodio Racing – Powered by Robem Engineering riders Rocco Landers and Gus Rodio each found success in different ways at this past weekend's MotoAmerica round at Road Atlanta. Rodio's pair of second place finishes allowed him pad his lead in the MotoAmerica Twins Cup points standings, while fill-in rider Landers found immediate success in his first weekend racing an Aprilia RS 660 by scoring a pole position and dominating victory.

Rodio came into the April 21-23 Road Atlanta round with a win and runner-up finish at Daytona under his belt, while Landers made his debut with the team in place of Ben Gloddy – who is still recovering from an injury he suffered at Daytona. The duo of Landers and Rodio ended up claiming three of the possible six podium finishes in the two Twins Cup contests at Road Atlanta, though Landers' motorcycle suffered a mechanical problem during Saturday's Race 1. The 2020 MotoAmerica Twins Cup and two-time MotoAmerica Junior Cup champion Landers also lowered the race lap record for the Twins Cup at Road Atlanta during Race 2 by about 0.8 seconds.

The team kicked off the weekend's on-track action at the top of the time sheets, as Landers paced the field in Friday morning practice. In his first session on an Aprilia RS 660, Landers posted a best time of 1:33.937 — more than half a second faster than the next fastest rider. Rodio also showed good pace in practice as he finished third fastest. Later Friday, Landers was again the class of the field and lowered his best lap time for the day by about two seconds. Rodio finished Qualifying 1 in fourth.

The Twins Cup's second and final qualifying session took place Saturday morning, but the conditions did not allow riders to improve their best lap times. Landers was again at the top of the time sheets in Qualifying 2, and Landers and Rodio ended up securing first and fourth place on the starting grid, respectively.

When Saturday's Twins Cup Race 1 got started after a short red flag period, Rodio got a good start and had moved up to second place by the first corner. Landers didn't get off the line as well but was running in fourth at Turn 1 and quickly moved up to third at Turn 3. Rodio, Landers and another rider then began pulling away at the front. The three riders jostled for position for several laps before Landers was forced to retire from the race at the end of Lap 3 due to a technical problem. Rodio and the other frontrunning rider took turns in the lead, and Rodio made a valiant effort to overtake the race leader on the last lap but wisely settled for a runner-up finish.

Landers' fortunes turned around for Sunday's race and he ended the weekend with a show of utter dominance. Landers got a very good start and led the race start to finish to claim a victory. His lead over Rodio and two other riders vying for second place grew to more than seven seconds with four laps to go, though he backed off his pace a little in the closing laps to win by a margin of more than four seconds. Rodio was at the point for the battle for second place for most of the race, as he finished nine of the race's 12 laps running in second. In the closing laps, Rodio gradually pulled away from the third-place rider to clinch his second runner-up finish of the weekend by 0.831 seconds.

The results marked the second time in four races that a Rodio Racing – Powered by Robem Engineering Aprilia RS 660 rider was on the top step of the podium, and Rodio's third and fourth runner-up finishes of the season allowed him to extend his lead in the points standings. Rodio's 85 points are 26 more than the next closest competitor in the standings. Though Landers has taken part in just two races and only finished one of them, the 25 points he earned for his victory moved him up to eighth place in the Twins Cup standings.

The Rodio Racing – Powered by Robem Engineering team will be back in action in three weeks time at the next MotoAmerica round, which takes place at Barber Motorsports Park on May 19-21.

Rocco Landers / No. 97
"My first time on the Aprilia RS 660 was amazing. It handled very similar to a 600cc bike, in that it gave me a ton of feel on the front tire. I really like riding it. It's really easy to adapt to, which is a blessing when you get on a new bike. Once I got on it, I knew I was going to gel with it immediately. Saturday's race was a bit of a bummer, but a day like today always makes you feel better about a day like yesterday. I'm very, very happy to be able to ride the Aprilia to a win today, and I'm excited about the rest of the season."

Gus Rodio / No. 96
"Overall, it was a pretty good weekend here at Road Atlanta. I'm super happy to get a double podium and extend my points lead to 26 points. I feel really good and learned a lot this weekend from riding with Rocco and other riders. I'm excited to take what we learned here to Barber and have a good weekend there."
Robem Engineering's technical partners for 2023 include Aprilia Racing, Piaggio Group Americas, Bitubo Suspension, Dunlop, Woodcraft Technologies, Dymag, Vesrah, Sprint Filter, DID, Sara Chappell Photos, NGK/NTK, Blud Lubricants, Millennium Technologies, Motovation USA and SC-Project.
Rodio Racing's technical partners for 2023 include NJ MiniGP, Luxestar VIP, MAR Contractors, Evolve GT, N2 Racing, Dunlop, Spellcaster Productions, Kathedral, The Martinn and MVR Endeavor.
---
The following is from Altus Motosrports…
The Altus Motorsports WPS FLY Racing Team entered the 2023 season with ambitious plans and high hopes. The team has talented riders and competitive equipment across four different classes: Stock 1000, Supersport, Twins Cup, and Junior Cup. However, Road Atlanta proved to be a challenging weekend due to a mechanical issue that caused failures across most of the motorcycles on Saturday.
"We are still investigating the source of the problem that sidelined three of our four bikes on Saturday," said George Nassaney, team owner. "I feel bad for the team and the riders. We continued to do things exactly as we have done for years, so to have issues manifest like this is demoralizing. We made some changes on Saturday evening and did not have the same issues on Sunday. We are working to get to the root of the problem to ensure it does not happen again."
Superbike & Stock 1000
As Brandon Paasch was out with an injury, Anthony Norton stepped in to ride the Altus Motorsports GSX-R1000. Norton arrived in Georgia with zero experience at Road Atlanta. A mechanical issue caused Norton to miss the first practice, which meant his first laps were during the Stock 1000 qualifying session on Friday. Despite these challenges, Norton managed to post some impressive times and finished the first qualifying session in 25th place out of thirty-five competitors. Not bad considering he was on a track he had never seen and a bike he had never ridden. Norton started Race 1 from 25th and, after a great launch, was in 21st after the first lap. Through the race, he fought his way up to 17th and crossed the finish line in 16th – dropping four seconds off his qualifying time. Another amazing start in Race 2 put Norton up to 18th on the first lap. After a race-long battle, Anthony took the checkered flag in 17th.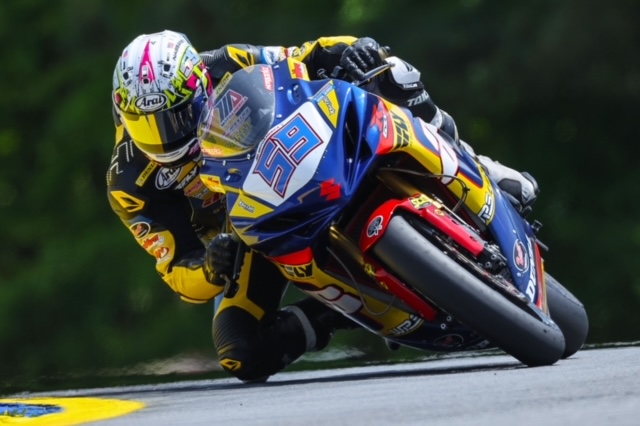 Supersport
Last season, Jaret Nassaney really gelled with the new GSX-R750. Now, with a year of experience on that bike and building on some of the best riding of his career, Jaret is expecting  great things in 2023. Based on his results on Friday at Road Atlanta, things were looking good for the weekend. Nassaney was Top 10 in both sessions and ended up qualifying 8th. Unfortunately, a mechanical issue knocked him out of Race 1. The second Supersport race was a different story. Jaret got a good start and ran most of the laps in 6th place. On the last lap, he lost that position to cross the finish line in 7th.
Jaret Nassaney: "We had some unfortunate luck on Saturday that knocked us out of the race but I'm happy with the amazing start I got! We had great pace all week and I'm really happy with how I'm jiving with the bike! Race 2, I got another great start and slotted myself into 5th but unfortunately made a couple mistakes and settled into 6th for the whole race until the last lap when I got passed into turn 10a and didn't have any opportunity to attack back. All and all, I'm happy with our pace. Barber is one of my favorite tracks, so I'm ready to get back out there and try to battle for a solid result!" 
Twins Cup
Joseph LiMandri Jr. qualified in P7 on the Altus Motorsports Yamaha YZF-R7 and looked good in the first race on Saturday. By lap 3, he had slotted into a solid 5th place. Unfortunately, that came to an untimely end a few laps later when a mechanical issue sent him back to the pits. In the Sunday race, LiMandri had an amazing start and completed the first lap in 4th. He ended up crossing the finish line in 5th place.  
Junior Cup
There is no doubt that Alessandro Di Mario has the talent to win races. At Road Atlanta, the 2022 North America Talent Cup Champion put the Altus Motorsports Kawasaki Ninja 400 on the pole for his first race weekend in the MotoAmerica Junior Cup class. The first race ended unceremoniously when Di Mario was forced to retire with a mechanical issue. In the second Junior Cup race of the weekend, Alessandro went with the top group and led the race on more than one occasion. On the final lap, he lost the front while attempting a pass to take second place, knocking him out of the race. While he leaves the first round with no championship points, there is no doubt he will be a contender. 
"What a crazy and stressful weekend, but our team came through like champions," said team owner George Nassaney.  "This was our team's first race weekend after the sudden passing of our friend and Crew Chief Eric Gray. I was expecting some growing pains, but not three DNF's.  I can absolutely say it was not our mechanics' fault.  Our Crew Chiefs Mike Castro and Mike Pond, along with our mechanics put their heads together and figured out the issue. We fixed the issue and Sunday showed our riders' talents with their results.  We are going to come into Barber recharged and ready to battle"
Altus Motorsports is supported by Altus Motorsports, FLY Racing WPS, Suzuki Motor Corporation, Yamaha Motor Company, Barnett, Maxima Racing Oils, Moto-D Racing, Bonamici, Hot Bodies Racing, M4 Exhausts, Vortex EK, Motion Pro, SBS Brakes, BrakeTech USA, Inc., Ohlins, K-Tech, RS Taichi, Arai, Yoshimura, Chicken Hawk Tire Warmers, CarbonSmith, Law Tigers Oklahoma, and Altus Factory Racing.