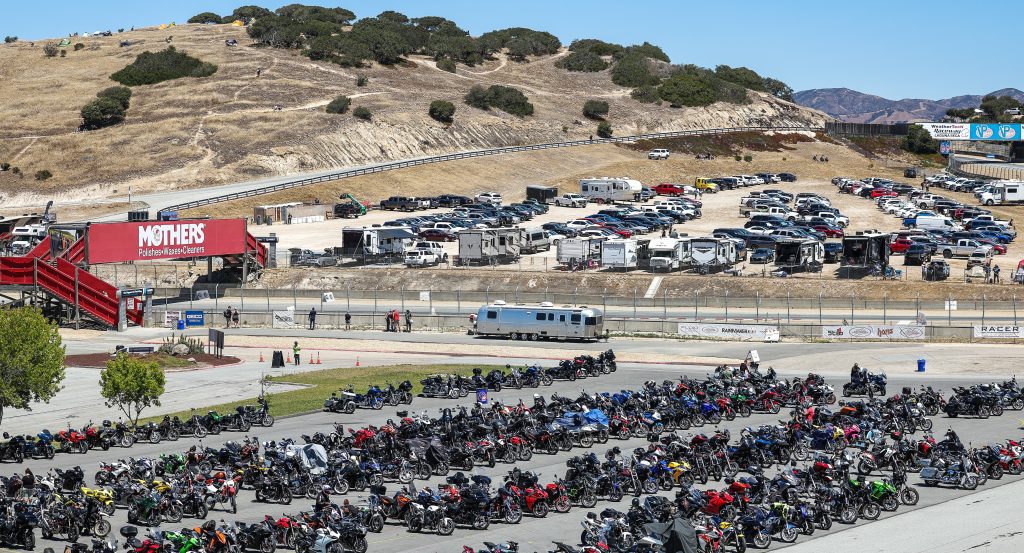 MotoAmerica is pleased to announce that the third annual "Rainey's Ride To The Races," which will be held in conjunction with the MotoAmerica Superbike Speedfest At Laguna Seca, July 7-9, has sold out with more than 40 riders set to take part in the ride that will feature seven legends of the sport.
Rainey's Ride To The Races will be held on Friday, July 7, opening day of the fifth round of the MotoAmerica Medallia Superbike Championship, and will again benefit the Roadracing World Action Fund, a 501(c)(3) non-profit organization that promotes motorcycle racing safety with the facilitation of soft air barrier systems at racing events.
This year's ride includes the following legends:
– Three-time World Champion Kenny Roberts
– Four-time World Champion Eddie Lawson
– Three-time AMA Grand National Champion Bubba Shobert
– 1993 World Champion Kevin Schwantz
– Seven-time Supercross and Motocross National Champion Rick Johnson
– 2011 World Superbike Champion Carlos Checa
– Three-time AMA Superbike Champion Doug Chandler
More than 40 riders will take part in the ride after purchasing the special $500 Premium Rainey's Ride To The Races ticket. A three-day admission ticket is included in the donation. Last year's ride raised nearly $75,000 for the Roadracing World Action Fund. Twenty of the tickets were purchased by the Terry Vance Family Foundation.
"Terry (Vance) and his foundation really stepped up this year and his kind donation ensures the ride is a sellout and his donation alone helps the Roadracing World Action Fund acquire a full section of the Alpina soft barrier," said MotoAmerica President Wayne Rainey. "We're looking forward to a great event at Laguna and our ride will be a big part of it."
"Obviously, the soft air barriers are invaluable as they save lives and prevent serious injury to our racers," said Terry Vance. "As a team competing in the Mission King Of The Baggers Championship, protecting our racers is number one as it has always been. When I learned about the ride and the opportunity to help purchase more of the barriers, it was a no-brainer. In addition, Wayne has really brought together a great list of legends from our sport and there are going to be a lot of smiling faces. I'm happy that the foundation can contribute to the ride and ultimately to the Roadracing World Action Fund and we're looking forward to being part of what promises to be a fantastic event."
The 100-mile ride will begin in Carmel Valley, California, and will tour the best parts of the Monterey Peninsula, including in and around the Santa Lucia Mountain ranges, the Salinas Valley foothills, local wineries, and the stunning Steinbeck country. The ride will conclude at WeatherTech Raceway Laguna Seca with two laps around the racetrack, lunch and a Q&A session with legends Rainey, Roberts, Lawson, Shobert, Schwantz, Johnson, Checa, and Chandler.
To donate to the Roadracing World Action Fund, visit https://www.paypal.com/US/fundraiser/charity/2034339
For more information on the Roadracing World Action Fund, visit https://www.roadracingworld.com/actionfund/