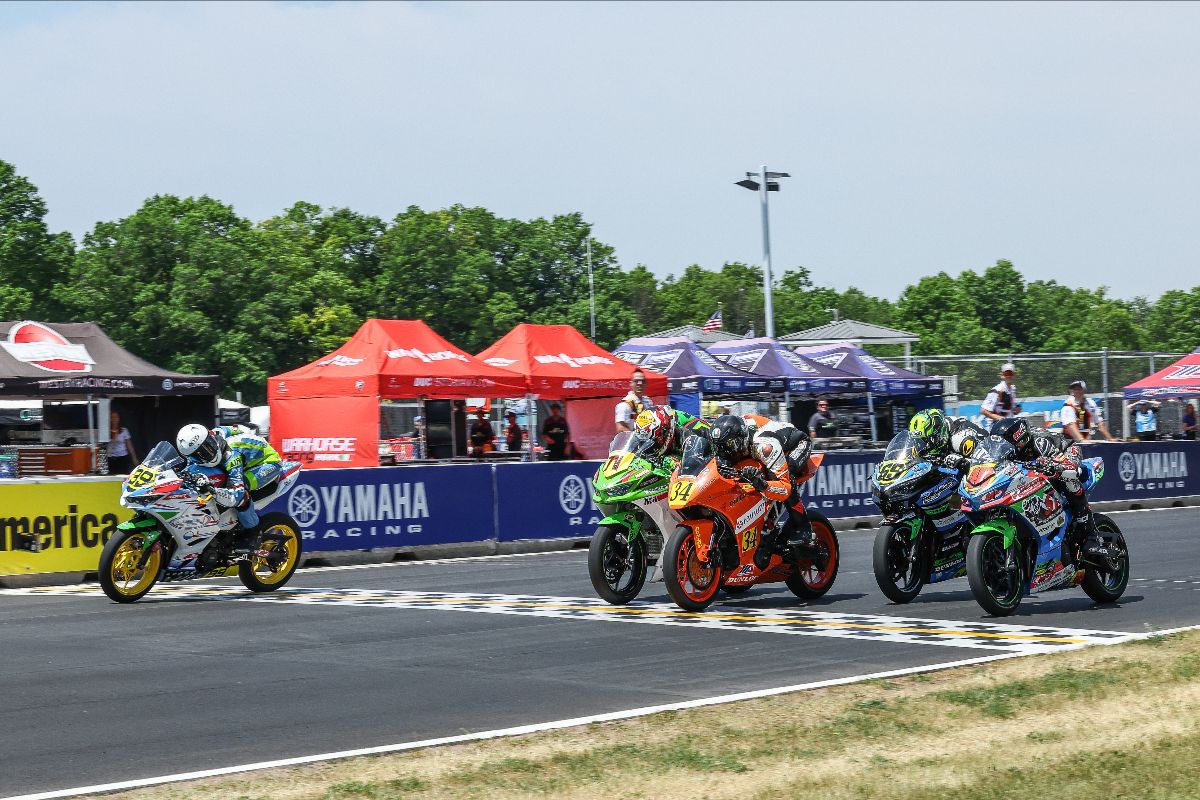 Kyle Wyman, Avery Dreher, Xavi Fores and Ezra Beaubier kept their hot hands as the MotoAmerica Championship visited Road America on Saturday for the first day of two days of racing.
Wyman won his fourth Mission King Of The Baggers race in front of the partisan Harley-Davidson crowd; Dreher seemingly came out of nowhere to win his fourth Junior Cup race of the season; Fores remained undefeated in Supersport; and Ezra Beaubier won his third Steel Commander Stock 1000 race to extend his lead in the championship.
Steel Commander Stock 1000 – Beaubier!
MotoAmerica's literbike riders love racing at Road America because the track favors horsepower, and the Steel Commander Stock 1000 class delivers it in spades. In race one, Orange Cat Racing's Ezra Beaubier exploited the impressive power of his BMW M 1000 RR and won his third race of the year. Second place, and also riding a BMW M 1000 RR, went to Travis Wyman Racing's Travis Wyman. The surprise of the race was Wyman's younger brother Cody, who was pressed into action as a last-minute fill-in rider for the injured Brandon Paasch on the Altus Motorsports Suzuki. Cody Wyman, who had never before raced in the Steel Commander Stock 1000 class or aboard a Suzuki GSX-R1000R, rounded out the podium in third.
"I knew we would be really strong this weekend," Ezra Beaubier said. "Obviously, the BMW Alpha Racing package is really, really strong, especially here with all the long straightaways. Yesterday went really well. We found some more with the bike this morning. I wasn't able to really put a clean lap together. I kind of just got held up with some traffic and didn't get to show what my full potential was this morning. But I knew going into the race that we were going to be just as strong as anyone. I was ready to bring the fight. I knew those first couple laps it was going to be tough with going with the hard-option rear tire. It was super-slick and super-greasy those first couple laps. I saw Travis almost go down in the second-to-last corner. I kind of felt like that was my chance to try to break away and slowly just tried to inch away and saw I was slowly building a gap. Just kept my head down and kept clicking off my laps and just hitting my marks and did what I could to bring it home in P1."
Junior Cup – Dreher From Well Back
MotoAmerica's Junior Cup riders started the day at Road America, and the series' entry-level riders, who are known to race close together in packs, take advantage of Road America's four-mile race course and long straightaways to make draft passes at carefully timed moments. The result in race one was a photo finish with the podium decided after carefully studying the still photo captured at the finish line. Bad Boys Racing Kawasaki's Avery Dreher very solidly won the race, while the second- and third-place finishers ended up being Fairium NGRT- Gray Area Racing Aprilia rider Rossi Moor, the former Mini Cup rider earning his first "big-bike" podium, and Belgian rider Levi Badie, who won race two at Barber Motorsports Park and notched his second-consecutive podium finish aboard his Badie Racing Kawasaki.
"I was kind of anxious coming out of that last lap," Dreher said. "I went to the race with the plan not leading on the front straightaway, even be third or fourth. Coming out of that last lap, I think I was at the back of the pack, or close to the back of the pack. So, I just had to make my moves. I made a couple moves in the second or third sector, and then I passed another rider on the back straightaway and came out of that front straight only expecting to be on the podium. I said in my head, 'Man, I better do the best job of my life coming up to this last corner.' Got on the gas super-early. Everyone was drafting, moving side to side, and then, they moved to the left and I just saw an opening and took it."
Supersport – Fores, Again
At this still-early point in the season, it's safe to say that Spaniard Xavi Fores loves racing in MotoAmerica. The Warhorse HSBK Racing Ducati rider is undefeated so far this season, and he notched his fourth consecutive Supersport victory in race one at Road America.
Incidentally, Fores has begun his first MotoAmerica season with more consecutive race victories than any other first-year rider in the history of the series. Fores and his Ducati Panigale V2 crossed the finish line just under 3/10ths of a second ahead of Tytlers Cycle Racing Kawasaki's Stefano Mesa. For Mesa, it was his third podium of the year. Also recording his third podium result of the season was Squid Hunter Racing's Josh Hayes, who was third aboard his Yamaha.
"About the race today, honestly I think it was the race I enjoyed more because, especially at the beginning of the race, I didn't expect Josh to stay with us because during all the sessions yesterday and today, me and Stefano had something else compared to the others," Fores said. "But you can't forget Josh Hayes on the racing. He's a dog. He has a lot of experience. You always have to count with him. So, when he passed me the first time on turn five, I said, 'Oh, he's here.' He's even strong on brakes, because I brake there really late, and he passed me. He was turning well. So, I said, okay, it's going to be good fun today. I think all of us three have some strong points on our bike, so my bike is quite good on brakes and on the top of the power a little bit better than previously. Josh in the middle sector, the Yamaha is always amazing and he's so fast on the long corners. It's difficult to stay sometimes with him. When he passed me, he pulled some gap away two or three corners and I said, 'I have to wake up otherwise he's going to go.' Stefano, he's light. He's quite aerodynamic. The bike is going fast. He showed a lot of potential this weekend and all the season. So, this means that every time we go out, we improve something, we learn something from each other. This is something that I think the fans are enjoying, as well, because we do some overtakes, clean overtakes always. A lot of respect. In the end, even if one of them wins the race I will be happy as well, because we are enjoying on the bike which is the priority. My bike was working well, as I said before. I need to find something on the forks because the last part of the fork, I feel always the bottom. I don't feel really comfortable, and I run wide a couple of times. But, overall, I'm feeling good on the bike. Coming here and winning races is not that easy. Hopefully, tomorrow we can try again."
Mission King Of The Baggers – Wyman In Control
H-D Screamin' Eagle's Kyle Wyman won his fourth Mission King Of The Baggers race in a row on Saturday at Road America with the Harley-Davidson factory rider passing Indian Motorcycle/Progressive/Mission Foods-backed Tyler O'Hara on the last lap to score the victory.
At the finish line, Wyman was .567 of a second ahead of O'Hara, who in turn was 1.5 seconds ahead of Vance & Hines/Mission/Harley-Davidson's James Rispoli.
"I definitely planned to get him between (turns) seven and eight, but he made a bigger mistake than I had seen on the last few laps," Wyman said. "So, the door opened quite a bit earlier. He tried to brake me back into eight, but he was going to be super late. Luckily, I was able to slow the thing and square him up and get back past him. I was hoping I could find a little something. I had not been really that comfortable this weekend, and when the race comes you just got to dig a little bit deeper. We found what we needed. I really thought about going sooner, but since we had a gap and it was just us two, I didn't want to slow each other up and make it a more complicated chess game towards the end. So, it was going to be a lot easier to win that race one on one. We played our cards right.
Royal Enfield Build. Train. Race. – Moore Simply Unstoppable
Nineteen-year-old Mikayla Moore simply dominated Saturday's opening round of the Royal Enfield Build. Train. Race. series with a 17.206-second victory over last year's championship runner-up Crystal Martinez at Road America.
So, in FP1 I ended up doing three minutes and two seconds (lap time)," Moore said. "That was my best, and then in qualifying two I got it down to a 2:56. I had to make some suspension changes, especially in the rear, and it definitely helped a lot."
Defending series champion Kayleigh Buyck had a mechanical problem that dropped her out of second place early in the race.
Mission Mini Cup By Motul (Friday) – Gouker Dominates
Mission Foods Mini Cup by Motul kicked off the weekend at Road America on Friday with great races across multiple classes.
In Stock 50, Weston Fager and Cruise Texter battled all day with Fager taking both wins and Texter ending up second. Nico Bandel rounded out the podium in both races.
The Stock 110/125 class had a barn burner race one with Ryan Clark and Joel Laub going back and forth multiple times throughout the race. At the finish, Clark narrowly got the win by .105 of a second. Clark was a little more dominant in race two, taking the victory. Jacob Davis was third in both races. Nathan Bettencourt, meanwhile, took the combined-class win.
The Ohvale 160 class has been the most competitive all year and day one at Road America was no different. Nathan Gouker dominated both races by over 13 and 18 seconds. Mahdi Salem put up some good rides to finish second in both races. Kruz Maddison finished third in race one with Reese Frankenfield taking the final podium spot in race two.
Ryder Davis kept his winning streak alive in the Ohvale 190 class by winning both races. Josh Raymond kept him honest in second with third going to Nathan Bettencourt, who was pulling double duty in addition to the Stock 110/125 class.
Mission Mini Cup By Motul (Saturday) – More Gouker, More Davis
Stadler America's Nathan Gouker and Alpha Omega's Ryder Davis continued their domination of the 160 Ohvale and 190 Ohvale classes in the MotoAmerica Mini Cup series at the Briggs & Stratton Motorplex on Saturday evening.
In Stock class racing, Cruise Texter and Weston Fager split wins in the Stock 50 class while Ryan Clark completely dominated the Stock 110/Stock 125 class.