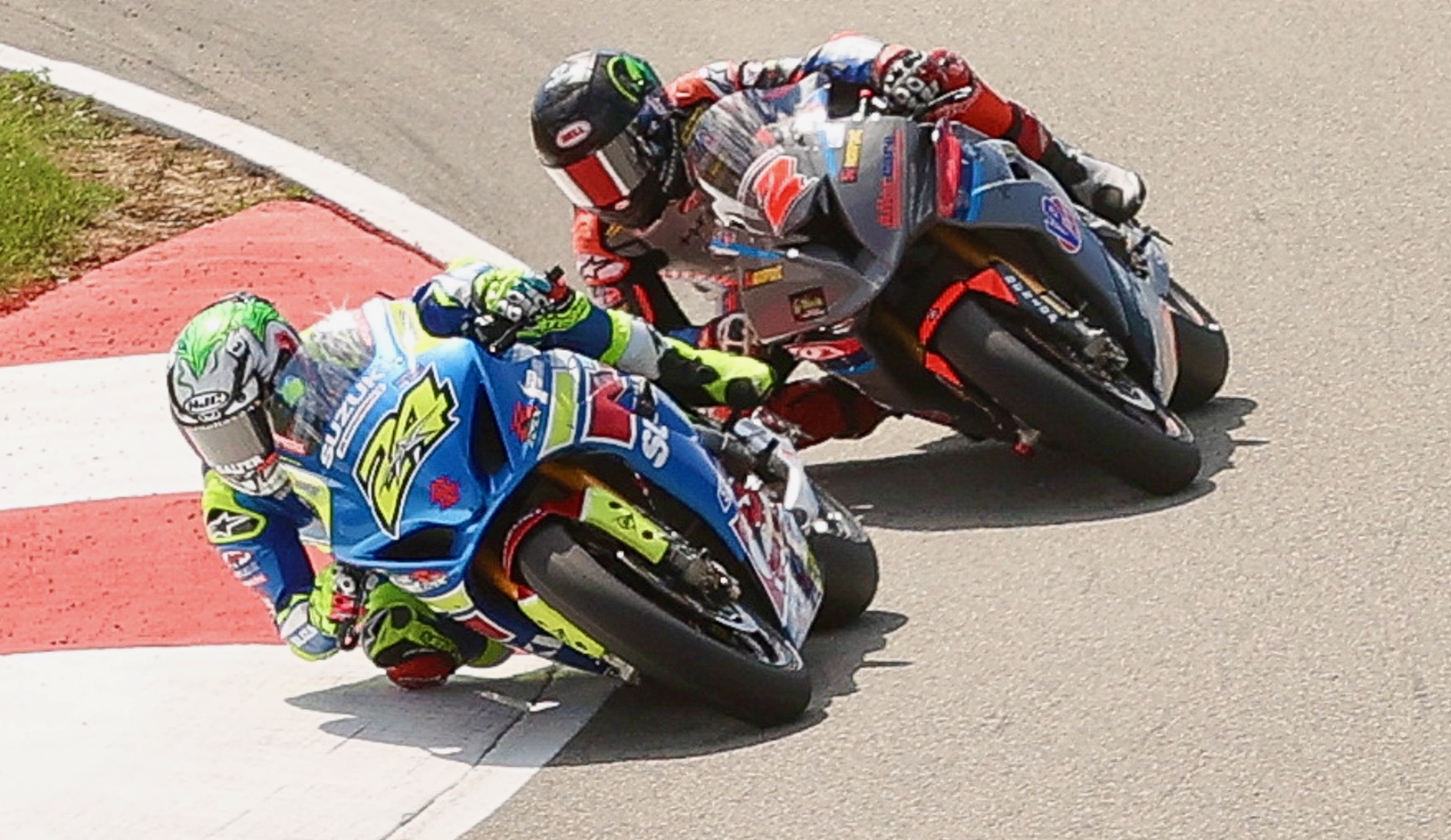 HONOS Superbike rider Josh Herrin is coming to terms with his Scheibe Racing BMW S 1000 RR, and the fan favorite has been having a good weekend at Pittsburgh International Race Complex. He qualified sixth in Saturday morning's Superpole and, in race one, Herrin was ahead of M4 ECSTAR Suzuki rider and former class champion Toni Elias and looking for a top-five result. Unfortunately, on the final lap of the race, all hell broke loose.
Well, let's set the hyperbole aside for a moment and just say that all hell didn't break loose, but one of the handlebars on Herrin's Superbike did. Shortly after Elias overtook Herrin, and he was plotting a way to pass hid former Yoshimura Suzuki Factory Racing teammate, Herrin's right clip-on suddenly and inexplicably came out of its fork clamp.
Despite the issue, Herrin managed to finish the race, and he crossed the finish line in a still-respectable seventh place. We caught up with Herrin after the conclusion, and he's what he had to say about his race:
"I got a good start, but the other guys got better starts, Herrin said. "I wanted to just try my hardest to latch on to those guys at the front for at least a couple of laps, but Toni (Elias) was running the same pace as me, and I couldn't get around him quick enough at the beginning to try and drag us forward. He wasn't able to do their pace, and I thought maybe I could. So I got around him, and he actually let me by. I think he was going to give me a chance to kind of go, because he could have re-passed me, and he didn't. But it was just too late by then. I couldn't catch back up to (Kyle) Wyman. I felt like if I was with him, I would have been doing the same pace. I would have latched onto him. But I couldn't go faster than what he was doing. If I did, it was only for a lap or two laps.
"I was just trying to keep a good pace up in case something happened to them or if Toni was still there. Then I got in a little battle with Toni at the end. It was good. Every move he put on me, I passed him back because I didn't know how strong he was right now, so I didn't really want to give him a chance to get away. Then, on the last lap, he passed me, pulled away a little bit in the esses but I thought I might be able to get him maybe in the second-to-last corner. About midway through, the handlebar pulled out of the mount, and obviously, I had to just limp around to finish the race.
"It's a bummer, but we're not really in the championship. We're really just testing. It's good, valuable track time. I was mad in the heat of the moment, not at anybody but just at our luck. I realized it could have been a lot worse, though, so I kind of calmed down and realized it could have been pretty dangerous, but luckily I caught it. I noticed that my fingers were touching the bodywork when normally they wouldn't, so I knew something was loose. So, I pulled it out like I said. I was pissed at first but then realized we had a good race. We've had a really good weekend. We found out a lot about the bike. I got very comfortable on the bike for the first time this year. We've been working really hard with Mike Himmelsbach at Ohlins, and we haven't really had a suspension guy with us all year. It helped a lot. I think we made a lot of improvements.
"I'm just really happy to be battling with Toni. I know he's not doing as good as he wants to do, but neither am I. So at least I'm there with him. Every track we've gone to, we've been a half second faster than anybody has gone on this bike. So that to me is not bragging to anybody, but it's really just mentally good for me to be able to look back and see Gagne doing as good as he's doing this year but see that I was going quicker than him on the same bike last year. I'm happy about that. Just looking at it in a positive way that we're getting a lot of valuable track time this weekend. I think, including the race, we've probably gotten about 60 or 70 laps in so far this weekend. So, that's a lot more than we've got the rest of the year.
When he was asked about his plan for tomorrow, Herrin said, "It depends on what those guys can do to improve. I don't know how much we're going to get out of the bike for tomorrow. I'm sure that the team's going to work, look at data and try. This year I've kind of stepped back a little bit from the data compared with what I had been doing the last two years just because I felt like I was kind of wearing my brain out too much before the race. I just want to focus on riding the bike this year. So, I'm sure the guys will work hard to figure something out tonight and try and improve the bike for tomorrow. But my goal tomorrow is just to try and fight for the top five, which today we got a little lucky because Bobby (Fong) crashed out. But we were fighting for a top-five finish. Hopefully we can do it again tomorrow and just leave here happy with the changes we made to the bike."
To purchase tickets for all MotoAmerica events, click HERE
For information on how to watch the MotoAmerica Series, click HERE
For the full 2020 MotoAmerica Series schedule, click HERE