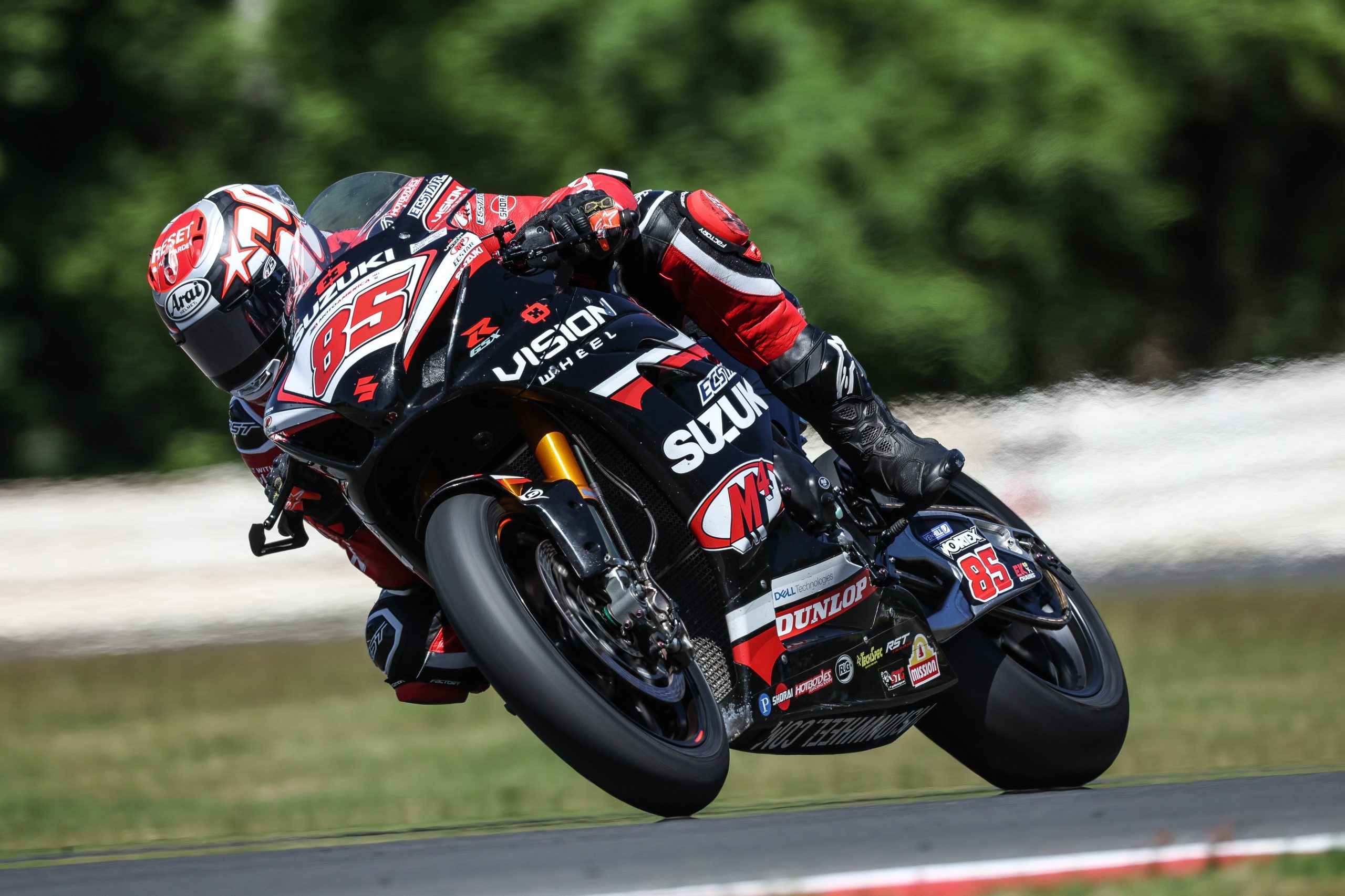 Vision Wheel M4 ECSTAR Suzuki rider Jake Lewis crashed during the early stages of Medallia Superbike race one at Ridge Motorsports Park on Saturday, which resulted in one of the red-flag stoppages. He was unable to restart the race due to injury and went to Mason General Hospital in Shelton for X-rays on his thumb.
"I have two fractures in my thumb," Lewis said. The Kentuckian also sustained road rash on his right elbow and bruised his right hip as a result of the crash.
Unfortunately, Lewis is unable to race in today's Medallia Superbike race two at Ridge. When asked if he'll need further treatment on his thumb, Lewis said he expects that he will have to have surgery following the weekend to insert stabilizing pins in the fractured digit.
According to team representative Chris Ulrich, ADR Motorsports Superbike rider David Anthony, who is a development rider for Team Hammer, will fill in for Lewis in today's race two.
"Jake has been starting to make some progress," Ulrich said. "After we tested at Pittsburgh, and then after Road America, he's been quite competitive. So, things have been going in the right direction for him. We had a great team meeting, found out what he needed, made some changes, and here at Ridge, he was starting to making steps to improve. (In yesterday's race) he just made a mistake in the final corner. I'm really bummed for him. He was my pick on the team, and you want to support your guy and help him do well. Unfortunately, though, you sometimes fall off and get hurt. Thankfully, it wasn't worse. We've already contacted a few surgeons that we know and trust, and we're going to make the best medical decision we can, follow doctor's orders, and look for him to be back soon.
"David Anthony will ride the bike today. He is already in the family as a development rider for us, and he's been a big help. For Laguna (the GEICO Motorcycle MotoAmerica Speedfest at Monterey on July 8 through 10), we'll have to wait and see. We'll assess the situation. You always want to have your number-one rider back as soon as possible, but we have some options and will have to see what we can do."
Stay tuned for updates on Lewis's recovery.
For the full 2022 MotoAmerica schedule and to purchase tickets for MotoAmerica events, click HERE
For information on how to watch the MotoAmerica series, click HERE