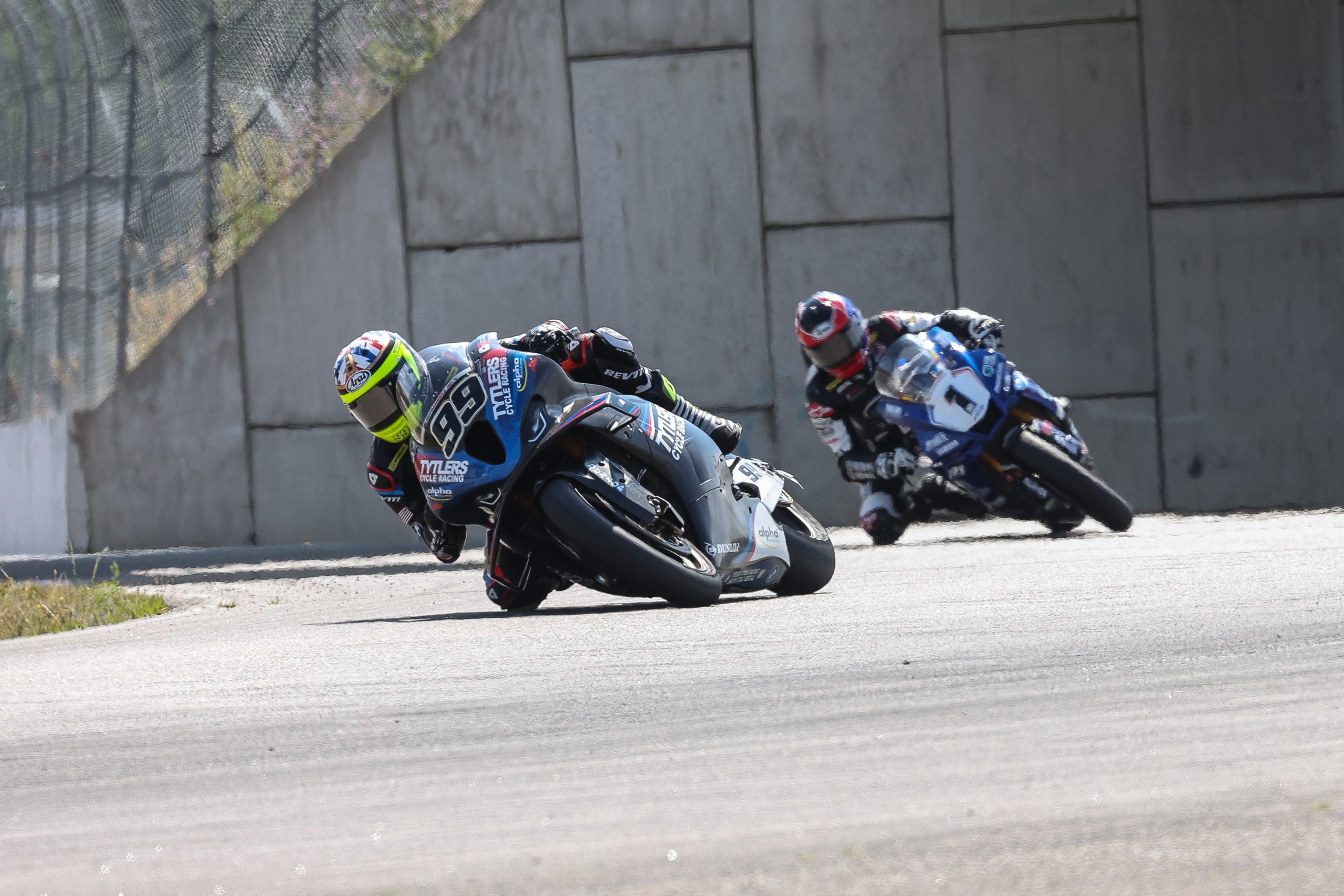 With a near-perfect performance on Sunday afternoon at Brainerd International Raceway, PJ Jacobsen is no longer the fastest rider in the MotoAmerica paddock to not win a Medallia Superbike race after he added his name to the list of men who have won the premier class in the championship.
With three second-place finishes so far this season and a runner-up finish once in 2022, Jacobsen's win turned him from bridesmaid to bride and he did it the right way, by besting two-time and defending MotoAmerica Superbike Champion Jake Gagne in a straight fight. The win also allowed him to step out of the shadow of his five-time Superbike Champion teammate, Cameron Beaubier – the winner of five races thus far in his first season with the Tytlers Cycle Racing team.
After trailing Fresh N Lean Progressive Yamaha's Jake Gagne for all of race one on Saturday, Jacobsen was again behind the championship points leader in race two. Until there were nine laps to go. At that point, Jacobsen made his move on Gagne in turn three, got the job done and even put a bit of a cushion between himself and Gagne. Although Gagne put in a late-race charge, Jacobsen was able to withstand the pressure to take that elusive first win by .322 of a second.
Behind those two, Westby Racing's Mathew Scholtz was also feeling pressure from behind as Bobby Fong was having the ride of his year on the Wrench Motorcycles Yamaha YZF-R1 and was giving the South African all he could handle in the final laps. Scholtz crossed the line in third with Fong giving up the chase in the final few turns.
Vision Wheel M4 ECSTAR Suzuki's Brandon Paasch continues to impress in just his second weekend on the GSX-R1000R with another fifth-place finish. Sixth place went to Disrupt Racing's Hayden Gillim by a tick over Paasch's Vision Wheel M4 ECSTAR Suzuki teammate Richie Escalante, who struggled with front-tire woes.
Josh Hayes was up to fourth when an off-track excursion knocked him back to 11th. The four-time AMA Superbike Champion, riding the injured Cameron Petersen's Fresh N Lean Progressive Yamaha Racing YZF-R1, charged back through to end up eighth.
Aftercare Scheibe Racing's Ashton Yates was ninth with Thrashed Bike Racing's Max Flinders rounding out the top 10.
With Beaubier being ruled out of racing on Sunday due to the concussion he suffered in Saturday's crash, and Josh Herrin's Warhorse HSBK Racing Ducati Panigale V4 R suffering a mechanical problem that knocked him out of third place, Gagne's lead in the championship swelled to 68 points over Herrin, 262-194. Beaubier drops to third, 79 points behind Gagne. With his 2-1 weekend tally, Jacobsen jumps past Escalante and into fourth in the title chase, 100 points behind the championship leader.
Superbike Race 2
PJ Jacobsen (BMW)
Jake Gagne (Yamaha)
Mathew Scholtz (Yamaha)
Bobby Fong (Yamaha)
Brandon Paasch (Suzuki)
Hayden Gillim (Suzuki)
Richie Escalante (Suzuki)
Josh Hayes (Yamaha)
Ashton Yates (BMW)
Max Flinders (Yamaha)
Quotes
PJ Jacobsen – Winner
"It's just been hard work. Last year being able to even be on the podium was awesome and getting there. Then building steps this year and stuff, and with Cam (Beaubier) coming on as my teammate it was obviously a huge push because he's a five-time AMA Superbike Champion. When he's out there winning every weekend, first or second, it's hard to have that as a teammate. I think just building and building and then learning some stuff from him as well in the data and everything. I knew I would eventually get there. I think I've always just been close in the wet races. I don't really consider that a win, for me anyway. It's good to finally get a dry win and actually get the job done. It feels pretty good. It was a big moment for me out there. I've wanted to do this. When you're a kid coming up racing, and you're in the paddock running around there, watching all these guys and then you want to be up here eventually with a win, like Hayes, Zemke, Duhamel, all those guys. So, it's cool to be up here and to finally get a win in MotoAmerica."
Jake Gagne – Second Place
"I was just on the edge. I was really pushing, trying to keep with PJ (Jacobsen). Right when he passed me that first lap, two laps, he was just putting tenths on me. I kind of calmed down and figured out a couple little things where he was quicker and tried to ride the bike a little different, be a little smoother, keep it from spinning up quite as much. Then that last lap, we came up on that lapper and I was wondering if I was going to get lucky and see what happened. But it was really fun racing with PJ. The guy has got so much talent. It's good for him to get his first win. I enjoy being on that side, chasing him down for the win. It was kind of the opposite yesterday where he kind of just got back to my rear tire at the end there and I kind of did the same thing today. It was good. It really sucked to see (Cameron) Beaubier go out with that crash yesterday. I think something happened to (Josh) Herrin today. Good day for points, but more importantly just some good racing today with PJ. Good, clean racing. I didn't know who was behind me, but we were just kind of inching away there. Everybody was really close this weekend. It was just those first couple laps, like always. I was able to push the pace a little bit. I knew PJ would be there the whole time. Just tried to be smart. Good day. Fun racing with PJ and watching him sideways around the whole track."
Mathew Scholtz – Third Place
"This season has been pretty sh*t so far, to be honest. So, this is awesome to be back up on the podium here. Yesterday obviously passed PJ in the third corner early on. Ruined the bike. Didn't get out from that. So, during practice, we didn't put more than six or seven laps on the tire. So, we went out there today changing gearing settings without really knowing what was going to happen. The first three or four laps I think Jake (Gagne) and PJ (Jacobsen) had a little bit of pace, but maybe it was from lap five onwards I kind of pulled them back slightly. Then I think from the halfway point, the bike just started backing in like crazy. I started losing grip as I would crack the gas. So, the last couple laps was just surviving for me, really. Obviously, in Laguna I had a massive crash. Hadn't been able to really train coming up to this and I've been sitting on the couch. Maybe did two or three cycles just to try to keep my fitness, but I definitely noticed that it hurt me today. My arms were pumping up. Overall, these guys are riding well. Just to kind of finish in the top five now is something special. There're crazy fast guys. There's Beemers, Ducatis, Yamahas, Suzukis are now up there too. So just to be up there makes me feel good, considering how bad things have been. So, I think if we can just build on from here. Pittsburgh has been one of my favorite tracks. I've been strong there previously, so I'm really thinking we can challenge for the win there. The bike is working better than it has been. We made a couple changes. I think today's race we can really look at data and carry on pushing forward."