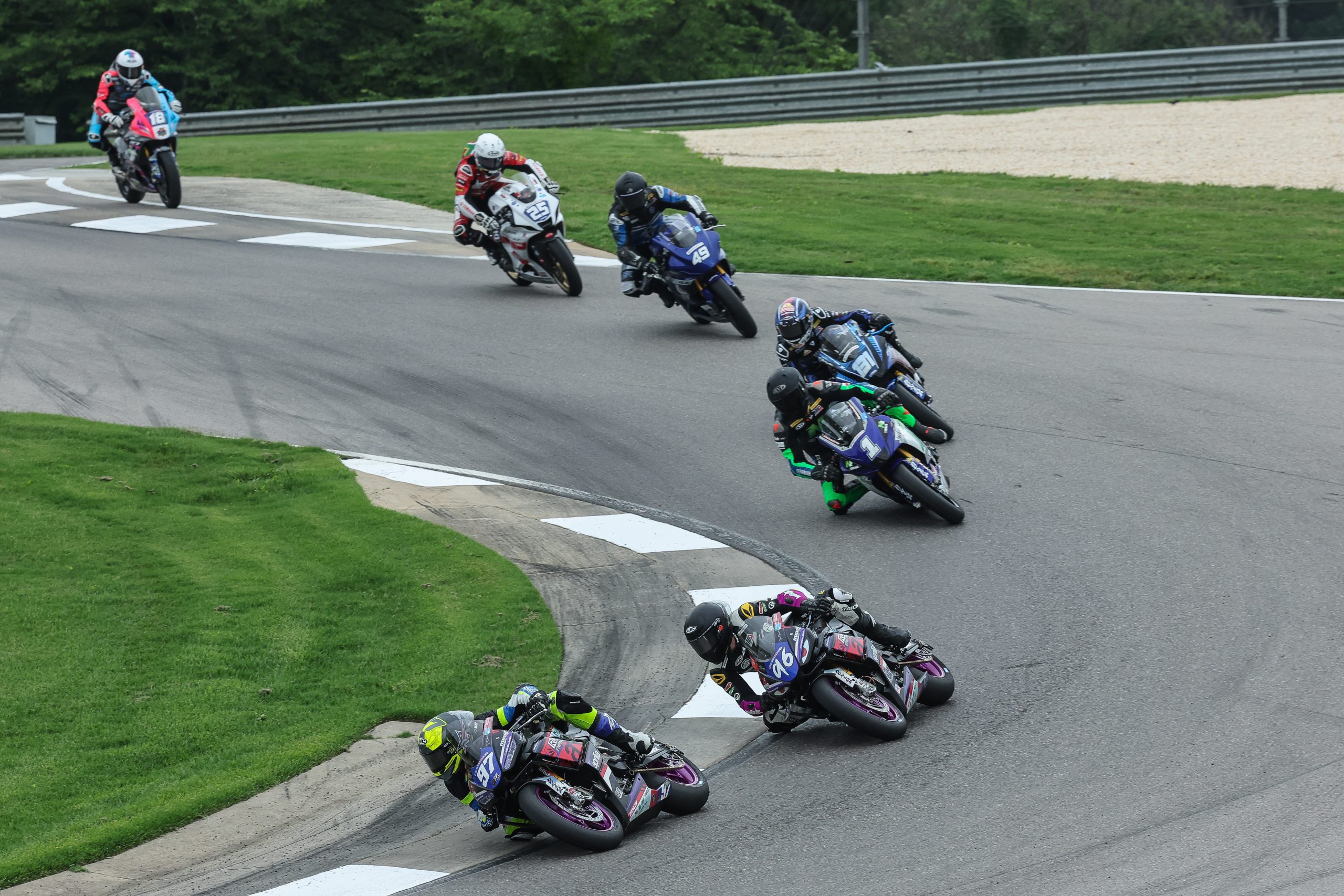 The REV'IT! Twins Cup Championship is back on track this coming weekend at Ridge Motorsports Park, June 23-25, after a one-round hiatus and that means a lot of attention will rightfully fall on what is the closest title fight in the MotoAmerica Championship after three rounds and six races.
So how close is it? Just 20 points separate the top five riders in the title chase and only two points separate the top three as the series arrives at the racetrack located on the Olympic Peninsula region of Washington State.
In addition to the REV'IT! Twins Cup and the premier MotoAmerica Medallia Superbike classes, the MotoAmerica weekend at Ridge Motorsports Park will feature three other classes of racing: Supersport, Mission Super Hooligan National Championship and Royal Enfield's Build. Train. Race.
REV'IT! Twins Cup – Battle Royale
As previously mentioned, championships don't get much closer than this one.
At the very top of the REV'IT! Twins Cup Championship sits N2 Racing/BobbleHeadMoto's defending series champion Blake Davis, one of two riders in the top five to score points in all six races thus far. Davis has one victory and only one other podium finish, but he's managed even on bad days to walk away with points and that's what has him atop the standings.
Behind him by just two points are Rodio Racing – Powered by Robem Engineering's Gus Rodio and Cycle Tech's Hayden Schultz.
Rodio arrives in Washington trying to forget the misery of scoring zero points at Barber Motorsports Park and Schultz arrives with chunks of points from all six races, including three podiums. Rodio's season, meanwhile, started with a win and three second-place finishes before derailing in Alabama. Both find themselves in solid positions at the top of the standings.
The hottest rider in the class is Rodio's quasi-teammate Rocco Landers, the winner of the last three races after missing the opening two races of the season at Daytona International Speedway. Landers is the all-time win leader in Twins Cup with 12 race victories, nine of which came in his championship-winning year in 2020.
Trackday Winner/Blackmon Racing's Jackson Blackmon is fifth in the championship heading to Ridge Motorsports Park – 20 points behind Davis.
Supersport – Can Fores Stay Perfect?
There have been 150 championship points up for grabs from the five Supersport races held so far in 2023 and Warhorse HSBK Racing Ducati's Xavi Fores has 150 of them in his pocket as he arrives for what will be his first laps at Ridge Motorsports Park. It begs the question: Will he keep that perfect season alive in Washington?
The 150 points that Fores has secured puts him atop the title chase by 37 points over Tytlers Cycle Racing's Stefano Mesa with Mesa an additional 30 points ahead of Squid Hunter Racing's Josh Hayes.
If not for Fores' season, we'd be talking about how fast and consistent Mesa has been with his four runner-up finishes and the fact that his fourth-place finish in the opening race at Road Atlanta is his only non-podium finish.
Hayes, who is just four points ahead of Vision Wheel M4 ECSTAR Suzuki's Tyler Scott, has also been solid with three podiums from the five races. Scott has two podium finishes and is nine points ahead of Michael Gilbert Racing's Michael Gilbert with Gilbert's scorecard featuring a fourth and four fifth-place finishes.
Mission Super Hooligans National Championship – O'Hara Defends
Only two Mission Super Hooligans National Championship races have been held so far in 2023 and those took place way back in March at Daytona International Speedway. And both were won by defending class champion Tyler O'Hara and his Indian Motorcycle/Progressive/Mission Foods-backed Indian FTR1200.
O'Hara's successful run at Daytona puts him 14 points clear of his teammate Jeremy McWilliams, who in turn is 12 points ahead of Gray Area Racing's Mark Price and his KTM 890 DUKE R. Price was eighth in race one at Daytona and third in race two. McWilliams returned to Northern Ireland with third- and second-place finishes to show for his trip to Florida.
Roland Sands Design/Indian Motorcycle's Bobby Fong was second in race one at Daytona but failed to finish race two. Fong will be pulling double duty at Ridge Motorsports Park as he will also be racing in the Medallia Superbike class.
Royal Enfield Build. Train. Race. – Moore Wins To Come?
After two dominating performances in the opening round of the Royal Enfield championship at Road America, it doesn't appear as of yet that anyone will be able to challenge Maryland's Mikayla Moore. Moore didn't just win those two races; she annihilated the competition and didn't seem to put a wheel wrong in her Build. Train. Race. debut.
If anyone can rise to the challenge it is likely to be last year's champion Kayleigh Buyck. Buyck failed to finish race one at Road America, but she was the closest competition to Moore in race two, finishing 11.7 seconds behind, after Moore had won race one by 17.2 seconds.
Texan Crystal Martinez, who like Buyck is in her second year of Royal Enfield racing, is second in the points after two podium finishes at Road America. She trails Moore by 17 points and is just four points ahead of Utah's Aubrey Credaroli.
Pre-Ridge Support Class Notes
Last year's two Supersport races at Ridge Motorsports Park were won by Josh Herrin, who went on to claim the 2022 MotoAmerica Supersport Championship for the Warhorse HSBK Racing Ducati team. Herrin beat Rocco Landers and Sam Lochoff in race one before beating Tyler Scott and Kevin Olmedo in race two. Herrin has moved to the Medallia Superbike class for 2023 where he currently sits third in the championship.
Anthony Mazziotto swept to a doubleheader wins in the REV'IT! Twins Cup class last year with the New Jerseyan beating Kaleb De Keyrel and Hayden Schultz in race one and Schultz and Cody Wyman in race two.
The class with the most entries at Ridge Motorsports Park this year? Mission Super Hooligan National Championship with 35 riders set to do battle on both Saturday and Sunday. Eight of those 35 entries are from the Pacific Northwest states of Washington and Oregon with 10 Californians driving up the coast to compete in Shelton.