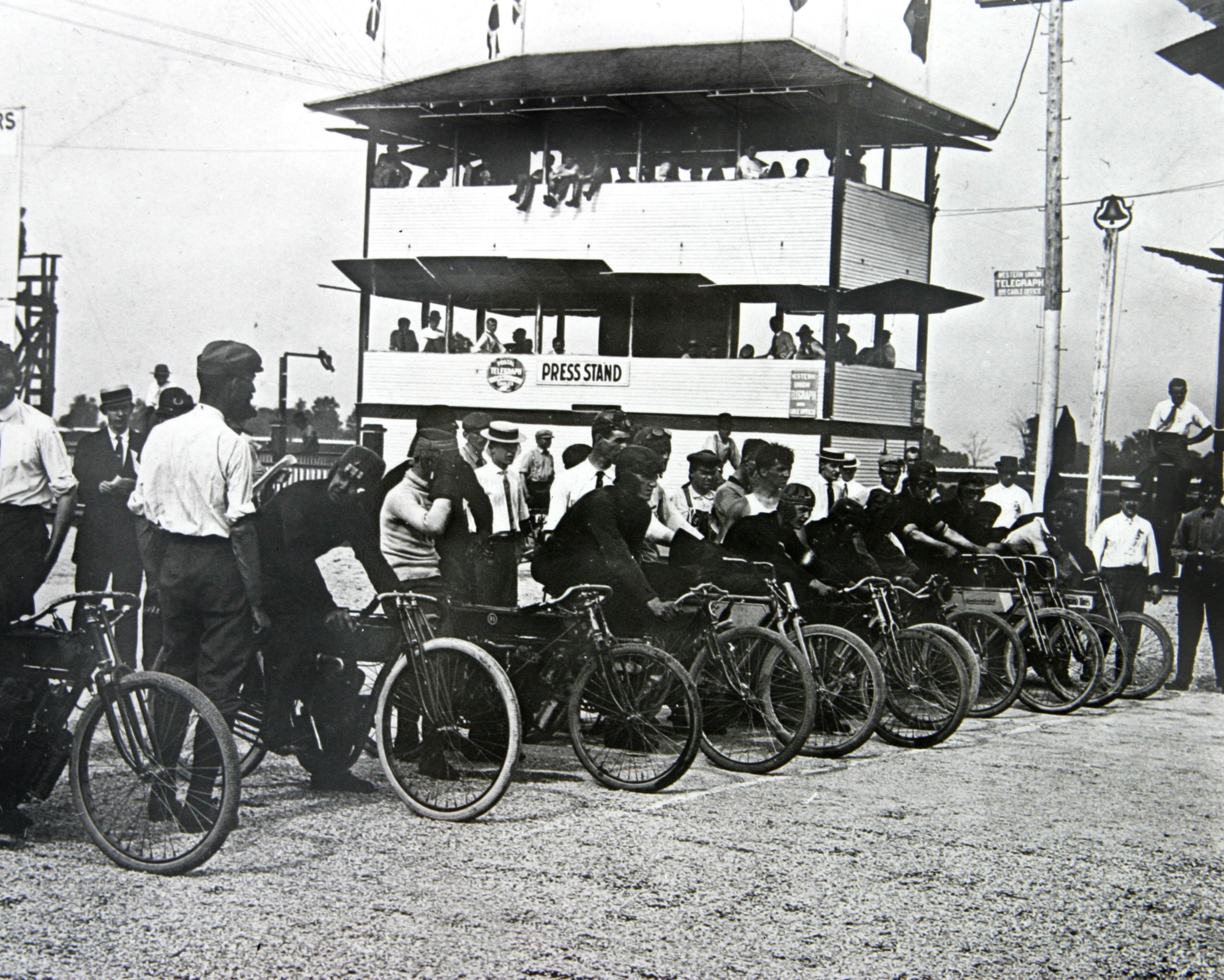 Now 111 years old, Indianapolis Motor Speedway is the oldest continually operating racetrack in the United States and is known as "The Greatest Race Course in the World." With more than 250,000 permanent seats, it is also the largest sports seating facility in the world.
At a track known best for its auto races, it's interesting to note that the very first race at Indianapolis Motor Speedway actually didn't involve any automobiles at all. In fact, the first competition that took place at IMS was a motorcycle race.
On August 14, 1909, the first motorized races—using motorcycles—took place on the Indianapolis Motor Speedway oval, which had a racing surface composed of crushed stone sprayed with tar. The giant track was imposing to riders who were more accustomed to compact wooden velodromes and the hard-packed sand at seaside racetracks like Daytona Beach.
With a field of motorcycles from manufacturers that included Indian, Excelsior, Harley-Davidson, Peugeot, NSU, Merkel, and Thor, the lightweight, five-to-seven-horsepower machines could reach top speeds of 65 mph, and with their narrow tires and pedals, they looked more like ordinary bicycles than the MotoAmerica motorcycles that will take to the track next weekend. The competitors in 1909 were challenged by the crushed-stone racing surface and the sharp rocks that could rather easily puncture the flimsy tires of that era.
Riders in the first of eight planned events took to the track for the 2:00 p.m. start. The race was a five-mile event, and seven men entered with the faster riders leading the slower ones by several seconds.
A.G. Chapple won the race with a time of 4 minutes and 53.2 seconds. Indian Motorcycles of Springfield, Massachusetts, swept the first three finishing positions.
As a side note, not only did the Speedway host the motorcycle races, but in the days leading up to the event, the city of Indianapolis hosted a national convention of the Federation of American Motorcyclists (FAM), the sanctioning body of motorcycle racing at the time.
To purchase tickets for all MotoAmerica events, click HERE
For information on how to watch the MotoAmerica Series, click HERE
For the full 2020 MotoAmerica Series schedule, click HERE