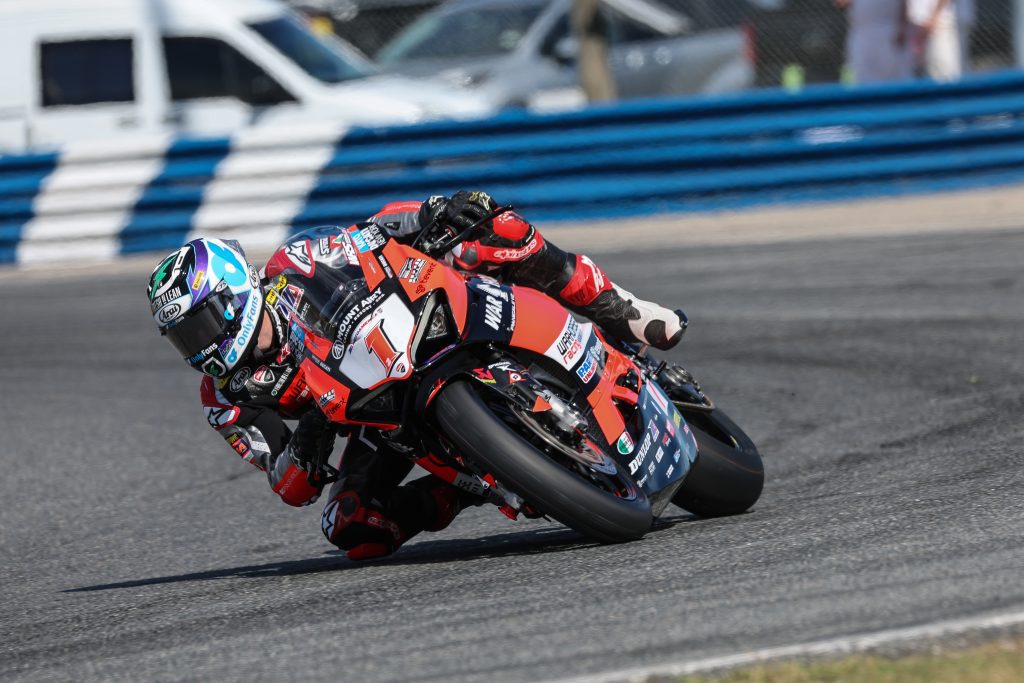 The following is from Ducati…
Josh Herrin (Warhorse HSBK Racing Ducati New York) put his number one Ducati Panigale V2 in P1 for the 2023 Daytona 200, his second pole position in a row in the great race.
Herrin and the Warhorse HSBK Racing Ducati New York team missed the day's first session due to an electrical gremlin. Still, they turned the tide when it mattered. Herrin had to lay it on the line with the second of only two timed laps in the Time Attack session enough to put him on pole position. Herrin was the only rider into the 1:48-second bracket in the session as he headed Yamaha's PJ Jacobsen and Suzuki's Tyler Scott.
Teammate and Daytona rookie Xavi Forés continued to learn the Daytona high banking with his 1:51.538 in Qualifying 2 placing him 14th on the grid for the 81st running of the Daytona 200.
Xavi Forés (Warhorse HSBK Racing Ducati New York – Ducati #12):
"P14 will be a bit tough but this is a very long race and anything can happen. There will be time to make up and get into the lead pack. But I am very much looking forward to starting the race. We have some work to do to get the bike sorted for me and we will get this done to be ready for tomorrow."
Josh Herrin (Warhorse HSBK Racing Ducati New York – Ducati #1):
"It was a pretty crazy session," Herrin said. "I thought everybody was going to split up into their own little qualifying groups, but they went out together. I didn't think we'd be able to go that fast in the group. The oil dry slowed us down a little in turn one just because the field was a bit worried about the track conditions, but for the most part, I wasn't sure I was going to get into the '48's because I made a little mistake early in the lap. The draft was so powerful with the other bikes and we were able to pull it off. Hats off to the team because we missed the first session with a couple of issues so we had to go into the session with a super-fast pace and we got P1 for the second year in a row."
The 81st running of the Daytona 200 from the Daytona International Speedway is scheduled for 1:10 pm EST.