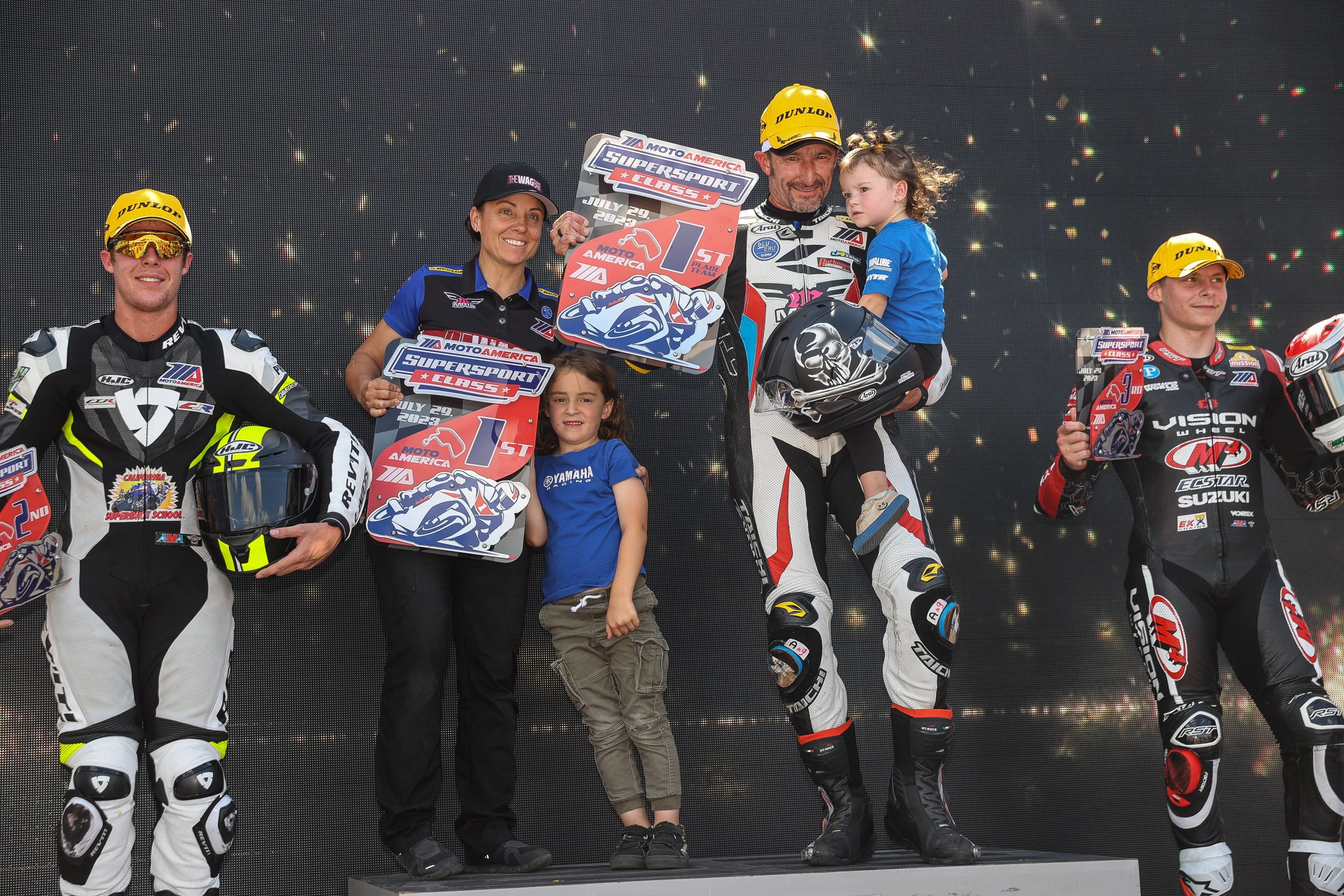 When Josh Hayes shocked the AMA road racing establishment with his first career victory in the 750cc Supersport race at Daytona International Speedway in 1999, who could have known that 24 years later he would become the winningest racer in AMA road racing history.
And that he is.
Hayes made history on Saturday in Minnesota, the 48-year-old from Mississippi, who now calls Oceanside, California, home, winning the 87th AMA road race of his career when he raced off into the distance to win the Supersport race on his Squid Hunter Racing Yamaha YZF-R6, moving him out of a tie with the legendary Miguel Duhamel.
Supersport – Call Him Mr. All-Timer
History was made in Saturday's Supersport race at Brainerd International Raceway when 48-year-old rider and four-time Superbike champion Josh Hayes got the win, which broke a tie with AMA Hall of Famer Miguel Duhamel for the most all-time wins in AMA history.
Hayes's 87th career victory was a bit surprising given that Warhorse HSBK Racing Ducati rider Xavi Forés had won all eight Supersport races thus far this season. But the technical Brainerd road course threw him a curve in more ways than one, and he only managed to finish seventh on Saturday.
Landers Racing's Rocco Landers started from the pole, but he didn't get the start that he hoped for, and he had to claw his way back towards the front. Landers was in second place by the time the checkered flag flew, but Hayes had a gap of more than three seconds at the finish line. Third place went to Vision Wheel M4 ECSTAR Suzuki's Tyler Scott

"Pretty good weekend so far," Hayes said. "I was really glad the (Supersport) race was first. That's still my primary goal is to win on that bike. I was doing like I have all year – try to be super aggressive in the first laps and get myself to the front. Fortunately, I was able to open up a little bit of a gap and I was able to manage it. The managing was coming pretty easy. I was doing low 34's without much drama. Just really happy. The hardest part was staying focused in the last few laps, just because I was happy and super excited. Probably the hardest part was when I rolled into victory circle and Melissa was standing there with my kids. There's a reason my helmet didn't come up too quick. But for the Squid Hunter team and I, we've been working for this hard for a year. I really enjoyed every race we've been in this year. Been in the fight a lot. It's more relief than anything to get that done, out of the way. We don't have to talk about it anymore. Let's just go have some fun and race now."
Steel Commander Stock 1000 – Gillim On The Prowl
Disrupt Racing's Hayden Gillim knows that to get back into title contention in the Steel Commander Stock 1000 Championship he must win races. He did just that on Saturday at BIR as he dominated the race, winning by 7.4 seconds.
With season-long championship points leader Ezra Beaubier finishing fifth, Gillim was able to gain valuable points and he now trails Beaubier by 23 points. When the race started, Gillim trailed Beaubier by 37 points.
Orange Cat Racing's Kaleb De Keyrel, who started the race from pole position, couldn't match Gillim's pace and he settled into a comfortable second – until the closing stages when he found himself in a last-lap battle for the spot with Travis Wyman Racing's Travis Wyman. At the finish, it was De Keyrel taking the spot by just a 10th of a second over Wyman.
De Keyrel remains in second in the title chase but he's just a point ahead of Gillim and 22 points behind his teammate Beaubier.
Benjamin Smith Racing's Benjamin Smith had a solid first outing in the class, riding his just-built Yamaha YZF-R1 to fourth place ahead of Beaubier.
"After Atlanta, I was kind of in a pretty deep hole, mentally and points-wise. Barber was a good weekend, and I knew it was going to be good. I thought Atlanta would be better than what it was, and it ended up just being a terrible, terrible weekend. Road America, I knew was going to be difficult with all these guys on their bikes and my size and everything. I knew it was going to be tough. In the Stock (1000) race last year, this was kind of how the race was going and then we had a red flag and some stuff happened during the red flag and I ended up not having the greatest last lap in the race. So, we had a lot left on the plate from last year. I needed this. I needed this points haul. To be able to kind of just go out and do what I needed to do today. Riding three classes this weekend is actually helping a little bit because I had just come off of the Bagger and hopped on to that thing and was ready to go that first lap. That was ultimately why I pushed as hard as I could right off the bat. I knew with how different the track was this morning to this afternoon it was going to be a little bit difficult, especially for Kaleb (De Keyrel) since he hasn't been out there since this morning. I figured it would be a little tough because I could already tell it was a little greasier than this morning. I knew right off the bat I needed to just go. Luckily the guys gave me a great bike and I'm feeling good right now. So, it's going to be a long day. We've got Superbike coming up here in a minute, and then we'll be back at it on Baggers later this afternoon. So, just got to keep our head on straight."
Mission King Of The Baggers – Hayden Doubles Down
To say that Hayden Gillim had a good day at Brainerd International Raceway would be an understatement. Gillim had a glorious day.
A few hours after dominating the Steel Commander Stock 1000 race, Gillim finished seventh in the Medallia Superbike race. Not long after that he went out and won the Mission King Of The Baggers race on his Vance & Hines/Mission/Harley-Davidson Road Glide, beating Sac Mile/SDI Racing/Roland Sands/Indian's Bobby Fong by 2.5 seconds and his teammate James Rispoli by eight seconds.
To make a great day even better, Gillim made a big step in the championship as he now sits third, four points behind his teammate Rispoli and six points behind championship leader Kyle Wyman. Wyman was fourth today at BIR with Team Saddlemen's Cory West rounding out the top five.
Gillim had his hands full early on with Indian Motorcycle/Progressive/Mission Foods's Tyler O'Hara, who was leading when he had a mechanical problem that forced him off track and out of the race.
"It is a real good day. I was chasing him (Bobby Fong) in the Superbike race, but he had a little bit of speed on me there and got it back. Pulled a little James Bond move. Gave him the smoke. Tried to keep him off of me. It's been a really good day. I knew this track was going to be good for me. I just feel good here. Last year was really good on the 1000. I didn't really know what to expect with the Harley coming here. It's pretty crazy seeing how half the track Bobby (Fong) and Tyler (O'Hara) have a little bit of speed, and then the other half I can kind of pull a little bit back. At least I know for sure on Tyler I got to see him for a second Bagger Challenge. It's been a really good day. To have another podium with James (Rispoli), another double podium for Vance & Hines, that's what we're here for. So, good job for the team and good job for me and my family. Never had two wins in one day, so this is pretty cool."
Junior Cup – More Moor
It's been eight weeks since MotoAmerica's Junior Cup riders last raced, and despite the hiatus, Fairium NGRT – Gray Area Racing KTM rider Rossi Moor picked up right where he left off after race two at Road America in early June. Moor notched his second straight win in MotoAmerica's entry level class, and his victory on Saturday at Brainerd International Raceway was by a margin of more than seven seconds. The other two podium finishers were a lot closer together with second-place Hayden Bicknese prevailing aboard his Bicknese Racing Kawasaki by just .138 of a second over Max Van, who finished third on his SportbikeTrackGear.com Kawasaki. Rossi led all but one of the 11 laps in the race.

"From practice and from qualifying, I think I had the pace to do it," Moor said. "It didn't show on paper since I wasn't able to put a bunch of good laps together, but deep-down, I knew that, if I'm able to get to the front, I was able to pull away. But, with Jayden being there and Max and Hayden and all these guys I knew it was going to be pretty hard because I'm slightly down on power. I just wasn't able to draft a lot of people. But as soon as I was able to get past, I just put my head down and tried to get enough gap by the turns where they couldn't draft me by turn three."