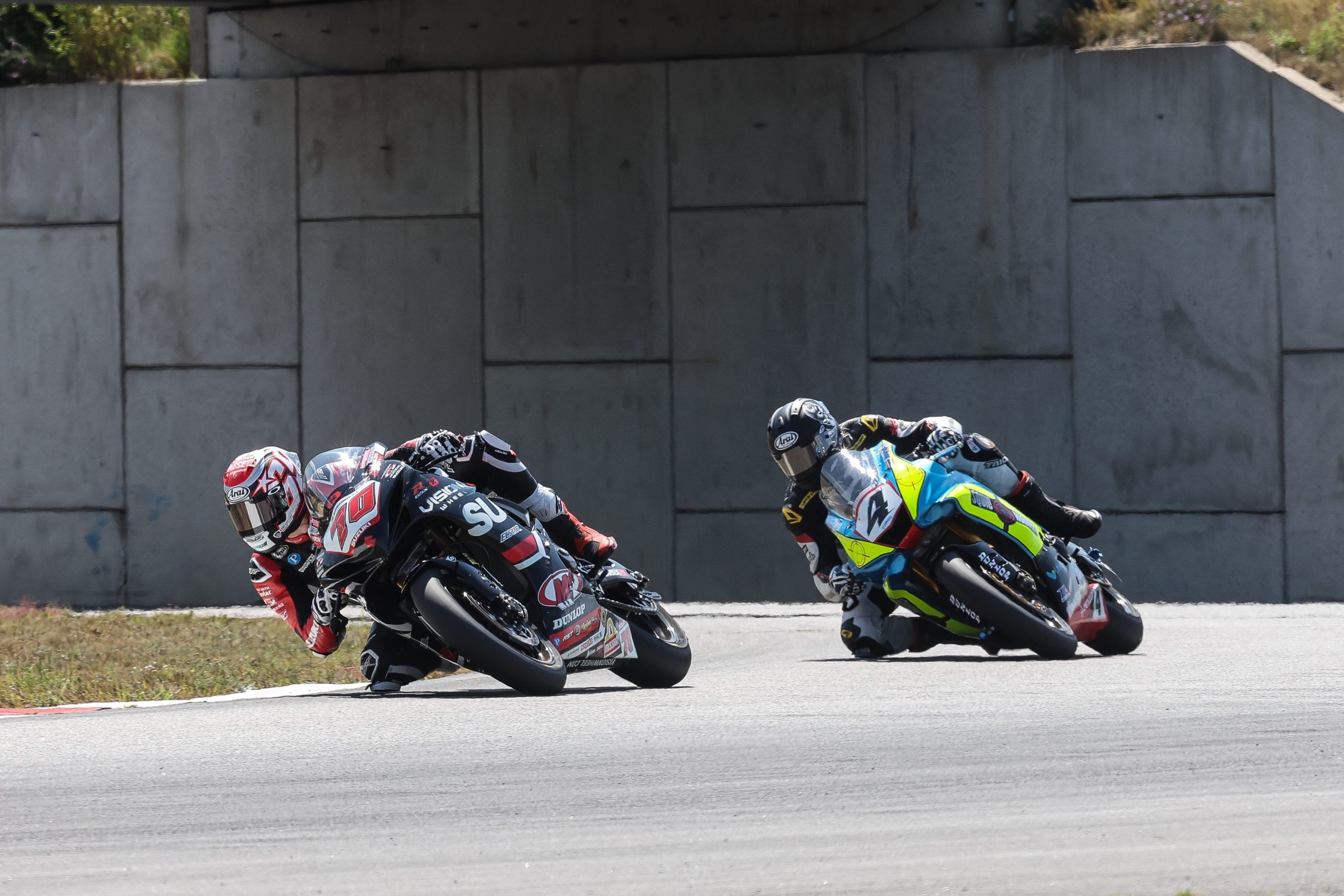 Hayden Gillim wore a path in the grass from the podium to the media center this weekend at Brainerd International Raceway with the Kentuckian making the trip four times in two days. First came the celebrations on the podium with his young son, Stone, on his shoulders, then the walk to the media center for interviews.
He didn't mind the walks.
With two wins in the Steel Commander Stock 1000 class and a first and a second in Mission King Of The Baggers, Gillim had the most successful weekend of his career in Minnesota. Oh, and he also finished seventh and sixth in the two Medallia Superbike races.
Mission King Of The Baggers – Fong Untouchable
There's something about Brainerd International Raceway that suits Bobby Fong. Mere minutes after he rode to a fighting fourth-place finish in the Medallia Superbike race on Sunday, Fong was out front of the Mission King Of The Baggers race.
And he was there to stay, riding his Sac Mile/SDI Racing/Roland Sands/Indian to a 1.5-second victory over Saturday's race winner Hayden Gillim on the Vance & Hines/Mission/Harley-Davidson.
A day after a mechanical failure knocked him out of race one, Indian Motorcycle/Progressive/Mission Foods' Tyler O'Hara caught and passed Gillim's teammate James Rispoli in the closing laps to take the final podium spot. Rispoli and H-D Screamin' Eagle's Kyle Wyman completed what for him was a lackluster weekend in fifth place.
With his win and runner-up finish in the two races, Gillim takes over the championship lead from Wyman and Rispoli, 175-173, with those two tied for second. Fong moves to fourth in the title chase, 45 points behind Gillim.
"No, trust me. I'd rather not do a back-to-back deal like that again," Fong said. "It was definitely tough. But it was a good weekend for us. All of us got some wins this weekend. Tyler (O'Hara) got the win in the dash. I rate these two guys (O'Hara and Hayden Gillim) really high in my book. Like Tyler said earlier, the competition is stacked. We've all been working hard. These guys are smart. Racing with these guys, they think a lot and I can tell riding with these guys. They're always thinking. They're always trying different things. Like I said, the competition is stacked. We've just got to keep working and see what we can do at COTA in a month or two. I'm happy to be up here. Good pay day for us, as well. Looking forward to spending at the wedding in a year or so."
Steel Commander Stock 1000 – Gillim Goes Hunting
Disrupt Racing's Hayden Gillim was asked on Sunday afternoon if this weekend was the best racing weekend of his career. Gillim pondered the question briefly before saying, "Yes."
Gillim won his second Steel Commander Stock 1000 race of the weekend on Sunday at BIR, the Kentuckian not only winning the race but moving to within eight points of championship points leader Ezra Beaubier after scoring a perfect 50 points in the two races.
Gillim's effort on Sunday was a carbon copy of his race on Saturday. He jumped off the line and led by the time the pack got to turn three. From there he never looked back and ultimately won by 8.9 seconds over Orange Cat Racing's Kaleb De Keyrel with the Minnesota native finishing second for the second straight day.
Benjamin Smith Racing's Benjamin Smith was third in his first weekend in the class and his first weekend on his Yamaha YZF-R1. Tom Wood Powersports' Nolan Lamkin was fourth with Travis Wyman Racing's Travis Wyman rounding out the top five.
Ezra Beaubier was sixth on his Orange Cat Racing BMW, despite getting a five-second penalty for jumping the start.
"Honestly, before this weekend I was ready to kind of call it quits on the Stock 1000 class for myself," Gillim said. "So, this has definitely rejuvenated me a little bit and given me some more confidence going into COTA (the final round of the Steel Commander Stock 1000 series). That's the only bad thing. That first weekend at Road Atlanta really had me down and out, and I was down a lot. With only five rounds this year for Stock 1000, I was a little nervous because I knew Road America was going to be tough. I expected Road Atlanta to be a little bit better than it was. I don't know about COTA. We'll see. I ran pretty quick there last year, so we'll see. It will be interesting. I know these guys will be running for it. It's a tight race at the top right now, so it's coming down to the wire. unfortunately, I've been in a lot of these situations where it's come down to the wire and almost every time, I've come out the loser. I'm hoping to do a little bit better than last year (when I) tied for the championship at the end of it but getting second place because he (Corey Alexander) had more race wins. So, trying to get those race wins right now just in case. But this was a really good weekend to do it. I knew coming in that this one and Barber I knew for sure were going to be the ones where I had to do the job and get it done."
Royal Enfield Build. Train. Race. – Moore Again
The ladies of the Royal Enfield Build. Train. Race. program had one featured race at Brainerd International Raceway, and after their Sunday morning final qualifying session, it looked like the outcome of the afternoon's race might be different than the previous four races this season had been. Instead of Mikayla Moore starting from the pole as she'd done in all four races thus far, it was Sonya Lloyd who got the start from the pole with Moore right next to her on the front row of the starting grid.
The difference hardly mattered because Moore promptly went to the head of the pack on the opening lap, and she maintained that position all the way to the checkered flag. Lloyd only gave up the one position to Moore, and she maintained second place throughout the eight-lap race. Crystal Martinez finished third after overtaking Aubrey Credaroli on the opening lap.

"With the big gap (in the schedule)—Ridge Motorsports Park was last month – I spent time training on a (Kawasaki) ZX-6 and a Ninja 400," Moore said. "But I knew going into this weekend it was going to be a new track for me and based off of P1 time, I knew I had a lot to figure out and to adjust. Going into race one I felt a lot better with the adjustments that Megan helped me with, with Öhlins and some gearing changes that I made."
Junior Cup – Badie Has A Goodie
As is always the case with the MotoAmerica Junior Cup Championship's races, Sunday's race two at BIR came right down to the final lap and the final run to the checkered flag before the contest was decided. Belgian-based rider Levi Badie got the victory aboard his Badie Racing Kawasaki after coming from back in the field and then prevailing in a skirmish with pole sitter Rossi Moor, who was the winner of Saturday's race one.
Moor led seven of the 11 laps in the race, including the penultimate lap, but Badie and his Kawasaki overtook Moor and his KTM, the final lap, but Moor was unable to strike back before the finish line. Jayden Fernandez had a battle of his own going on, but he would not be deterred from getting his first MotoAmerica podium in his rookie season, and he finished third.

"I came from eighth, so it was a little struggle to get back (to the front)," Badie said. "I was there the whole time, just struggling to pass a lot of guys because it's a difficult track to pass. The competitors are very strong. Once I came in first, I kind of missed my braking mark a little bit. Then going into the corner, I was like in dirt, like flat tracking. I kept it open. I came out and I saw that they weren't too far away, so just head down and tried to catch them because they were fighting. So, I knew when they're fighting, they're not going their top speed, so I just did everything I could, and I caught them. That was like two laps more. I was like, just go for it and try to pass every corner, try to pass someone. It worked. Last lap I just took the chance, tried to pass Rossi and it worked and just go. I'm very happy for first place."
Supersport – Scott Gets It Done
Prior to today, Vision Wheel M4 ECSTAR Suzuki's Tyler Scott had finished on the podium four times this season, but he hadn't won a race since Road America last year. Well, that all changed with Sunday's Supersport race two at Brainerd when he came away with the victory in the red-flag-shortened event. The 17-year-old was hounded throughout the race by Squid Hunter Racing Yamaha's 48-year-old Josh Hayes, who was looking for his 88th all-time race win to extend the new record he set on Saturday by one more victory. Scott took the checkered flag by a little more than one-and-half seconds over Hayes. Third place went to Landers Racing Yamaha's Rocco Landers, who passed both Xavi Forés and Stefano Mesa on the final lap to notch his second podium of the weekend.

"I got a good start in this race," Scott said. "I led for the first lap a little bit. He got in front of me, and the goal was just kind of to stay behind him and learn a little bit from him. I struggled all weekend in sector one. When we came in for the red flag, I looked at my sector one times, and they were right on par with Rocco and Teagg (Hobbs), so that was a good improvement. But the race was just kind of pacing myself, getting a little closer to Hayes, then making a small mistake. Kind of playing with whatever gap was there, a second or half a second. Then the red flag came out and we came into the box. We changed our engine braking strategy a little bit to pull us closer to the apex in some corners. I was running wide, making some mistakes. But I felt great on the restart. Got the holeshot and never looked back. I made one mistake in turn four that kind of scared me. I ran decently wide, but I was able to pull it back on the racing line and get the win in the end."