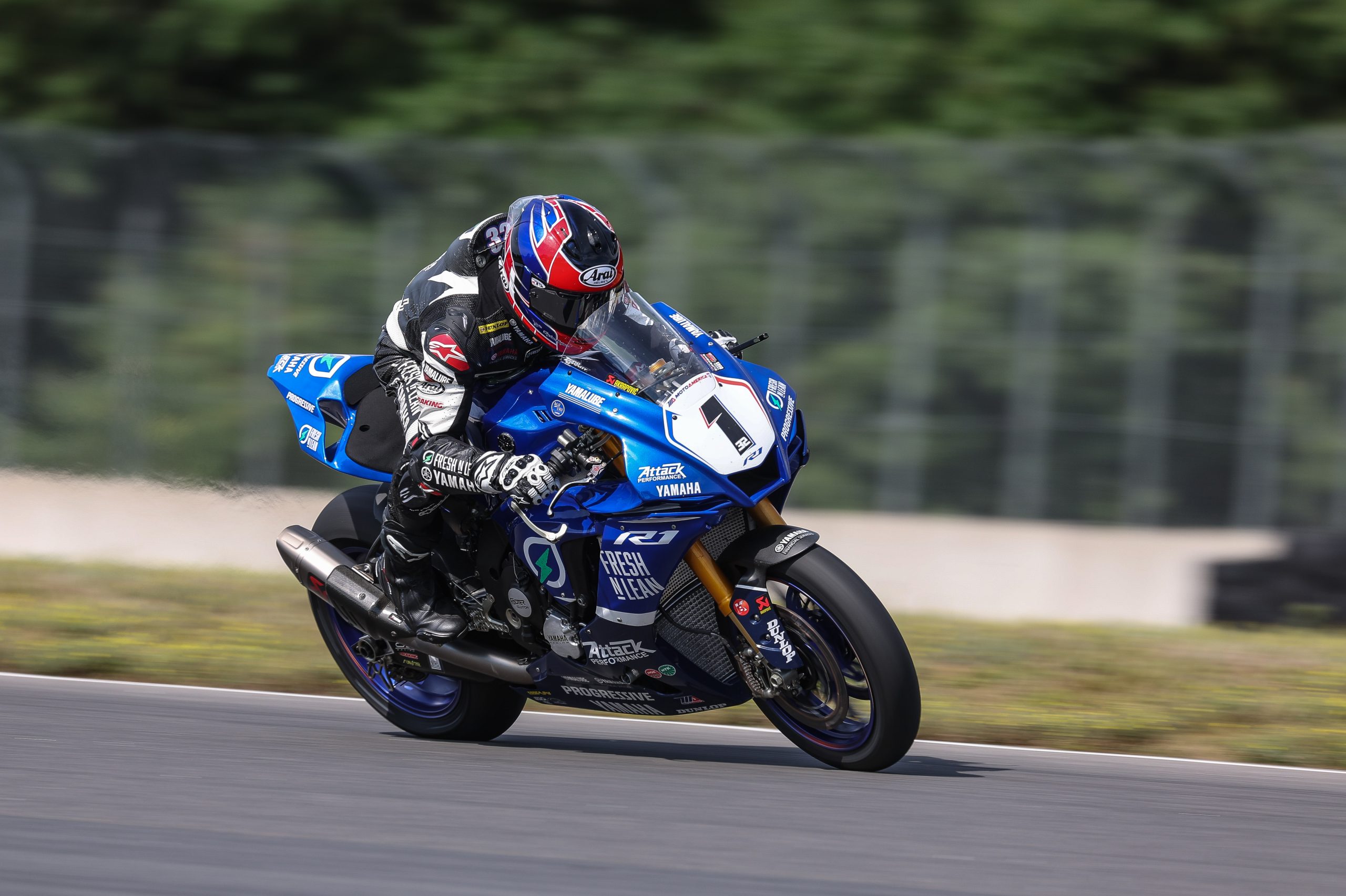 Sprinkles of rain, dark clouds and pre-storm conditions put a damper on Friday's Q1 session for the Medallia Superbike class at Brainerd International Raceway but not before Fresh N Lean Progressive Yamaha Racing's Jake Gagne put his YZF-R1 on provisional pole position despite sitting out the end of the session.
Gagne's best lap was his sixth of the session, the 1:31.492 putting him just .018 of a second ahead of Tytlers Cycle Racing's PJ Jacobsen with a tightly knit group of 10 within the same second.
Ageless four-time AMA Superbike Champion Josh Hayes completes the provisional front row in third and just .026 of a second off Gagne's best. Tytlers Cycle Racing's Cameron Beaubier was fourth fastest and only .140 of a second from the top of the timesheets.
Vision Wheel M4 ECSTAR Suzuki's Brandon Paasch continued to impress in his second outing in the class. Paasch was fifth fastest with his 1:32.072 and just half a second from the top with his time coming late in the session. Wrench Motorcycles' Bobby Fong had his best session since returning to the class with his 1:32.120 putting him sixth and just ahead of Paasch's teammate Richie Escalante.
Warhorse HSBK Racing Ducati's Josh Herrin, Tytlers Cycle Racing's Corey Alexander and Westby Racing's Mathew Scholtz rounded out the top 10 on Friday. Alexander's session ended early with a high-speed crash in turn one. Alexander emerged unscathed. The bike wasn't as fortunate.
Supersport – Landers Is Back
With a break in the REV'IT! Twins Cup Championship, Rocco Landers opted to wipe the dust off his Yamaha YZF-R6 and give the Supersport class another shot. And why not, especially since the youngster won both Supersport races here a year ago?
Landers started his weekend off on the right foot, earning provisional pole position on Friday afternoon with the Landers Racing Yamaha rider lapping at 1:33.254 to best Squid Hunter Racing's Josh Hayes by just .061 of a second. Vision Wheel M4 ECSTAR Suzuki's Teagg Hobbs was third fastest on the opening day at Brainerd.
Warhorse HSBK Racing's Xavi Forés, the championship leader with a perfect eight wins in a row coming into Brainerd, ended the session sixth and 1.4 seconds off Landers' best in what is his first visit to BIR.
Steel Commander Stock 1000 – Gillim Over Wyman
Disrupt Racing's Hayden Gillim was the fastest of the fast in Steel Commander Stock 1000 Q1 with the Kentuckian lapping at a best of 1:35.848 to best Travis Wyman Racing's Travis Wyman by just .052 of a second.
Orange Cat Racing's Kaleb De Keyrel had a good day at his home track and ended up third fastest and just .436 of a second behind. Benjamin Smith Racing's Benjamin Smith ended up fourth fastest in his first day in the class and first day on his privateer Yamaha YZF-R1.
Championship points leader Ezra Beaubier rode his Orange Cat BMW to the fifth fastest time.
Junior Cup – A Wet One
Only six Junior Cup racers took to a wet track on Friday afternoon with the tail-end of a rainstorm coming during their session. At the end of the 30-minute session, it was Karns Performance's Chris Clark earning provisional pole position prior to the youngster crashing out.
Orlando Road Racing Academy's Isaac Woodworth and Panda Racing's Jasmine Nichols rounded out the top three provisional qualifiers.
Mission King Of The Baggers – O'Hara In The Wet
With 11 of the 16 Mission King Of The Baggers taking to a wet but drying racetrack, it was Indian Motorcycle/Progressive/Mission Foods' Tyler O'Hara who led the way with his last lap his fastest lap – a 1:53.543.
With nearly everyone's best laps coming late in the session when the track was at its driest, O'Hara ended up .621 of a second faster than Vance & Hines/Mission/Harley-Davidson's James Rispoli and .646 of a second faster than his teammate Jeremy McWiliams. Rispoli's teammate Hayden Gillim ended up fourth with H-D Screamin' Eagle's Kyle Wyman rounding out the top five.
Royal Enfield Build. Train. Race. – Moore Fastest Again
Mikayla Moore, who is undefeated in the Royal Enfield Build. Train. Race. season, ended up on top of Friday afternoon's Q1 session after turning in a 2:04.142 on her final lap on a still drying racetrack. Jessica Martin and Aubrey Credaroli rounded out the provisional front row.
Superbike Q1
Jake Gagne (Yamaha) 1:31.492
PJ Jacobsen (BMW) 1:31.510
Josh Hayes (Yamaha) 1:31.518
Cameron Beaubier (BMW) 1:31.632
Brandon Paasch (Suzuki) 1:32.072
Bobby Fong (Yamaha) 1:32.120
Richie Escalante (Suzuki) 1:32.167
Josh Herrin (Ducati) 1:32.210
Corey Alexander (BMW) 1:32.432
10. Mathew Scholtz (Yamaha) 1:32.512