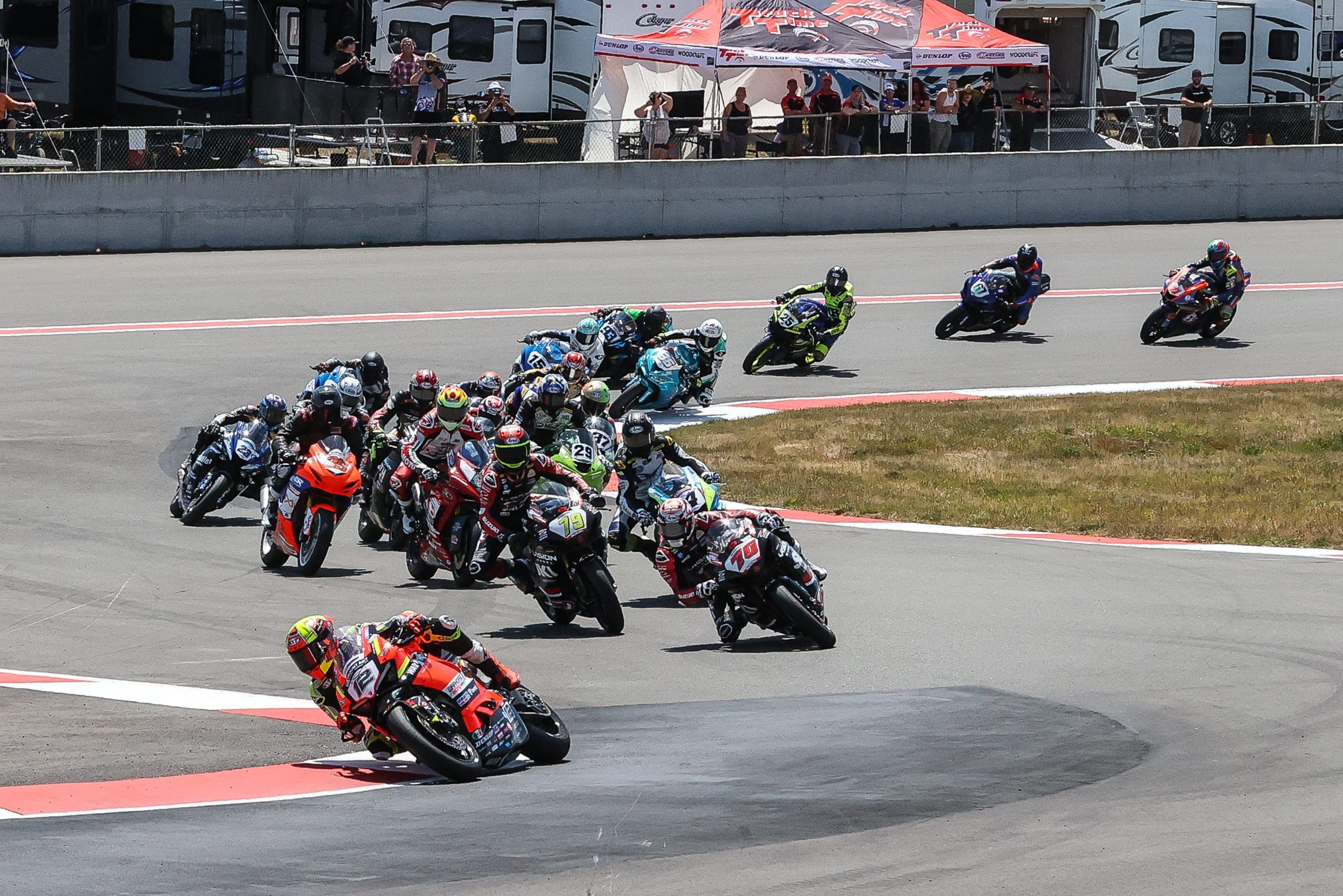 Spaniard Xavi Forés continued his dominant march through the 2023 MotoAmerica Supersport Championship at Ridge Motorsports Park with the Warhorse HSBK Racing Ducati rider running his unbeaten streak to six in perhaps his finest performance thus far.
Forés was joined in the win column today by Dominic Doyle (REV'IT! Twins Cup), Tyler O'Hara (Mission Super Hooligan National Championship) and Mikayla Moore (Royal Enfield Build. Train. Race.).
Supersport – Perfect Fores
Xavi Forés is a long, long way from his home in Llombai, Spain. But, as he's done at all four of the racetracks at which he's raced in the MotoAmerica series so far this season, Forés acclimates quickly, learns the track fast, and speaking of fast, he gets up to speed in almost no time.
Riding his Warhorse HSBK Racing Ducati Panigale V2, and also a five-race unbeaten streak, Forés won Saturday's Superport race one, which made it six victories in a row to start the 2023 season.
Saturday started out even better than usual for Forés since he also captured his first pole position of the season in the morning's final qualifying.
Second place went to Squid Hunter Racing's Josh Hayes, who continues to chase the all-time AMA race wins record. Earning provisional pole on Friday afternoon steeled his determination, but it was a different story on Saturday afternoon because he just couldn't match Forés's torrid pace.
Third place went to Vision Wheel M4 ECSTAR Suzuki's Teagg Hobbs, who was especially happy that he notched his first career podium in MotoAmerica's hugely popular middleweight class.
"I used the Friday just to learn the track, and when I realized the track was suiting well for me and for the bike, I started to do long-distance sessions," Fores said. "So, all the time, I was on the used tires. I tried to set my race pace for today. It was working quite well for me. The bike is working super nice here. I like the track. So, it was good for me. The first time on this season that I do a good start and I arrive first to the first corner, so this is important in order to have clear, initial laps, because this bike also on the initial laps it's easy to warm the tires and they seem to go fast. I tried to make the gap in the beginning, and I was trying to stay on the pace of 43, 44 low. I did five or six 43s and I was trying to stay consistent in order to stay focused on myself. I was always counting that Josh (Hayes) was on the back. You can never relax when he's on the back. So, the first four or five laps I was like 3.2, 3.5. The gap was nearly there all the time, so I started to do 43 and then I got the gap. Hopefully for tomorrow we can improve something on the front fork, but anyway the bike here is working amazing and I have not too much to say. Happy for me and also for the team, and also for the six victories in a row."
REV'IT Twins Cup – Doyle Wins After Landers Gets Docked
Robem Engineering's Rocco Landers won Saturday's REV'IT! Twins Cup race at Ridge Motorsports Park right up until the time that he didn't.
Landers, who crossed the finish line first, was penalized two spots for passing under a yellow flag on the final lap of the race and that gave the victory to Team Iso's Dominic Doyle.
The win, Doyle's first in the class, came over defending series champion Blake Davis and his N2 Racing/BobbleHeadMoto Yamaha YZF-R7. With Landers moved to third, Rodio Racing – Powered by Robem Engineering's Gus Rodio was fourth with Trackday Winner/Blackmon Racing's Jackson Blackmon rounding out the top five.
When the dust had cleared on a day of change, Davis was still atop the point standings by nine over Rodio, 107-98, with Landers 16 points behind Davis in third.
Cycle Tech's Hayden Schultz had plenty to be woeful about as he crashed out of the race early while running with the frontrunners. Schultz went from being just two points out of the championship lead to 22 points behind.
Royal Enfield Build. Train. Race. – More Winning For Moore
The Royal Enfield Build. Train. Race. program started off the first day's races at Ridge Motorsports Park, and the group of a dozen female riders who each race-prep their own Royal Enfield Continental GT 650 motorcycles, train aboard them, and ultimately compete against each other at selected MotoAmerica rounds, put on quite a show for the fans. Mikayla Moore, who won both BTR races a few weeks ago at Road America, emerged victorious again. Moore was recommended to the program by her friend Kayleigh Buyck, who ironically finished as runner-up to Moore. Sonya Lloyd, who was third in the first race of the BTR season at Road America, finished third again in race one at Ridge.
Moore took the checkered flag with a gap of over 16 seconds back to Buyck, but she was the first to admit that it was not a flawless race for her.
"I caught a false neutral and instead of going to the higher gear, I thought it maybe didn't get into gear, so I went into a lower gear, and it got a little out of hand," Moore said. "So, I just shifted quick and then just get back on track without making the bike any more upset than what it was.
"This morning, I made some suspension changes, and I made some tire pressure changes, and I went out on freshies and gearing changes. So, all those combinations definitely helped for this race."
Mission Super Hooligan National Championship – O'Hara's Third
The Mission Super Hooligan National Championship is holding their second round of the season at Ridge Motorsports Park, and after taking both wins way back in March at Daytona, defending class champion Tyler O'Hara chased down his Indian Motorcycle/Progressive/Mission Foods teammate and race leader Jeremy McWilliams in MSHNC race one at Ridge, overtook him, and went one to notch his third consecutive class win this season.
McWilliams, meanwhile, finished second and just under a second behind O'Hara. DiBrino Racing/KTM rider Andy DiBrino, who started from the pole position in the race, rounded out the podium in third. It was a good showing for Oregonian DiBrino who was racing on his home track and in front of his home crowd.
"Well, it didn't go the way I planned it," O'Hara said. "I knew. I studied it a lot and lost a lot of feeling. It's not an easy track to pass. I knew I had to be aggressive and just kind of let the race come to me. I knew we had pace, and we were all right there. I felt really strong on the brakes and had a lot of roll speed mid-corner. We were kind of protected all of us in a couple sections that were kind of passing zones. When Jeremy (McWilliams) passed DiBrino in (turn) 11 there, we all started tightening that up after that. That was a beautiful pass. I was getting some chatter and having some moments, as well, but just kind of let the race come to me. Getting into the lappers there at the end was a little bit sketchy, but what a race. Just really proud of our team for working so hard and just never giving up. Like Jeremy said, this is the first time we've been here. We rode here on Tuesday in the rain. Really glad that our team was able to allow us and help us come out and ride this track. It is one of the most technical tracks I've ever ridden. I would say it's kind of one of my specialties is really technical tracks. It's a track where it's got a lot of flow, but you can kind of charge it, as well. So, I've just been really enjoying this track. Every dry session we've had, we're just going faster and faster. I didn't really get to ride with Andy at all until the race. It was just a lot of fun, really. This Hooligan class, we were all just goon-riding on the way. Just gooning it around, just having fun. Just hats off to everybody on the whole team. Just really appreciate it. S&S Cycles, they've been working their butts off."