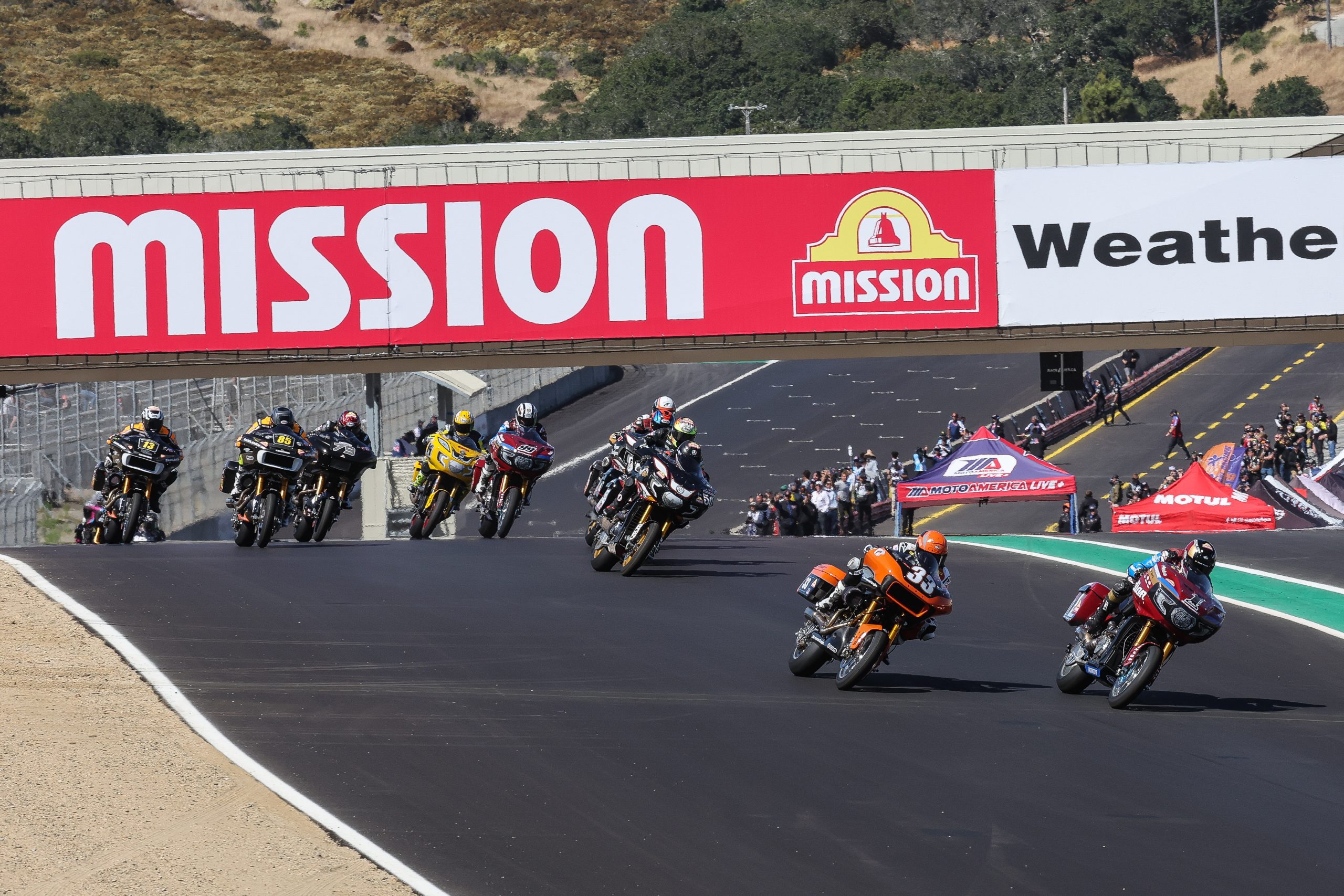 Warhorse HSBK Racing Ducati's Xavi Fores won his eighth straight MotoAmerica Supersport race on Saturday afternoon at WeatherTech Raceway Laguna Seca to break Garrett Gerloff's consecutive win streak from 2017. Although Fores isn't the 2023 MotoAmerica Supersport Champion yet, he's getting close with his perfect 250 points stretching his championship points lead to 100 points after eight races.
Supersport – Fores The Record Breaker
Xavi Fores wasn't overly confident going into Saturday's "Extended" Supersport race after suffering the first two crashes of his season on Thursday and Saturday morning. He also knew that Squid Hunter Racing's Josh Hayes had good pace. Put those two things together and it was as close to trouble as Fores has been in all year.
But then it all fell into place when the race started. Fores suddenly felt more comfortable, and he could match Hayes' pace, though he did lose valuable time in lapped traffic just prior to the mandatory pit stops.
And the pit stop is where Fores won the race, though it wasn't in his pit. The race was handed to him when Hayes' crew struggled to get the front wheel into the fork during his stop and it ultimately cost him victory.
At the completion of the 38-lap race, Fores was 12.685 seconds ahead of Hayes and had his eighth straight win in hand. Vision Wheel M4 ECSTAR Suzuki's Tyler Scott finished third with the youngster being caught and passed by Hayes in the closing laps.
Tytlers Cycle Racing's Stefano Mesa and Vision Wheel M4 ECSTAR Suzuki's Teagg Hobbs rounded out the top five.
"I was not 100% convinced about this race, especially after the crash we had this morning because I had some pain in my neck and I was a little bit not 100% concentrated," Fores said. "I was a little bit confused because the bike was not working 100% well. The front tire consumption all the weekend was horrendous, especially on the left side. Honestly, the first part of the race I had a good fight with Josh, but then on the last four laps before to come in, I lost the front two or three times in turn nine and turn five. I nearly crashed and then I had to run off. Then we got the pack of slow riders. He was really brave passing them on the Corkscrew. After my crash this morning, I said, I'm going to stay away of this. Then I lost a couple of seconds there. But, honestly, when we did the pit stop the guys in the pit stop were working perfectly. My tired changes and my feeling on the bike. We didn't lose much time there. So, I went out the first two or three corners, the rear tire was a little bit cold, and it took a little bit to get warm. But then when I passed on the straight, I see Josh coming out of the pits but quite early yet, so I said, maybe he had some issue on the pit stop. I started to see I was still P4, then P3, then P1. I was managing the gap on the last 18, 17 laps. So honestly, I was not the fastest one this weekend, but we did a good strategy on the race. I came maybe two laps earlier than we had been expecting, because the front tire was not working well. We managed well the situation. That was the key to win the race. Honestly, Josh was much faster than me this weekend, more solid and especially in the right corners. He was always pulling meters away from me. When I catch him on the first part of the race, I was like, I have no more. I was taking some risks. So fair play to him, his team. It was a shame to don't arrive to the end of the race fighting me and him because it would be great to have a good battle with him until the last lap."
Mission King Of The Baggers – A Wild Finish
Talk about a wild finish. Indian Motorcycle/Progressive/Mission Foods' Tyler O'Hara stuffedhis way past H-D Screamin' Eagle's Kyle Wyman heading into the Corkscrew and held that lead all the way to the final corner. With his Indian snaking under braking, O'Hara flicked it into the final corner, lost the front end and crashed. But that's not all. Just a millisecond later, Wyman made exactly the same miscue and both riders found themselves trying to pick up their motorcycles.
Meanwhile, Vance & Hines/Mission/Harley-Davidson's Hayden Gillim streaked past to score his first victory in the class – 2.9 seconds ahead of his teammate James Rispoli with the pair smiling under their helmets like five-year-olds at Christmas.
Ditto for Sac Mile/SDI Racing/Roland Sands/Indian's Bobby Fong, who also found himself gifted with a podium finish.
O'Hara won the race of the fallen to finish fourth, just ahead of Team Saddlemen's Jake Lewis.
"I immediately looked back to see where he was, because I was so focused on them that I ran wide and I was just hoping he wasn't close to get a run," Gillim said. "It sucked to see. I kind of figured one would go down. The way those two guys go at it; I knew it was going to get a little dicey. I had kind of given up when I had come across the stripe going onto the last lap because I was kind of starting to move around a little bit more and they were going fast. They had picked up the pace once Kyle (Wyman) got in front. So, I had kind of called the dog off and then they started going at it and I was like, 'all right. I need to kind of keep going because in case something does happen, if they run wide or something, I need to be there to capitalize.' I got lucky and brought it home. First bagger win. I've done three championships of it, so this is my first win. It's awesome. I'm happy to be up on top. I need to fix my starts, though. I think I was eighth going into turn one, starting from fourth. So, I was a little nervous the first couple laps, for sure. The Vance & Hines guys have put a great bike underneath me. We're going to keep making steady progress, like James said, and hopefully actually be able to get up there and be a part of that fight tomorrow."
Mission Super Hooligan National Championship – McWilliams Does It
Jeremy McWilliams flew back to Northern Ireland an angry man after learning that his first-career Super Hooligan victory at Ridge Motorsports Park was taken from him due to a protest that resulted in his disqualification for a technical infraction.
McWilliams stewed for the two weeks, but came back with a vengeance, leading the practice sessions, qualifying on pole, and winning Saturday's race by a scant .071 of a second on his Indian Motorcycle/Progressive/Mission Foods Indian FTR1200 over DiBrino Racing KTM's Andy DiBrino.
Cory West rode the Team Saddlemen Harley-Davidson Pan America to third place.
"I went home and was very pissed off for a long time," McWilliams said. "I came here with only one goal in mind, and it was to win at all costs, win it or bin it. Regardless of what happens tomorrow, it doesn't really matter. I needed that win for myself. Just to kind of prove to everybody that it doesn't matter where you put your handlebars. You can still win the race because they're not up a little bit, but it looks like with the new rules we can put them back down exactly where we had them at the Ridge. Take all that aside, put it behind us and move on. I need championship points, and that's what I was more pissed off at the Ridge in the race because I hadn't had a win and just for my sanity, I needed a win. I needed to beat Tyler (O'Hara) at his own. That rivalry between teammates makes it a great team. He just basically said he had nothing left at the Ridge, fair and square. Coming here, I needed it at all costs. So, thanks to S & S. They put a great motorcycle together. Indian are behind it. I think with that little bit of factory support, it definitely bolsters us a little bit at every round. We just have that kind of safety net around us with the factory support. So, it's a big thanks to the guys believing in me and keep signing me to come and do this because the last time I was here was 1993 or '94, so it's nice to come back here and perform still on this circuit which I dearly love."
REV'IT! Twins Cup – Landers Takes Over
REV'IT! Twins Cup had their first race of the weekend on Saturday, and pole sitter Rocco Landers notched his fifth win of the season by more than four seconds aboard his Robem Engineering Aprilia in a contest where he was chased by his stablemate, Rodio Racing – Powered by Robem Engineering's Gus Rodio. For Rodio, it was his sixth podium aboard his Aprilia RS 660. Finishing third after overtaking defending class champion Blake Davis was Dominic Doyle aboard his Team Iso Yamaha YZF-R7.

Landers' victory enabled him to take over the championship lead by one point over Davis, 141-140, and after celebrating on the podium, he said, "It was a great race. I had tons of fun. I didn't get the best initial start, but I think they got together in turn two and I was able to get by Blake (Davis) out of five. Then, I was just able to run my own race and click off laps. Like five laps to go, my front tire just took a dive off a cliff. I had absolutely no feel out of that coming down Rainey (Curve). The thing would just start chattering. But Gus and I have been working together probably more than we have all season this one weekend. Made the bikes work as good as possible. Been trading data, making sure to have the best setup possible to race so we can get some one-twos for Aprilia and for the team, and also for the championship. Matt, my crew chief, my mechanic Chad, they've been busting their butts all weekend, making the thing work as good as possible. We have an amazing setup."