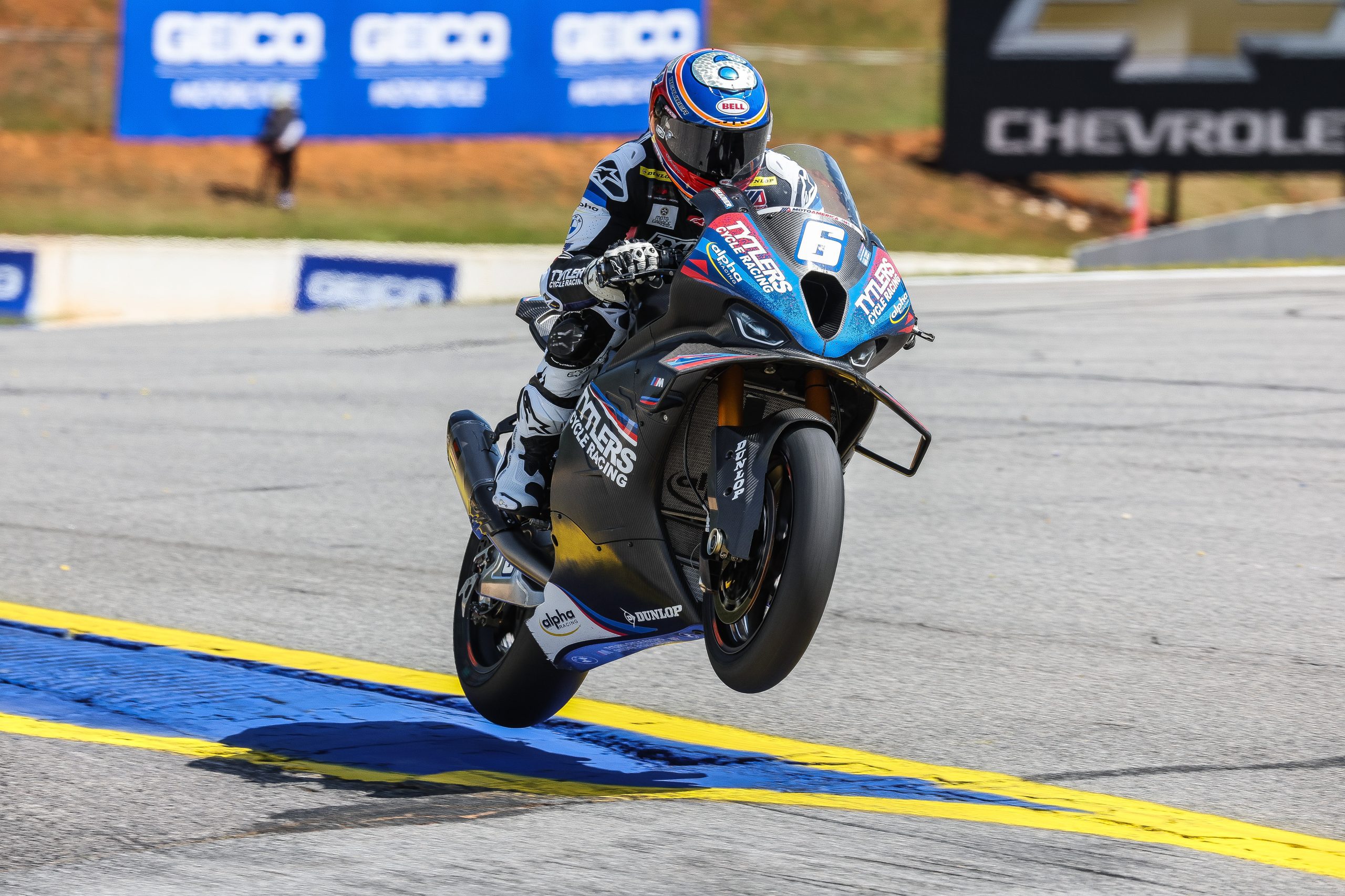 Random notes, comments, statistics, musings, and bits of trivia from the MotoAmerica Superbikes at Atlanta event:
Voluminous Velocities
Michelin Raceway Road Atlanta produces some of the highest trap speeds reached during the season by the riders in their respective classes. The fastest overall rider throughout the weekend was Tytlers Cycle Racing BMW's Cameron Beaubier, who reached a maximum speed of 188.7 miles per hour in Medallia Superbike Qualifying 1 on Friday. Here are the riders whose motorcycles topped the charts in the other five race classes:
Stock 1000: 179.2 miles per hour by Limitless Racing Kawasaki's Joe Giannotto in Stock 1000 race one and Orange Cat Racing BMW's Kaleb De Keyrel in Stock 1000 race two.
Mission King Of The Baggers: 166.7 miles per hour by Indian Motorcycle/Progressive/Mission Foods Indian Challenger rider Jeremy McWilliams in Q1 on Friday
Supersport: 166.0 miles per hour by Michael Gilbert Racing Suzuki rider Michael Gilbert and Vision Wheel M4 ECSTAR Suzuki's Teagg Hobbs in Supersport race two.
REV'IT! Twins Cup: 149.5 miles per hour by Rodio Racing – Powered by Robem Engineering Aprilia rider Rocco Landers in Q1 on Friday.
Junior Cup: 122.3 miles per hour by SportbikeTrackGear.com Kawasaki rider Max Van in Practice 1 on Friday.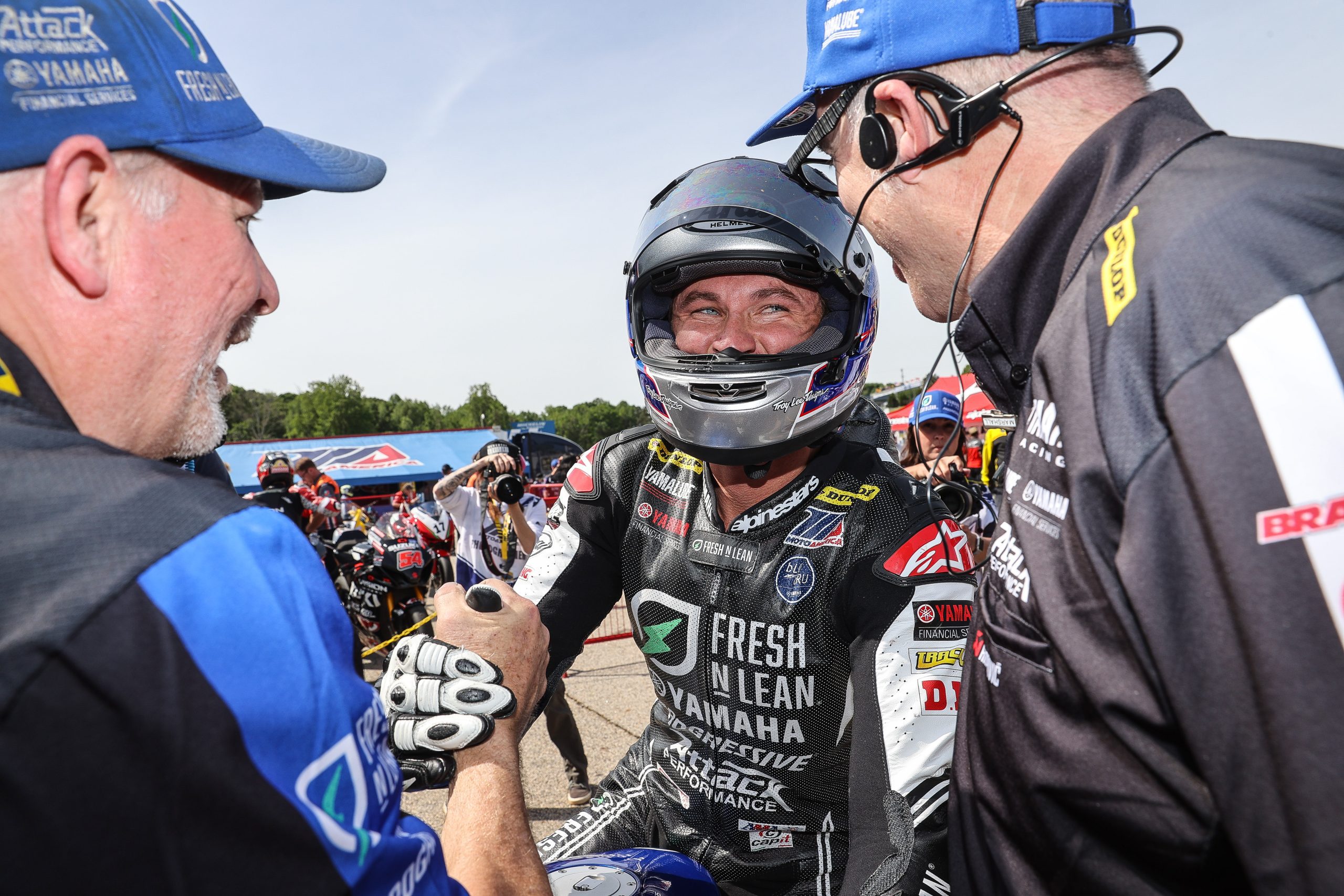 Road Atlanta Wants To Pump…You Up
If they built a roller-coaster for motorcycle road racers, the layout would look a lot like Michelin Raceway Road Atlanta. But the track's combination of fast-sweeping corners, quick esses, off-camber turns, elevation changes, and high-speed straightaways, plus the 80-foot drop in elevation from the top of turn 11 to the bottom of turn 12, produces some of the worst cases of "arm pump" of any of the tracks on the MotoAmerica schedule.
More than a few riders were seen icing their forearms before and after track sessions, and Fresh N Lean Progressive Yamaha Racing's Jake Gagne was one of the worst sufferers of the condition. The two-time and defending Medallia Superbike Champion commented that he lost arm strength during track sessions and struggled to hang onto the handlebars of his Yamaha YZF-R1. At the end of the weekend, Gagne declared that he is going to have surgery immediately in order to be recovered in time for round two of the championship on May 19-21 at Barber Motorsports Park. Gagne follows his teammate Cam Petersen, who had the same procedure done after the team's preseason testing concluded and just in time to recover before racing in the Daytona 200 this past March.
The medical term for "arm pump" is Chronic Exertional Compartment Syndrome (CECS) or Acute Compartment Syndrome (ACS). It is known as an "overuse injury" as opposed to an injury caused by a crash or some other sudden trauma. There is a non-stretchy sheath or membrane called a Fascia that encases our muscles. Working the muscles can increase the volume of blood in them by up to 20% which constricts the blood flow because the Fascia does not expand. One of the only effective treatment options is undergoing a surgical procedure called a Fasciotomy, which is a slit that is made in the Fascia membrane to relieve the pressure. Some riders, like Petersen, also experience Carpal Tunnel Syndrome, which occurs in the wrists and have to have surgery to relieve both arm pump and carpal tunnel.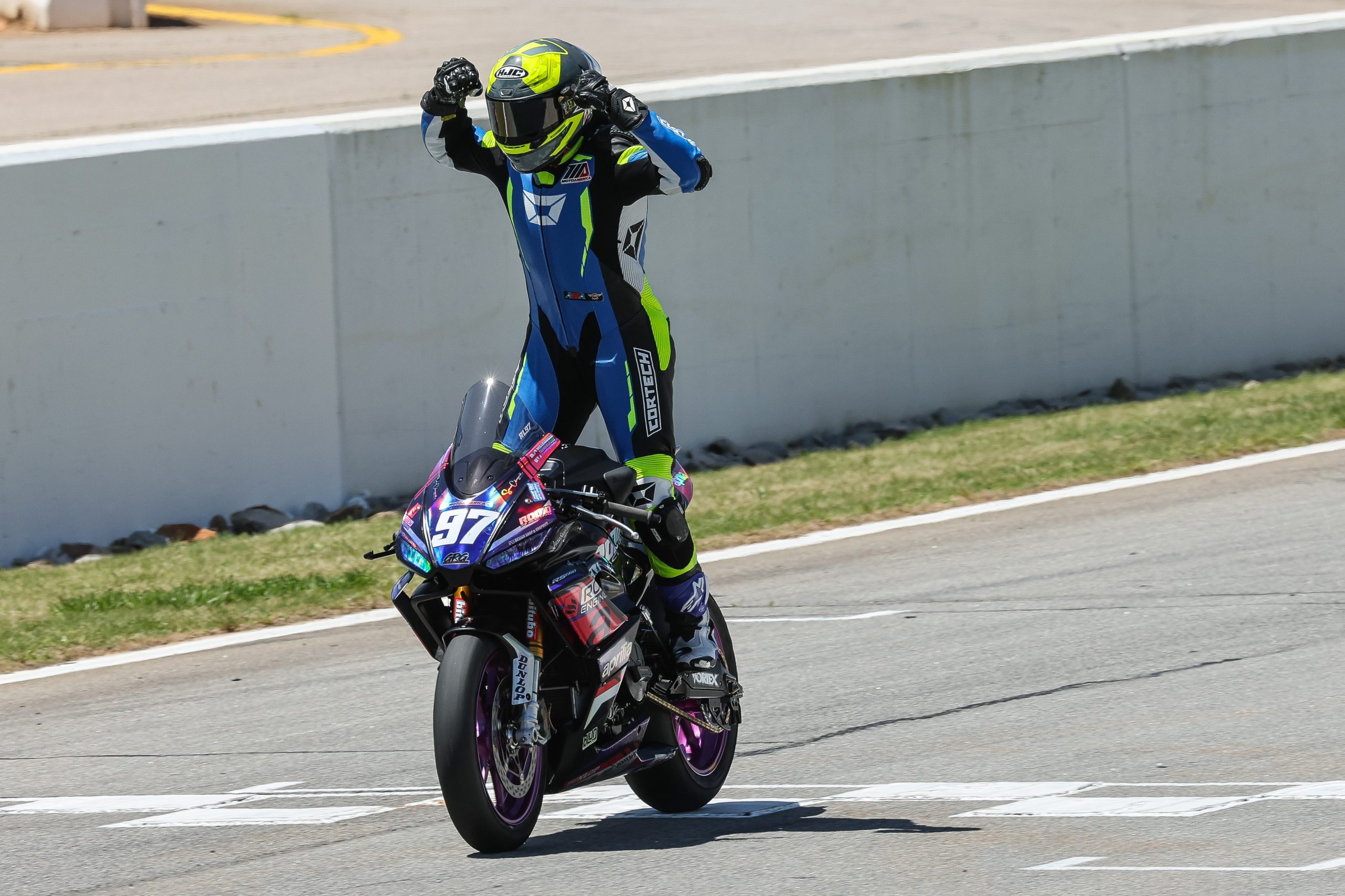 New Track Records
In REV'IT! Twins Cup Qualifying 1, Rocco Landers, who was a fill-in rider for the injured Ben Gloddy on the Rodio Racing – Powered by Robem Engineering team lapped the 2.5-mile, 12-turn Michelin Raceway Road Atlanta course in 1:31.907, absolutely obliterating the old Twins Cup lap record of 1:33.338. Incidentally, that old lap record was set by none other than Landers himself back in 2020, the year he won the Twins Cup Championship.
H-D Screamin' Eagle rider Kyle Wyman owned the lap record in Mission King Of The Baggers at Michelin Raceway Road Atlanta coming into the race weekend, and he still owns it after the weekend. But what's notable is that Wyman broke his own record five times over the weekend. In Practice 1 on Friday, Wyman went 1:31.669, which was faster than his old lap record of 1:31.789 set in 2022. In Qualifying 1, he lowered the record to 1:30.941, and then, in Qualifying 2, he went 1:30.427. But wait, Wyman wasn't done. He then did a 1:30.304 in Saturday's race one, and wrapped up his weekend with a fastest lap of 1:30.036 in Sunday's race two, which is where the lap record now stands.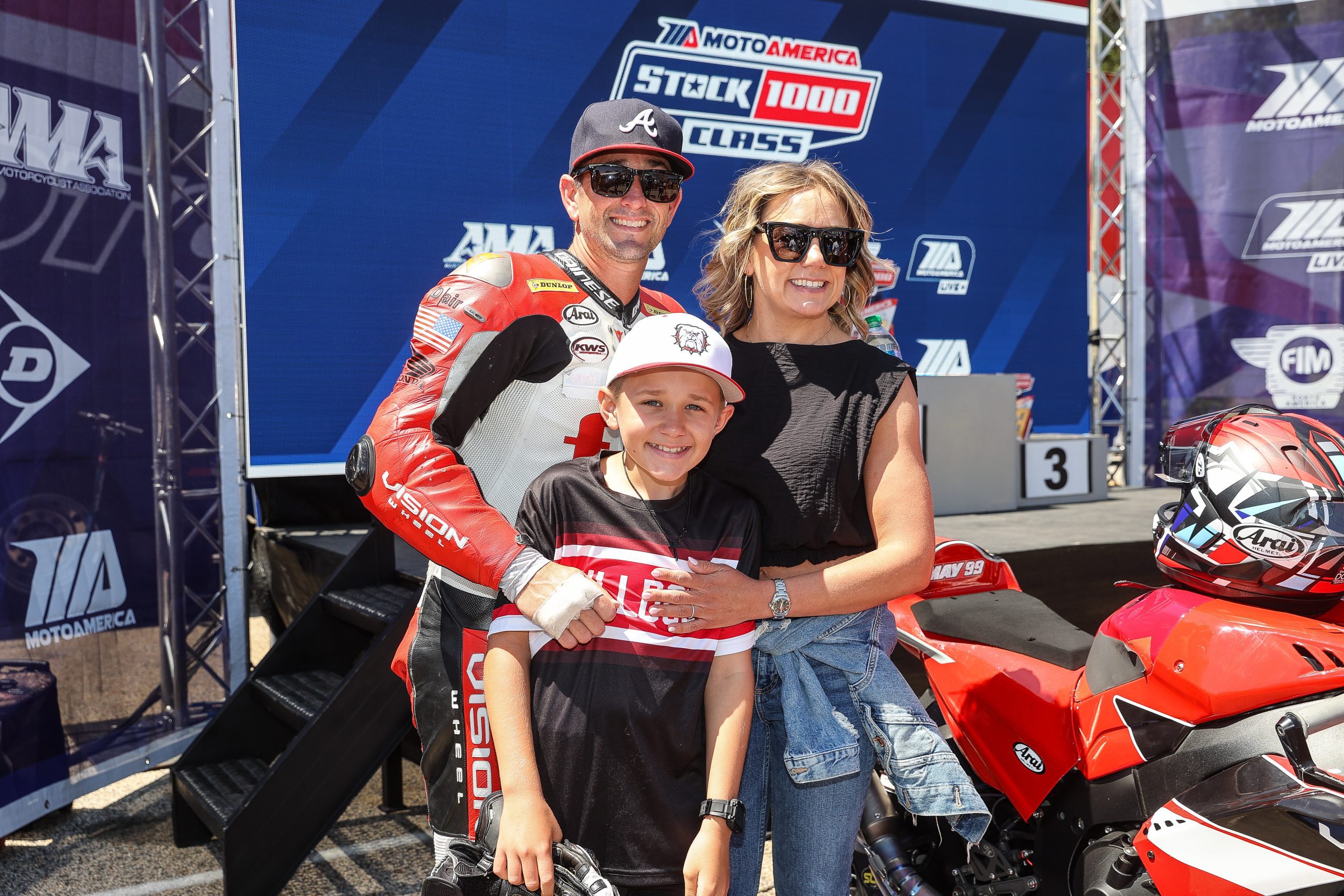 May's Day To Remember
MotoAmerica road racer Geoff May competed at what he says was his final event this past weekend at Michelin Raceway Road Atlanta. And what better place and time to call it a career than at the exact racetrack where he originally got his start 25 years ago.

May did it all in motorcycle road racing. He was a privateer racer at the beginning, and he made his first AMA Pro Racing start aboard a Ducati 748 in 2000 in the Pro Thunder Series. At Road Atlanta. He was quickly noticed for his racecraft, talent, and ability to properly set up a road racing motorcycle. Because of that, he raced for factory-supported teams, full-factory efforts, a team owned by none other than Michael Jordan, and he even raced for a full-factory effort in the FIM Superbike World Championship.
He was named AMA Pro Racing Superbike Rookie of the Year in 2003. He twice finished as runner-up in AMA season championships: Supersport in 2006 and Superstock in 2008. Amassing a total of 38 podiums as a racer—four in Superbike, seven in Supersport, 13 in Superstock, and 14 in Stock 1000—May also tallied three race victories, including two wins in Superstock and a win in Stock 1000.
He also did tire development for Dunlop during his career because of his analytical skills, and also because he's raced virtually every brand of motorcycle, from Ducati, to Suzuki, to Yamaha, to Kawasaki, to BMW, to Buell and EBR.
May's long career in professional motorcycle road racing actually helped him develop a career as a mortgage banker where his organizational skills and magnetic personality brought him success outside the world of motorcycles.

In 2022, May raced a Vision Wheel/Discount Tire/KWS Honda CBR1000RR-R SP to fifth place in MotoAmerica Stock 1000, and he scored four podiums during the season. He had a long-range plan to add two young riders to his team, and he would transition to team owner while helping his riders achieve the same level of success that he reached.

Unfortunately, sponsorship issues left him with a lack of funding to enter his team in the 2023 MotoAmerica Championship. Simultaneously, he was presented with an opportunity to become the Business Development Manager at Princeton Identity, a tech company in the Atlanta area.

With the timing of those two situations and the fact that he had hit the quarter-century mark as a motorcycle road racer, May decided it was time to make the transition from the MotoAmerica paddock to the corporate world.
And so, the road racing chapter of Geoff May's story has ended. Will we ever see May aboard the number 99 on track again?

"I won't rule it out because racing motorcycles has been my life for so long," May said. "It's given me my life, my family, and my lifestyle. I would like to give back to road racing, which was my plan with owning a two-rider team. But, if this was my last race weekend, as emotional as it is for me, I am good with that."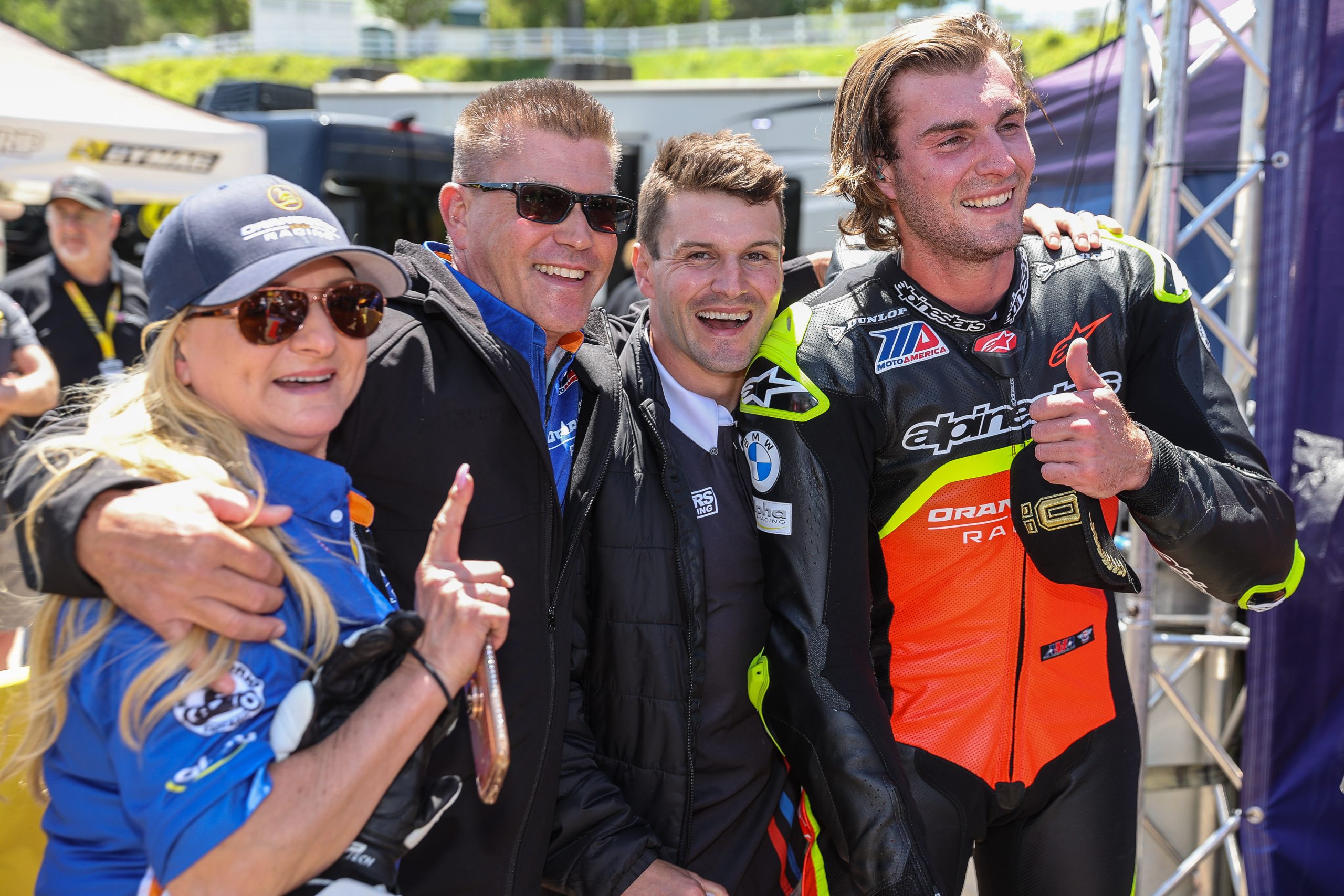 Two Beaus Wrap Up Three Wins
Michelin Raceway Road Atlanta is always going to be a special place for the Beaubier family. Jeff and Tanya Beaubier traveled from the West Coast to see both their sons have unforgettable weekends at Road Atlanta. In fact, the only thing more incredible than older brother Cameron promptly winning the first Medallia Superbike race of the season after two years in the Moto2 World Championship was younger brother Ezra winning both Stock 1000 races in dominant fashion aboard his Orange Cat Racing BMW, and they were his first-ever victories, or even podiums, for that matter, in the MotoAmerica Championship.
On Sunday, after his second win of the weekend, Ezra said, "I woke up today just with a completely different feeling. I finally had the confidence. I can do this now. I can run with these guys. I just felt really good. We found some stuff with the bike last night and it was really positive. In warmup, I basically matched my fastest lap of the race yesterday. I wasn't really pushing super-hard, so I felt super-good going into the race, super-confident. I felt like I could rip off a bunch of the 1:26s in the race, and I was able to execute that."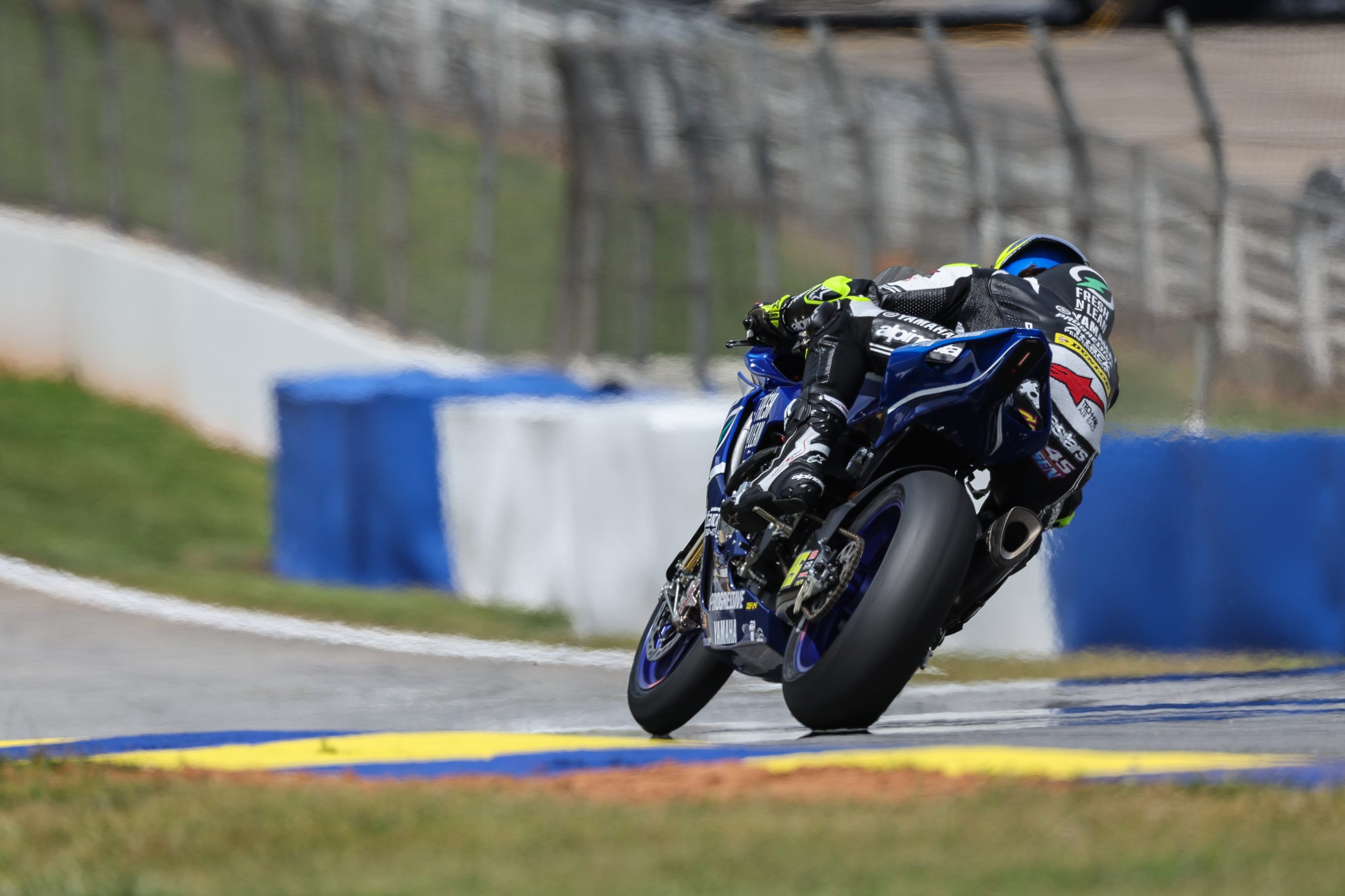 Flame On For Cam P
So, what exactly caused Cam Petersen's Fresh N Lean Progressive Yamaha Racing YZF-R1 to suddenly burst into flames during Sunday's Medallia Superbike race? "It was a catastrophic engine failure." team owner Richard Stanboli said. "We used that engine throughout all of preseason testing, so it had some miles on it, but nothing excessive. We keep careful track of engine and component life, and the engine in Cam's bike was well within its useful range. Something just let loose inside the lower part of the engine–a simple bolt–and that was it." According to Stanboli, the engine was spinning at about 14,000 rpm when the part failed, so it was getting a pretty good workout. Westby Racing's Mathew Scholtz was right behind Petersen when the incident took place, and he reported a lot of oil on his helmet faceshield. "Luckily, I had a tear-off on my visor, so I was able to pull it off and get a clean view," Scholtz said. Stanboli added, "It's actually a good thing that the oil ignited on the hot exhaust. Most of the oil burned off instead of ending up on the track. The belly pan did a good job containing the oil, too."