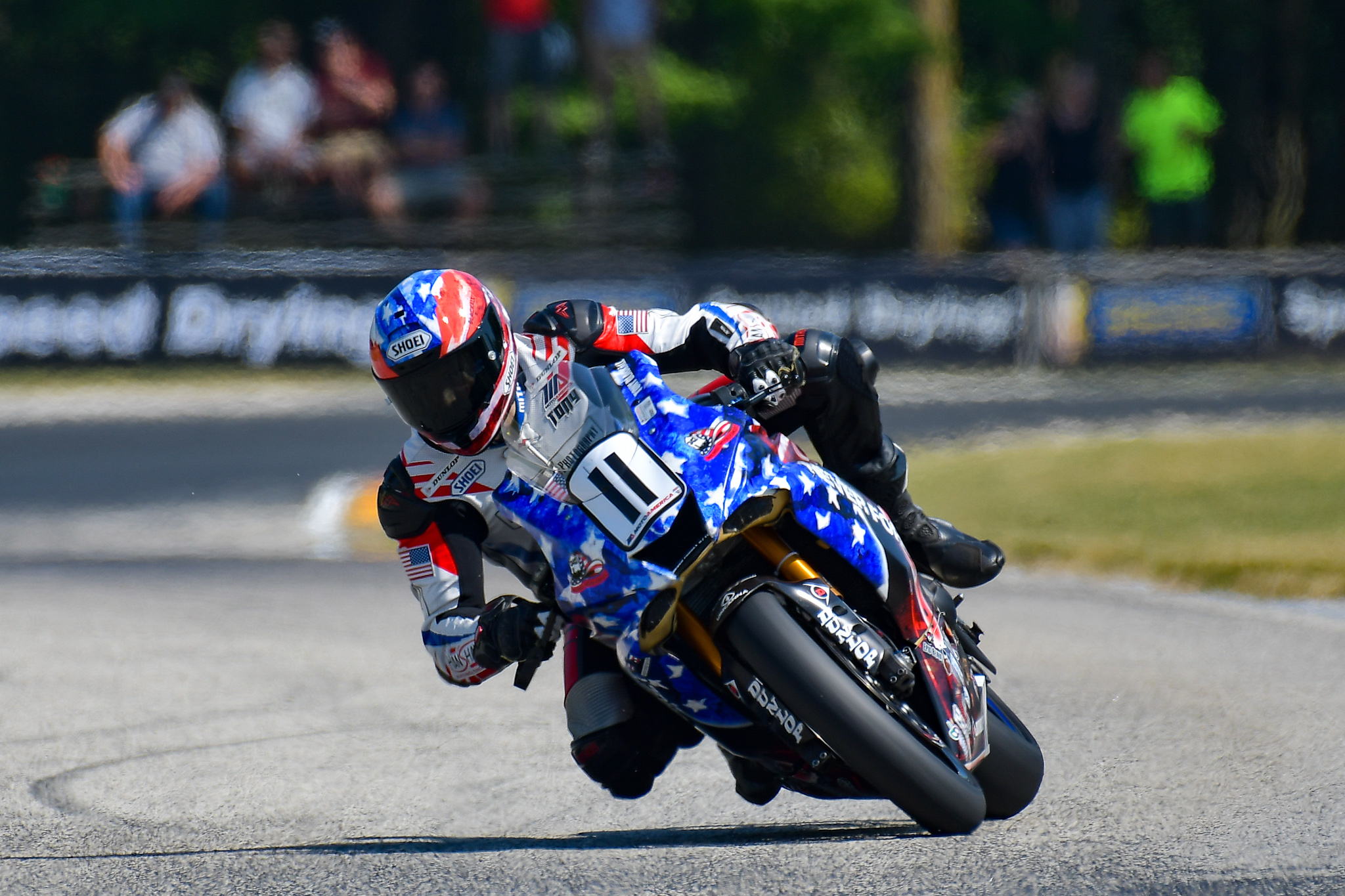 Editor's Note: the following story was researched and written by Matt LeVene, who is a student at Concordia University in Wisconsin and is majoring in Sport and Entertainment Business. Matt is working this summer as an intern for Road America Communications Director John Ewert.
Tony and Janet Blackall are relatively new to MotoAmerica. In only their second full Supersport season, and being a privateer team, they lack some of the funding that the bigger, more established teams have. However, their story, and purpose, are unlike any other in the paddock. The Blackall tandem served in the military, with Tony in the Navy and Janet in the Marines. Based on their strong military background, first-hand knowledge of the struggles in readjusting to citizen life, and Tony's love for motorcycles, Blackall Racing was created.
The mission for most race teams is to win championships and find success on the racetrack. While Blackall Racing is no doubt going all-out for the Supersport crown, their mission and purpose reach way beyond the track.
The Patriotic Package Project came to fruition after the Blackalls attended the National Veteran Business Development Council (NVBDC) fall conference in 2019. Crown Royal sponsored a portion of the event, and each person in attendance packed one of the company's iconic purple bags with donations for American troops overseas. This got the Blackalls minds working, and they decided they had to adapt a variation of that for their race team.
"I thought, 'We need to do this here. It promotes patriotism, which we love. Your freedom isn't free,'" commented Janet.
With their own particular flair and style added to the Patriotic Package Project, fans are encouraged to come to their paddock area to help pack goods and add notes in support of the troops who will receive them. At each event, the team aims for about 20-25 packages to be filled, with the hopes of having over 200 fully packed by the end of the racing season. Spectators have really taken to the project and enjoy the idea of being able to support those fighting for our freedom.
"We bring everything…fans go down the line and stuff the bags, and then write a card," Janet said. "My pitch is 'Hey, do you want to pack a bag? It's free, and it just takes five minutes of your time.'"
What started as an idea to help support active members in the military has transformed into an incredible project that has benefited a multitude of veterans. The last batch of packages was sent to Isa Air Base in Bahrain, about 6,900 miles from home. It is truly remarkable the impact that MotoAmerica fans, with the help of the Blackall Racing team, can have.
The Blackalls want to be seen as an example, as a resource, for those who serve the country. They've been through the transition back into civilian life, and they want other veterans to know they are there for them.
"You are always going to have bad days," Tony said. "But there is always the ability to see that there is a light at the end of the tunnel."
"Transitioning to civilian life is kinda hard," Janet added. "But you need to reach out and find those things that exist that can put you back in your comfort zone. For him (Tony), it was the bike, and everything it gives him. For me, it's the camaraderie of the people, and being in the brotherhood and sisterhood that the racing family has."
The kinship between veterans is something that is on full display in the Blackall Racing team. Besides being veterans themselves, they give employment opportunities to others who have served. Furthermore, they are a prime example of veterans always looking out for each other. Freedom Hill Coffee, a veteran-owned coffee business, recently became a sponsor of the team and joined the mission to be a resource for those currently serving. It is just one of the countless examples that show just how tight-knit the military fraternity really is.
To purchase tickets for all MotoAmerica events, click HERE
For information on how to watch the MotoAmerica Series, click HERE
For the full 2021 MotoAmerica Series schedule, click HERE