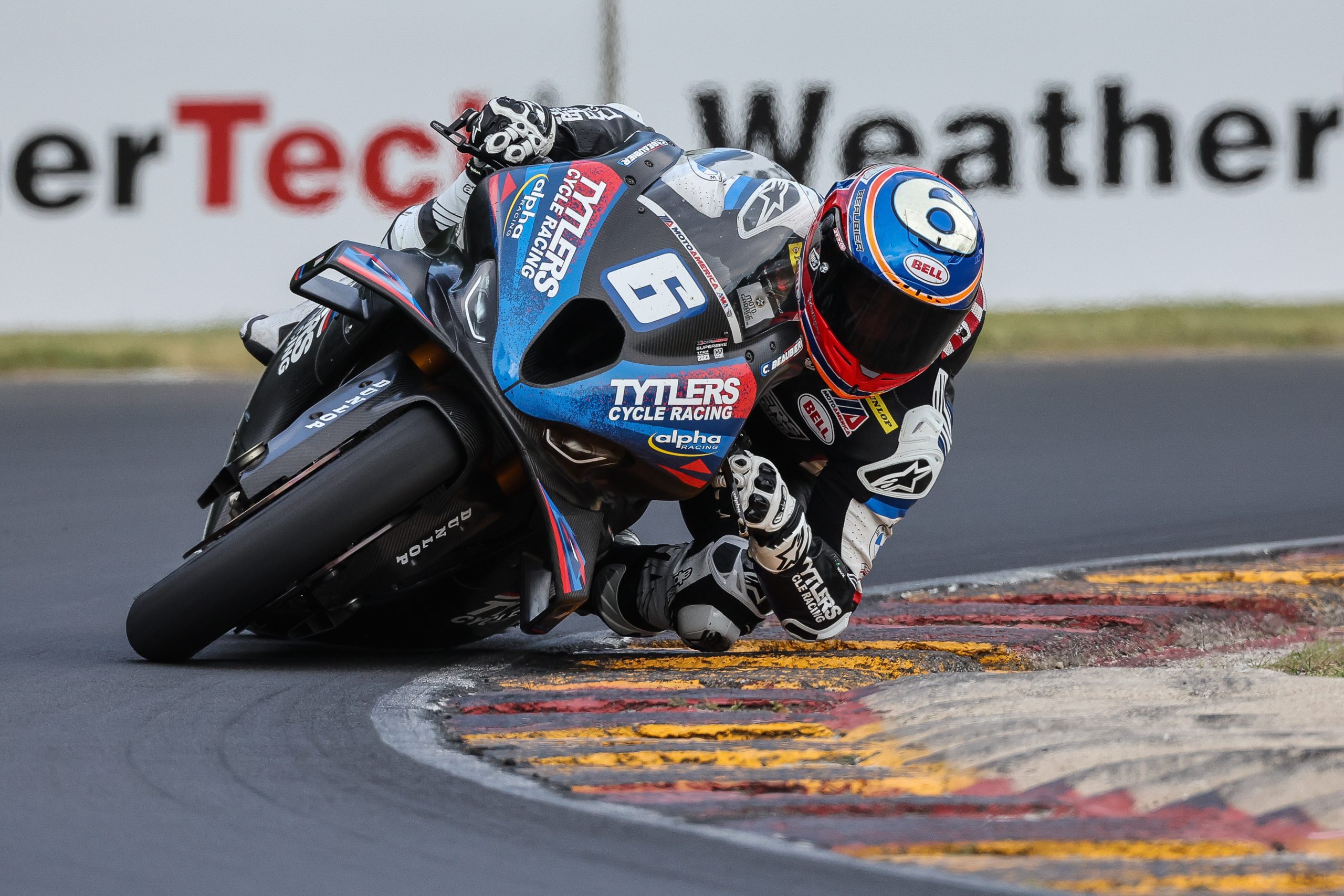 With Road America newly repaved, it was a given that Jake Gagne's MotoAmerica Medallia Superbike lap record from 2021 would be bettered at some point this weekend. Tytlers Cycle Racing's Cameron Beaubier didn't wait that long as he completely obliterated the lap record with his 2:09.629 just under a full second quicker than the previous record on Friday afternoon.
Beaubier's best came on his ninth lap of Q1, and it earned him provisional pole for the weekend's two Medallia Superbike races. Beaubier also made it clear that he and his BMW M 1000 RR are the combination to beat on the fast and flowing four-mile racetrack. To further emphasize just how good the BMW was working, Beaubier's teammate PJ Jacobsen was also under the lap record of 2:10.529 with his 2:10.296 putting him second on the provisional front row. Despite sitting out a lot of Q1, Warhorse HSBK Racing Ducati's Josh Herrin ended up third fastest with his 2:11.656.
Vision Wheel M4 ECSTAR Suzuki's Richie Escalante was fourth fastest with Westby Racing Yamaha's Mathew Scholtz rounding out the top five.
So where was Medallia Superbike Championship points leader Jake Gagne and his Fresh N Lean Progressive Yamaha racing teammate Cameron Petersen? In street clothes and under the team's awning along with their stripped down YZF-R1s as the team encountered mechanical issues in the first practice session on Friday morning. Four-time AMA Superbike Josh Hayes also took part on a third YZF-R1 on Friday morning, but he also didn't take part as Petersen and his injured right wrist only got two laps of practice before his bike failed him, Apparently it was enough to show him that his wrist was race-ready, though.
The two Yamahas will try to improve their position tomorrow morning in Q2.
Steel Commander Stock 1000 – Beaubier The Younger
Like his older brother Cameron, Orange Cat Racing's Ezra Beaubier was the class of his class on Friday at Road America as he topped the Steel Commander Stock 1000 Q1 session to earn provisional pole position.
Beaubier's best was 2:14.311, which was .392 of a second faster than Travis Wyman Racing's Travis Wyman and 1.4 seconds faster than Disrupt Racing's Hayden Gillim. Beaubier's teammate Kaleb De Keyrel and Nielsen Racing's Justin Miest rounded out the top five.
Junior Cup – Dreher Again
Bad Boys Racing's Junior Cup Championship leader Avery Dreher put his Kawasaki Ninja 400 on the provisional pole position with a best lap of 2:39.366 around of the four-mile Road America which was .795 of a second quicker than Bicknese Racing's Hayden Bicknese with SportbikeTrackGear.com's Max Van ending the session third fastest.
Supersport – Mesa On Top
Tytlers Cycle Racing's Stefano Mesa bested undefeated Xavi Fores and his Warhorse HSBK Racing Ducati Panigale V2 by .619 of a second to take provisional pole position for Saturday's and Sunday's two Supersport races at Road America.
Mesa did his 2:18.732 on his fifth lap to best Fores, the winner of the first three MotoAmerica Supersport races of the season.
Vision Wheel M4 ECSTAR Suzuki's Teagg Hobbs was third fastest with Michael Gilbert Racing's Michael Gilbert fourth and the last rider within a second of Mesa. Squid Hunter Racing's Josh Hayes completed the top five.
Mission King Of The Baggers – Fast Fong Flies
We sometimes forget that Sac Mile/SDI Racing/Roland Sands/Indian's Bobby Fong has won a Superbike race at Road America so it shouldn't come as a surprise that so far Fong is the fastest of the Mission King Of The Baggers.
Fong ripped off a 2:20.817 on his sixth lap, and he was the only rider to crack into the 2:20s as he bested Indian Motorcycle/Progressive/Mission Foods' Tyler O'Hara by .497 of a second. Vance & Hines /Mission/Harley-Davidson's James Rispoli rounded out the top three to fill the provisional front row.
Royal Enfield Build. Train. Race. – Newbie Moore Fastest
Mikayla Moore is new to the Royal Enfield Build. Train. Race. program but she certainly didn't look like a rookie as she dominated Q1 on Friday afternoon. Moore lapped at a best of 2:56.629 to end the session a full four seconds faster than last year's series champion Kayleigh Buyck at Road America. Crystal Martinez, another returnee from the 2022 season, ended the session third fastest.