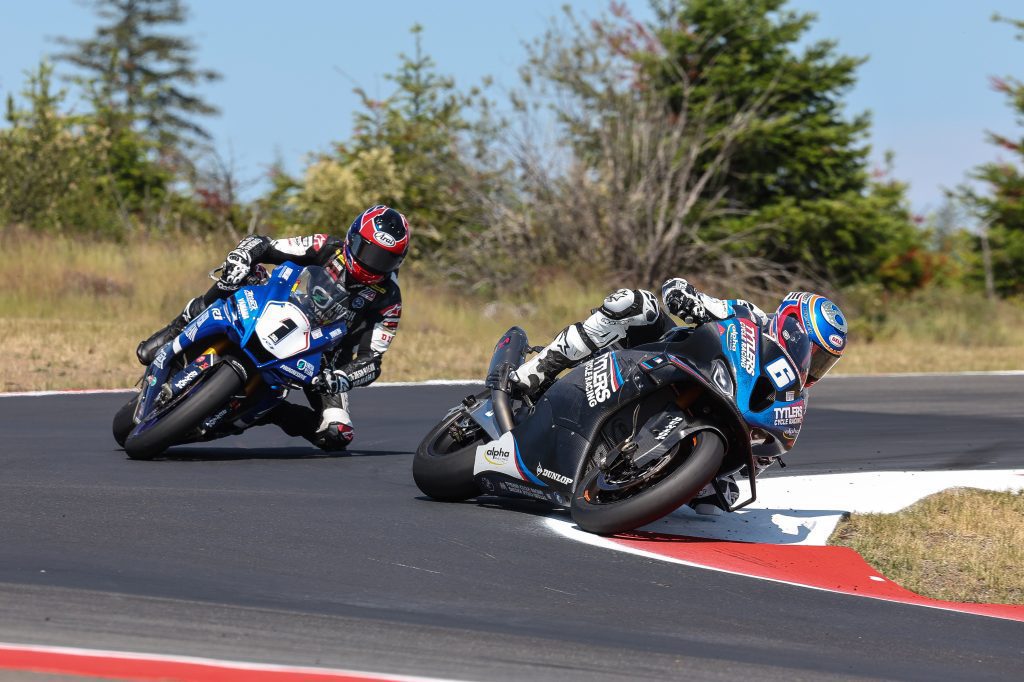 The talk coming into the Ridge Motorsports Park round of the MotoAmerica Medallia Superbike class was that the track is tailor made for Yamaha, as evidenced by six straight wins for the YZF-R1. In Saturday's race one, Jake Gagne ran that streak to seven straight wins for Yamaha, but it ended on Sunday with a BMW M 1000 RR crossing the finish line first.
Ironically, that BMW was ridden to victory by the man who started Yamaha's win streak at Ridge in 2020 – Cameron Beaubier.
Tytlers Cycle Racing's Beaubier hinted at the possibility of a BMW win in Washington when he ran down Gagne and his Fresh N Lean Progressive Yamaha Racing YZF-R1 on Saturday, only to crash out of the race on the 14th of 16 laps while on the R1's rear wheel. On Sunday, Beaubier replicated the feat only this time he didn't falter. He caught the fast-starting Gagne, took over at the front on the 10th lap and beat the championship points leader to the flag by a tick over two seconds.
For Beaubier it was his third win of the year and the 57th AMA Superbike win of his career.
When he was passed by Beaubier, Gagne knew he didn't have the pace to match his former teammate and he opted to make certain of second place in the closing laps. At the finish Gagne was 2.045 behind Beaubier and 1.2 seconds ahead of third-place finisher Josh Herrin on the Warhorse HSBK Racing Ducati Panigale V4 R.
Herrin was fighting the injuries suffered in a qualifying crash on Saturday morning, didn't get much sleep on Saturday night, and limped his way through his Sunday and onto the podium for a second straight day.
With Vision Wheel M4 ECSTAR Suzuki's Richie Escalante getting the better of the rest to finish fourth, it translated to the top four featuring four different manufacturers – BMW, Yamaha, Ducati, and Suzuki.
Tytlers Cycle Racing's Corey Alexander had his second straight day of Superbike success with a fifth-place finish on his BMW M 1000 RR. Alexander was some three seconds behind Escalante and 3.4 seconds ahead of Fresh N Lean Progressive Yamaha Racing's Cameron Petersen.
PJ Jacobsen was seventh on the third of the Tytlers Cycle Racing BMWs with Disrupt Racing's Hayden Gillim eighth. Thrashed Bike Racing's Max Flinders and CW Moto Racing's Benjamin Smith rounded out the top 10.
Among the non-finishers were Westby Racing's Mathew Scholtz and Vision Wheel M4 ECSTAR Suzuki's Taylor Knapp with both riders crashing out in separate incidents.
After four rounds and eight races, Gagne leads Beaubier in the Medallia Superbike Championship by 23 points, 156-133. Herrin is third with 122 points, 21 more than Scholtz. Jacobsen rounds out the top five with 91 points.
The series heads to WeatherTech Raceway Laguna Seca, July 7-9, for round five.
Superbike Race Two
Cameron Beaubier (BMW)
Jake Gagne (Yamaha)
Josh Herrin (Ducati)
Richie Escalante (Suzuki)
Corey Alexander (BMW)
Cameron Petersen (Yamaha)
PJ Jacobsen (BMW)
Hayden Gillim (Suzuki)
Max Flinders (Yamaha)
Benjamin Smith (Yamaha)
Quotes…
Cameron Beaubier – Winner
"Yesterday the race was a really good confidence boost for us because, let's be honest, Jake (Gagne) was setting the pace all weekend and also (Josh) Herrin was really fast on Saturday morning. So, I felt like going into the race we could do a couple of those laps, but I didn't think we could sustain them. The guys have not stopped working on the thing and we came up with a good race bike yesterday and they made it even better overnight for today. I was feeling really good. Herrin and I were going back and forth there at the beginning. I feel like we were honestly both kind of making a couple mistakes. I was running wide here and there and so was he. Once the race kind of settled down, I put my head down and I was really surprised how good my bike felt. It was a pretty amazing feeling. I was able to run Jake down, but he was really strong getting off the last corner onto the front straight. I was struggling. I was spinning out of there pretty good. But I knew I had some spots that I was better than him in. Same for him, he had some spots that he was better than me in. I was able to get the lead and just kind of kept my head down but kept a little in reserve just so I didn't throw it away like I did yesterday. I was honestly really surprised to see a little gap on my board. Feels great for the team. It's a bummer yesterday, falling down like that, but it feels really good to cap a weekend off like we did. Plain and simple, the Superbike class is just pretty gnarly this year. To have three different manufacturers on the box and all the incredible riders up in the top 10, it's tough but it's pretty fun."
Jake Gagne – Second Place
"I wasn't surprised, for sure. I watched the race last night. I got off to a clean start and kind of made that gap from him, but once Cam (Beaubier) made his way through yesterday, he just reeled me in. Same thing today. At one point, I had a second gap on my pit board, and then by the top of the chicane I could hear him right behind me. That's probably the lap he did a 39.6. At that point, I was struggling a little bit. I thought we kind of made the bike a little bit better today, but I was struggling a little more to even run the 40s that we ran yesterday. I knew Cam was going to make his way by at some point, and then once he made his way by, I tried to latch on a little bit but there was nothing I could do. At that point, I knew Josh (Herrin) was back there and I knew he was going to be strong until the end, so I just tried to do what I could to bring it home in second. Either way, I think we learned a lot. It's been a while since I've been able to race with these guys really for this full race distance and kind of see what the bikes are doing differently. All three of these bikes really have different strengths and different weaknesses. So, we got some good data. Know what we need to improve. I think we're still in the points lead, so that's always a good day."
Josh Herrin – Third Place
"Both third places I wasn't expecting, so I guess it's the hard weekends that count. I tried my hardest to take advantage of it and, luckily, we were able to come out with two thirds. I'm bummed because I wanted to be there. I feel like this weekend nobody thought that me or Cam (Beaubier) were going to be here at this track, I don't think. I think they thought it was going to be a Yamaha show all weekend. He's (Beaubier) riding super strong, and I felt super strong up until race one. I think we're going to be there all year. No matter what track we go to, I think we'll be competitive. I just got to keep trying to find more out of this thing. I'm still riding a little bit… Up until Saturday, I was riding timid on this thing, like nervous to really throw it in there. I'm finally getting the confidence. Obviously, found the limit now on the front. I'm really happy with this. I've been lucky enough to win three championships and know that consistency is key. The only problem is that I'm dealing with two guys that have more championships than I do. So, they know the name of the game also. It's going to be a hard year, but I'm glad that we're still all pretty tight in the championship and it seems like it's going to be a really good battle the whole year, which is the way that everybody wants to win a title. Nobody wants to win a title by running away. It's always fun to just look back at years like this. I just hope that we can have a really good weekend at Laguna and rest up and heal as much as I can. I'm stoked. Hats off to these guys and thanks to my team."