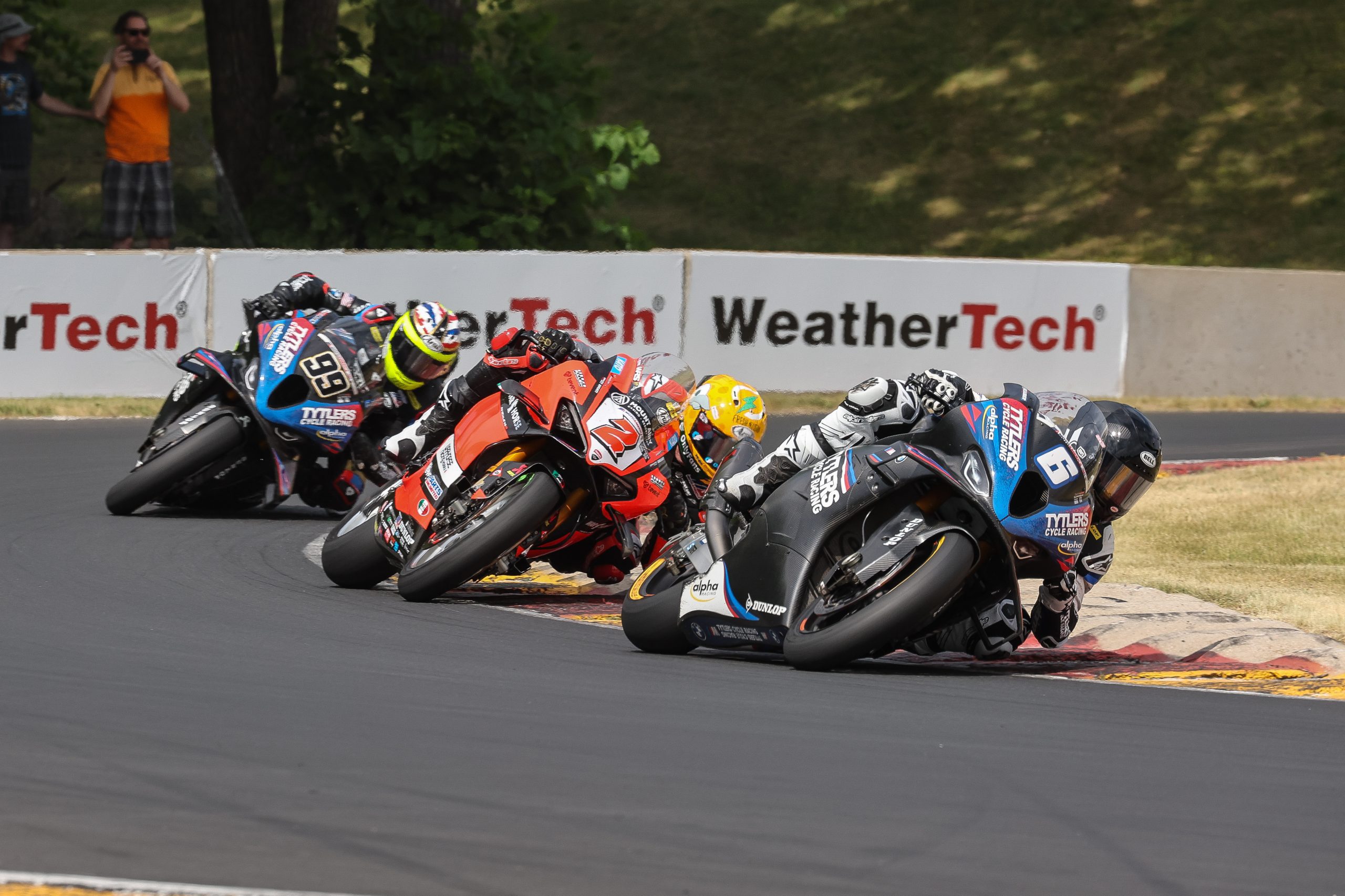 A near off-track excursion in turn three of Road America on the opening lap of the Medallia Superbike race dropped Tytlers Cycle Racing's Cameron Beaubier back in the thick of the pack, but it didn't' stop him from working his way to the front and ultimately scoring his second race win of the season.
After completing lap one in sixth, while pole sitter Josh Herrin and his Warhorse HSBK Racing Ducati Panigale V4 R streaked away at the front of the field, Beaubier put his head down and started his charge. On lap two, Beaubier was fourth and a lap later he was third. He stayed there for two more laps before passing his teammate PJ Jacobsen and chasing down Herrin. Beaubier took the lead on the sixth lap and two laps later the race was red flagged when a blown engine oiled the racing surface. At that point the race was called complete with Beaubier 2.7 seconds clear of Jacobsen, who forced his way past Herrin and into second the lap prior.
Beaubier not only won his 11th career Superbike race at Road America (and 56th of his Superbike career), but he also took over the lead of the 2023 MotoAmerica Medallia Superbike Championship when Fresh N Lean Progressive Yamaha Racing's Jake Gagne suffered a mechanical issue that knocked him out of the race and the points lead.
After five races in 2023, Beaubier leads the title chase by four points, 99-95, heading into tomorrow's second race as Gagne's weekend went from bad to horrible on Saturday.
Herrin held on for third place after earning pole position with a new lap record in qualifying on Saturday morning.
Vision Wheel M4 ECSTAR Suzuki's Richie Escalante finished fourth for the second race in a row, ending up four seconds adrift of Herrin and four and a half seconds ahead of Fresh N Lean Progressive Yamaha Racing's Cameron Petersen, the South African bravely racing despite an injured right wrist.
Vision Wheel M4 ECSTAR Suzuki's Toni Elias was sixth, well clear of seventh-placed Corey Alexander on the third Tytlers Cycle Racing BMW M 1000 RR.
Westby Racing's Mathew Scholtz was eighth after being penalized two positions for passing under a waving yellow flag. Aftercare Scheibe Racing's Ashton Yates and Disrupt Racing's Hayden Gillim rounded out the top 10 finishers.
With Beaubier atop the standings with 99 points, Gagne is second on 95 with Scholtz and his 71 points third. Herrin is fourth with 65 points with Escalante rounding out the top five with 56 points.
Superbike Race One
Cameron Beaubier (BMW)
PJ Jacobsen (BMW)
Josh Herrin (Ducati)
Richie Escalante (Suzuki)
Cameron Petersen (Yamaha)
Toni Elias (Suzuki)
Corey Alexander (BMW)
Mathew Scholtz (Yamaha)
Ashton Yates (BMW)
Hayden Gillim (Suzuki)
Superbike Quotes
Cameron Beaubier – Winner
"I just basically ran out of track on the outside. When you're braking straight up and down there without any angle, it's really easy to run wide. I knew once I was wide off the racing line the track is slick because it almost caught me out a couple times this weekend just being off-line and having the rear end come around and the front push. So, I just tried to make sure I got through there on two wheels and then started my race from there."
That's your 11th win at this track. Is it a track you've always enjoyed?
Yeah. Something about this track is just special for me. I love coming here. It seems like for the most part we always get pretty lucky on the weather here. Just staying by Elkhart Lake and going to have dinner at night. It's just an amazing area. This track really suits my style, I feel like. It's kind of crazy to think that I've got eleven wins here, for sure."
PJ Jacobsen – Second Place
"It got off to a pretty decent start. I think my starts have not been too great this year, so I've still got to figure out how to get off the line. Then I was just sitting behind Josh. He kind of got away and pulled a little gap in the beginning, then I caught up to him. Cam ran wide in turn two because of some stuff. The race was going pretty good. I just had a problem with my brakes. They were just very inconsistent. So, we need to take a look at that because I was pretty not thrilled about that in the race with my front brakes. I really couldn't make any overtaking passes straight up and down. Josh is always good on the brakes and that kind of hurt me in the race with that problem going on. But I had to make a pass in the carousel because he was struggling there after a few laps. So, I went into the chicane and that was my only option. So, I had to do that and then I kind of just stood on the rear brake to completely stop the bike. I ran Josh a little bit wide, and he had to cut the chicane, probably. I apologized to him for that. It's a bummer that it got red-flagged because it would have been nice to finish the race completely, the twelve laps. But congratulations to my teammate. He did a great job. Hopefully we can come back tomorrow and be stronger and have a better race all of us tomorrow again."
Josh Herrin – Third Place
"Yeah. I'm happy with how the bike was the first couple laps. Then really like lap three I started getting really big front tucks in the carousel where there was just nothing I could do. I tried changing my line through. I thought maybe I went in tight, maybe I did something wrong, but it just ended up after lap three, lap four once I tried that, I tried everything I could in the carousel, and it didn't work. Then it started happening on the right-hand corners so I kind of figured the front was chewed. I'm honestly kind of lucky that the race got called early because I was worried about the guys behind me catching me just because it was getting so bad. We haven't had any problems with the front tire the whole weekend. It's been perfectly fine. We did 14 laps on the front on Friday morning and did our fastest lap at the end on the last lap. It's frustrating because we got a lap record this morning. Got off to a great start. I felt really good. Stayed out of trouble. To have something like that be the reason why we are sitting third instead of possibly at least second and closer to the front is disappointing. Super happy with the work that my team has done. We've got the bike working really well this weekend. The incident with PJ going into the chicane, I think he just got in there a little bit hot. He said his brakes weren't working that great. I felt like I didn't have anywhere to go except to go straight, because I just felt like it would be safer than trying to make that turn where I was on the track. Like I said, disappointed but also at the same time happy to get some solid points. I know Gagne had an engine problem, so we were able to make up at least whatever it is, 16 points on him. So, that's good. We've just got to try to capitalize on having a good bike at this racetrack tomorrow, and hopefully we're further up in the battle."