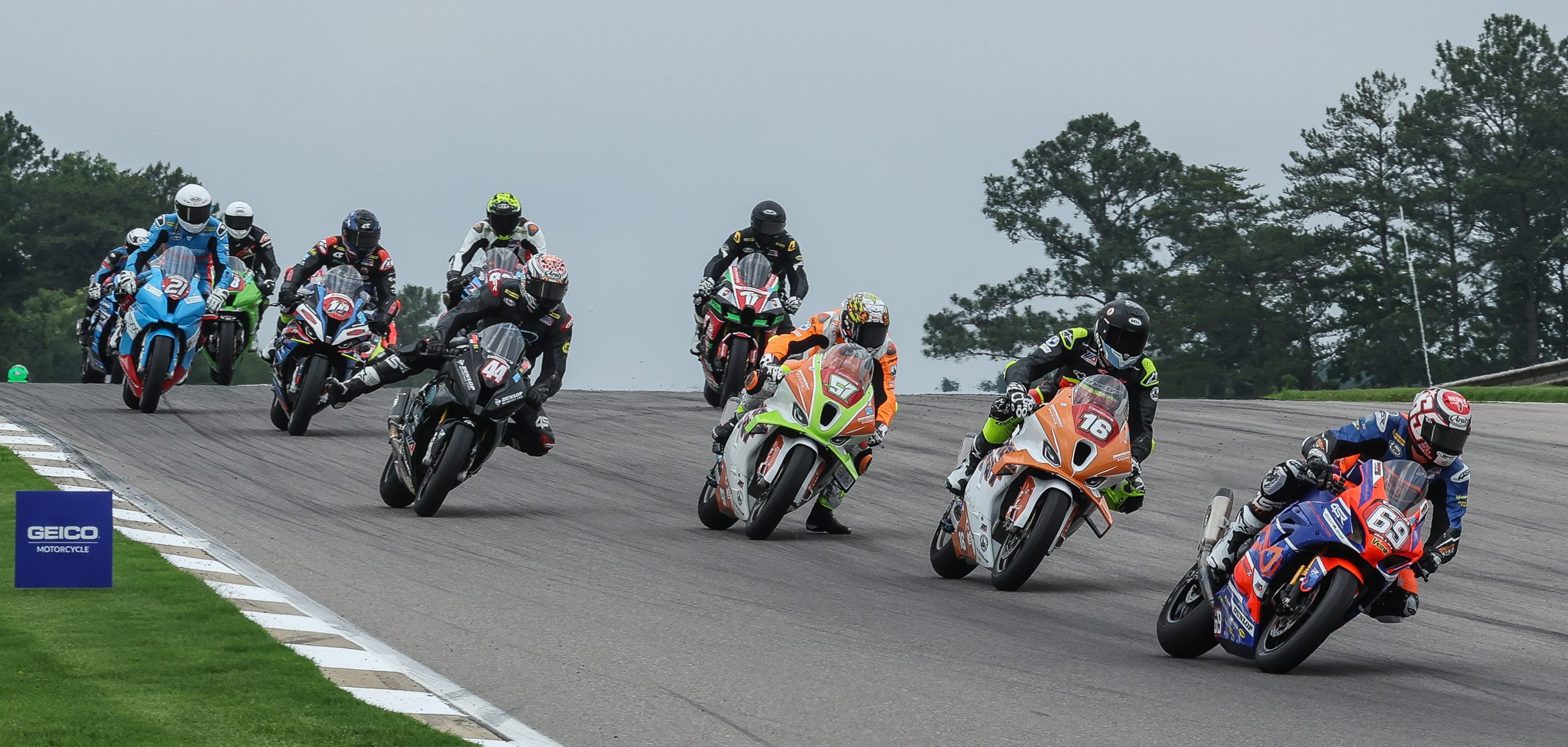 Motorcycle road-racing fans who descend on Road America this weekend will be busy with five support classes on tap in addition to the headline MotoAmerica Medallia Superbike races slated for the Elkhart Lake, Wisconsin, racetrack, June 2-4.
With Friday's program featuring practice and qualifying sessions for all six of the classes, the support classes will race twice over the course of the weekend. Those five classes are: Supersport, Steel Commander Stock 1000, Junior Cup, Mission King Of The Baggers and Royal Enfield's Build. Train. Race. Additionally, the Mission Mini Cup By Motul program, featuring MotoAmerica's youngest racers, will run on Friday and Saturday afternoon/evening at Road America's karting track.
Supersport – So Far, All Fores
Two rounds into the MotoAmerica Supersport Championship and there is only one rider who has stood on the top step of the podium: Xavier Fores.
With victories in his MotoAmerica debut at Road Atlanta and a win in the first "extended" Supersport race at Barber Motorsports Park, the Spaniard has been nothing short of perfect on his Warhorse HSBK Racing Ducati Panigale V2. Thus, with the "extended" race paying double points in Alabama, the ultra-experienced Fores leads the title chase by 27 points, 100-73, over Tytlers Cycle Racing's Stefano Mesa.
With podiums in two of the three races, Squid Hunter Racing's Josh Hayes is third in the championship and still chasing his 87th career AMA victory that would make him the all-time leader in the multi-class category. Hayes is 19 points behind Mesa and just a point ahead of Vision Wheel M4 ECSTAR Suzuki's Tyler Scott.
Michael Gilbert Racing's Michael Gilbert sits fifth in the title chase as the series arrives in Wisconsin.
Steel Commander Stock 1000 – Beaubier, The Younger, Leads
Orange Cat Racing's Ezra Beaubier is first and foremost the leader of the Steel Commander Stock 1000 Championship as the series takes to the four-mile Road America racetrack this coming weekend. Secondly, he is the younger brother of five-time MotoAmerica Superbike Champion Cameron Beaubier.
Ezra Beaubier has been on the podium in all four Steel Commander Stock 1000 races this year, including the first two victories of his career in the opening round at Road Atlanta. Beaubier followed up those two wins with a second- and third-place finishes at Barber Motorsports Park, which has added up to a 26-point lead over Disrupt Racing's Hayden Gillim and Beaubier's teammate Kaleb De Keyrel.
Gillim's championship run started with a big hiccup at Road Atlanta when he failed to finish race one and only mustered a sixth in race two. He righted that ship in Alabama, however, with two decisive victories.
Gillim finds himself 26 points behind Beaubier and tied with De Keyrel for second. DeKeyrel earned two podium finishes at Barber. Those two, meanwhile, are 10 points clear of Taylor Knapp Racing's Taylor Knapp who in turn is four points ahead of Travis Wyman Racing's Travis Wyman.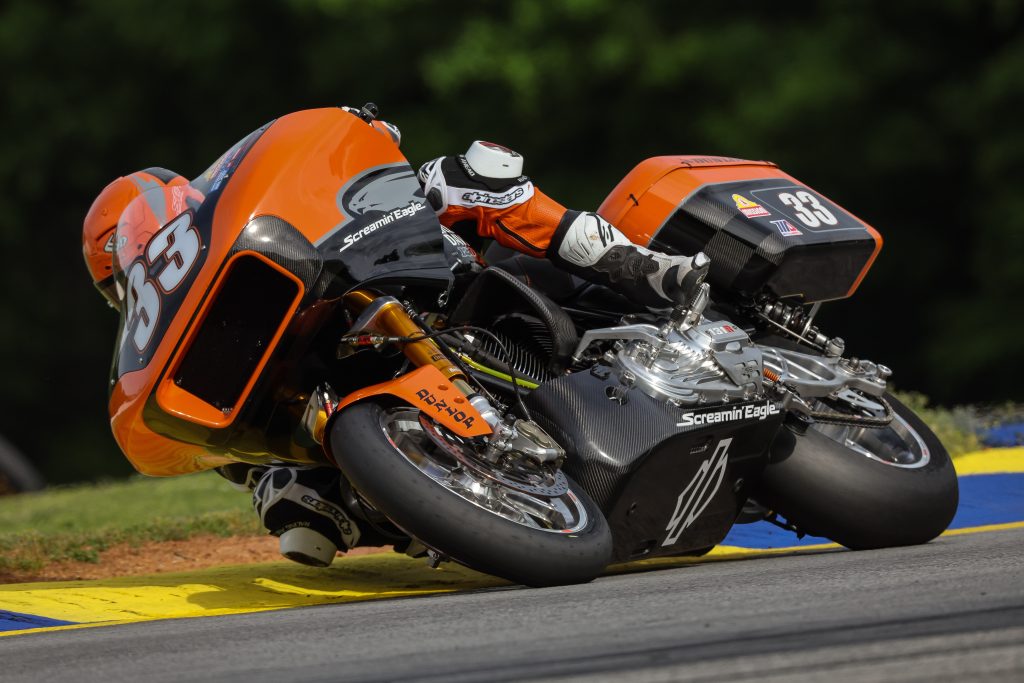 Mission King Of The Baggers – Kyle Wyman On A Heater
H-D Screamin' Eagle's Kyle Wyman has won three of the four Mission King Of The Baggers races held thus far. Fortunately, for the rest of the chasing pack, he failed to finish the first of those four.
Thus, Kyle Wyman leads the title chase over Vance & Hines/Mission/Harley-Davidson's James Rispoli by just eight points with Rispoli the only one other than Wyman to taste victory this season.
Rispoli, meanwhile, is only two points clear of his teammate Hayden Gillim with the Kentuckian on the podium in three of the four races.
The first non-Harley in the championship chase is defending Mission King Of The Baggers Champion Tyler O'Hara and his Indian Motorcycle/Progressive/Mission Foods Indian Challenger. O'Hara was second to Kyle Wyman in the past two races at Road Atlanta.
Fifth place in the title chase is currently held by Baggers rookie Jake Lewis with the Team Saddlemen Harley-Davidson rider 38 points behind Wyman.
Travis Wyman, the rider who pushed O'Hara all the way to the end of last year's championship, is mired back in 12th in the title chase after an abysmal start to the series with two DNFs at Daytona to open his championship, followed by sixth- and seventh-place finishes at Road Atlanta.
Junior Cup – Perfect No More
Bad Boys Racing's Avery Dreher started the season with three straight wins in the Junior Cup class, but that win streak was snapped at Barber Motorsports Park by first-time winner Levi Badie and his Badie Racing Kawasaki Ninja 400.
Despite his first loss of the season, Dreher continues to lead the title chase after two rounds and four races by 18 points over the ever-consistent Max Van with the Michigander finishing second to Dreher in the first three races before carding a fourth in race two at Barber.
Bicknese Racing's Hayden Bicknese has also been consistent thus far in 2023 with podiums in three of the four rounds. He is 28 points behind Dreher and 15 ahead of Yandel Medina. Badie, who didn't race in the opening round, is fifth and 56 points behind Dreher.
Royal Enfield Build. Train. Race. – Ready, Set, Go
The 2023 version of Royal Enfield's Build. Train. Race. program will make its first appearance of the season at Road America with 12 women racers ready to battle.
Those 12 are led by the top two in last year's championship – defending champion Kayleigh Buyck and runner-up Crystal Martinez – with that duo obviously being the ones to beat based on their 2022 success. However, you never know what the newcomers will bring to the track, as half of the field will be rookies in the class.
Mission Mini Cup By Motul – Chasing Gouker
With six wins in eight races, Nathan Gouker is the kid to beat in both the Mission Mini Cup By Motul Ohvale 160 class and the FIM Mini Cup Ohvale 160 class.
Gouker leads Mahdi Salem by six points in the FIM Mini Cup (where racers can qualify for the FIM World Final in Spain) and also leads Kruz Maddison by six points in the Mission Mini Cup By Motul Championship as the series heads to the karting facility at Road America.
This year's Mission Mini Cup By Motul features three new classes: Stock 50, Stock 110 and Stock 125. Those championships are being led by Weston Fager, Cole Peterman, and Nathan Bettencourt, respectively.
Pre-Road America Support Class Notes
There was only one Mission King Of The Baggers race at Road America last year and that race was won by Screamin' Eagle H-D's Travis Wyman over his brother Kyle Wyman. Jeremy McWilliams was third on his Mission Foods/S&S Cycle/Indian Challenger.
The lone Steel Commander Stock 1000 class victory last year at Road America went to Corey Alexander. Travis Wyman added to his solid weekend with a runner-up finish ahead of Geoff May.
Supersport race one at Road America last year was won by Tyler Scott (for his first career Supersport win) over Josh Herrin and Rocco Landers. The second Supersport race was held in the rain and the outcome was surprising to most as Jason Farrell won the first MotoAmerica race of his career followed by Australian rookie Luke Power. Herrin, who would go on to win the 2022 Supersport crown, finished third.
The two Junior Cup race wins at Road America in 2022 were split between Joseph LiMandri Jr. and Cody Wyman. After carding his first career MotoAmerica win the day prior, LiMandri finished second in race two with Gus Rodio doing likewise in race one. Kayla Yaakov was third in both races. Jennifer Chancellor didn't win the Royal Enfield Build. Train. Race final last year at Road America, but she left with the most points as on-track winner Kayleigh Buyck and runner-up Crystal Martinez were docked their points for ignoring a red flag.